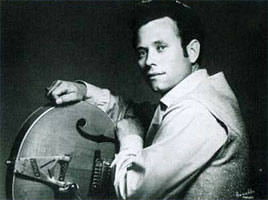 Chanteur Rock 'n' Roll né Gerald Jaye Hatley le 19 Octobre 1937 à Manila (Arkansas).

Jaye was born Gerald Jaye Hatley in Manila, Arkansas, on October 19, 1937. He sold garden seeds to buy his first guitar, and his fascination with music led him to take up a job with KBIB in Monette, Arkansas, and form a rock 'n' roll band. In 1954, Jerry joined the US Navy for four years and on his demobilisation vowed that he would not return to the cotton fields.
When he arrived back home, he set about playing music for a living once more. Linking up with Tommy Baker on bass and Carl Fry on drums and featuring himself on guitar and Vocals, the trio soon built up a strong local reputation playing an eclectic mixture of rock 'n' roll, R&B and country. Joe Thompson (a disc jockey at station KBIB in Monette, Arkansas) suggested that they cut a single for local airplay. Joe was acquainted with Roland Janes and made arrangements for the combo to drive up to Memphis in late 1966 to cut some sides at Roland's Sonic Studio. The group cut two tunes - the Mickey Newbury song 'Five Miles From Home' as the intended A-side together with a tune that was proving popular on live appearances and which they knew as 'Hello Josephine'.
Jaye wanted to come back with a horn section and dub it onto the tape but Janes convinced him against it, even when Jerry appeared at the studio door with the horn players. Roland offered the master to Jerry Wexler at Atlantic but Wexler turned it down, so Jaye released it on his own label, Connie Records.
500 copies of the single were pressed on the Connie label, still bearing the title 'Hello Josephine', and when these had very quickly nearly sold out, Jerry took 25 copies of the disc to Joe Cuoghi who, apart from running Hi Records, owned Popular Tunes (the leading record store in Memphis), from where he operated a jukebox supply service. These were passed out to various radio stations including Hal Smith on WHBQ, Memphis, who played it to death, which in turn sent Joe Cuoghi of Hi Records scurrying to his car in search of Jerry.
Soon ownership of the single passed to Hi Records in return for a contract as a Hi recording artist.
'My Girl Josephine' was re-released on Hi in late February 1967, and it hit the national charts in April, reaching No.29. Fats Domino was delighted and sent along more of his own compositions for future consideration. Jaye decided that he had a winning formula and cut 'Let The Four Winds Blow' for a follow-up.
Despite good promotion that included appearances on top television shows such as Shindig and Hullabaloo - but not American Bandstand for some unknown reason - the record failed to make it's expected impact and only made the lower reaches of the hot hundred.
Subsequent follow-ups flopped, including a first rate stab at Chuck Berry's 'Brown Eyed Handsome Man' coupled with a country rocker, 'In The Middle Of Nowhere' from the pen of Memphis producer Bill Cantrell.
This was followed by an up-dating of Lefty Frizzell's 'Long Black Veil' and Merle Haggard's 'Today I Started Loving You Again'.
The final single before this phase of Jaye's contract with Hi Records expired was 'Never Going Back' / 'You Got To Go' in 1969.
Jerry's contract with Hi ended in 1970, shortly after Joe Cuoghi died and whilst negotiating another record deal, he and his band (now known as The Jaywalkers) entered the studio to record The album 'Souvenir Album Of Most Requested Songs', which was released on the Bejay label. In 1971, Jaye signeding with the Nashville based Mega/Raintree organisation.
Jaye recorded prolifically for the next four years for the Mega/Raintree group, including the unreleased Rick Nelson inspired 'I Wanna Put On My Boogie Shoes', and a total of seven singles were issued. These all made an impact on the lower reaches of the country charts.
At Mega, Jerry was produced by Larry Rogers, Brother of Kenny. When Larry Rogers signed a production deal with Columbia, Jerry went with him. They laid down a multitude of tracks there but only one single was issued. The top side, a revival Tommy Edward's 'It's All In The Game' enjoyed healthy sales when released in 1975 and the portent for future releases looked good. The record reached No.51 on the Billboard charts.
Nick Pesce, who had become president of Hi Records after the death of Joe Cuoghi, approached Jerry in 1976 with a view to his returning to the label. Sessions were held at Lyn-Lou studio in Memphis with over-dubs at the Columbia Studios in Nashville. The resulting product was the rockabilly orientated 'Honky Tonk Women Love Redneck Men' which received good promotion and made No.32 on the Country chart. An album with the same title was released.
Follow-ups 'Hot And Still Heating' and 'When Morning Comes To Memphis' secured chart placings and all the right ingredients were in place for Jaye to become a major country star. However, behind the scenes Pesce had been negotiating the sale of Hi to the West Coast based Cream Records and the bigger the hit-making potential of the artist roster the better was the asking price. The sale was concluded around 1977 and all Hi artists had meetings with new owner Al Bennett who in turn promised continued recordings, releases and promotion.
Jaye cut various sessions over the next two years recording material which he describes as full of hit potential but nothing was released. Becoming disenchanted, Jerry sought and obtained a release from his contract in 1979.
In 1980, he and his wife Darlene were booked into a series of dates along the Mississippi coast and enjoyed the area so much that they re-located there and have remained to this day.
Apart from releasing an album and single with his wife on the Bejay label in 1984 to promote their residency at the Kings Club, there have been no further record releases of new recordings.
In 1995 Jerry played his first overseas date in Sweden, that was followed the same year by a series of shows in the UK.
Talents : Vocals, Guitar
Style musical : Rock 'n' Roll
Years in activity :
| | | | | | | | | | | |
| --- | --- | --- | --- | --- | --- | --- | --- | --- | --- | --- |
| 1910 | 20 | 30 | 40 | 50 | 60 | 70 | 80 | 90 | 2000 | 10 |
DISCOGRAPHY
Singles
04/1958
SP STEPHENY SF1820 (US)
.
Sugar Dumplin' / How Could You Lose Your Trust In Me
12/1958
SP FINE FI-1258 (US)
.
Going To The River / A Cottage For Sale
03/1959
SP LABEL LR2020 (US)
.
Going To The River / A Cottage For Sale
06/1965
SP SWAN 4216 (US)
.
Pizza Marie / Flippin' Over You
1966
SP Connie 101 (US)
.

Jerry JAY & The JAYWALKERS - Hello Josephine / Five Miles From Home

03/1967
SP HI 45-2120 (US)
.
My Girl Josephine / Five Miles From Home
1967
SP LONDON DL 20 835 (GER)
My Girl Josephine / Five Miles From Home
08/1967
SP HI 45-2128 (US)
.
Singing The Blues / Let The Four Winds Blow
12/1967
SP HI 45-2139 (US)
.
Brown-Eyed Handsome Man / In The Middle Of Nowhere
08/1968
SP HI 45-2150 (US)
.
Long Black Veil / I Started Loving You Again
12/1969
SP HI 45-2171 (US)
.
Never Going Back / You Got To Go
1970
SP Bejay ? (US)
.

Crawdad Hole / ?

07/1971
SP MEGA 615-0033 (US)
.
Love Is A Job / I Didn't Hear A Thing
10/1971
SP MEGA 615-0045 (US)
.
Don't Bring The Rain Back Again / Tiny Praying Hands
1972
SP Raintree RTR-2001 (US)
.
Here's To You Darling / We Don't Love Anymore
03/1972
SP MEGA 615-0066 (US)
.

When My Ship Comes In / Share Your Love With Me

1972
SP LONDON 79623-Y (B)
My Girl Josephine / Five Miles From Home
09/1973
SP MEGA 615-0116 (US)
.
Honky Tonk Livin' / I'm Gonna Spend My Whole Life Loving You
05/1974
SP MEGA MR-209 (US)
.
Walkin' My Baby Back Home / I Slipped But I Didn't Fall
11/1974
SP MEGA MR-1218 (US)
.
Lay Down / Poor Side Of Town
06/1975
SP COLUMBIA 3-10170 (US)
.
It's All In The Game / Love Me 'Til The Morning Comes
11/1975
SP COLUMBIA 3-10269 (US)
.

Because It's Love / Maybelline

06/1976
SP HI 5N-2310 (US)
.
Honky Tonk Women Love Red Neck Men / What's Left Never Will Be Right
09/1976
SP HI 5N-2318 (US)
.
Hot And Still Heatin' / Crazy
03/1977
SP HI 5N-2323 (US)
.
When Morning Comes To Memphis / Ain't Got No Home
????
SP HI

Great Hits

5N-59064 (US)
.
Haunted House (Jumpin' Gene

Simmons

) / My Girl Josephine (Jerry J

aye

)
Unissued Tracks
| | | |
| --- | --- | --- |
| 19?? | Unissued - (Cream/Hi CD 44 (#36) / Hi CD 122 (#8) / Hi LP 32038 (#18) / Hi (England) CD 128 (#7) / Hi (England) LP 442 (#7)) | I Washed My Hands In Muddy Water |
| 19?? | Unissued - (Cream/Hi CD 44 (#35) / Hi CD 122 (#6) / Hi CD 32038 (#19) / Hi LP 32038 (#17) / Hi (England) CD 128 (#6) / Hi (England) LP 442 (#6)) | I'm In Love Again |
| 19?? | Unissued - (Cream/Hi CD 44 (#34) / Hi CD 122 (#7) / Hi CD 32038 (#20) / Hi LP 32038 (#16) / Hi (England) CD 128 (#5) / Hi (England) LP 442 (#5)) | Sugar Bee |
Need Information
| | | |
| --- | --- | --- |
| 19?? | Need info - (Hi CD 122 (#15) / Hi CD 32038 (#23)) | Forty Days |
| 19?? | Need info - (Hi CD 122 (#4)) | Got My Mojo Working |
| 19?? | Need info - (Cool LP 561 (#3) / Hi CD 32038 (#13)) | Hello Josephine |
| 19?? | Need info - (Hi CD 32038 (#21)) | I Wanna Put On My Boogie Shoes |
| 19?? | Need info - (Hi CD 122 (#3) / Hi CD 32038 (#16) / Norton CD 630 (#16)) | In The Middle Of Nowhere |
| 19?? | Need info - (Norton CD 630 (#1)) | My Girl Josephine [alt. vers.] |
| 19?? | Need info - (Hi CD 32038 (#28)) | Nadine |
| 19?? | Need info - (Hi CD 122 (#5) / Hi CD 32038 (#18)) | Pipeliner Blues |
| 19?? | Need info - (Norton CD 630 (#17)) | Today I Started Loving You Again |
Albums
05/1967
LP 12" HI HL-12038 (mono) / SHL-32038 (stereo) (US)

My Girl Josephine -

My Girl Josephine / When My Dreamboat Comes Home / Don't Be Cruel / Singing The Blues / Kansas City / I'm Gonna Be A Wheel Someday / White Silver Sands / Ain't Got No Home / Ain't That A Shame / Let The Four Winds Blow / Whole Lot Of Shakin' Going On / What Am I Living For
1970
LP 12" Bejay 1370 (US)

Souvenir Album Of Most Requested Songs - JERRY JAY AND THE JAYWALKERS - Josephine (intro.) / Don't Get Hooked On Me / Country Roads / With Pen In Hand / Don't Mess Around With Jim / Help Me Make It Through The Night / Stardust Cowboy / Yesterday's Letters / Today I Started Loving You Again / Here I Go, Missing You Again / A-Train (close)

1976
LP 12" HI SHL 321012 (US)

Honky Tonk Women Love Red Neck Men -

Honky Tonk Women Love Red Neck Men / When Morning Comes To Memphis / Drinkin' My Way Back Home / Standing Room Only / Ain't Got No Home / Hot And Still Heatin' / Crazy / Forty Days / What's Left Never Will Be Right / Let Your Love Flow
1984
LP 12" Bejay VPA-BJ-3089 (US)

Kings Inn Presents - JERRY JAYE & DARELE BATTLES - Crawdad Hole / We Must Have Been Out Of Our Minds / In My Dreams / The Door I Used To Close / Slippin' Around / Makin' Love Is My Specialty / Making Plans / Too Old, Too Young / Yesterday / What Do You Say To A Lonely Lady

1991
LP 12" COMBO JJ 32038 (I)

My Girl Josephine - My Girl Josephine / When My Dreamboat Comes Home / Don't Be Cruel / Singing The Blues / Kansas City / I'm Gonna Be A Wheel Someday / White Silver Sands / Ain't Got No Home / Let The Four Winds Blow / Five Miles From Home / The Middle Of Nowhere / Long Black Veil / Sugar Bee / I'm In Love Again / I Washed My Hands In Muddy Water / What Am I Living For / Whole Lotta Shakin' Goin' On (the tracks 'Sugar Dumplin' and 'How Could You Loose Your Trust In Me' are by different Jerry Jayes)

1992
CD HI HIUKCD 122 (US)

My Girl Josephine - My Girl Josephine / Long Black Veil / In The Middle Of Nowhere / Got My Mojo Working / Pipeliner Blues / I'm In Love Again / Sugar Bee / I Washed My Hands In Muddy Water / Honky Tonk Women Love Redneck Men / Standing Room Only / Drinking My Way Back Home / When Morning Comes To Memphis / Hot And Still Heating / Let Your Love Flow / Forty Days

1996
CD Connie HI 32038 (US)

My Girl Josephine - Jerry Jaye 1967-76 - My Girl Josephine (LP version) / When My Dreamboat Comes Home / Don't Be Cruel / Singing The Blues / Kansas City / I'm Gonna Be A Wheel Someday / White Silver Sands / Ain't Got No Home / Ain't That A Shame / Let The Four Winds Blow / Whole Lotta Shakin' Goin' On / What Am I Living For / Hello Josephine (single version) / Five Miles From Home / Brown Eyed Handsome Man / In The Middle Of Nowhere / You Got To Go / Pipeliner Blues / I'm In Love Again / Sugar Bee / I Wanna Put On My Boogie Shoes / Honky Tonk Livin' / Forty Days / Hot And Still Heating / Standing Room Only / When Morning Comes To Memphis / Nadine

11/1999
CD Edsel EDCE-629 (UK)

Honky Tonk Women Love Red Neck Men Plus - Honky Tonk Women Love Redneck Men / When Morning Comes To Memphis / Drinkin' My Way Back Home / Standing Room Only / Ain't Got No Home / Hot And Still Heatin' / Crazy / Forty Days / What's Left Never Will Be Right / Let Your Love Flow / Never Going Back / You've Got To Go/ Sugar Bee / I Washed My Hands In Muddy Water / Got My Mojo Working / Pipeliner Blues / I'm In Love Again / Great Balls Of Fire / Susie 2 / You Don't Know Me

03/2000
CD Edsel EDCD-630 (UK)

My Girl Josephine - My Girl Josephine (stereo re-recording) / When My Dreamboat Comes Home / Don't Be Cruel / Singing The Blues / Kansas City / I'm Gonna Be A Wheel Someday / White Silver Sands / Ain't Got No Home / Ain't That A Shame / Let The Four Winds Blow / What Am I Living For / My Girl Josephine (original mono recording) / Five Miles From Home / Brown Eyed Handsome Man / In The Middle Of Nowhere / Today I Started Loving You Again / Long Black Veil

11/2005
CD Lyn-Lou LLRCD 1 (US)

One More Time - Red Hot / Two More Bottles Of Wine / Bad Moon Rising / Poor Side Of Town / Redneck Rock / Let's Go Let's Go Let's Go / It's Been A Rainy Week (All Day Long) / Cry Cry Cry (When It Happens) / You're So Fine / Hello Josephine
© Rocky Productions 30/10/2014