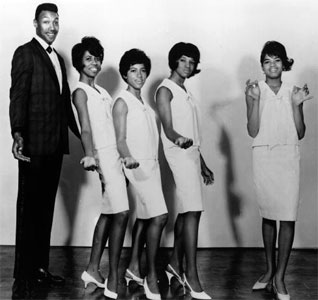 Groupe US de Doo Wop originaire de Jersey City (New Jersey). Les Jelly Beans se composaient de Diane Taylor, Elyse Herbert, Maxime Herbert, Alma Brewer et de leur Charlie Thomas. Ils ont enregistré au milieu des années soixante pour Red Bird Records, le label de Jerry Leiber et Mike Stoller.

The Jelly Beans were a mixed voice quintet (later a quartet) comprised of one man (Charles Thomas) and four women (Alma Brewer, Diane Taylor, Elyse Herbert, Maxine Herbert) who got together while attending high school in Jersey City, NJ. That was where their manager discovered them in 1963, and he brought them to the attention of songwriters Jerry Lieber and Mike Stoller, who were starting up a record label, Red Bird, in association with End/Gone Records founder George Goldner.
The group was put into the hands of songwriters Jeff Barry and Ellie Greenwich, then near the peak of their output together, who gave them "I Wanna Love Him So Bad." The third single issued by Red Bird, it reached number ten on the Billboard charts. The Jelly Beans' second single, "Baby Be Mine," didn't reach the Top 50, however, and although The Jelly Beans left behind enough songs for an album, none was forthcoming. By 1964, Red Bird had bigger acts to worry about, including The Shangri-Las and The Dixie Cups, and the group was gone from the label by the end of that year. A final single release on Eskee failed to chart, and The Jelly Beans had broken up by 1965.
Style musical : Doo Wop, Girl Groups, Rhythm 'n' Blues, Pop Rock
| | |
| --- | --- |
| I Wanna Love Him So Bad (1964) | |
Years in activity :
| | | | | | | | | | | |
| --- | --- | --- | --- | --- | --- | --- | --- | --- | --- | --- |
| 1910 | 20 | 30 | 40 | 50 | 60 | 70 | 80 | 90 | 2000 | 10 |
DISCOGRAPHY
Singles & EP
05/1964
SP RED BIRD RB 10 003 (US)
.
1964
SP RED BIRD RBV. 35003 (F)
.
I Wanna Love Him So Bad / So Long
1964
SP RED BIRD LS-2 (SWE)
I Wanna Love Him So Bad / So Long
09/1964
SP RED BIRD RB 10 011 (US)
.
1964
EP RED BIRD RVEP 28002 (F)
DIXIE CUPS : People Say / Girls Can Tell / JELLY BEANS : I Wanna Love Him So Bad / So Long
1964
EP VOGUE / RED BIRD RVEB 28005 (F)
Baby Be Mine / The Kind Of Boy You Can't Forget / + THE SHANGRI-LAS
11/1965
SP ESKEE 10.001 (US)
.

I'm Hip To You / You Don't Mean Me No Good

11/1965
SP Cross Tone Eskee Productions ESKEE 1001 (US)
.
You Don't Mean Me No Good

/ You Don't Mean Me No Good

1975
SP Pye 45.PY.12 176 (F)
I'm Hip To You / You Don't Mean Me No Good
1977
SP SSS International Golden Treasure Series GTS-435 (US)
.
Baby Be Mine / I Wanna Love Him So Bad
19??
SP COLLECTABLES C 1374 (US)
.
I Wanna Love Him So Bad / So Long
Unissued Tracks
| | | |
| --- | --- | --- |
| 1964 | RED BIRD unissued | Chapel Of Love |
| 1964 | RED BIRD unissued | Here She Comes |
| 1964 | RED BIRD unissued | Ain't Love A Funny Thing |
| 1964 | RED BIRD unissued | Whisper Sweet Things |
| 1964 | RED BIRD unissued | Goodnight Baby |
| 1964 | RED BIRD unissued | Do Wah Diddy |
Album
08/1996
CD COLLECTABLES 5740 (US)

The Jelly Beans and Friends -

I Wanna Love Him So Bad / So Long / The Kind of Boy You Can't Forget / Baby Be Mine / Chapel Of Love / Do Wah Diddy Diddy / Here She Comes / Ain't Love A Funny Thing / Whisper Sweet Things / Goodnight Baby / I Wonder (

Jelly Beans

feat:

Butterflies

) / Go Now (

Jelly Beans

feat: Bessie

Banks

) / I Can't Let Go (

Jelly Beans

feat: Evie

Sands

) / He Ain't No Angel (

Jelly Beans

feat: The

Ad Libs

) / Rebel Without A Cause (

Jelly Beans

feat: The

Bunnies

) / Stop The Wedding (

Jelly Beans

feat: The

Charmettes

) / Goodnight Baby (

Jelly Beans

feat:

Butterflies

) / The Boy From New York City (

Jelly Beans

feat: The

Ad Libs

)
© Rocky Productions 31/10/2014