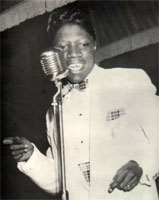 Chanteur Rhythm 'n' Blues US né Obediah Donnell Jessie, le 28 Décembre 1936 à Lincoln Manor, Dallas (Texas). Young Jessie a enregistré pour Modern (54-57), Atco (57), Atlantic (58), Capitol (59), Mercury (61-63), Vanessa (63) et Bit Records (64). Il est décédé le 27 Avril 2020.

The Los Angeles R&B Vocals group scene of the 1950s was a fairly incestuous one -- members flitted from one aggregation to the next, often sporting several connections at the time. Young Jessie was a member of the Flairs, Hunters, and Coasters, as well as scoring a solo West Coast hit with his 1955 rocker "Mary Lou."
Obediah Jessie was a Los Angeles high-school classmate of Richard "Louie Louie" Berry. The two put together the Flairs and debuted on the Bihari Brothers' Flair label in 1953 with "She Wants to Rock." the Flairs recorded steadily for the firm, but solo status awaited Jessie, who cut a cover of Big Mama Thornton's Leiber/Stoller-penned "I Smell a Rat" for Modern (the Biharis' flagship logo) in 1954. "Mary Lou," arranged by saxist Maxwell Davis, emerged the next year; its unusual minor-key arrangement must have appealed to rockabilly wildman Ronnie Hawkins, who hit the pop lists with it in 1959 for Roulette.
Platters manager Buck Ram took over Jessie's career in time to pen his torrid 1956 rocker "Hit, Git & Split" under the sobriquet of Lynn Paul. Both that cut and its follow-up, "Oochie Coochie," stemmed from a New York date that backed Jessie with Mickey Baker on guitar and saxman Sam "The Man" Taylor.
Jessie reverted to his Vocals-group roots in 1957, joining the Coasters to sing harmonies on their smashes "Searchin'" and "Young Blood" for Atco. The same firm issued a solo Jessie 45, "Shuffle in the Gravel," before moving him to Atlantic for "Margie."
Later singles for Capitol and Mercury did little to rekindle Jessie's career, though the Mercury 45s sported some impressive credits. "Be-Bop Country Boy" was produced by ex-Little Richard/Sam Cooke cohort Bumps Blackwell, while a remade "Mary Lou" found Jessie collaborating with a trio of Phil Spector associates: Jack Nitzsche arranged, and Lester Sill and Steve Douglas co-produced.
Jessie Young passed away on April 27, 2020.
https://en.wikipedia.org/wiki/Young_Jessie
Talents : Vocals
Style musical : Doo Wop, Rhythm 'n' Blues
Years in activity :
| | | | | | | | | | | | |
| --- | --- | --- | --- | --- | --- | --- | --- | --- | --- | --- | --- |
| 1910 | 20 | 30 | 40 | 50 | 60 | 70 | 80 | 90 | 2000 | 10 | 20 |
DISCOGRAPHY
78 t. & Singles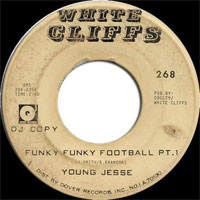 Albums
1963
LP 12" CROWN CLP-5354 (US)
CHUCK JACKSON & YOUNG JESSIE - Hula Hula / Come On And Love Me / This Is It / Mary Lou / Don't Think I Will / My Pride / Ooh Baby / Do You Love Me / Well Baby / No Thing Seems Right
1982
LP 12" ACE CH 58 (UK)
HIT, GIT AND SPLIT - Hit, Git And Split / Don't Happen No More / Don't Think I Will / Do You Love Me / Down At Hayden's / Nothing Seems Right / Mary Lou / I Smell A Rat / Lonesome Desert / Oochie Coochie / Here Comes Henry / Hot Dog / Well Baby / Rabbit On A Log
1986
LP 12" MR. R&B R&B-1004 (SWE)
SHUFFLE IN THE GRAVEL - Shuffle In The Gravel / Margie/That's Enough For Me / My Country Cousin / Make Believe / The Wrong Door / I'm A Lovin' man / Teacher Gimmie Back / Big Chief / Too Fine For Cryin' / Be-Bop Country Boy / Brown Eyes / Lulu Belle / Make Me Feel A Little Good / Young Jessie Bossa Nova Pt.1 / Young Jessie Bossa Nova Pt.2
1987
LP 12" ACE CHD 225 (UK)
SHUFFLIN' AND SLIDIN' - Pretty Soon / Oochie Coochie / It Don't Happen No More (alt) / Hit, Git And Split (alt) / Mary Lou (alt) / Don't Think I Will (alt) / Why Do I Love You? (The FLAIRS) / Hot Dog / Lonesome Desert / Do You Love Me / Here Comes Henry / Well Baby / Nothing Seems Right (alt) / Hit, Git And Split
01/1996
CD ACE CDCHD 607 (UK)

I'm Gone -

Mary Lou / Lonesome Desert / Rabbit On A Log (The H

unters

) / Don't Think I Will / Well Baby / Nothing Seems Right / Down at Hayden's (The

Hunters

) / I Smell A Rat / Why Do I Love You (The FLAIRS) / Pretty Soon / Oochie Coochie / Don't Happen No More / Hit, Git And Split / Here Comes Henry / Hot Dog / Do You Love Me / Well Baby / Pretty Soon / Do You Love Me / This Is Young Jessie (Spoken Word) / Hit, Git And Split / I Hear You Knockin' / Maybellene
06/2014
CD Jazzman ‎JMANLP 068 (UK)

Don't Happen No More -

I Smell A Rat / Lonesome Desert / Oochie Coochie / Don't Happen No More / Mary Lou (Modern) / Lula Belle / Hit, Git And Split / Big Chief (King Of Love) / The Wrong Door / Teacher Gimmie Back / Brown Eyes (Come On Home) / You Were Meant To Me / Make Me Feel A Little Good / Mary Lou (Mercury)
© Rocky Productions 8/11/2014