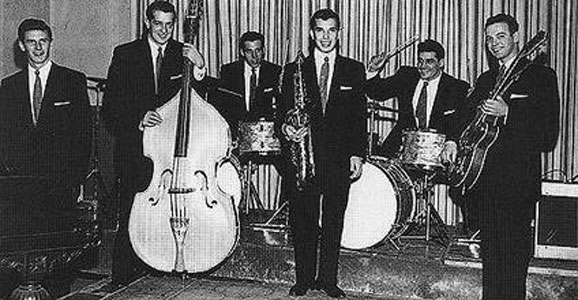 Groupe Rockabilly US formé en 1955 par d'anciens Comets de Bill Haley. Les Jodimars comprenaient: Joey d'Ambrosia, Dick Richards et Marshall Lytle, auquel se sont joints Chuck Hess, Bob Simpson et Jim Buffington. Ils signent un contrat avec Capitol Records en Novembre 55 et y resteront jusqu'en Janvier 57. Mais les Jodimars n'arriveront pas à décrocher un hit national et ils ne dépasseront pas le stade d'un groupe juste populaire dans les Clubs où ils se produisaient.

A spin-off band from Bill Haley & the Comets, the Jodimars unsurprisingly sounded much like Haley on their singles for Capitol Records. Along with Haley, Boyd Bennett, and Freddie Bell, they epitomized a certain strain of northern rock & roll, caught between rockabilly and big-band jump and swing, playing material derived from rhythm & blues without much soulfulness in the Vocals. They did not have any hits, but one of their songs, "Clara-Bella," was somehow picked up across the Atlantic by the Beatles, who performed it in their set in the early '60s. the Beatles also recorded it in 1963 for the BBC, a performance now available on The Beatles Live at the BBC.
the Jodimars were formed in 1955 by three members of Bill Haley's Comets, Joey Ambrose, Dick Richards, and Marshall Lytle. This was the year in which "Rock Around the Clock" went to number one and the Comets could hardly have been hotter, but the trio decided to leave after Haley refused their request for a $50/week raise. Three other Philadelphia musicians filled out the lineup, which recorded a demo that got them a contract with Capitol in 1955. The group made about half-a-dozen singles for the label between 1955 and 1957, but none charted, although a couple did well regionally. One reason for their failure could have been the bewilderment over rock & roll in general, and subsequently, the inadequate marketing of the music by major labels when the style first began to make waves in the mid-'50s. A more mundane explanation could have been the group's understandable close sonic resemblance to Bill Haley. Instrumentally, the band played pretty respectable Haley-styled rock & roll, with similar riffing sax and guitar breaks, and uptempo material that exhorted everyone to be upbeat and dance. While Haley might not have been the gutsiest of singers, however, he was definitely better than the Jodimars, whose Vocals sounded far more stiff and inhibited than their backing tracks did. The group did come up with a good deal of original material, much of it written or co-written by manager Frank Pingatore. It was Pingatore who wrote "Clara-Bella." This Jodimars track, though reissued on CD more than once, is probably among the least-heard original version of songs covered and released by the Beatles. With Paul McCartney on rowdy Vocals, the Beatles did a substantially different and much better job with the tune.
the Jodimars could not find a record deal after their last Capitol single, and concentrated much of their live performance schedule on Las Vegas engagements in the late '50s, breaking up in 1959 after a few personnel changes.
Talents : Joey Ambrose : Sax - Dick Richards : Vocals & Drums - Marshall Lytle : String Bass - Chuck Hess : Guitar - Bob Simpson : Piano - Jim Buffington : Drums
Style musical : Rockabilly, Rock 'n' Roll
| | |
| --- | --- |
| Well Now, Dig This (1955) | |
Years in activity :
| | | | | | | | | | | |
| --- | --- | --- | --- | --- | --- | --- | --- | --- | --- | --- |
| 1910 | 20 | 30 | 40 | 50 | 60 | 70 | 80 | 90 | 2000 | 10 |
DISCOGRAPHY
Singles
11/1955
SP CAPITOL F3285 (US)
.
Well Now, Dig This / Let's All Rock Together
03/1956
SP CAPITOL F3360 (US)
.
Dancin' The Bop / Boom Boom My Bayou Baby
05/1956
SP CAPITOL F3436 (US)
Rattle My Bones / Lot'sa Love
08/1956
SP CAPITOL F3512 (US)
.
Rattle Shakin' Daddy / Eat Your Heart Out, Annie
11/1956
SP CAPITOL F3588 (US)
.
Clarabella (The

Jodimars

/ Vocals chorus - Marshall L

ytle

) / Midnight (instr.) (The

Jodimars

/ Sax solo by Joey

Ambrose

)
02/1957
SP CAPITOL F3633 (US)
.
Cloud 99 / Later
02/1958
SP PRESIDENT 1017 (US)
.
The

Jodimars

/ featuring Vocals by Marshall L

ytle

- Story Telling Baby / Shoo-Sue
11/1960
SP MILESTONE 2004 (US)
.
M

arshall

& W

es

& The

Jodimars

- One Grain Of Sand / Time
11/1979
SP BULLDOG BD 16 (UK)
.
Well Now, Dig This / Dancin' The Bop
Unissued Tracks
| | | |
| --- | --- | --- |
| 1955 | Unissued | The Big Beat |
| 1955 | Unissued - (Rockstar CD 007 (#1)) | Flip Flop And Fly |
| 1955 | Unissued - (Rockstar CD 007 (#2)) | Rock-A-Beatin' Boogie |
| 1955 | CAPITOL unissued - (Rockstar CD 007 (#3)) | Natural Ditty |
| 1956 | CAPITOL unissued - (Rockstar CD 007 (#5)) | Cra-Z |
| 1956 | CAPITOL unissued | Dim, Dim The Lights (I Want Some Atmosphere) |
| 1956 | CAPITOL unissued - (Rockstar CD 007 (#4)) | So Lonely |
| 1958 | IMPERIAL unissued - (Rockstar CD 007 (#19)) | Be My Love Tonight |
| 1958 | IMPERIAL unissued - (Rockstar CD 007 (#21)) | Bring Along Your Lovin' |
| 1958 | IMPERIAL unissued - (Rockstar CD 007 (#18)) | Hip Shakin' Baby |
| 1958 | IMPERIAL unissued - (Rockstar CD 007 (#20)) | Honey Baby |
Albums
1970
LP 12" EMBER SPE 6608 (UK)
WELL NOW DIG THIS ! - Well Now Dig This / Dance The Bop / Let's All Rock Together / My Bayou Baby / Eat Your Heart Out Annie / Lotsa Love / Rattle My Bones / Rattle Shakin' Daddy / Clara-Bella / Midnight / Cloud 99 / Later
1979
LP 12" BULLDOG BDL 1031 (UK)
WELL NOW DIG THIS ! - Well Now Dig This / Dance The Bop / Let's All Rock Together / My Bayou Baby / Eat Your Heart Out Annie / Lotsa Love / Rattle My Bones / Rattle Shakin' Daddy / Clara-Bella / Midnight / Cloud 99 / Later
01/1995
CD Rockstar RSRCD-007 (UK)

Let's All Rock Together - Jodimars : Flip Flop And Fly [demo] / Rock-A-Beatin' Boogie [demo] / Natural Ditty / So Lonely / Cra-Z / Well Now Dig This / Let's All Rock Together / Dance The Bop / Bayou Baby / Lotsa Love / Rattle My Bones / Eat Your Heart Out Annie / Midnight / Rattle Shakin' Daddy / Clara-Bella / Cloud 99 / Later / Hip Shakin' Baby / Be My Love Tonight / Honey Baby / Brong Along Your Lovin' / Bill HALEY : Interview [20/2/57] / That's How I Got To Memphis / Ain't Love Funny Ha Ha Ha [22/10/68] / Jingle Bell Rock / Rockin' Around The Christmas Tree / Flip Flop And Fly / Interview [3/5/68]

11/2008
CD Acrobat ACMCD 4053 (UK)

Well Now, Dig This! - Well Now Dig This / Let's All Rock Together / Boom Boom My Bayou Baby / Dance The Bop / Rattle My Bones / Lotsa Love / Eat Your Heart Out Annie / Rattle Shakin' Daddy / Clara Bella / Midnight / Cloud 99 / Later / Flip Flop And Fly / Rock A Beatin' Boogie / Natural Ditty / So Lonely / Cra Z

10/2009
CD ZYX

Music

ZYX 822682 (EUR)

Rock 'n' Roll Rare Tracks -

Well Now Dig This / Dance The Bop / Cra-Z / Cloud 99 / Flip Flop & Fly / Later / Eat Your Heart Out Annie / Bring Along Your Lovin' / Let's All Rock Together / Midnight / Lotsa Love / Rock-A-Beatin' Boogie / Rattle My Bones / So Lonely / Natural Ditty / Rattle Shakin' Daddy / Clara-Bella / Bayou Baby
03/2010
CD Music & Melody MUS 110222 (GER)

Rock 'n' Roll Rare Tracks -

Well Now Dig This / Dance The Bop / Cra-Z / Cloud 99 / Flip Flop & Fly / Later / Eat Your Heart Out Annie / Bring Along Your Lovin' / Let's All Rock Together / Midnight / Lotsa Love / Rock-A-Beatin' Boogie / Rattle My Bones / So Lonely / Natural Ditty / Rattle Shakin' Daddy / Clara-Bella / Bayou Baby
© Rocky Productions 15/11/2014