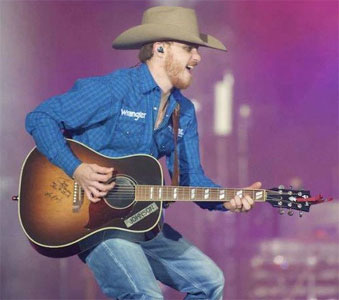 Chanteur Country US né Cody Daniel Johnson, le 21 Mai 1987 à Huntsville (Texas).

Born in the small east Texas town of Sebastopol on May 21, 1987, Cody Johnson was raised in a musical family. Learning guitar at the age of 12, Johnson played in bands in high school, but he was drawn to bull riding. He competed professionally for a while, but when that dried up, he signed up for a job as a prison supervisor with the Texas Department of Criminal Justice in Hunstville.
Johnson decided to give country music a go in 2006, forming the Cody Johnson Band. With his father on board in the band, he cut a debut called Black and White Label, issuing it on his own label CoJo in 2006. Adding guitarist Matt Rogers, the group knocked out the concert album Live And Rocking in 2007; the album turned out to be his father's farewell. Adding bassist Danny Salinas, Johnson released Six Strings One Dream in September of 2009, and the record began making headway among Texas country circles not long afterward. Rounding out his band with guitarist Jeff Smith and fiddler Jody Bartula, Johnson released A Different Day in 2011. The album elevated his presence in the Lone Star State, snagging him Texas Regional Music Award's New Male Vocalist of the Year and allowing him to quit his job as a prison supervisor.
Reteaming with Trent Willmon, who produced A Different Day, Johnson released Cowboy Like Me in January 2014. The album proved to be his breakthrough into the country mainstream, reaching seven on Billboard's Country Albums charts and 33 on their Top 200. Gotta Be Me did even better in 2016, reaching two on Billboard's Country Albums Charts and peaking at eleven on the Top 200. This was enough to secure Johnson a contract with Warner Music Nashville, who put out the single "On My Way to You" in 2018-it reached 24 on the Country Airplay chart-and the full-length Ain't Nothin' To It in January 2019.
https://www.codyjohnsonmusic.com/
Talents : Vocals, Guitar, Songwriter
Style musical : Contemporary Country, Traditional Country

https://youtu.be/AkjtjY_idc8
Years in activity :
| | | | | | | | | | | | |
| --- | --- | --- | --- | --- | --- | --- | --- | --- | --- | --- | --- |
| 1910 | 20 | 30 | 40 | 50 | 60 | 70 | 80 | 90 | 2000 | 10 | 20 |
DISCOGRAPHY
Albums
09/2009
CD Cojo ? (US)

Six Strings One Dream - Another Try / Pretend / I'm Not Responsible / No Tears In My Eyes / Pray For Rain / Finally Free / Nobody To Blame / Seeing The Light / Slam The Door / Texas Kind Of Way

2011
CD Cojo ? (US)

A Different Day - 18 Wheels / Guilty As Can Be / Diamond In My Pocket / Keep Her Man / A Different Day / Ride With Me / The Way She Loves Me / What's Left Of Texas? / Get Back Home To You / Ocean Of Whiskey / I Don;t Care About You / Jesus Ain't Watching / The Grandpa Song (acoustic)

02/2014
CD Cojo 51233 (US)

Cowboy Like Me - Dance Her Home / Me And My Kind / Lucky / Proud / Baby's Blue / Bottle It Up / Cowboy Like Me / Hurtin' / (I Wouldn't Go There) If I Were You / Holes / Give A Cowboy A Kiss / Never Go Home Again / In The Garden

08/2016
CD Cojo 7247 (US)

Gotta Be Me - Gotta Be Me / Grass Stains / With You I Am / Half A Song / The Only One I Know (Cowboy Life) / Walk Away / Kiss Goodbye / Chain Drinkin' / Wild As You / I Know My Way Back (Clara's Song) / Billy's Brother / Every Scar Has A Story / I Ain't Going Nowhere Baby / BONUS TRACKS : I Can't Even Walk (Without You Holding My Hand)

01/2019
CD Warner 574233-2 (US)

Ain't Nothin' to It - Ain't Nothin' To It / Noise / Fenceposts / Understand Why / Long Haired Country Boy / Nothin' On You / Honky Tonk Mood / Monday Morning Merle / Y'all People (Dedicated To The "Cojo Nation") / Where Cowboys Are King / On My Way To You / Doubt Me Now / Dear Rodeo / Husbands And Wives [live] / His Name Is Jesus [live]

09/2021
2 CD Cojo / Warner 0932624879435 (US)

Human - The Double Album :

CD 1 : PART ONE : Human / Honky Tonk Hardwood Floors / Sad Songs And Waltzes / 'Til You Can't / God Bless The Boy (Cori's Song) / Known For Loving You / Driveway / Son Of A Ramblin' Man /

I Always Wanted To

CD 2 :

Part Two :

I Don't Know A Thing About Love / Longer Than She Did / Made A Home / Let's Build A Fire / When It Comes To You / Treasure / Stronger / Cowboy Scale Of 1 To 10 / By Your Grace

11/2021
CD Cojo / Warner 093624875987 (US)

A Cody Johnson Christmas - Christmas All Year Long / Pretty Paper / I'll Be Home For Christmas / If We Make It Through December / Away In A Manger / Hat Made Of Mistletoe / White Christmas / Silent Night (featuring, guest, vocals - Brandi Johnson, Clara Mae Johnson, Cori Johnson) / Feliz Navidad (featuring, guest, vocals – Kevin Fowler, Roger Creager) / Santa Claus Is Back In Town

12/2022
2 CD Cojo / Warner 093624866763 (US)

Cody Johnson & The Rockin' CJB Live :

CD 1 : COJO Nation (intro) / Honky Tonk Hardwood Floors / With You I Am / Wild As You / Ride With Me / Dance Her Home / Diamond In My Pocket (intro) / Diamond In My Pocket / God Bless The Boy (Cori's Song) / Half A Song / Stronger / Me And My Kind / Longer Than She Did
CD 2 :

I Don't Know A Thing About Love /

Nothin' On You / Son Of A Ramblin' Man / Let's Build A Fire / Human (intro) / Human / 'Til You Can't / Long Haired Country Boy (intro) / Long Haired Country Boy / The Rockin' CJB Solos / On My Way To You (intro) / On My Way To You / Dear Rodeo (intro) / Dear Rodeo
© Rocky Productions 28/02/2022