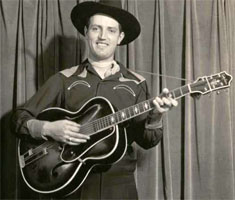 Chanteur et guitariste Western Swing US nť le 30 Janvier 1916 ŗ Winchester (Kentucky). Rome Johnson est decťdť le 3 Janvier 1993.

Back around summer of 1953, Rome Johnson was doing his singing and guitar playing over radio station WNOP out of Newport, Kentucky between 11:30 and noon every Saturday. He was appearing in person at the "Village Barn" in Covington, Kentucky six nights a week, too. Rome was a native of the Bluegrass state and his professional career was said to have started at the age of 15.
Among his other radio station stints prior to this were: WXYZ, Detroit - WOAI, San Antonio - WLW, Cincinnati - WLAP, Lexington.
Rome also recorded a few tunes for the King label. Among his tunes were "Waltz of the Wind", "Look To The Sea". His current record out at that time was one of his own compositions, "Foolish Me For Loving You".
Talents : Vocals, Guitar
Style musical : Western Swing, Traditional Country
Years in activity :
| | | | | | | | | | | | |
| --- | --- | --- | --- | --- | --- | --- | --- | --- | --- | --- | --- |
| 1910 | 20 | 30 | 40 | 50 | 60 | 70 | 80 | 90 | 2000 | 10 | 20 |
DISCOGRAPHY
78 t. & Singles
08/1947
78 t. MGM 10068 (US)

Waltz Of The Winds / Someday You'll Thank Me

02/1948
78 t. MGM 10130 (US)

Indiana Waltz / I Guess I've Been Asleep (For All These Years)

04/1948
78 t. MGM 10181 (US)

It's Funny Now / No One Will Ever Know

08/1948
78 t. MGM 10235 (US)

My Dream Boat Is Drifting / There's No Room In My Heart For The Blues

04/1949
78 t. MGM 10385 (US)

Down In The Neck Of The Woods / Rio Grande Valley

08/1949
78 t. MGM 10482 (US)

The Willow And Me / You Have Changed

10/1950
78 t. MGM 10810 (US)

If I Didnít Love You / Forever And A Day

10/1950
SP MGM K 10810 (US)
If I Didnít Love You / Forever And A Day
1951
78 t. ABBEY 15041 (US)
A Stain Upon My Heart / Love Flew Out Of The Window
1951
SP ABBEY 15041X45 (US)

A Stain Upon My Heart / Love Flew Out Of The Window

08/1952
78 t. KING 1077 (US)
Look To The Sea / I Was A Fool To love You
08/1952
SP KING 45-1077 (US)

Look To The Sea / I Was A Fool To love You

10/1952
78 t. KING 1098 (US)
Foolish Me For Loving You / My Heart is An Open Book
10/1952
SP KING 45-1098 (US)

Foolish Me For Loving You / My Heart is An Open Book

04/1953
78 t. MGM 11480 (US)

Farther And Farther Apart / Midnight Waltz

04/1953
SP MGM K 11480 (US)
Farther And Farther Apart / Midnight Waltz
11/1957
SP SAGE 45-250 (US)
Rome

Johnson

/ Roy

Lanham

's Band

- Wild Desire / Truck Driver Blues
1958 ?
SP NOW 45-100/1 (US)
Georgia Blues / Women And Wine
01/1960
SP SIMS 45-110 (US)
Rome

Johnson

/ Roy

Lanham

's Band -

Wild Desire / Truck Driver Blues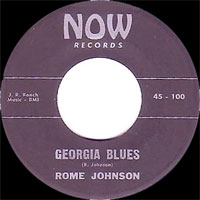 Albums
| | | | |
| --- | --- | --- | --- |
| 1986 | LP 12" CATTLE LP 88 (GER) | | DOWN IN MY NECK OF THE WOODS - Down In My Neck Of The Woods / Rio Grande Valley / The Waltz Of The Wind / Someday You'll Thank Me / Look To The Sea / It's Funny Now / No One Will Ever Know / You Have Changed / Foolish Me For Loving You / My Heart Is An Open Book / Forever And A Day / If I Didn't Love You / The Willow And Me / I Guess I've Been Asleep / Indiana Waltz |
| 2013 | LP 12" BACM CD D 413 (UK) | | My Dream Boat Is Drifting - Foolish Me For Loving You / Faded Love And Winter Roses / My Dream Boat Is Drifting / Georgia Blues / My Heart Is An Open Book / Forever And A Day / If I Didnít Love You / The Willow And Me / I Guess Iíve Been Asleep (For All These Years) / Indiana Waltz / No One Will Ever Know / Thereís No Room In My Heart For The Blues / Down In My Neck Of The Woods / Women And Wine / Rio Grande Valley / A Stain Upon My Heart / What A Difference (Just A Year Can Make) / Waltz Of The Wind / Love Flew Out Of The Window / Someday Youíll Thank Me / Look To The Sea / Itís Funny Now (But It Wasnít Funny Then) / You Have Changed |
© Rocky Productions 26/11/2014