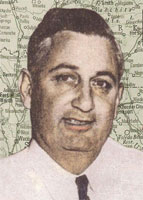 Chanteur et musicien Country US né le 25 Décemvre 1902 à Asheville (Caroline du Nord). Buddy Jones fut une figure importante du Western Swing et un des créateurs du Honky Tonk. Entre 1934 et 1941, Jones a enregistré dans une formule orchestrale resserrée qui préfigure très nettement le futur Honky Tonk Texan une série de pièces pleines d'entrain, de fureur et parsemées d'extraordinaires solos.
Buddy, lassé de la vie de musicien, profite du succès politique de son ami Jimmie Davis pour entrer dans la police de Shreveport (Louisiane). Il ouvrira ensuite une restaurant renommé pour ses poissons-chats, prenant sa guitare et chantant à l'occasion pour des clients parmi lesquels figure un Elvis Presley qui avouait son admiration pour ses disques des 40's. Buddy Jones est décédé le 20 Octobre 1956.

US Country singer and musician born in 1906 in Asheville (North Carolina). In 1935 he made his first recordings for Decca Records. He recorded some 80 tracks over the next six years, including country blues as well as risqué honky tonk numbers such as "I'm Going to Get Me A Honky Tonky Baby" and "She's Sellin' What She Used to Give Away". Some of his recordings were duos with Jimmie Davis, and he also recorded with his brother Buster Jones on steel guitar. He also made recordings with a band including pianist Moon Mullican, fiddler Cliff Bruner and Bob Dunn (steel guitar).
His 1939 recording "Rockin' Rollin' Mama" is notable for the lines "Waves on the ocean, waves in the sea/ But that gal of mine rolls just right for me/ Rockin' rollin' mama, I love the way you rock and roll". This dates from some 15 years before this phrase came into common parlance, and is particularly remarkable in that it was sung by a Caucasian singer.
In the early 1940s Jones married, ended his recording career, and became a police officer in Shreveport, Louisiana. Buddy Jones died October 20, 1956.
Buddy Jones died on October 20, 1956.
https://en.wikipedia.org/wiki/Buddy_Jones_(Western_swing_musician)
Talents : Vocals, Guitar, Police Officer
Style musical : Traditional Country, Honky Tonk, Western Swing
Years in activity :
| | | | | | | | | | | | |
| --- | --- | --- | --- | --- | --- | --- | --- | --- | --- | --- | --- |
| 1910 | 20 | 30 | 40 | 50 | 60 | 70 | 80 | 90 | 2000 | 10 | 20 |
DISCOGRAPHY
78 t.
| | | |
| --- | --- | --- |
| 11/1935 | 78 t. DECCA 5155 (US) | Are You Tired Of Me Darlin' (Jimmie DAVIS & Buddy JONES) / Red River Blues (Jimmie DAVIS) |
| 07/1936 | 78 t. DECCA 5235 (US) | I Ain't Gonna Let Ol' Satan Turn Me 'Round / 'Twill Be Sweet When We Meet |
| 04/1937 | 78 t. DECCA 5345 (US) | Woman ('Bout To Make A Wreck Out Of Me) / My Home In The Hills Of Caroline |
| 05/1937 | 78 t. DECCA 5372 (US) | Mean Old Lonesome Blues / Huntin' Blues |
| 08/1937 | 78 t. DECCA 5414 (US) | Drunkard's Blues / Rambler's Blues |
| 01/1938 | 78 t. DECCA 5476 (US) | Ragged But Right / Small Town Mama |
| 03/1938 | 78 t. DECCA 5490 (US) | Shreveport County Jail Blues / Tomcattin' Around |
| 05/1938 | 78 t. DECCA 5521 (US) | When The Cactus Is In Bloom / (It's Mighty Cold) When The Sun Goes Down |
| 06/1938 | 78 t. DECCA 5538 (US) | Evil Stingaree / Streamlined Mama |
| 10/1938 | 78 t. DECCA 5600 (US) | My Home, My Baby And Me / I'm Your Real And True Friend |
| 11/1938 | 78 t. DECCA 5613 (US) | She's Sellin' What She Used To Give Away / Small Town Mama No. 2 |
| 12/1938 | 78 t. DECCA 5637 (US) | Carry The Good Work On / I Ain't Goin' Your Way |
| 02/1939 | 78 t. DECCA 5654 (US) | I'll Get Mine Bye And Bye / Easy Rollin' Sue |
| 04/1939 | 78 t. DECCA 5673 (US) | Ease My Troubled Mind / She's Got Her Jinx On Me |
| 04/1939 | 78 t. DECCA 5682 (US) | Easy Rider-Easy Rider / I'm In The Doghouse Now |
| 05/1939 | 78 t. DECCA 5693 (US) | Old Fashioned Sweetheart / Oklahoma City Blues |
| 07/1939 | 78 t. DECCA 5703 (US) | The Roughest Gal In Town / Butcher Man Blues |
| 08/1939 | 78 t. DECCA 5711 (US) | I'll Get Mine Bye And Bye No. 2 / You Cannot Take It With You |
| 10/1939 | 78 t. DECCA 5731 (US) | Rockin' Rollin' Mama / Hold It A Little Longer |
| 11/1939 | 78 t. DECCA 5744 (US) | Boog-A-Boo Baby / Alice From Dallas |
| 11/1939 | 78 t. DECCA 5757 (US) | I Wish I'd Never Met You / Action Speaks Louder Than Words |
| 12/1939 | 78 t. DECCA 5773 (US) | She's Got The Best In Town / I'm In The Doghouse Now No. 2 |
| 01/1940 | 78 t. DECCA 5788 (US) | I Can't Be Bothered / Like The Doctor Said |
| 02/1940 | 78 t. DECCA 5809 (US) | Tend To Your Business / I Think I'll Turn Your Damper Down |
| 03/1940 | 78 t. DECCA 5816 (US) | I Can't Use You Anymore / I'll Get Mine Bye And Bye No. 1 |
| 04/1940 | 78 t. DECCA 5821 (US) | You'll Miss Me Some Sweet Day / Settle Down Blues |
| 05/1940 | 78 t. DECCA 5827 (US) | Waiting For A Train / I Won't Miss You When You Go Away |
| 06/1940 | 78 t. DECCA 5840 (US) | Dear Old Sunny South By The Sea / Any Old Time |
| 06/1940 | 78 t. DECCA 5850 (US) | Mean Old Sixty Five Blues / I'll Come Back Dear (If You're Still In Love With Me) |
| 07/1940 | 78 t. DECCA 5861 (US) | Taxicab Driver's Blues / I'm Goin' Back To Sadie |
| 11/1940 | 78 t. DECCA 5896 (US) | Going Back To Louisiana Lou / Sailing Blues |
| 05/1941 | 78 t. DECCA 5950 (US) | Don't Ever Leave Me Alone / Red Wagon |
| 07/1941 | 78 t. DECCA 5967 (US) | Gonna Change My Business Around / Mean Hangover Blues |
| 09/1941 | 78 t. DECCA 5984 (US) | Honey Don't Turn Me Down / What Is Life Lived Alone |
| 01/1942 | 78 t. DECCA 6013 (US) | You've Got Just What It Takes / If I'm Wrong, I'm Sorry |
| 04/1942 | 78 t. DECCA 6030 (US) | Don't Say Goodbye If You Love Me / Every Day Blues |
| 05/1942 | 78 t. DECCA 6049 (US) | She's A Hum-Dum Dinger / I'm Going To Get Me A Honky Tonk Baby |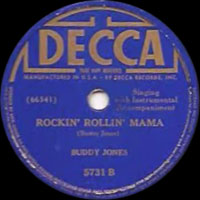 Albums
| | | | |
| --- | --- | --- | --- |
| 1984 | LP 12" TEXAS ROSE TXR 2711 (US) | | LOUISIANA'S HONKY TONK MAN - 1935-41 - Don't Ever Leave Me Alone / Shreveport County Jail Blues / I'll Get Mine Bye And Bye No. 2 / Settle Down Blues / She's A Hum Dum Dinger / Ease My Troubled Mind / Oklahoma City Blues / Ragged But Right / I'm Going To Get Me A Honky Tonk Baby / Butcher Man Blues / She's Sellin' What She Used To Give Away / Dear Old Sunny South By The Sea / Red River Blues / Carry The Good Work On / Mean Old Sixty-Five Blues / You've Got Just What It Takes |
| 1998 | CD CATTLE CCD-206 (GER) | | THE LOUISIANA HONKY TONK BOY - Honey Don't Turn Me Down / If I'm Wrong, I'm Sorry / Red Wagon / She's Got Her Jinx On Me / Small Town Mama No. 2 / Easy Rider / I'm In The Doghouse Now / Alice From Dallas / Boog-A-Boo Baby / Easy Rollin' Sue / You Cannot Take It With You / I Can't Be Bothered / I Can't Use You Anymore / I'll Get Mine Bye And Bye No. 3 / Like The Doctor Said / Tend To Your Business / Taxicab Driver's Blues / I'm Going Back To Sadie / Sailing Blues / Huntin' Blues |
| 2004 | CD BACM CD D-014 (UK) | | POLICE OFFICER & HONKY TONK SINGER - Every Day Blues / I Wish I'd Never Met You / She's Selling What She Used To Give Away / You've Got Just What It Takes / Don't Ever Leave Me Alone / Gonna Change My Business All Around / Mean Hangover Blues / I'm Gonna Get Me A Honky Tonk Baby / She's A Hum Dum Dinger / Mean Old Sixty Five Blues / What Is Life Lived Alone / Dear Old Sunny South By The Sea / Shreveport County Jail Blues / Red River Blues / Butcher Man Blues / Carry The Good Work On / Actions Speak Louder Than Words / Ease My Troubled Mind / Ragged But Right / I'll Get Mine Bye And Bye No. 2 |
© Rocky Productions 18/12/2011