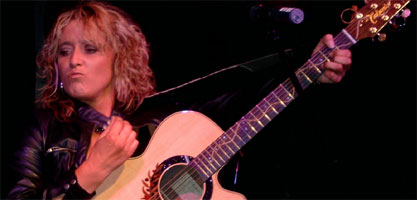 Chanteuse Country Britannique née le 20 Novembre 1969 à Reading, Berkshire (Angleterre).

British Country singer born on November 20, 1969 in Reading, Berkshire (England). Jory's musical talents were quickly recognized and as she loved her parents' country records, she began playing steel guitar since the age of five. She appeared in a club the following year and this was followed by her television debut when she was eight. Her father became her manager and she joined Colorado Country. Her first album, however, Sarah's Steel Line, was made with the Warrington band Poacher. She worked with Colorado Country for four years, followed by an assortment of gigs while she completed her schooling. She regularly went to the USA and appeared on steel guitar conventions. She made her first Vocals tape, No Time At All, in 1986 and spent some time developing a new act around the pub circuit in Bristol. She formed a new, fully professional band, and in 1991 she opened for Eric Clapton in Dublin and undertook a nationwide tour with Glen Campbell. She plays banjo, mandolin, guitar and keyboards as well as steel guitar, but, now signed to Ritz, her main chance of stardom is as a vocalist. One 1994 single was an unremarkable revival of Jackie DeShannon's 'When You Walk In The Room', which had also been recently revived by Pam Tillis. Jory was featured in a major UK television documentary about female country singers on the South Bank Show. Love With Attitude was recorded in Nashville with the songs and musicians of Music City, USA. She was awarded British Female vocalist Of The Year in 1995, 1996, and 1997 by the British Country Music Association.
https://en.wikipedia.org/wiki/Sarah_Jory
Talents : Singer, Steel Guitar, Guitar, Banjo, Mandolin, Guitar, Keybords.
Style musical : Traditional Country, Contemporary Country, Folk

http://www.youtube.com/watch?v=vqET8PIbcYA&feature=youtu.be
Years in activity :
| | | | | | | | | | | | |
| --- | --- | --- | --- | --- | --- | --- | --- | --- | --- | --- | --- |
| 1910 | 20 | 30 | 40 | 50 | 60 | 70 | 80 | 90 | 2000 | 10 | 20 |
DISCOGRAPHY
Singles & EP
| | | | |
| --- | --- | --- | --- |
| 1988 | EP SARAH SAR 1007 (UK) | | WIND BENEATH MY WINGS |
| 1992 | CD RITZ 247 (UK) | | Never Had It So Good / Orange Blossom Special |
| 1994 | CD RITZ 271 (UK) | | When You Walk In The Room / Even Then |
| 1994 | CD RITZ 274 (UK) | | Web Of Love / Sarah's Dream |
| 05/1994 | CD PINNACLE ? (UK) | . | When You Walk In The Room |
| 1995 | CD ? (UK) | . | Love With Attitude |
| 1995 | CD ? (UK) | . | If I Love You |
| 1995 | CD ? (UK) | . | If I Had Any Pride Left At All |
| 1995 | CD ? (UK) | | When Promises Made Are Promises Kept |
| 06/1999 | CD TAMARIN ? (UK) | . | Always The Same In Love |
| 11/1999 | CD TAMARIN ? (UK) | . | Rhythm Of The Rain |
| 2003 | CD SAR ‎SARCD031 | | Think Of Me / What I Really Meant To Say / Slip Right Through Your Fingers / Tell It Like It Used To Be / My Heart Will Go On |
| 2003 | CD ? (UK) | | What I Really Meant To Say - Think Of Me / What I Really Meant To Say / Slip Right Through Your Fingers / Tell It Like It Used To Be / My Heart Will Go On / Theme From Titanic |
Albums
1980
LP 12" ? (UK)
SARAH STEEL LINE
1984
LP 12" ? (UK)
SARAH ON STEEL - Sticky Fingers / Song For Sarah / I Love You Because / Cold Cold Heart / Sound Waves / The Three Of Us / Mansion On The Hill / San Antonio Stroll / Elusive Dreams / Stainless Steel
1985
LP 12" SARAH SAR 1002 (UK)
CROSS COUNTRY - Oklahoma Stomp / Blue Eyes Crying In The Rain / Just Out Of Reach (Vocals) / She Believes In Me / The Old Rugged Cross / Indian Killed A Woodcock - Sugar Foot Rag / Rose Coloured Glasses / I Just Destroyed The World / Beneath Still Waters (Vocals) / Crazy Arms
1987
LP 12" ? (UK)
SARAH THE WAY TO SURVIVE - I Love You Because / No-One Will Ever Know / Bitter They Are / Let Me Be There (Vocals) / Desperado / The Way To Survive / Before I'm Over You (Vocals) / Roly Poly / I Fall To Pieces (Vocals) / Orange Blossom Special
1988
CD ? (UK)

Deep In The Heart Of Texas - Highway 40 Blues / Careless Hands / Almost Persuaded / Waltz Across Texas / Shirley / Deep In The Heart Of Texas / The Waltz You Saved For Me / Cotton Eyed Joe / Sugar Foot Rag / Blue Jade

1988
LP 12" ? (UK)

No Time At All - Walk The Way The Wind Blows / Satin Sheets / If You Need A Laugh Give Me A Call / Funny Face / Put Another Log On The Fire / No Time At All / Our House Is A Home / Always Have, Always Will / Cowboy Loving Night / Yesterday Just Passed My Way Again

1989
CD ? (UK)

Dallas City Lights - Remington Ride / Mama's Wedding Ring / Jealous Heart / Steel Line / Beyond The Point Of No Return / I Just Called To Say I Love You / City Lights / Touch My Heart / The Preacher / Farewell Party / Flint Hill Special / Once Upon A Time In The West

1990
CD HITSOUND SPARK CD 8 (UK)

Sarah's Dream - One More Time - My Shoes Keep Walking Back / I Always Get Lucky With You / In The Garden / Under The Boardwalk / Gonna Build A Mountain / Sarah's Dream / Bye Bye Love - When Will I Be Loved / Cry / Why Me Lord / Sweet Dreams / Tennessee Flat Top Box / How Gret Thou Art

1990
LP 12" ? (UK)

Especially For You - Lone Star State Of Mind / Somewhere Between / Faded Love / Grandpa / Hillbilly Girl / The Old Rugged Cross / Jambalaya / Beyond The Point / It Is No Secret / Jones On The Jukebox / I'll Leave This World / I Saw The Light

1992
CD RITZ 67 (UK)
NEW HORIZONS - Never Had It So Good / Look At Us / Take Your Memory With You / The Strings That Tie You Down / Darlin' / Wind Beneath My Wings / Orange Blossom Special / Mississippi / How Do / 'Til A Tear Becomes A Rose / You'll Never Get To Heaven / Take A Love Off My Mind / Heartaches By The Number / Sarah's Dream
12/1993
CD RITZ 428 (UK)
THE EARLY YEARS - 20 STEEL GUITAR FAVOURITES - Sticky Fingers / Deep In The Heart Of Texas / Orange Blossom Special / Jealous Heart / Under The Boardwalk / Careless Hands / Steel Line / A Way To Survive / San Antonio Stroll / She Believes In Me / Oklahoma Stomp / Highway 40 Blues / Rose Coloured Glasses / Blue Jade / Cold Cold Heart / The Three Of Us / In The Garden / City Lights / Once Upon A Time In The West / Remington Ride
12/1993
CD RITZ 429 (UK)
THE EARLY YEARS - 20 CLASSIC SONGS - Walk The Way The Wind Blows / Somewhere Between / I'll Leave This World Loving You / Just Out Of Reach / Why Me Lord / Beyond The Point Of No Return / Let Me Be There / Dear God / Always Have, Always Will / How Great Thou Art / Jones On The Jukebox / Before I'm Over You / Just Because I'm A Woman / Faded Love / It Is No Secret / No Time At All / Funny Face / Yesterday Just Passed My Way Again / Beneath Still Waters / The Old Rugged Cross
1994
CD RITZ 73 (UK)
WEB OF LOVE - Before I Call It Love / Even Then / Candle Burning / If I Love You / Every Time / Binding Me Like A Chain / Web Of Love / When You Walk In The Room / Over You / Even A Fool / Two Sparrows In A Hurricane / Who's Crying Now? / On The Way To A Dream / Real Slow / Stop Playing With My Heart
10/1995
CD RITZ 76 (UK)
LOVE WITH ATTITUDE - Whatever Way The Wind Blows / Some Kind Of Fool / If I Had Any Pride Left At All / Wise Beyond Her Tears / Don't Walk In Here Like You Never Walked Out / I Just Don't Love You / Back Seat Driver / The Story Behind Her Smile / Love With Attitude / You Can Say That Again And Again / When Promises Made Are Promises Kept / Now It's Time / With All The Love / Same Track Different Trains / Last Date
1995
CD ? (UK)

The Winners

1995
CD ? (UK)

Country Love Vol. 1

03/1999
CD UNIVERSAL 201 (UK)
KISS MY INNOCENCE - Always The Same In Love / Kiss My Innocence / Jealous Guy / Talk To Me / Out Of My Hands / Stay The Night / Rhythm In The Rain / Eyes Of Love / Last Horizon / Wounded I Bleed / Knock On Wood
08/2000
CD ? (UK)

The Sarah Jory Band Live! - Stay The Night / Baby Tonight / Guilty Of Loving You / Come With Me / I Need A Lover / Night Train / Somethings Changed / Another Lonely Night / Out Of My Hands / Rhythm Of The Rain / Closer And Closer / Amazing Grace

2004
CD ? (UK)
Steelin' From The Blue Room - Start Up / Beyond The point Of No Return / When Will You Tell Me That You Love Me / Abba Medley / Nervous Breakdown / Holy Night / Mac The Knife / I Can See Clearly Now / I Can't Turn You Loose /

Unchained Melody
© Rocky Productions 21/12/2014