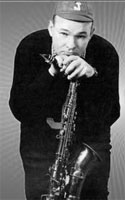 Saxophoniste US né le 14 Octobre 1927 à Birmingham (Alabama), Bill Justis faisait parti avec Jack Clement, des musiciens qui ont travaillé et créé le son de la Sun Records de Memphis (Tennessee) entre 1950 et 1959. Il a découvert Charlie Rich, Eddie Bush et Carl Mann. Vidé avec Jack Clement par Sam Phillips en Mars 59, il travaille ensuite avec Charlie Rich chez RCA puis Monument et Sound Stage Seven avec les Dixie Bells. Il a enregistré en solo outre à la Sun, pour Play Me, Monument, Smash et NRC Records. Bill Justis est mort à Nashville le 15 Juillet 1982.

Best known to most listeners for the aptly titled instrumental smash "Raunchy," Bill Justis was also a longtime linchpin of the Nashville recording community, working as a producer, musical director, and A&R man for labels including Sun and Mercury. Born October 14, 1927, in Birmingham, Alabama, he grew up in Memphis, studying music and English at Tulane University while playing trumpet in local jazz and dance bands. In 1957, the legendary Sam Phillips hired Justis to serve as the musical director for his Sun Records label. At 30, Justis was a good decade older than most of Sun's artists and had little interest in rock & roll until he learned just how lucrative the music had become. With guitarist Sid Manker, Justis composed a wild, primitive instrumental they dubbed "Backwoods"; Phillips renamed the tune "Raunchy," releasing it as a single in November 1957. Although Justis' honking tenor sax assumed center stage, what made "Raunchy" so unique was Manker's guitar; he forged the song's distinctive riff not from the traditional middle strings but from the bass strings, creating a cavernous, resonant sound further buffered by studio echo. The single proved Sun's best-selling instrumental release ever, staying in the pop Top 40 for 14 weeks.
Justis would nevertheless score only more chart hit, "College Man," which only went as high as number 42. He continued recording the occasional single (including "Flea Circus," penned by Steve Cropper), but by and large focused the remainder of his career on studio work, arranging sessions for Jerry Lee Lewis, Johnny Cash, and Roy Orbison. Justis also discovered Charlie Rich at Memphis night spot The Sharecropper Club and brought him to Sun in 1960, arranging Rich's first major hit, "Lonely Weekends." However, squabbles with Phillips prompted Justis to leave Sun soon after, and he formed his own label, the short-lived Play Me Records. After moving to Nashville and briefly reuniting with Rich at RCA, he landed with Mercury, which remained his home for the remainder of his career. In the years to follow, Justis would arrange records for everyone from Patsy Cline to Dean Martin to Tom Jones, also recording a series of instrumental LPs for Mercury's Smash subsidiary. In 1972 he scored his first film, Dear Dead Delilah. In 1977, he scored the smash Smokey and the Bandit, reuniting with star Burt Reynolds a year later for Hooper. Justis died of cancer on July 15, 1982.
https://en.wikipedia.org/wiki/Bill_Justis
http://www.spaceagepop.com/justis.htm
Talents : Saxophone, Band Leader, Composer, Musical Arranger
Style musical : Rockabilly, Rock 'n' Roll, Pop. Jazz
Years in activity :
| | | | | | | | | | | |
| --- | --- | --- | --- | --- | --- | --- | --- | --- | --- | --- |
| 1910 | 20 | 30 | 40 | 50 | 60 | 70 | 80 | 90 | 2000 | 10 |
DISCOGRAPHY
Singles & EP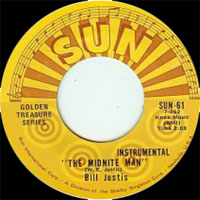 Albums
1959
LP 12" PHILLIPS INTERNATIONAL PLP-1950 (US)
CLOUD 9 - Raunchy / Cloud Nine / Rollin' / The Stranger / College Man / Flea Circus / Flip Flop And Bop / Catty Wampus / The Snuggle / Scroungie / Wild Rice / Moosejaw
09/1962
LP 12" Smash MGS-27021 (mono) / SRS-67021 (stereo) (US)

Alley Cat/Green Onions - Bill Justis Plays 12 Big Instrumental Hits - Alley Cat / A Swingin' Safari / Stranger On The Shore / Mexico / Last Date / Rinky-Dink / Green Onions / Take Five / Theme From A Summer Place / The Stripper / Wonderland By Night / Calcutta

1962
LP 12" PHILIPS B 14 536 L (GER)

Dufte Party - Bill Justis Plays Instrumental Hits -

Alley Cat / A Swingin' Safari / Stranger On The Shore / Mexico / Last Date / Rinky-Dink / Green Onions / Take Five / Theme From "A Summer Place" / The Stripper / Wonderland By Night / Calcutta
01/1963
LP 12" Smash MGS-27030 (mono) / SRS-67030 (stereo) (US)

TELSTAR - The Lonely Bull - Bill Justis Plays 12 More Big Instrumental Hits - Tel-Star / Desafinado / I Got A Woman / Melody Of Love / Wheels / Last Night / The Lonely Bull / (Dance With) The Guitar Man / Sail Along Silvery Moon / Near You / Raunchy / Rebel Rouser

02/1963
LP 12" Smash MGS-27031 (mono) / SRS-67031 (stereo) (US)

Bill Justis Plays 12 Smash Instrumental Hits - Cast Your Fate To The Wind / Fly Me To The Moon / Wild Weekend / Boss / Misirlou / Meditation / Only You / Java / Zero Zero / Walk Right In / Mr. Cool / Acapulco

08/1963
LP 12" Smash MGS-27036 (mono) / SRS-67036 (stereo) (US)

Tamoure - Pipeline - Bill Justis Plays 12 Top Tunes - Tamoure / Hot Pastrami / Watermelon Man / El Watusi / Gravy Waltz / Boss Guitar / Pipeline / Do It Rat Now / Wiggle Wobble / Our Winter Love / Swingin' Shepperd Blues / You Can't Sit Down

02/1964
LP 12" Smash MGS-27043 (mono) / SRS-67043 (stereo) (US)

Other Instrumental Hits - Cotton Candy / Honky Tonk / Patricia / Smokie : Part I / The Pink Panther / Charade / Shangri-La / Washington Square / Cherry Pink And Apple Blossom White / Sax Fifth Avenue / Danny Boy / More

08/1964
LP 12" Smash MGS-27047 (mono) / SRS-67047 (stereo) (US)

Dixieland Folk Style - Five Hundred Miles Away From Home / Gotta Travel On / Blowin' In The Wind / Settle Down / This Land Is Your Land / Kisses Sweeter Than Wine / Cotton Fields / St. James Infirmary / Green, Green / Michael (Row The Boat Ashore) / Poor Wayfaring Stranger / Silver Threads And Golden Needles

02/1965
LP 12" Smash MGS-27065 (mono) / SRS-67065 (stereo) (US)

More Instrumental Hits By Bill Justis - Red Roses For A Blue Lady / Lazy River / Three O'Clock In The Morning / Tequila / So Rare / Petite Fleur / Sugar Lips / Love Me With All Your Heart / Java / (Main Theme) Exodus (From "Exodus") / Forever / Quiet Village

01/1966
LP 12" Smash MGS-27077 (mono) / SRS-67077 (stereo) (US)

A Taste Of Honey / The In Crowd - A Taste Of Honey / The In Crowd / Walk In The Black Forest / Yakety Sax / Night Train / Guitar Boogie / Hungry For Love / Harlem Nocturne / Tuff / Autumn Leaves / Walk, Don't Run / Theme From The Apartment

05/1967
LP 12" MONUMENT MLP-8078 (mono) / SLP-18078 (stereo) (US)

The Eternal Sea - Its Moods, Its Love Songs - Ebb Tide / Sail To Bombay, Sail To Rio / The Magic Sea / Off Shore / Beyond The Sea (La Mer) / Enchanted Sea / My Ship / Sailor (Your Home Is The Sea) / Boy On A Dolphin / Red Sails In The Sunset / Sea Of Dreams / The Eternal Sea

1968
LP 12" Wing SRW 16378 (US)

Bill Justis Plays Hot Hits Of Our Time - Cast Your Fate To The Wind / Fly Me To The Moon / Wild Weekend / Boss / Misirlou / Only You / Java / Zero Zero / Walk Right In / Mr. Cool

1969
LP 12" SUN SUN-109 (US)
RAUNCHY - Raunchy / College Man / Wild Rice / Cattywampus / Flip, Flop And Bop / Scroungie / Midnight Man / Summer Holliday / Cloud Nine / Flea Circus
05/1972
LP 12" Harmony KH-34189 (US)

THE Enchanted Sea - Ebb Tide / The Magic Sea / Off Shore / Enchanted Sea / Sail To Bombay, Sail To Rio / My Ship / Boy On A Dolphin / Red Sails In The Sunset / Sea Of Dreams / The Eternal Sea

1978
LP 12" Warner Bros. BSK3234 (US)

Hooper (Original Motion Picture Soundtrack) -

Rocket Car Theme / Old James Bonded Bourbon / La Virgin De La Macarena / The Littlebilly Band / Finale / Hooper (

A Prayer, A Pawn, A Hero, A King (

Fight Scene / Jocko's Song / Rocket Car Theme (reprise)

1979
LP 12" CHARLY CR 30180 (UK)
TOUGH STUFF -

Raunchy

(Bill JUSTIS) /

College Man

(Bill JUSTIS) /

Flip Flop And Bop

(Bill JUSTIS) /

The Snuggle

(Bill JUSTIS) /

Bop Train

(Bill JUSTIS) /

706 Union

(Bill JUSTIS) /

Cloudy

(Sonny BURGESS) /

Groovey Train

(Sonny BURGESS) /

Bo Diddley

(Jimmy Van EATON) /

Thunderbird

(Sonny BURGESS) /

Itchy

(Sonny BURGESS) /

In The Mood

(Jerry Lee LEWIS) /

Lewis Workout

(Jerry Lee LEWIS) /

Eddie's Blues

(Jerry Lee LEWIS) /

Jack's Jump

(Jerry Lee LEWIS) /

Crawlback

(Jerry Lee LEWIS)
1987
LP 12" Smash 422-830 898-1Q-1 (US)

Raunchy - Raunchy / Alley Cat / Green Onions / You Can't Sit Down / Watermelon Man / Smokey Part II / Honky Tonk / Tequila / Walk Don't Run / Yakety Sax

19??
LP 12" COZY PL-1007 (US)

Young Broadway - Young Hollywood -

Raindrops Keep Fallin' On My Head / Without Love / (Love Theme From) Romeo And Juliet / Midnight Cowboy / Aquarius / Let The Sunshine In / Everybody's Talkin' / Good Morning Starshine / Jean / Hang 'em High / I'll Never Fall In Love Again

02/1999
CD Collectables COL-CD 6018 (US)

Raunchy - The Very Best OF BILL JUSTIS - Raunchy / Summer Holiday / Cloud 9 / Paradiddle / The Stranger / Flea Circus / The Snuggle / Midnight Man / College Man / Scroungie / Bop Train / Rollin' / Faraway / String Of Pearls Cha Cha / Moosejaw / Wild Rice / The Stinger / Cattywampus / Flip Flop And Bop
© Rocky Productions 27/12/2014