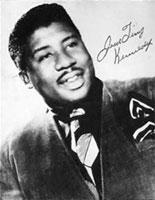 Chanteur Blues et Rhythm 'n' Blues US né Jesse Kennedy, Jr., Tiny Kennedy a enregistré chez Groove et Trumpet Records.

Tiny Kennedy was anything but diminutive, either in stature or Vocals range. "Big and fat" was how Trumpet Records boss Lillian McMurry vividly described him, and she should know: Trumpet recorded the shouter in 1951 and again in 1952.
The vocalist, born Jesse Kennedy, Jr., had recorded with the great Kansas City pianist Jay McShann for Capitol in 1949 prior to joining Tiny Bradshaw's jumping band as one of its featured front men. After a session with Elmore James in 1951 didn't result in anything releasable, McMurry sent Kennedy up to Sam Phillips's fledgling Memphis Recording Service in September of 1952. Musicians on the session, which produced the fine "Strange Kind of Feelin'," "Early in the Mornin', Baby" (with overdubbed crowing by "Elmer, the Disc Jockey Rooster"), and "Blues Disease," included guitarist Calvin Newborn and saxist Richard Sanders. After a 1955 date for RCA's Groove subsidiary, Kennedy disappeared permanently from the R&B scene.
Talents : Vocals, Guitar, Drums
Style musical : Contemporary Country
Years in activity :
| | | | | | | | | | | |
| --- | --- | --- | --- | --- | --- | --- | --- | --- | --- | --- |
| 1910 | 20 | 30 | 40 | 50 | 60 | 70 | 80 | 90 | 2000 | 10 |
DISCOGRAPHY
78 t., Singles & EP
| | | | |
| --- | --- | --- | --- |
| 1955 | 78 & SP GROOVE 106 (US) | . | Country Boy / I Need A Good Woman |
| 1955 | 78 & SP GROOVE 133 (US) | . | T'aint Right / Strange Kind Of Feeling |
| 12/1955 | 78 & SP TRUMPET 187 (US) | . | Early In The Morning / Strange Kind Of Feeling |
| 12/1955 | 78 & SP TRUMPET 188 (US) | . | Blues Disease / Don't Lay This Job On Me |
| 1969 | EP Americana Productions 6249 (US) | | Fireball Jungle (Theme Song) (Tiny KENNEDY) / Please Don't Give Him My Love (Tiny KENNEDY) / Radio Spot A / Radio Spot B / Radio Spot C / Radio Spot D |
| 2011 | SP JukeBox Jam Series ‎JBJ 1025 (UK) | . | Country Boy / Strange Kind Of Feeling |
© Rocky Productions 17/07/2002