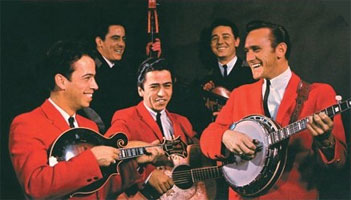 Groupe Bluegrass US formé en 1954 et comprenant Roland White, Clarence White, Eric White, Billy Ray Latham (1958), LeRoy Mack (1959), Bobby Sloan et Scotty Stoneman. D'abord sous les noms de Three Little Country Boys, Country Boys puis en 1962 le groupe changea de nom en Kentucky Colonels.

Progressive bluegrass band the Kentucky Colonels had a short but legendary career during the folk revival of the late '50s and early '60s. The band was formed in Los Angeles in the early '50s by brothers Roland, Eric, and Clarence White and their sister Joann. When Joann dropped out, the three brothers began billing themselves as the Three Little Country Boys and appeared on local television after winning first prize in a talent contest. In 1958, Arkansas native Billy Ray Lathum became their banjo player and Dobro player Leroy Mack joined the band the next year. Latham's arrival allowed Roland White to switch to mandolin, his instrument of choice.
As the Country Boys, the group recorded its first single, "I'm Head Over Heels in Love with You." They began appearing on Town Hall Party and Hometown Jamboree and recording on Gene Autry's label. Bassist and banjoist Roger Bush joined the band in 1961 after Eric dropped out to marry. Three Little Country Boys then recorded Songs, Themes & Laughs from the Andy Griffith Show for Capitol. Before the year was out, Roland was drafted and left the band for two years, leaving them without a mandolinist. The group cut its first album on Briar, which disliked the band's moniker and suggested a series of names, the best of which was the Kentucky Colonels. In 1963, fiddler Bobby Sloane joined the Colonels and Roland returned as well. By this time, the Colonels had begun to gather a following through their U.S. tours, and appeared at both the UCLA and Newport folk festivals in 1964. The band recorded several albums and appeared in the movie The Farmer's Other Daughter. They really took off musically when fiddler Scotty Stoneman replaced Sloane, but broke up shortly thereafter in 1965, with the members going their separate ways.
Talents : Roland White : Mandolin, Vocals - Clarence White : Guitar, Vocals - Eric White : Bass, Vocals - Billy Ray Latham : Banjo, Vocals - LeRoy Mack : Dobro, Vocals - Bobby Sloan : Fiddle, Vocals - Scotty Stoneman : Fiddle, Vocals
Style musical : Bluegrass
Years in activity :
| | | | | | | | | | | | |
| --- | --- | --- | --- | --- | --- | --- | --- | --- | --- | --- | --- |
| 1910 | 20 | 30 | 40 | 50 | 60 | 70 | 80 | 90 | 2000 | 10 | 20 |
DISCOGRAPHY
Singles
1959
SP SUNDOWN 131 (US)
COUNTRY BOYS - Head Over Heels

in Love with You

/ Kentucky Hills
1961
SP REPUBLIC 2013 (US)
COUNTRY BOYS - The Valley Below / The Mountain
10/1962
SP Hi-Lee 45C-1804A/B (US)
Hal

Poindexter

& The

Country Boys -

Carolina Sweetheart / I Ain't Gonna Worry
01/1963
SP BRIAR INT. 45-150 (US)

COUNTRY BOYS - To Prove My Love For You / Just Joshing

05/1965
SP WORLD PACIFIC 427 (US)

Kentucky

COLONELS - Ballad Of Farmer Brown / For Loving Me
Albums
1963
LP 12" BRIAR M-109 (US)
THE NEW SOUND OF BLUEGRASS AMERICA - Three Finger Blues / I'll Be Coming Home Tomorrow / If You're Ever Gonna Love Me / Banjo Picking Fever / I Might Take You Back Again / Memphis Special / Cabin In The Sky / Leroy's Ramble / Howdy Hoss / Won't You Call Me Darling / Rainbow Shining Somewhere / 420 Special / Just Joshing / To Prove My Love For You
04/1964
LP 12" WORLD PACIFIC WP 1821 (US)
APPALACHIAN SWING ! - Clinch Mountain Backstep / Nine Pound Hammer / Listen To The Mocking Bird / Wild Bill Jones / Billy In The Low Ground / Lee Highway Blues / I Am A Pilgrim / The Prisoner's Song / Sally Goodin / Faded Love / John Henry / Flat Fork
1974
LP 12" UNITED ARTISTS UAS 29514 (UK)
KENTUCKY COLONELS FEATURING ROLAND AND CLARENCE WHITE - Clinch Mountain Back Step / Nine Pound Hammer / Listen To The Mocking Bird / Wild Bill Jones / Billy In The Low Ground / Lee Highway / (That's What You Get) For Lovin' Me / I Am A Pilgram / Prisoner's Song / Sally Goodin / Ballad Of Farmer Brown / Faded Love / John Henry / Flat Fork
1975
LP 12" BRIAR BT-7202 (US)
LIVIN' IN THE PAST -

Intro: Jerry Garcia - Fire On The Mountain / If You're Ever Gonna Love Me / Julius Finkbine's Rag / Dark Hollow / He Said If I Be Lifted Up / Memphis Special / Shuckin' The Corn / Angel Of Death / Barefoot Nellie / Train '45' / Hard Hearted / Chug-A-Lug / Journey's End (A Life Of Sorrow) / Sheik Of Araby / A Good Woman's Love / Listen To The Mocking Bird / Old Joe Clark / Jordan / Shady Grove

1975
LP 12" TAKOMA BT-7202 (US)

Livin' In The Past -

Intro: Jerry Garcia - Fire On The Mountain / If You're Ever Gonna Love Me / Julius Finkbine's Rag / Dark Hollow / He Said If I Be Lifted Up / Memphis Special / Shuckin' The Corn / Angel Of Death / Barefoot Nellie / Train '45' / Hard Hearted / Chug-A-Lug / Journey's End (A Life Of Sorrow) / Sheik Of Araby / A Good Woman's Love / Listen To The Mocking Bird / Old Joe Clark / Jordan / Shady Grove

1976
LP 12" ROUNDER 0070 (US)
THE KENTUCKY COLONELS - 1965-1966 FEATURING ROLAND AND CLARENCE WHITE - New River Train / Blue Moon Of Kentucky / Lee Highway Blues / Don't Let Your Deal Go Down / New Soldier's Joy / Wicked Path Of Sin / Rawhide / Bucking Mule / How Mountain Girls Can Love / Black Mountain Rag / Sunny Side Of The Mountain / Jimmy's Barnyard Shuffle / You Won't Be Satisfied That Way / Clich Mountain Backstep / Let Me Fall
1976
LP 12" ROUNDER 0073 (US)
THE WHITE BROTHERS LIVE IN SWEDEN -

The New Kentucky Colonels -

Tell Me Baby Why You Been Gone So Long / Banjo Boy Chimes / Last Thing On My Mind / Sally Goodin / Take A Whiff On Me / Rawhide / If You're Ever Gonna Love Me / I'm Blue, I'm Lonesome / Alabama Jubilee / You Won't Be Satisfied That Way / Soldier's Joy / I Know What It Means To Be Lonesome / Blackberry Blossom / New River Train
1978
LP 12" Sierra SBR-4206 (US)

The Kentucky Colonels With Scotty Stoneman - Live in LA, 1965 - Oklahoma Stomp / Once A Day / Eighth Of January / Any Damn Thing / Lee Highway Blues / Down Yonder / Sally Goodin / Wound Time Can't Erase / Shuckin' The Corn / Listen To The Mockingbird / Cherokee Waltz / Cacklin' Hen / Orange Blossom Special / Goodnight Irene

1978
LP 12" Shiloh SLP-4084 (US)
1966 - Soldiers Joy / The Fugitive / Rubens Train / One Tear / I Might Take You Back Again / Take Off Your Cheaters / Take Off Your Cheaters / Old Country Church / Earl's Breakdown / Give This Message To Your Heart / Rubens Train (Second Cut) / Cotton Eyed Joe / Soldiers Joy (Conclusion)
1980
LP 12" ROUNDER 0098 (US)
CLARENCE WHITE & THE KENTUCKY COLONELS - Alabama Jubilee / I Am A Pilgrim / Billy In The Lowground / Bury Me Beneath The Willow / Footprints In The Snow / Wildwood Flower / Farewell Blues / When You're Smiling / Prisoner's Song / Good Woman's Love / Whitewash Chimney / Listen To The Mockingbird / Teardrops In My Eye / Working On A Building
1980
LP 12" Guimbarda ‎GS-11.070 (S)

Country Bluegrass - New River Train (El Nuevo Tren Del Rio) / Blue Moon Of Kentucky (Luna Azul De Kentucky) / Lee Highway Blues (Blues De La Autopista Lee) / Don't Let Your Deal Go Down (No Cierres El Trato) / New Soldiers Joy (La Alegria De Los Reclutas) / Wicked Path Of Sin (Infame Senda De Pecado) / Rawhide (Látigo De Cuero Verde) / Bucking Mule (Mula Corcoveante) / How Mountain Girls Can Love (¡Como Aman Las Chicas De La Montaña!) / Black Mountain Rag (Rag De La Montaña Negra) / Sunny Side Of The Mountain (La Solana De La Montaña) / Jimmy's Barnyard Shuffle (Shuffe Del Corral De Jimmy) / You Won't Be Satisfied That Way (No Te Conformes Así) / Clinch Mountain Backstep (Backstep De La Montaña De Clinch) / Let Me Fall (Déjame Caer)

1983
LP 12" Sierra SE-4202 (US)

Livin' In The Past -

LEGENDARY MASTER RECORDING - Intro: Jerry Garcia - Fire On The Mountain / If You're Ever Gonna Love Me / Julius Finkbine's Rag / Dark Hollow / He Said If I Be Lifted Up / Memphis Special / Shuckin' The Corn / Angel Of Death / Barefoot Nellie / Train '45' / Hard Hearted / Chug-A-Lug / Journey's End (A Life Of Sorrow) / Sheik Of Araby / A Good Woman's Love / Listen To The Mocking Bird / Old Joe Clark / Jordan / Shady Grove
1989
LP 12" ROUNDER 0199 (US)
ON STAGE - John Hardy / Used To Be / Shackles And Chains / Durham's Bluff / Mountain Dew / I Might Take You Back Again / Bluegrass Breakdown / Flop Eared Mule / I Wonder How The Old Folks Are At Home / Over In The Glory Land / Reno Ride / Ocean Of Diamonds / Bending The Strings
11/1991
CD VANGUARD VCD-77004 (US)
LONG JOURNEY HOME - Roll On Buddy / Bill Cheatham / There Ain't Nobody Gonna Miss Me When I'm Gone / Shuckin' The Corn / A Beautiful Life / Get Down On Your Knees And Pray / Over In The Glory Land / Sally Ann / Brakeman's Blues / Soldiers Joy / Listen To The Mockingbird / Farewell Blues / Lonesome Road Blues / Beaumont Rag / Footprints In The Snow / Long Journey Home / In The Pines / Chicken Reel / Old Hickory / Auld Lang Syne / Nola / Flat Fork / Shady Grove
1993
CD HOLLYWOOD 167003 (US)
LIVIN' IN THE PAST - LEGENDARY LIVE RECORDINGS - Introduction: Jerry G

arcia

/ Fire On The Mountain / Introduction / If You're Ever Gonna Love Me / Band Introduction / Julius Finkbine's Rag / Dark Hollow / Memphis Special / Introduction / He Said If I Be Lifted Up / Get Down On Your Knees And Pray / Introduction / Lee Highway Blues / A Woman Named Ruth / Shuckin' The Corn / Ocean Of Diamonds / Angel Of Death / Introduction / Barefoot Nellie / Train 45 (Intro: Mayne SMITH) / Hard Hearted / Introduction / Chug-A-Lug / Introduction / Alabama Jubilee / Sunny Side Of The Mountain / Journey's End (A Life Of Sorrow) / Introduction / Sheik Of Araby / Good Woman's Love / Mother's Milk Routine / Listen To The Mocking Bird / Old Joe Clark / Introduction / I Am A Pilgrim / Jordan / Shady Grove
1997
CD BGO BGOCD357 (UK)

KENTUCKY COLONELS Featuring Roland & CLARENCE WHITE With Billy Ray Latham, Roger Bush, Bobby Slone & Leroy Mack - Clinch Mountain Back-Step / Nine Pound Hammer / Listen To The Mocking Bird / Wild Bill Jones / Billy In The Low Ground / Lee Highway / (That's What You Get) For Lovin' Me / I Am A Pilgrim / Prisoner's Song / Sally Goodin / Ballad Of Farmer Brown / Faded Love / John Henry / Flat Fork

01/2003
CD RURAL RHYTHM RHY 1020 (US)

Livin' In The Past - Legendary Live Recordings - Introduction / Fire on the mountain / Introduction / If You're ever gonna love me / Band Introduction / Julius Finkbine's Rag / Dark Hollow / Memphis Special / Introduction / He said if I be lifted up / Get down on your knees and pray / Introduction / Lee Highway Blues / A woman named Ruth / Shuckin' the corn / Ocean of diamonds / Angel of death / Introduction / Barefoot Nellie / Train 45 / Hard Hearted / Introduction / Chug-a-lug / Introduction / Alabama Jubilee / Sunny side of the mountain

05/2003
CD DBL 1001 (US)
LIVE IN STEREO - Intro / Train 45 / Green Corn / Shuckin' The Corn / Dark Hollow / Saw Creek / All The Good Times (Are Past And Gone) / Soldier's Joy / You Won't Be Satisfied / Alabama Jubilee / Columbus Stockade / Mockin' Banjo / Workin' On A Building / Prisoner's Song / It Ain't Gonna Rain No More / Johnson's Ole Gray Mule / Fair And Tender Ladies / Bluegrass Breakdown / Long Journey Home / Howdy Hoss / Shady Grove
© Rocky Productions 11/01/2015