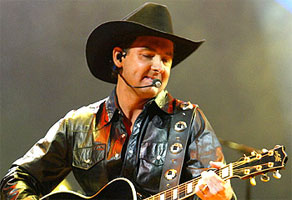 Chanteur Country Australien né le 15 Avril 1964 à Corryong (Victoria).

In Australian country music, Lee Kernaghan was as dominant in the '90s as Garth Brooks in America. He's also famous for the cowboy hat he wears. But there the similarity ends. Australian country music has held onto its romance with the land, small towns, and farm folk, and although Kernaghan, in his 30s, is the spearhead of the new generation of Australian country, he and his contemporaries hold fast to those traditional lyrical values, kneeling at the altar of those who came before them and carved a very individual path for Australian country music.
Lee Kernaghan was born in April 1964 to Pam and Ray Kernaghan, one of the pioneers of Australian country, with 14 gold albums to his credit. It was within the family tradition that Lee and his siblings, brother Greg and sisters Tania and Fiona, served their apprenticeship. All have careers of their own but it's Lee who emerged as the star, by far Australia's biggest selling country artist.
1986 saw Lee traveling with his father Ray to Nashville where they performed together during the famous Fan Fare week. That same year, Lee Kernaghan was introduced to music producer Garth Porter. In 1991, Kernaghan and Porter started their songwriting and artist/producer relationship. The result was the highly popular May 1992 album The Outback Club, which quickly went gold and has gone on to platinum status. Since then, there has been no stopping Lee Kernaghan's popularity.
In 1993, his second album, Three Chain Road, was given its first public airing at the renowned country music festival The Gympie Muster, with almost 60,000 country music lovers turning out. Thousands of Lee's fans waited for up to five hours in rainy conditions to shake his hand and to get an autograph. That second album saw Lee tip his now familiar hat to Australia's country traditions by recording with the "father" of Australian country, Slim Dusty.
Kernaghan's songs echo Australia's yesterdays while offering an optimistic, romantic version of rural Australia today. It's a successful formula which Lee Kernaghan has carried through with his subsequent albums: 1959, Hat Town, and 2000's Rules for fhe Road; where Kernaghan covers classic Australian country and guests with legendary Australian country performers, his new songs fitting the rest like a glove.
https://en.wikipedia.org/wiki/Lee_Kernaghan
Talents : Vocals, Guitar
Style musical : Country-Folk, Country Rock

http://www.youtube.com/watch?v=X-wvMN1Ifec
Years in activity :
| | | | | | | | | | | | |
| --- | --- | --- | --- | --- | --- | --- | --- | --- | --- | --- | --- |
| 1910 | 20 | 30 | 40 | 50 | 60 | 70 | 80 | 90 | 2000 | 10 | 20 |
Singles & EP
| | | | |
| --- | --- | --- | --- |
| 1983 | SP Country Man CMS 892 (AUS) | . | Cheaters / Advance Australia Again |
| 1985 | SP ? (AUS) | . | Back To Strangers / We're Gonna Be Lovers |
| 2004 | CD ABC 70382 (AUS) | | MISSIN' SLIM - Lee KERNAGHAN & Colin Buchanan - Missin' Slim (with Colin Buchanan) / Where Country Is (Lee KERNAGHAN) / Still Here To Give It My Best [Colin Buchanan] / Losin' My Blues Tonight (Lee KERNAGHAN) |
| 07/2007 | CD ABC 5144222192 (AUS) | | SPIRIT OF THE BUSH - Spirit Of The Bush (with Adam BRAND & Steve FORDE) / Leave Him In The Longyard (with Slim DUSTY) / Life Will Bring You Home (with Adam BRAND) / Aussie Philosophy (with Steve FORDE) / Down To Earth Documentary / Spirit Of The Bush |
Albums
1992
CD ABC 512 336 2 (AUS)
THE OUTBACK CLUB - Boys From The Bush / High Country / She Waits By The Sliprails (The Bush Girl) / Walkin' Out West / Country Girls / Country's Really Big These Days / You're The Reason I Never Saw Hank Jnr Play / Rejected / Scots Of The Riverina / You Don't Have To Go To Memphis / Searchin' For Another You
1993
CD ABC 518 304-2 (AUS)
THREE CHAIN ROAD - The Outback Club / Three Chain Road / She's My Ute / Dust On My Boots / The Burning Heart / 'Cause I'm Country / Collingullie Station / Leave Him In The Longyard / Southern Son / Back To The Shack / Cobar Line / Western Stars
1995
CD ABC 479 809 2 (AUS)
1959 - Scrubbashin / Janine / Shake On It / Country Crowd / Doctor / Rachel's Bed / Where Country / Freedom Road / Skinny Dippin / This Cowboys Hat / The Rope That Pulls The Wind / 1959
01/1998
CD ABC 7243 4 93846 2 0 (AUS)
HAT TOWN - Hat Town / Bare Essentials / Goondiwindi Moon / A Few Of Us Left / When The Snow Falls On The Alice / Changi Banjo / Cowgirls Do / Gettin' Gone / Pass The Bottle 'Round / The Western Beat / Longreach / Lonelyville
11/1998
CD ABC 7243-4-98040-2-9 (AUS)
THE CHRISTMAS ALBUM - Santa Claus Is Back In Town / It Must Be Christmas / Mary's Boy Child / Merry Merry Christmas (with Gina

Jeffreys

, Tania

Kernaghan

& Troy

Dann

) / Christmas Waltz / Have Yourself A Merry Little Christmas / Blue Christmas / It Still Feels Like Christmas To Me / O' Little Town Of Bethlehem (with Robbie

McKelvie

) / Silent Night / We Wish You A Merry Christmas / Away In A Manger
07/2000
CD EMI 7243-5-24618-2-0 (AUS)
RULES OF THE ROAD - Losin' My Blues Tonight / Darwin Jailhouse Window / Rules Of The Road / Cunnamulla Feller / That's The Kind Of Life I Live / Where The White Faced Cattle Roam / The Glass On The Bar / Winter Winds / Aussie Doghouse Blues / By A Fire Of Gidgee Coal / Overlander Trail / Camooweal / Following The Light / A Bushman Can't Survive / Days Of Old Khancoban / Leave Him In The Longyard
2002
CD UNIVERSAL 12432 (AUS)
ELECTRIC RODEO - Way It Is / Electric Rodeo / Something In The Water / An Ordinary Bloke / Baptiste The Ute / Long Night / Rock My World / A Handful Of Dust / That Old Caravan / Wild Side Of Life / Sing You Back Home / Texas, QLD / The Odyssey
2004
CD ABC 14042 (AUS)
THE BIG ONES - GREATEST HITS VOLUME 1 - Hat Town / Boys From The Bush / Something In The Water / Goondiwindi Moon / The Way It Is / Him In The Longyard / She's My Ute / When The Snow Falls On The Alice / High Country / Skinny Dippin' / 1959 / Gettin' Gone / I'm From The Country (with Travis SINCLAIR) / Three Chain Road / She Waits By The Sliprails (The Bush Girl) / Texas QLD 4385 / Electric Rodeo / The Outback Club / Missin' Slim (with Colin BUCHANAN) / Down Under
05/2006
CD ABC 510 113 104 2 (AUS)
THE NEW BUSH - Where I Come From / Listen To The Radio / The New Bush (with Daryl BRAITHWAITE) / Diamantina Dream / Love Shack / Western World / I'll Remember You / Livin' In Australia / Little Man (with Robyn McKELVIE) / Like Angels / On The Beach / When Country Comes / Close As A Whisper (The Gift)
07/2007
CD ABC 514 422 219 2 (AUS)

Spirit Of The Bush - Sassafras Gap / I Was Only Nineteen (A Walk In The Light Green) / Three Rivers Hotel / Spirit Of The Bush" (featuring Adam Brand & Steve Forde) / Diamantina Drover / Bare Essentials / T (e Way It Is / Spirit Of The High Country / Southern Son / Shelter / When Country Comes / A Bushman Can't Survive (featuring Tania Kernaghan) / Mate / Tenterfield Saddler / Cunnamulla Feller / Hat Town / Spirit Of The Bush (reprise)

11/2009
CD ABC 8000288 (AUS)

Planet Country - Planet Country / Love In The Time Of Drought / People Like Us / Dirt / Gold / Scars (with Dierks Bentley) / Something Right / Cowgirl / The Old Block / Australian Boy / Girls Gone Wild / A Place For Me (Planet Country reprise) / I Milk Cows (bonus track)

09/2011
2 CD UNIVERSAL 8800919 (AUS)

Ultimate Hits :

CD 1 : Boys From The Bush / Dirt / Goondiwindi Moon (with Trisha

Yearwood

) / She's My Ute / The Way It Is / High Country / Love In The Time Of Drought / Cunnamulla Fella / Scars / Listen To The Radio / Changi Banjo / Getting' Gone / Leave Him In The Longyard (with Slim

Dusty

) / You Rock My World / Three Chain Road / Scrubbashin' / Mate / Country Crowd / Skinny Dippin' / This Cowboy's Hat / Australian Boy
CD 2 : Planet Country / Fire (Lee and Robby) / Spirit Of The Bush (with Adam

Brand

& Steve

Forde

) / Baptise The Ute / When The Snow Falls On The Alice / Something In The Water / I Milk Cows / Shake On It / Hat Town / Something Right / The New Bush / Close As A Whisper (The Gift) / Love Shack (Groove Mix - Radio Edit) / Cowgirls Do / Diamantina Dream (with Trisha

Yearwood

) / Great Balls Of Fire (Live at CMC Rocks) / Electric Rodeo / Missin' Slim (with Colin

Buchanan

) / Texas QLD 4385 / The Outback Club / The Odyssey

2011
2 CD ABC 8002988 (AUS) (Deluxe Edition) (AUS)

Planet Country :

CD 1 : Planet Country / Love In The Time Of Drought / People Like Us / Dirt / Gold / Scars (with Dierks

Bentley

) / Something Right / Cowgirl / The Old Block / Australian Boy / Girls Gone Wild / A Place For Me (Planet Country reprise) / I Milk Cows (bonus track)
CD 2 : Bringing The Music Home (Pubs, Clubs and Carparks Tour Theme) / Fire (with Robyn Mc

Kelvie

) / Feeling Pretty Naked / Kerosene Lane / My Outback World (Opening Theme: RM Williams Outback Spectacular) / Great Balls Of Fire (Live At CMC Rocks The Snowys) / Spirit Of The Bush (Live At CMC Rocks The Snowys) / Talk Of The Town / Family Tradition (with Ray

Kernaghan

) / Texas QLD 4385 (Live At CMC Rocks The Snowys)

10/2012
CD ABC 8800973 (AUS)

Beautiful Noise - Beautiful Noise / Dirt Music / Bang Bang (Shooting From The Heart) / Keeping On / Ute Me / Splash / Flying With The King / It's Only Country / New Kind Of High / Party Town / Peace Love And Country

10/2014
CD ABC 3798306 (AUS)

Driving Home For Christmas - Jingle Bell Rock / Driving Home For Christmas / Santa Claus Is Back In Town / O' Christmas Bush / I'll Be Home For Christmas / Merry Merry Christmas / Mary's Boy Child / It Still Feels Like Christmas Time To Me / Cunnamulla Santa / O' Little Town Of Bethlehem / Christmas Waltz / We Wish You A Merry Christmas / Three Drovers
© Rocky Productions 12/01/2015