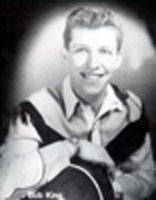 Chanteur Country Canadien né Robert George King le 6 Janvier 1934 à Joyceville (Ontario). Il est décédé en 1989.

A native of Ontario, Canada, Bob King was raised in the Ottawa Valley, a little-known "down north" center of country music and hillbilly culture. King came close (without quite succeeding) to breaking into the American market and achieving lasting fame beyond the confines of rural Ontario. He had major hits in Canada, and a small following in the United States without ever finding substantial success there.
Bob King was born to a British mother and a Canadian father on January 6, 1934. His father abandoned the family when King was three years old, and his mother remarried -- King was raised on a farm near Kingston, Ontario until he was ten years old, when a fire destroyed their home, after which he lived with relatives in Ottawa. He got his first guitar from his mother when he was seven years old and quickly developed a love of country music, most notably the work of Hank Williams. His other idols included Canadian country stars Hank Snow and Wilf Carter (aka Montana Slim). He was winning local music contests by the time he was 14 years old, and had his heart set on a career in country music.
He left school to take a job in an Ottawa department store, but he also assembled his first band, the Country Kings, around this same time. King also left home around this time, due in large part to his strained relationship with his stepfather.
Luck turned his way at age 18, when the Country Kings caught the ear of a local disc jockey, who became their manager and got them on the air in early 1954, and later got King a gig on a radio station in the United States, on the Wheeling Jamboree on WWVA out of Wheeling, WV. He was only on the Jamboree for a few months before homesickness brought him back to Canada. His good luck continued, as King was signed as the lead singer for a group called the Happy Wanderers, who were employed by radio station CFRA, the leading country music broadcast conduit in Canada. In addition to his performances on-stage in personal appearances with the Wanderers, not only in Canada but northern New York State just over the border, King served as a host and disc jockey, and played backup to visiting American country singers such as Johnny Cash and Marty Robbins.
This activity led to a contract with Canadian RCA, and his first push toward international stardom. A handful of singles, including "Let's Make a Fair Trade," "Laurel Lee," and "Rockin' Jukebox" each made a good run up the Canadian charts and seemed poised to crack the U.S. market, but never did -- American RCA, which had been resistant for years even to releasing Hank Snow's sides south of the 49th parallel, seemed singularly uninterested in making even a token effort with King's music, despite the apparent interest from some deejays and promoters.
King left RCA in 1958 and moved to Rodeo Records, based in Halifax, Nova Scotia. The label continued to record him into the '60s, and he worked with the Happy Wanderers until they disbanded in 1967. With his wife Marie, King worked primarily in the Quebec province with the Family Brown, a large country ensemble, in which King sang covers of American country songs. Throughout the '60s, King was heavily influenced by American country and folk music. The husband-and-wife duo also played numerous smaller clubs in Quebec and northern Ontario, and they occasionally recorded together. King's health began to fail in the '80s, and he was diagnosed with lung cancer late in the decade.
Bob King's recordings showed the influence of everyone from Jimmie Rodgers to Flatt & Scruggs. His covers include songs associated with Eddy Arnold and Hank Williams, but he also acquired songs by way of Wilf Carter, with whom he toured many times. His recordings have a distinct flavor all their own, however, regardless of whether they are hits of his own of covers of others' songs. He is deceased in 1989.
Talents : Vocals, Guitar
Style musical : Traditional Country, Rockabilly
Years in activity :
| | | | | | | | | | | | |
| --- | --- | --- | --- | --- | --- | --- | --- | --- | --- | --- | --- |
| 1910 | 20 | 30 | 40 | 50 | 60 | 70 | 80 | 90 | 2000 | 10 | 20 |
DISCOGRAPHY
78 t. & Singles
195?
78 t. BLUEBIRD 55-3313 (CAN)
.
Laurel Lee / Daydreamer's Blues
195?
SP BLUEBIRD 57-5107 (CAN)
.
Laurel Lee / Daydreamer's Blues
195?
78 t. BLUEBIRD 55-3314 (CAN)
.
You're A Strange Little Girl / Katie Brown
195?
SP BLUEBIRD 57-5108 (CAN)
.
You're A Strange Little Girl / Katie Brown
1955
78 t. RCA VICTOR 56-3247 (CAN)
.
Crazy Me / I Don't Believe In Settlin' Down
1955
SP RCA VICTOR 57-3247 (CAN)
.
Crazy Me / I Don't Believe In Settlin' Down
1955
78 t. RCA VICTOR 56-3251 (CAN)
.
I Don't See Things Through Her Eyes / Train's Late Tonight
1955
SP RCA VICTOR 57-3251 (CAN)
.
I Don't See Things Through Her Eyes / Train's Late Tonight
1955
78 t. RCA VICTOR 56-3256 (CAN)
.
Let's Make A Fair Trade / Defrost Your Heart
1955
SP RCA VICTOR 57-3256 (CAN)
.
Let's Make A Fair Trade / Defrost Your Heart
04/1956
78 t. RCA VICTOR 20-6486 (CAN)
.
Bob KING & His COUNTRY KINGS - Let's Make A Fair Trade / Defrost Your Heart
04/1956
SP RCA VICTOR 47-6486 (US)
.
Bob KING & His COUNTRY KINGS - Let's Make A Fair Trade / Defrost Your Heart
1956?
78 t. RCA VICTOR 56-3263 (CAN)
.
Bob KING & His COUNTRY KINGS - Hey Mam / Always Lend A Helping Hand
1956 ?
SP RCA VICTOR 57-3263 (CAN)
.
Bob KING & His COUNTRY KINGS - Hey Mam / Always Lend A Helping Hand
1957 ?
78 t. RCA VICTOR 56-3276 (CAN)
.
Fort Worth Jail / Pretty Girls In Blue
1957 ?
SP RCA VICTOR 57-3276 (CAN)
.
Fort Worth Jail / Pretty Girls In Blue
1958
78 t. RCA VICTOR 56-3282 (CAN)
.
Party Hop / A Woman's Devotion
1958
SP RCA VICTOR 57-3282 (CAN)
.
Party Hop / A Woman's Devotion
1958
78 t. RCA VICTOR 56-3285 (CAN)
.
Rockin' Juke Box / Josephine
1958
SP RCA VICTOR 57-3285 (CAN)
.
Rockin' Juke Box / Josephine
1958
SP RCA VICTOR 57-3282/85 (CAN) (promo)
.
Rockin' Juke Box / Party Hop
1958 ?
78 t. RCA VICTOR 56-3293 (CAN)
.
Anxious / Did You Do It
1958 ?
SP RCA VICTOR 57-3293 (CAN)
.
Anxious / Did You Do It
1959
SP RODEO 214 (CAN)
.
Hey Honey / My Petite Marie
05/1959
SP RODEO 216 (CAN)
.
Bob KING & The COUNTRY KINGS - All Canadian Boy / If Things They Say Are True
08/1959
SP RODEO 226 (CAN)
Bob KING & The COUNTRY CATS - No Parking Here / That's What's On My Mind
1959
SP RODEO 227 (CAN)
.
Bob KING & The COUNTRY KINGS - Lonely City Park / I Dream About Mom Last Night
1963
SP RODEO RO-3153 (CAN)
.
Bob KING & The COUNTRY KINGS -

Boy with a Future

/ I've Been Dreaming (avec Marie KING)
197?
SP San-Lyn ‎0106 (US)

Louisiana Swampman / Laurel Lee
| | |
| --- | --- |
| | |
Albums
195?
LP 12" Banff RBS-1049 (CAN)

Bob King & The Country Kings

Sing With -

Lonely City Park / That's What's On My Mind / The All Canadian Boy / My Home By The Fraser / My Son Calls Another Man Daddy / Rose Of Old Pawnee / I Dreamed About Mom Last Night / No Parking Here / Just Call On Me / My Petite Marie
1959
LP 12" Banff RBS-1078 (CAN)

Bob King & The Country Kings

‎

Sing A Country Song -

The Bluest Man In Town / The Cowboy / Jimmy Brown The Newsboy / Little Tom / Train Of Memories / French Canadian Girl / Road Paved With Heartaches / It Breaks A Mothers Heart / Once More / Coconut Joe
1959
LP 12" Banff RBS-1103 (CAN)

Just Me and My Old Guitar - Bob King Sings Song That Tell a Story -

You And My Old Guitar / The Little Shirt My Mother Made For Me / Batanio The Pride Of The Plains / Mummy Please Stay Home With Me / I'm Just Here To Get My Baby Out Of Jail / The French Song / On The Banks Of The Old Ponchartrain / When The Work's All Done This Fall / An Old Log Cabin For Sale / Driftwood On The River

1959
LP 12" Banff RBS-1139 (CAN)
By Request Vol. 2 -

Bob King Sings Songs That Tell A Story -

Strawberry Roan / Rockin' Alone In An Old Rockin' Chair / I've Been Down That Road Before / The Ballad Of The Chapeau Boys / Mary Ann Regrets / Memories Of You (Souvenir De Toi) / Rescue At Moose River Gold Mine / Lamplighting Time In The Valley / The Cat Came Back / The Ballad Of Jed Clampett
196?
LP 12" Banff RBS-1169 (CAN)

Bob King & The Country Kings

‎

Sing For Laurel Lee -

Laurel Lee / Give My Love To Rose / Hey Honey / The Waltz Of Two Broken Hearts / Going Back To An Old Love Affair / Why Don't You Leave Me / My Petite Marie / If The Things They Say Are True / Be Careful Of Stones That You Throw / She Went Without Saying Goodbye / Pray For Me Mother Of Mine / Let's Make A Fair Trade
1963
LP 12" Banff RBS-1193 (CAN)

10th Anniversary - The Cowboy / Rose Of Old Pawnee / Little Tom / Jimmy Brown The Newsboy / All Canadian Boy / French Canadian Girl / Boy With A Future / Bluest Man In Town / Lonely City Park / No Parking Here / Give My Love To Rose / Hey, Honey!

196?
LP 12" Banff RBS-1237 (CAN)

A King in the Country

196?
LP 12" Banff RBS-1259 (CAN)

Songs for a Country Fan

196?
LP 12" RCA C

amden

CAL 752 (CAN)

The Best of Bob King

- Josephine / Crazy Me / Hey Mam / I Don't Believe In Settlin' Down / Let's Make A Fair Trade / Anxious / Laurel Lee / Did You Do It? / Always Lend A Helping Hand / Pretty Little Girl In Blue
1967
LP 12" Banff RBS-5289 (CAN)

Versatile Bob King Sings

196?
LP 12" Banff RBS-5317 (CAN)

24 Golden Greats

1978
LP 12" SAN-LYN K-10055 (CAN)
KEEPIN' COUNTRY - Daddy's Black Land Farm / Cajun Love / Daddy's Despair / Let's Make A Fair Trade / Josephine / Southern Comfort / Working On The Country Road / I'll Be Home / Laurel Lee / Louisiana Swampman
1975 ?
LP 12" BONANZA B 29557 (CAN)

Bluegrass Side of Me -

Roll In My Sweet Baby's Arms / Daddy's Despair / Dust On The Bible / Harolds Super Service / I've Been Dreamin' / Ashes Of Love / Country Music Annie / Maple Sugar Sweetheart / The Welfare Check / My Little Country Home
1981
LP 12" DILIGENCE D-1802 (CAN)

MARIE ET Bob King - 25 ans de musique western - Adieu / L'Amour Qu'Il Y A Dans Mon Coeur / L'Église De Mon Village / Tu N'Es Pas Très Loin De Moi / Bonne Maman / Un Jour À La Fois / J'Aime À Chanter / La Prière D'Un Vieillard - La Prière D'Un Mendiant / Daddy's Black Land Farm / Cajun Love / Daddy's Despair / Josephine / Southern Comfort / Laurel Lee / Louisiana Swampman

09/1993
CD Bear Family BCD 15718 (GER)

Songs That Tell a Story -

You And My Old Guitar / The Little Shirt (My Mother Made For Me) / Patanio (The Pride Of The Plains) / Mommy, Please Stay Home With Me / I'm Just Here To Get My Baby Out Of Jail / The French Song & Marie / On The Banks Of The Old Ponchartrain / When The Work's All Done This Fall / An Old Log Cabin For Sale / Driftwood On The River / Strawberry Roan / Rockin' Alone (In An Old Rockin' Chair) / I've Been Down That Road Before / The Ballad Of The Chapeau Boys / Mary Ann Regrets / Memories Of You (Souvenirs De Toi Marie King) / Rescue From The Moose River Gold Mine / When It's Lamplighting Time In The Valley / The Cat Came Back / The Ballad Of Jed Clampett / Bluest Man In Town / Cowboy / Jimmie Brown, The Newsboy / Little Tom / Train Of Memories / French Canadian Girl / Road Paved With Heartaches / It Breaks A Mother's Heart / Once More / Coconut Joe
1993
CD Bear Family BCD 15719 (GER)

Bob King and the Country Kings -

Laurel Lee / Give My Love To Rose / Hey Honey / Waltz Of Two Broken Hearts / Going Back To An Old Love Affair / Why Don'T You Leave Me / My Petite Marie / If The Things They Say Are True / Be Careful Of Stones That You Throw / She Went Without Saying Goodbye / Pray For Me Mother Of Mine / Let's Make A Fair Trade / Nothing Ventured, Nothing Gained / Lonely City Park / That's What's On My Mind / The All Canadian Boy / My Home By The Fraser / My Son Calls Another Man Daddy / Rose Of Ol' Pawnee / I Dreamed About Mom Last Night / No Parking Here / Just Call On Me / Boy With A Future / I've Been Dreaming / Between Our Hearts / It's Goodbye And So Long To You
11/2013
CD Bear Family BCD 16896 (GER)

Rockin' the Jukebox -

Rockin' The Jukebox / Laurel Lee / Katie Brown / Hey Mam / A Woman's Devotion / Party Hop / Josephine / Let's Make A Fair Trade / Anxious / Pretty Little Girl In Blue / Fort Worth Jail / Train's Late Tonight / I Don't Believe In Settlin' Down / You're A Strange Little Girl / Crazy Me / I Don't See Things / Through Her Eyes / Always Lend A Helping Hand / Daydreamer's Blues / Defrost Your Heart / Did You Do It? / You're A Strange Little Girl 2
© Rocky Productions 27/03/2016