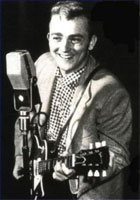 Chanteur Rock 'n' Roll US né Thomas Baker Knight, le 4 Juillet 1933 à Birmingham (Alabama). Baker Knight a enregistré pour Kit (56), Decca (56-57), Coral (59), RCA (60-61) et Checker Records (62). Il est décédé le 12 Octobre 2005.

Perhaps best known for penning the Elvis Presley hit "The Wonder of You," Baker Knight ranks among the most prolific songwriters of the rock & roll era, authoring well over a thousand songs in a variety of musical idioms. Born Thomas Baker Knight, Jr. in Birmingham, AL, on July 4, 1933, he lost his father at the age of six, and spent much of his childhood in the care of a series of relatives. After serving three years in the U.S. Air Force -- during which time he learned to play guitar -- Knight studied technical illustration at the University of Alabama but in his spare time began writing songs, and in 1956 formed a rockabilly combo dubbed the Knightmares, signing to the tiny Kit label to release "Bop Boogie to the Blues." The follow-up, "Bring My Cadillac Back," proved a regional hit and was licensed for national distribution by Decca before it was banned from radio on the grounds it was nothing more than a free commercial for Cadillac. Decca next teamed Knight with arranger Ray Ellis for 1957's "Reelin' and Rockin' (Bippin' and Boppin' Over You)." The record attracted little attention, and when the same fate met "Just a Little Bit More" and "Love-A, Love-A, Love-A," the label terminated his contract.
Knight relocated to Hollywood in 1958 in pursuit of a film career that did not materialize. He nevertheless made fast friends with rockabilly great Eddie Cochran, and according to legend was even asked to contribute to Cochran's immortal "Summertime Blues," but fell asleep and did not awake until the song was completed. With the aid of Cochran's girlfriend, the songwriter Sharon Sheeley, Knight began peddling his own original compositions, initially hoping to interest the Everly Brothers in his evocative ballad "Lonesome Town"; teen idol Rick Nelson recorded the tune instead with support from the brilliant guitarist James Burton, and the end result was a Top Ten pop hit in 1958. The Knight-penned B-side "I Got a Feeling" cracked the Top Ten as well. In all, Nelson recorded 21 of his songs, including the million-selling "There'll Never Be Anyone Else But You," "Mighty Good," and "Sweeter Than You." Nelson also wished to cut Knight's "Just Relax," but its writer refused, instead opting to record the song himself for Coral, with Cochran sitting in on guitar. The 1959 single proved a flop, and after the follow-up, "Pretty Little Girl," also went nowhere, Coral cut its losses and dropped Knight from its roster.
Knight wrote "The Wonder of You" for crooner Perry Como, but Como's arranger, Dick Pierce, instead suggested the tune to pop singer Ray Peterson, whose 1959 version was a Top 30 hit on both sides of the Atlantic. Among the record's fans was Elvis Presley, who in early 1970 added "The Wonder of You" to his stage repertoire. Presley eventually issued it as a single, topping the U.K. charts and scoring a major U.S. hit as well. By that time, Knight was well established as a songwriter, although he'd also continued recording to little avail, with singles for RCA, Chess, and Challenger. In early 1966, Dean Martin recorded "Somewhere There's a Someone," the first of 11 Knight compositions the Rat Packer cut over the next six years. Knight also authored several songs for Martin's pal and Reprise label owner Frank Sinatra, including the big-band ballad "Anytime at All," and in 1965 signed to the label as a solo act, bowing with the single "Man with a Plan." Two years later, Knight issued "I Feel Sick About the Whole Thing," later a cult classic thanks to its grandly psychedelic flip side, "Hallucinations." He also wrote for the Reprise psychedelic act the West Coast Pop Art Experimental Band, proving his uncanny ability to master virtually every musical genre.
Knight spent the 1970s tailoring his music to the country market, writing hits for Ernest Ashworth ("A Week in the Country"), Hank Williams, Jr. ("One Night Stands"), Jerry Lee Lewis ("I Don't Want to Be Lonely Tonight"), and Dave & Sugar (the Top Five smash "I'm Gonna Love You"). In 1976, Mickey Gilley topped the country charts with "Don't the Girls All Get Prettier at Closing Time," earning Knight the Academy of Country Music's Song of the Year honor. A year later, he signed to Warner Bros. for what would prove his final major-label release, "If Only." In all, Knight earned eight Citation of Achievement honors from the publishing organization BMI, but in 1985 he was diagnosed with chronic fatigue syndrome, which greatly limited his efforts in the years to follow. He eventually constructed a home recording studio and in time resumed his long-dormant solo career, self-releasing the LPs The Way I Hear It, Music Is My Woman, and the instrumental Music for Romantic Dreamers through his website. Shortly after publishing his memoirs, A Piece of the Big-Time, Knight died of natural causes on October 12, 2005.
https://en.wikipedia.org/wiki/Baker_Knight
Talents : Vocals, Guitar
Style musical : Rock 'n' Roll
| | |
| --- | --- |
| Bring My Cadillac Back (1956) | |
Years in activity :
| | | | | | | | | | | | |
| --- | --- | --- | --- | --- | --- | --- | --- | --- | --- | --- | --- |
| 1910 | 20 | 30 | 40 | 50 | 60 | 70 | 80 | 90 | 2000 | 10 | 20 |
DISCOGRAPHY
Singles
06/1956
SP KIT K 889/91 (US)
.
Baker

Knight

& The

Knightmares

- Bop Boogie To The Blues / Little Heart
08/1956
SP KIT SO 900/1 (US)
.
Baker

Knight

& The

Knightmares

- Bring My Cadillac Back / I Cried
11/1956
SP DECCA 9-30135 (US)
.
Baker

Knight

& The

Knightmares

- Bring My Cadillac Back / I Cried
03/1957
SP DECCA 9-30213 (US)
.

Reelin' And Rockin' (Bippin' And Boppin' Over You) / When The World Gets Around

06/1957
SP DECCA 9-30306 (US)
.
Just A Little Bit More / The Value Of Love
08/1957
SP DECCA 9-30426 (US)
.
Baker

Knight

& The

Knightmares

- Love-A Love-A Love-A / High School Days
10/1958
SP JUBILEE 5342 (US)
.
Ain't Nothin' But Love / My Heart Cries For You
01/1959
SP JUBILEE 5357 (US)
.
I Never Get To Kiss You Anymore / Wishing
1959
SP KICK 713 (US)
.

Sister / Peek-A-Boo (instr.)

07/1959
SP CORAL 9-62132 (US)
.
Just Relax / Takin' A Chance
12/1959
SP CORAL 9-62160 (US)
.
Pretty Little Girl / Tag Along Blues
11/1960
SP RCA VICTOR 47-7814 (US)
.
I Can Tell / The Beginning Of The End
1961
SP 33t. RCA 32001 (S) (promo)
I Can Tell / The Beginning Of The End
06/1961
SP RCA VICTOR 47-7892 (US)
.
Dum Dum Diddley Dum / Any Time At All
1961
SP CHESS 1795 (US)
.

Peek-A-Boo / Theme From The Devil's Hand (instr.)

01/1962
SP KIT 102 (US)
.
Whose Little Baby Are You / Bring It On Home To Me
1962
SP RCA VICTOR 47-8002 (US)
.

Whose Little Baby Are You / Bring It On Home To Me

08/1962
SP CHECKER 1023 (US)
.
Hungry For Love / House Next Door
08/1963
SP EVEREST 2033 (US)
.
Big City Girls / Look In The Mirror
1963
SP CHALLENGE 59214 (US)
.

Best Thing That Ever Happened To Me / My Memories Of You

02/1964
SP CHALLENGE 59231 (US)
.
Surrender To Me / When Somebody Mentions Your Name
09/1964
SP CHALLENGE 59260 (US)
.
Apple Dandy / Good Evening Mr. Heartache
1965
SP CHALLENGE 59287 (US)
.

Girl Like That / Hello Mama

09/1965
SP REPRISE 0403 (US)
.

Man With A Plan / I Woke Up On The Wrong Side Of The World

02/1966
SP REPRISE 0448 (US)
.

It Goes Deeper Than That / From A Distance

05/1966
SP REPRISE 0465 (US)
.

Would You Believe It / Tomorrow's Good Time Girl

10/1966
SP REPRISE 0523 (US)
.

I Want What You Got / Sorry 'bout That

02/1967
SP REPRISE 0554 (US)
.

I Feel Sick About The Whole Thing / Hallucinations

06/1967
SP REPRISE 0583 (US)
.

Things Are Looking Good / Stick-To-It-Ivity

04/1968
SP REPRISE 0678 (US)
.

Verge Of Success / Are You Satisfied Now

09/1970
SP HAPPY TIGER HT-536 (US)
.

Lady Hamilton / Man Who Never Made It

1975
SP ANOTHER ARDJ 1002 (US) (promo)
.

A Legend On The Stage (stereo) / A Legend On The Stage (mono)

1977
SP WARNER BROS. WBS8469 (US)
.

If Only / Physical Thing

1987
SP Snug Harbor SNH-711 (US)
.

Those Songs Of Yesterday / ?
Albums
| | | | |
| --- | --- | --- | --- |
| 1992 | CD EAGLE 309013 (GER) | | High School Days - Just Relax / Dum Dum Diddley Dum / Takin' A Chance / I Cried / Bring My Cadillac Back / High School Days / Apple Dandy / When Somebody Mentions Your Name / My Heart Cries For You / Ain't Nothin' But Love / Love-A Love-A Love-A / Just A Little Bit More / Reelin' And Rockin' (Bippin' And Boppin' Over You) / I Can Tell / Good Evening Mr. Heartache / Surrender To Me / The Value Of Love / The Beginning Of The End |
| 04/2001 | CD ? (?) | | The Way I Hear It - I Can't Leave You (Even Though You're Gone) / Friday Night Flyer / Wrong Again / Redneck Riviera / Sunshine Through My Window / If It Ain't Broke (Don't Fix It) / You're The Only One (That I Still Look For In A Crowd) / The Computer Is Down / Lonesome Town / Mad At The World / No Damm Good / A Piece 'A Cake / Hot August Night |
| 10/2001 | CD Snug Harbor 707022 (US) | | Music for Romantic Dreamers - Lonely Winter Beachwalk / Mojave Dawn / Island Home / Roadhouse Friday Night / Autumn Solitude / Love On A Stormy Night / Union Specific / Shooting Star / Sundown Slowdown |
| 01/2004 | CD Snug Harbor 365-2 (US) | | Music Is My Woman - Music Is My Woman / You're The Only One (That I Still Look For In A Crowd) / I Can't Leave You (Even Though You're Gone) / Friday Night Flyer / Wrong Again / Sensitive Person / Sunshine Through My Window / Please Don't Look At Me That Way / No Problem / Lonesome Town / Mad At The World / The Computer Is Down / No Damm Good / Those Songs Of Yesteryear |
| 2006 | CD America 5001 (S) | | The Baker Knight Story - Takin A Chance / Bring My Cadillac Back / High School Days / My Memories Of You / Surrender To Me / Wishing / Ain't Nothin But Love / Dum Dum Diggley Dum / Things Are Looking Good (Out In Hollywood) / Big City Girls / Beginning Of The End / When Somebody Mentions Your Name / Love-A Love-A Love-A / Pretty Little Girl / From A Distance / Hose Next Door / Just Relax / I Can Tell / Look In The Mirror / I Never Get To Kiss You Anymore / Reelin' And Rockin' / Stick-To-It-Ivity / Best Thing That Ever Happened To Me / Tag Alone Blues / Apple Dandy / Hungry For Love / It Goes Deeper Than That / My Heart Cries For You / Sorry Bout' That / A Legend On The Stage |
| 11/2017 | CD JASMINE JASCD 976 (UK) | | Bippin' & Boppin' - The Early Years - Bop Boogie To The Blues / Little Heart / Bring My Cadillac Back / I Cried / Reelin' And Rockin' (Bippin' And Boppin' Over You) / When The Word Gets Around / Just A Little Bit More / The Value Of Love / Love-A, Love-A, Love-A / High School Days / My Heart Cries For You / Ain't Nothin' But Love / I Never Get to Kiss You Any More / Wishing / Just Relax / Takin' A Chance / Pretty Little Girl / Tag Along Blues / Sister / Peek-A-Boo / I Can Tell / The Beginning Of The End / Dum Dum Diddley-Dum / Any Time At All / Theme from "The Devil's Hand" / Whose Little Baby Are You / Bring It On Home To Me / House Next Door / Hungry For Love |
© Rocky Productions 10/12/2017