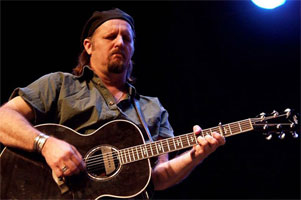 Chanteur Country US né en 1955 à Wills Point (Texas).

Austin-based singer/songwriter and guitarist Jimmy LaFave brings a passionate rock & roll energy to his original folk songs, whether he's playing solo or with a band. LaFave grew up in Wills Point, east of Dallas, but at 17, his family moved to Stillwater, OK. When he was in his teens, his mother purchased his first guitar for him with green stamps. While Stillwater was not exactly bustling with musical activity, it wasn't a ghost town either, and it was close enough to Tulsa that LaFave found all the opportunities he was seeking as a young singer/songwriter. The musical heritage of the area certainly was rich enough: folksinger Woody Guthrie, jazz trumpeter Chet Baker, and jazz fiddler Claude "Fiddler" Williams, plus songwriter J.J. Cale and Leon Russell's Shelter Studios. But to find a wider audience and, more importantly, a record deal, LaFave thought it would be worthwhile to move to Austin. He found both after moving to Austin in 1985, and he's been based there ever since.
LaFave found a home in Chicago House, an Austin coffeehouse, and he spent the next eight years hosting open mikes there, honing his presentation skills as a solo artist. Through the latter half of the 1980s, he also worked with his band, Night Tribe, at other Austin clubs. With backing from Mark Shumate, a computer entrepreneur, LaFave was finally able to record his debut for Bohemia Beat Records, a company Shumate founded in 1992.
LaFave has released three albums for Bohemia Beat: Austin Skyline, (1993), his debut, a live recording titled as a play on Bob Dylan's Nashville Skyline album; Highway Trance (1994), a studio album that showcases his considerable skills as a guitar picker, singer, and songwriter; and 1995's Buffalo Return to the Plains, which contains just one cover, prime inspiration Bob Dylan's "Sweetheart Like You." LaFave counts among his other influences Jackson Browne, Chuck Berry, and Jerry Lee Lewis.
LaFave's grassroots approach should give him a better foundation on which to build a successful career. The way he blends country, blues, folk, and early rock & roll, his work ethic, and low-key rapport with fans are all factors that work in his favor. Trail was issued in 1999; Texoma followed in early 2001. His next two albums -- 2005's Blue Nightfall and 2007's Cimarron Manifesto -- were issued by Red House Records.
Talents : Singer, Guitar, Songwriter
Style musical : Alternative Country, Americana

http://youtu.be/HMt3DAXTfKw
Years in activity :
| | | | | | | | | | | |
| --- | --- | --- | --- | --- | --- | --- | --- | --- | --- | --- |
| 1910 | 20 | 30 | 40 | 50 | 60 | 70 | 80 | 90 | 2000 | 10 |
DISCOGRAPHY
Albums
10/1993
CD BOHEMIA BEAT 0007 (US)
AUSTIN SKYLINE - Thru The Neon Night / Girl From The North Country / Desperate Men Do Desperate Things / When It Starts To Rain / Deep South 61 Delta Highway Blues / Walk Away Renee / Measuring Words / You're A Big Girl Now / Leopard-Skin Pill Box Hat / Only One Angel / Everytime / Rocket In My Pocket / Darkest Side Of Midnight / Restless Spirits / Trouble Free / Shelter From The Storm
04/1994
CD BOHEMIA BEAT 2 (US)
HIGHWAY TRANCE - Shakin' In Your Hips / When The Tears Fall / Leslie, Talk To Me / Cafe In The Rain / Austin After Midnight / Give Your Sweet Love To Me / The Open Road / Early Summer Rain / Minstrel Boy Howling At The Moon / I've Got Your Picture / The Perfect Combination / Dark Dancing Eyes / Get It, Got It, Good / Prayer For You / When I See You Again / Route 66 Revisited
08/1995
CD BOHEMIA BEAT 0005 (US)
BUFFALO RETURN TO THE PLAINS - Burden To Bear / Last Train / Sweetheart Like You / Amsterdam / I'm Thinking Of You / Never Be Mine / Buffalo Return To The Plains / Going Home / Foolish Pride / That I Can't Control / I Walk Along With You / Rock & Roll Land / Worn Out American Dream
03/1997
CD BOHEMIA BEAT 7 (US)
ROAD NOVEL - You'll Never Know / Hold On / Vast Stretches Of Broken Heart / Into Your Life / Ramblin' Sky / Home Sweet Oklahoma / Buckets Of Rain / Long Ago With Miles Between / Long Time Since The Last Time / Never Put The Blame / The Open Space / You've Got That Right / The Big Wheels / Heart Of A Woman / The Great Night
02/1999
2 CD BOHEMIA BEAT 9 (US)
TRAIL :

CD 1 : Positively 4th Street / Red Dirt Roads At Night / Because The Wind / Burden To Bear / Nobody Knows You When You're Down & Out / Going Home / Simple Twist Of Fate / The Perfect Combination / How It Must Remain / Key To The Highway / Oh, Sister / Loved You Like Rainbows / Just Like Tom Thumb's Blues / Oklahoma Hills / Forever Young
CD 2 : Valentine's Day / Ellie's Song / If You Want To See Me Rock / If Not For You / I'll Be Your Baby Tonight / The Open Road / Tonight I'll Be Staying Here With You / I Threw It All Away / Down In The Flood / Never Be Mine / It's All Over Now, Baby Blue / Have You Ever Loved A Woman / The Lone Wolf / One Too Many Mornings / Hold On

03/2001
CD BOHEMIA BEAT 10 (US)
TEXOMA - Bad Bad Girl / San Francisco / Never Is A Moment / This Glorious Day / Poor Man's Dream / On A Bus To St. Cloud / Rock And Roll Music To The World / Red Dirt Song / Woody Guthrie / Tears / Love Can Find Its Own Way / Elvis Loved His Mama / Emotionally Yours / Patient Man / On The Road To Rock And Roll / The Moon's A Harsh Mistress
03/2005
CD RED HOUSE 183 (US)
BLUE NIGHTFALL - Revival / Sweet Sweet Love / River Road / Music From The Motor Court / Blue Nightfall / Shining On Through / Rain Falling Down / Bohemian Cowboy Blues / It's Gone / I Wish For You / When You Were Mine / Gotta Ramble
05/2007
CD RED HOUSE 203 (US)
CIMARRON MANIFESTO - Car Outside / Catch The Wind / This Land / Truth / Lucky Man / Hideaway Girl / That's The Way It Goes / Not Dark Yet / Walk A Mile In My Shoes / Don't Ask Me / Home Once Again / These Blues
07/2010
CD Music Road MRRCD009 (US)

Favorites 1992-2001 -

Desperate Men Do Desperate Things / Going Home / Rock And Roll Music To The World / Only One Angel / Burden To Bear / Never Is A Moment / Sweetheart Like You / How It Must Remain / Austin After Midnight / When It Starts To Rain / Buffalo Return To The Plains / On A Bus To St. Cloud / When I See You Again / Walk Away Renee / Into Your Life / Measuring Words
02/2014
CD Music Road MRRCD 016 (US)

Trail Two -

Buckets Of Rain / River Road / Key To The Highway / Last Train / Never Be Mine / Tore Down / Not Dark Yet / Oklahoma Hills / Your Bright Baby Blues / Don't Go To Strangers / Never Is A Moment / I'm Ready
02/2014
CD Music Road MRRCD 017 (US)

Trail Three -

Meet Me In The Morning / Secret Garden / Blues Power / Love Minus Zero No Limit / I'm Thinking Of You / Sweetheart Like You / Blues In C Minor - Deep South 61 Delta Highway Blues / Long Ago With Miles Between / Dusty Old Fairground / Mr. Tambourine Man / Rain Falling Down / The Weight - Rainy Day / Women #12 & 35
© Rocky Productions 18/02/2015