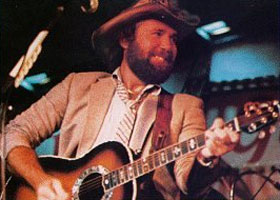 Chanteur Country US né John Lee Ham, le 3 Juillet 1946 à Alta Loma (Texas).

Texas-born country singer Johnny Lee spent years as a journeyman performer, playing Lone Star honky tonks and recording for various labels, before finally breaking through as a major crossover star with the 1980 hit "Lookin' for Love." John Lee Ham was born in Alta Loma, Texas on July 3, 1946, and he came of age listening to first-generation rock & roll artists such as Elvis Presley, Chuck Berry, and Jerry Lee Lewis. Billing himself as Johnny Lee, Ham went from fan to performer in high school, when he and his friends formed a band called the Road Runners. The Road Runners' local success came to a halt when Lee joined the Navy and served in Southeast Asia as America's involvement in Vietnam grew. After Lee was discharged, he bounced around from Texas to California looking for gigs, and landed his first serious break when he met honky tonk man Mickey Gilley in 1968; Lee reminded Gilley of the time they had met and talked music in Galveston, Texas, and Gilley allowed Lee to join him on-stage that evening. Gilley eventually signed Lee as a backing vocalist and trumpet player, unaware that Lee was pulling his leg and the two hadn't previously met.
For five years, Lee was part of Gilley's band for his standing engagement at Gilley's nightclub in Pasadena, Texas, and when Gilley was playing road dates, Lee was the headliner in his absence. Lee stepped out as a solo act in 1973; he cut a few songs for the tiny Astro label, but when they failed to chart, he started working with Gilley again. Lee scored minor successes recording for ABC/Dot ("Sometimes") and GRT ("Country Party"), but Lee's shot at the big time came in 1979, when filmmaker James Bridges came to Texas to shoot the movie Urban Cowboy. Irving Azoff, the high-powered music business mogul who was producing the film and coordinating the soundtrack, helped Lee land a small part in the film playing himself, and asked Lee to record a song for the soundtrack. Lee was given the song "Lookin' for Love," and when Urban Cowboy's soundtrack album came out in tandem with the film in 1980, "Lookin' for Love" rose to number one on the country charts and number five on the pop charts. Now signed to Azoff's Full Moon label (distributed by Warner/Elektra/Asylum), Lee dropped his own album titled Lookin' for Love, and it spun off three more country hits, "One in a Million," "Pickin' Up Strangers," and "Prisoner of Hope."
Lee's days on the pop charts were over by 1981, but he was a consistent hitmaker on country radio for the next few years, touring regularly with his own band and charting high with tunes like "Bet Your Heart on Me," "Sounds Like Love," "Hey Bartender," "You Could Have Heard a Heart Break," and "The Yellow Rose" (the latter a duet with Lane Brody). Lee even landed a TV star spouse, marrying Charlene Tilton, one of the stars of Dallas, on Valentine's Day, 1982. However, Lee and Tilton split up in 1984, and a year later, Lee recorded his last album for WEA, 1985's Workin' for a Livin'; after 1989's New Directions, a one-off release for Curb, Lee's days with the major labels were done, with the album's highest charting single, "I Can Be a Heartbreaker Too," peaking at a disappointing number 53 on the country charts.
If Lee's recording career was starting to fade, he remained active as a touring act, playing regularly in Texas and the Southwest, and documenting two shows with independent live albums, 1999's Live at Gilley's and 2002's Live at Billy Bob's Texas. Lee continued to record for smaller labels, releasing The 13th of July in 2003, It's a Long Way Back in 2004, and the holiday-themed album Santa Claus Is Lookin' for Love in 2005. In 2008, Lee began appearing regularly in Branson, Missouri, playing his hits for his longtime fans. While business dealings led to a falling out between Lee and Mickey Gilley in the '80s, in 2015 the two buried the hatchet and reunited for a concert tour celebrating the 35th anniversary of the release of Urban Cowboy.
https://www.thejohnnyleemusic.com/
https://en.wikipedia.org/wiki/Johnny_Lee_(singer)
Talents : Vocals, Guitar
Style musical : Contemporary Country, Country-Pop, Urban Cowboy

https://youtu.be/QoobOMbmr9Y
Years in activity :
| | | | | | | | | | | | |
| --- | --- | --- | --- | --- | --- | --- | --- | --- | --- | --- | --- |
| 1910 | 20 | 30 | 40 | 50 | 60 | 70 | 80 | 90 | 2000 | 10 | 20 |
DISCOGRAPHY
Singles
1975
SP JMS JMS-1003 (US)
.

Bring On The Sunshine / How We Ever Came To This

11/1975
SP JMS JMS-1004 (US)
.

Sometimes / Get Off My Back

12/1975
SP DOT DOA-17603 (US)
.

Sometimes / Get Off My Back

06/1976
SP GRT GRT-065 (US)
.

Red Sails In The Sunset / In My Own Way

11/1976
SP GRT GRT-096 (US)
.

Ramblin' Rose / Congratulations

04/1977
SP GRT GRT-125 (US)
.

Country Party / This Should Go On

10/1977
SP GRT GRT-137 (US)
.

Dear Alice / It's Gotta Be Me

02/1978
SP GRT GRT-144 (US)
.

This Time / Frisco

1979
SP ASTRO JL-0279 (US)
.

Cherokee Fiddle / Did You Enjoy Hurting Me

03/1979
SP GILLEY'S JL-0379 (US)
.

At Gilley's There Is Cold Beer / Looking Back (Over My Life)

07/1979
SP ASTRO JL-0612 (US)
.

Tribute To Duke / Did You Enjoy Hurting Me

09/1979
SP ASTRO JL-0979 (US)
.

Three Night A Week / Honky Tonk Music

07/1980
SP ASYLUM / FULL MOON E 47004 (US)

Lookin' For Love (Johnny LEE) / Lyin' Eyes (EAGLES)

10/1980
SP ASYLUM / FULL MOON E 47076 (US)
.

One In A Million / Annie

10/1980
SP FULL MOON FMS49589 (US)
Survive (Jimmy

Buffett

) / Pickin' Up Strangers (Johnny LEE)
1980
SP ASYLUM SPUN GOLD E 45109 (US)
.

One In A Million / Lookin' For Love

1980
SP FULL MOON 19-51003 (US)
.

Mammas Don't Let Your Babies Grow Up To Be Cowboys (Johnny LEE & Mickey GILLEY) / Cotton Eyed Joe (The Bayou City Beats)

01/1981
SP ASYLUM E 47105 (US)
.

Pickin' Up Strangers / Never Lay My Lovin' Down

04/1981
SP FULL MOON 19-0212 (US)

Johnny LEE / Mickey GILLEY - Rode Hart And Put Up Wet / Honky Tonk Wine

05/1981
SP ASYLUM / FULL MOON E 47138 (US)
.

Prisoner Of Hope / Fool For Love

09/1981
SP ASYLUM / FULL MOON E 47215 (US)
.

Bet Your Heart On Me / Highways Run On Forever

11/1981
SP ASYLUM / FULL MOON E 47230 (US)
.
Silver Bells (TOMPALL & The GLASER BROTHERS) / Please Come Home For Christmas (Johnny LEE)
12/1981
SP ASYLUM / FULL MOON E 47301 (US)
.

Be There For My Baby / Finally Fallin'

05/1982
SP ASYLUM / FULL MOON E 47444 (US)
.

When You Fall In Love / Crossfire

09/1982
SP FULL MOON 7-69945 (US)
.

Cherokee Fiddle / You Know Me

01/1983
SP FULL MOON 7-69848 (US)
.

Sounds Like Love / Deeper We Fall

1983
SP Kentucky Fried Chicken KFC-007 (US) (DJ Single)
.

Live Wire / Another Day, Another Dollar

05/1983
SP WARNER BROS.

7-29605

(US)

.

Hey Bartender / Blue Monday

09/1983
SP WARNER BROS.

7-29

486

(US)

.

My Baby Don't Slow Dance / You Really Got A Hold On Me

1983
SP WARNER BROS.

GWB-0464

(US)

.

Hey Bartender / My Baby Don't Slow Dance

01/1984
SP WARNER BROS.

7-29375 (US)

.

The Yellow Rose (

Johnny LEE & Lane BRODY)

/

Say When

05/1984
SP WARNER BROS.

7-29270 (US)

.

One More Shot / The Eyes Of Love

07/1984
SP WARNER BROS.

7-29206 (US)

.

You Could've Heard A Heart Break / Waitin' On Ice

12/1984
SP WARNER BROS.

7-29110 (US)

.

Rollin' Lonely / Rock It, Billy

01/1985
SP WARNER BROS.

GWB-04

90

(US)

.

The Yellow Rose (Johnny LEE & Lane BRODY) / One More Shot

04/1985
SP WARNER BROS.

7-29021 (US)

.

Save The Last Chance / It Ain't Believing

08/1985
SP WARNER BROS.

7-28901 (US)

.

They Never Had To Get Over You / Rock 'n' Roll Money

12/1985
SP WARNER BROS.

7-28839 (US)

.

The Loneliness In Lucy's Eyes / If I Knew Then What I Know Now

02/1986
SP WARNER BROS.

7-28747 (US)

.
Johnny LEE & Lane BRODY

- I Could Get Used To This /

It Ain't The Leaving
04/1989
SP CURB

CRB-10536

(US)

.

Maybe I Won't Love You Anymore / Anni

07/1989
SP CURB

CRB-105

52

(US)

.

I'm Not Over You / The Anniversary Song

10/1989
SP CURB

CRB-105

64

(US)

.

I Can Be A Heartbreaker, Too / The Anniversary Song

12/1989
SP CURB

CRB-105

73

(US)

.

You Can't Fly Like An Eagle / By Pass Now

05/1990
SP CURB

NR-76809

(US)

.

Heart To Heart Talk / Anni

07/1990
SP CURB

NR-768

27

(US)

.

Dangerously Lonely / Anni

10/1990
SP CURB

NR-768

41

(US)

(DJ Single)
.

Money In My Pocket / Money In My Pocket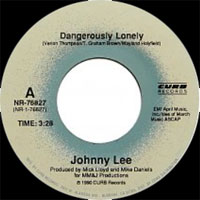 Albums
1977
LP 12" JMS LP-1000 (US)
FOR LOVERS ONLY -

Statue Of A Fool

/

Your Kind Of Man

/

Last Love Song

/

Come The Morning I Must Fly

/

I Hurt

/

Medley Of Oldies

/

Daddy No. 2

/

Prince The Cowboy And Me

12/1977
LP 12" GRT GRT-8022 (US)

He-E-E-Ere's Johnny! - Dear Alice/ Red Sails In The Sunset / Ramblin' Rose / Blueberry Hill / Your Song / Ruby Louise / Country Party / Frisco / Saturday's Heroes / This Time / Victims Of The Pretty Things In Life / Long Black Veil

10/1980
LP 12" ASYLUM / FULL MOON 6E-309 (US)
LOOKIN' FOR LOVE -

Lookin' For Love

/

Never Lay My Lovin' Down

/

Some Dreams Die Hard

/

Down And Dirty

/

Fool For Love

/

One In A Million / Annie

/

Do You Love As Good As You Look

/

Too Damned Old

/

Prisoner Of Hope

09/1981
LP 12" ASYLUM / FULL MOON 5E-541 (US)
BET YOUR HEART ON ME -

Bet Your Heart On Me / Finally Fallin'

/

Somebody Like You

/

Be There For My Baby / I've Come A Long Way (But I Got Long Way To Go)

/

Highways Run On Forever

/

Little Bit Of Lovin'

/

Crossfire

/

How Deep In Love Am I

/

When You Fall In Love

12/1981
LP 12" Plantation PLP-45 (US)

Party Time - Dear Alice / Red Sails In The Sunset / Ramblin' Rose / Blueberry Hill / Your Song / Ruby Louise / Country Party / This Time

1981
LP 12" Shadow Mountain Sound AG 8508 (US)

Johnny Lee Sings - Victims Of The Petty Things In Life / Dear Alice / Norwegian Woods / Daddy Number Two / Red Sails In The Sunset / Frisco / Candy Store / Saturdays Heros / Days Of Sand And Shovels / This Time / Why Can't We Live Together / Congradulations

09/1982
LP 12" ASYLUM / FULL MOON 60147-1 (US)
SOUNDS LIKE LOVE - Cherokee Fiddle / It's Up To You / Just Like Old Times / Loving You Is Just An Old Habit / Sounds Like Love / Shot Full Of Love / You Know Me / Come As You Were / The Deeper We Fall / I'll Take Your Love Anytime
1982
LP 12" Intermedia QS-5005 (US)
WILLIE NELSON & JOHNNY LEE - Shelter Of My Arms (Willie NELSON) / Blame It On The Times (Willie NELSON) / Victims Of The Pretty Things Of Life (Johnny LEE) / This Time (Johnny LEE) / Dear Alice (Johnny LEE) / Will You Remember Mine? (Willie NELSON) / End Of An Understanding (Willie NELSON) / Congratulations (Johnny LEE) / Ramblin' Rose (Johnny LEE) / Your Song (Johnny LEE)
1982
LP 12" AHED ‎AS-8213 (CAN)

Golden Treasures -

Red Sails In The Sunset / Long Black Veil / Ramblin' Rose / Blueberry Hill / Country Party / Why Don't We Live Together / Frisco / Ruby Louise / Your Song / Victims Of The Pretty Things In Life
06/1983
LP 12" WARNER BROS. 1-23889 (US)
HEY BARTENDER -

Hey Bartender / Blue Monday

/

You've Really Got A Hold On Me

/

My Baby Don't Slow Dance

/

I'll Have To Say I Love You In A Song

/

Women In Boots

/

I'm In Love Again

/

In My Dreams

/

I Just Want To Love You Forever

/

Gimme Little Nighttime

11/1983
LP 12" WARNER BROS. 92 39671 (US)
GREATEST HITS - Lookin' For Love / Cherokee Fiddle / Prisoner Of Hope

/

When You Fall In Love / Bet Your Heart On Me / Sounds Like Love / Pickin' Up Strangers / One In A Million / Be There For My Baby

/

Hey Bartender
11/1983
LP 12" WARNER BROS. 1-23967 (CAN)
GREATEST HITS - Lookin' For Love / Cherokee Fiddle / Prisoner Of Hope

/

When You Fall In Love / Bet Your Heart On Me / Sounds Like Love / Pickin' Up Strangers / One In A Million / Be There For My Baby

/

Hey Bartender

1983
LP 12" Plantation PLP-54 (US)

Texas Tornadoes -

Mickey Gilley - Willie Nelson - Johnny Lee - Night Life (Willie NELSON) / Country Party (Johnny LEE) / Fraulein (Mickey GILLEY) / Still Care About You (Mickey GILLEY) / The Storm Within My Heart (Willie NELSON)) / Red Sails In The Sunset (Johnny LEE) / Just Out Of Reach (Mickey GILLEY) / Blueberry Hill (Johnny LEE)
02/1984
LP 12" WARNER BROS. 1-25056 (US)
TIL THE BARS BURN DOWN -

Til The Bars Burn Down

/

One More Shot

/

Say When

/

I Won't Give Up

/

You Got What It Takes

/

Fool

/

What A Price

/

Can't Nobody Love You

/

Yellow Rose

/

Eyes Of Love

08/1984
LP 12" WARNER BROS. 1-25125 (US)
WORKIN' FOR A LIVIN' -

Short Changed

/

Rollin' Lonely

/

She's Mine

/

Rock It Billy

/

You Could've Heard A Heart Break

/

Workin' For A Livin'

/

I Guess That's Why They Call It The Blues

/

Little Push

/

Everybody Wants To Be Single

/

Waitin' On Ice

04/1985
LP 12" WARNER BROS. 1-25210 (US)
KEEP ME HANGIN' ON - Save The Last Chance / Dancin' The Night Away / Doctor's Orders / Till She Runs Out Of Reasons / Keep Me Hangin' On / They Never Had To Get Over You / What's A Fool Like Me Doing In A Love Like This / Get Acquainted With The Night / It Ain't The Leaving / Rock 'n' Roll Money
1985
LP 12" SUZY 25210 (YOU)
KEEP ME HANGIN' ON - Save The Last Chance / Dancin' The Night Away / Doctor's Orders / Till She Runs Out Of Reasons / Keep Me Hangin' On / They Never Had To Get Over You / What's A Fool Like Me Doing In A Love Like This / Get Acquainted With The Night / It Ain't The Leaving / Rock 'n' Roll Money
1989
LP 12" CURB CRB-10617 (US)
NEW DIRECTIONS -

You Can't Fly Like An Eagle / I Can Be A Heartbreaker Too / Cross My Heart

/

Maybe I Won't Love You Anymore / Anniversary Song

/

Heart To Heart Talk

/

Treat Her Like A Lady

/

I'm Not Over You / By Pass Row

|

Anni

07/1990
CD CURB D2-77322 (US)
THE BEST OF JOHNNY LEE -

Lookin' For Love

/

Cherokee Fiddle

/

Dangerously Lonely

/

Money In My Pocket

/

You Can't Fly Like An Eagle

/

Heart To Heart Talk

/

I Can Be A Heartbreaker Too

/

Maybe I Won't Love You Anymore

/

Cross My Heart

/

Treat Her Like A Lady

06/1995
CD CEMA Special Market S21-18075-2 (US)

Country Party - Country Party / This Time / Dear Alice / Victims Of The Pretty Things In Life / Ramblin' Rose / Your Song / Red Sails In The Sunset / Saturday's Heroes / Blueberry Hill / Long Black Veil

06/1999
CD ATLANTIC Q-92850-2 (US)
LIVE AT GILLEY'S -

Lookin' For Love

/

Bet Your Heart On Me

/

Sometimes

/

Cherokee Fiddle

/

Be There For Me Baby

/

One In A Million

/

Prisoner Of Hope

/

Pickin' Up Strangers

/

Down And Dirty

/

Highways Run Forever

/

Red Sails In The Sunset

/

Sea Cruise

07/2002
CD Smith Music Group BBT 5013 (US)

Live At Bill Bob's Texas - Hello Texas / One In A Million / It Sounds Like Love / Lookin' For Love / Prisoner Of Hope / Yellow Rose Of Texas / Pickin' Up Strangers / If You Drive Your Husband To Drinkin' / Last Thing I Needed (The First Thing This Morning) / Cherokee Fiddle / You Could've Heard A Heartbreak / Bet Your Heart On Me / Rollin' Lonely / Be There For Me / Hey! Bartender

2003
CD TITLE TUNES TT-7080 (US)
THE 13TH OF JULY - Stand By Me / Halfway To Memphis / 13th Of July / If You're Ever Down In Dallas / Lee Anna / I'd Marry You Again / My Special Angel / Goin' Nowhere Fast / Don't Tell Me (To Stop Loving You) / Just Like Love / Who's Lovin' You / Wait Until Tomorrow (Blake's Song) / The Dream Team
2003
CD TITLE TUNES TT-8081 (US)

Greatest Hits - Lookin' For Love / Pickin' Up Strangers / Rollin' Lonely / You Could've Heard A Heart Break / Highways Run Forever / Cherokee Fiddle / Prisoner Of Hope / Sounds Like Love / Yellow Rose Of Texas / When You Fall In Love / Be There For Me Baby / One In A Million / Never Was A Doubt / The Eyes Of Love

05/2004
CD KMA ? (US)

It's A long Way Back - I Can't Take My Heart Anywhere / Free For All Friday Night / To Late To Hold On (To Soon To Let Go) / Makin It / It's A Long Way Back / Politically Incorrect / Defenseless / I've Been There / Things Could Be Worse / The Right Person At The Right Time

10/2005
CD TITLE TUNES TT-5614 (US)
SANTA CLAUS IS LOOKIN' FOR LOVE -

Santa Claus Is Lookin' For Love

/

Christmas Medley

/

Christmas Song

/

Bayou Christmas

/

Please Come Home For Christmas

/

Blue Year's Eve

/

Red White And Blue Christmas

/

First Noel

/

Would You Know Him

/

O Holy Night

/

Ol' Time Country Christmas

/

Merry Christmas Pretty Baby

/

Santa Claus Is Lookin' For Love

01/2006
CD AIM 3012 (AUS)

Country Candy Store - Candy Store / Ruby Louise / Dear Alice / Rocky Mountain Top / Frisco / Country Party / This Time / Galveston / Daddy Number Two / Ramblin' Rose / Congratulations / Saturday's Hero / Long Black Veil / How's His Memory / Blueberry Hill / Kawliga / It's Gonna Be Me / Your Song / Gentle On My Mind / Red Sails In The Sunset / Folsom Prison Blues / Victims Of The Pretty Things Of Life / In The Ghetto / Why Don't We Live

2006
CD TITLE TUNES 880705006039 (US)

Emotions -

Sawin' On A Fiddle / The Way Things Otta Be / Just Wastin' Time / Lion's Heart / Annie This Song's For You / Old 22 / A Song For You (duet with Toni

Jolene

) / Down Home Country Girl / Daddy Will Never Stop Lovin' You / Dry Your Eyes / Drivin' Myself To Drinkin' / Emily Blue / Brother James / The Men Who Play Football / Natalie / Immortality / The Yellow Rose (with Lane BRODY & Lee Roy

Parnell

) (extended version) / Santa Claus Is Lookin' For Love (Durt with Hollywood

Clay

)
© Rocky Productions 26/04/2015