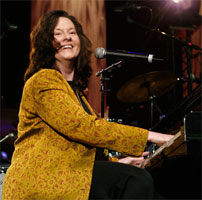 Chanteuse Rock 'n' Roll US nťe le 18 Juillet 1947 ŗ Ferriday (Louisiane). Linda Gail Lewis est la petite soeur de Jerry Lee Lewis.

Linda Gail Lewis is part of a musical royal family -- her older brother is rock & roll icon Jerry Lee Lewis, and country star Mickey Gilley and gospel artist Jimmy Swaggart are her cousins. While it took Linda Gail a while to gain an audience of her own, she proved in time she was a gifted pianist and singer in her own right, well versed in rockabilly and first-era rock & roll, vintage country, boogie-woogie, and Southern gospel. Guided by her brother, Linda Gail launched a career as singer in the early '60s, cutting records with him and singing with his road band. It wasn't until 1988 that Linda Gail truly stepped out on her own and began wowing fans of vintage roots rock with her own piano prowess. After cutting a handful of albums for small labels, Linda Gail stepped into the spotlight with 2000's You Win Again, an album she recorded in collaboration with Van Morrison. Since then, Linda Gail has been an in-demand act in the U.K. and Europe and has released a steady stream of albums highlighting her rollicking piano and impassioned vocals.
The youngest of four siblings, Linda Gail Lewis was born in Ferriday, Louisiana on July 18, 1947. Linda Gail was ten years old when her older brother Jerry Lee scored the first in a series of hit records with "Whole Lotta Shakin' Goin' On," and having soaked up many of the same country, boogie-woogie, and gospel influences as her brother, she dreamed of also having a career in music. Linda Gail loved to sing, citing Patsy Cline, Brenda Lee, and LaVern Baker as influences, and in 1960 she cut a single for Sun Records with her sister Frankie Jean Lewis that went unreleased. Linda Gail's next attempt to record with one of her siblings went better; after a few years of singing backup with Jerry Lee's road band, they recorded a 45 for Sun, "Teenage Letter" b/w "Seasons of My Heart," that was released in 1963. By the time the disc came out, Linda Gail was already on her second marriage, and she was eager to move forward in her career. She cut a solo single for ABC-Paramount Records, "Break Up the Party," in 1965, and another for Columbia, "Who Will Be the Next One," in 1966, but both proved to be one-offs. Linda Gail did gain valuable experience when she joined a package tour featuring acts from the rock music TV series Shindig, and continued to tour with her brother.
In 1968, after years away from the charts, Jerry Lee Lewis scored a major country hit with "Another Place, Another Time," and with his career back in high gear, he set out to give his sister a hand. At Jerry Lee's behest, his label, Smash Records, issued Linda Gail's first solo album, 1969's The Two Sides of Linda Gail Lewis, and later the same year, she and Jerry Lee teamed up for a duet album, Together. Linda Gail and Jerry Lee's duet on "Don't Let Me Cross Over" was a minor hit in 1969, but while Smash and its affiliated Mercury label released singles by Linda Gail up to 1974, her recordings enjoyed little chart action. Linda Gail was still touring with Jerry Lee's band, opening his shows and singing backup, but she developed problems with drugs and alcohol, leading to a hospital stay in 1976 following a nervous breakdown. Eager to lead a quieter life, Linda Gail dropped out of music in 1977, settled down with her sixth husband, and devoted herself to her family.
In 1986, Linda Gail Lewis returned to the public eye, rejoining her brother's touring party, but when Jerry Lee's then-wife Kerrie Lynn McCarver objected to her opening the shows (Kerrie Lynn had performing aspirations of her own), Linda Gail dropped out of the show. In the '70s, Linda Gail had begun playing the piano, adopting a style that reflected the sound and influences that also informed her brother's music. Now that she was no longer touring with Jerry Lee, Linda Gail decided to strike out on her own, and she hit the road with her own piano-pumping band playing a potent fusion of rockabilly, boogie, and vintage country. She became an especially popular attraction in the U.K. and Europe, and in 1990 she struck a deal with the French New Rose label to release her first album in 21 years, International Affair, cut in Memphis with a band of Bluff City musicians. Arriving in 1991, Rockin' with Linda was cut during a visit to the U.K., with Linda Gail playing a set of rock & roll favorites with her British touring band. The year 1992 saw the release of I'll Take Memphis, a set cut in tandem with Norwegian rocker Stephen Ackles. Ackles was also part of the band for Love Makes the Difference, an album Linda Gail cut in Oslo in 1992 that went unreleased until 1995.
While Linda Gail continued to tour regularly, she took a break from recording until she was playing a gig in Wales and discovered one of the fans who came out to see her was Van Morrison. Morrison invited Linda Gail to a recording session a few days later, and they quickly cut 2000's You Win Again, an album featuring Morrison's interpretations of a number of vintage rock and R&B tunes (some made famous by Jerry Lee Lewis) in which she received co-star billing. The album helped to raise Linda Gail's public profile as more than just Jerry Lee's sister, and she continued to play for fans in the United States, the U.K., Europe, and the Netherlands on a regular basis, while cutting occasional albums for overseas labels, including 2004's Boogie Woogie Country Gal, 2006's Hungry Hill, and 2012's Gas Station Flowers. In 2016, Linda Gail recorded Hard Rockin' Woman! for the rockabilly specialist label Lanark Records; the set included appearances from guitarist Danny Harvey and Linda Gail's daughter, Annie Marie Lewis. Linda Gail teamed up with songwriter and vocalist Robbie Fulks for a 2018 duo album, Wild! Wild! Wild!, a high-spirited set that included several numbers written to order by Fulkss for Lewis.
https://en.wikipedia.org/wiki/Linda_Gail_Lewis
Talents : Vocals, Piano
Style musical : Rock 'n' Roll, Traditional Country

https://youtu.be/IQ4tyVb3utY
Years in activity :
| | | | | | | | | | | | |
| --- | --- | --- | --- | --- | --- | --- | --- | --- | --- | --- | --- |
| 1910 | 20 | 30 | 40 | 50 | 60 | 70 | 80 | 90 | 2000 | 10 | 20 |
DISCOGRAPHY
Singles
04/1963
SP SUN 384 (US)
.
Teenage Letter (Jerry Lee LEWIS) / Seasons Of My Heart (Jerry Lee LEWIS with Linda Gail

Lewis

)
03/1965
SP ABC-PARAMOUNT 45-10636 (US)
.

Break Up The Party / Small Red Diary

03/1966
SP PHILIPS 320 210 BF (NL)
Baby (You've Got What It Takes) (Jerry Lee LEWIS with Linda Gail LEWIS) / Green Green Grass Of Home (Jerry Lee LEWIS)
02/1967
SP COLUMBIA 4-43964 (US)
.
Linda LEWIS - Jim Dandy / Who Will Be The Next One
09/1968
SP SMASH S-2193 (US)
.

Turn Back The Hands Of Time / Good

03/1969
SP SMASH S-2211 (US)
.

The E-N-D / Then We Said Goodbye

04/1969
SP SMASH S-2220 (US)
Linda Gail LEWIS & Jerry Lee LEWIS - Don't Let Me Cross Over / We Live In Two Different Worlds
08/1969
SP SMASH S-2240 (US)
.

South Side Soul Society Chapter No. 1 / He's Loved Me Much Too Much

11/1969
SP SMASH S-2254 (US)
.
Linda Gail LEWIS & Jerry Lee LEWIS - Roll Over Beethoven / Secret Places
03/1970
SP SMASH S-2261 (US)
.

My Heart Was The Last One To Know / Gather Round, Children

08/1970
SP MERCURY 73113 (US)
.

Before The Snow Flies / What Is Love

1970
SP MERCURY 6052 014 (NL)
Roll Over Beethoven (Jerry Lee LEWIS & Linda Gail LEWIS) / What's Made Milwaukee Famous (Has Made A Loser Out Of Me) (Jerry Lee LEWIS)
09/1971
SP MERCURY 73245 (US)
.

Working Girl / Paper Roses

07/1972
SP MERCURY 73303 (US)
.
Linda Gail LEWIS & Jerry Lee LEWIS - Me And Jesus / Handwriting On The Wall
07/1972
SP MERCURY 73316 (US)
.

Smile, Somebody Loves You / Louisiana

11/1972
SP MERCURY 73343 (US)
.

Ivory Tower / He's Loved Me Much Too Much

03/1974
SP MERCURY 73363 (US)
.

I Should Not Have Fallen In Love With You / I Wanna Be A Sensuous Woman

1987
SP Rose 175 (F)
.
Oh Boy / ?
1995
SP Bellmark 74513-2 (US)
.

Love Makes The Difference / I'd Rather Stay Home And Rock 'n Roll

2000
SP VIRGIN 38754 (US)
.

Van MORRISON & Linda Gail LEWIS - No Way Pedro / Let's Talk About Us

2000
CD Exile ‎POBDDJ 18 (EUR) (promo)
Van MORRISON & Linda Gail LEWIS -

Let's Talk About Us / Let's Talk About Us

2000
CD Exile POBDJF19 (EUR) (promo)
Van MORRISON & Linda Gail LEWIS - No Way Pedro /

A Shot Of Rhythm & Blues

2002
CD Exile POBDJ 20 (EUR) (promo)
Van MORRISON & Linda Gail LEWIS -

Real Gone Lover

2002
CD Lantasi LS 10001 (SWE)
.

Baby, I'm In Love / I'd Rather Stay Home & Rock 'n' Roll

2003
CD Lantasi LS 10002

(SWE)

Have I Told You Lately (

Linda Gail

Lewis

& Emil

Sigfridsson

) /

Here Ever After (Linda Gail LEWIS)
Unissued Track
Albums
1969
LP 12" SMASH SRS-67119 (US)

| | |
| --- | --- |
| | TWO SIDES OF LINDA GAIL LEWIS - Paper Roses / South Side Soul Society Chapter #1 / Send Me The Pillow You Dream On / Don't Let Me Cross Over / Hey Good Lookin' / Then We Said Goodbye / T-H-E E-N-D / He's Loved Me Much Too Much (Much Too Long) / Good / I Can't Help It (If I'm Still In Love With You) / Turn Back The Hands Of Time |

09/1969
LP 12" SMASH SRS-67126 (US)
TOGETHER - Jerry Lee LEWIS & Linda Gail LEWIS - Milwaukee Here I Come / Jackson / Don't Take It Out On Me / Crying Time / Sweet Thang / Secret Places / Don't Let Me Cross Over / Gotta Travel On / We Live In Two Different Worlds / Earth Up Above / Roll Over Beethoven
12/1990
CD Rose 238 (F)

International Affair - I Can Help / We Were Both Wrong / Cry One More Time / They Called It Rock / Clean Cut Kid / A.I On The Jukebox / Suddenly Single / Tongue And Cheek / I Feel So Bad / Las Vegas (with Maury OíRourk)

10/1991
CD DEEP ELEM DECD 2001 (UK)
ROCKIN WITH LINDA - RECORDED "LIVE" IN LONDON WITH SONNY WEST & THE RHYTHM KINGS - Letís Have A Party / Kansas City / Mean Woman Blues / Nothiní Shakiní / Black Cadillac / Big Boss Man / Roll Over Beethoven / Iíll Take Memphis / Mean Mean Man / Whatíd I Say / Great Big Crush / Rip It Up / Iím Ready / Long Tall Sally / The Blues Is Alright / Whole Lotta Shakiní Goiní On / Shake Rattle And Roll
1992
CD FOX CDFX-1010 (US)
I'LL TAKE MEMPHIS - I Know What You've Been Up To / He Loved Me Much Too Much / Sexy Ways (with Stephen

Ackles

) / I'll Take memphis / Wait Till I Get You In My Dreams / Earth Up Above (with Stephen

Ackles

) / Do You Know / Hey Lady / Hang Up My Rock And Roll Shoes / Are You Breaking' A Heart Over Me / Sweet Thang (with Stephen

Ackles

) / I Ain't Ready To Grow Up
11/1995
CD ICEHOUSE ICD 9412 (UK)
LOVES MAKES THE DIFFERENCE - Love Makes The Difference / Your Love Is So Cold I'm Turning Blue / You Make It Easy To Believe / Saving The Best For Last / Not A Night Goes By / There's Got To Be An Easier Way / After Tonight / You Just Said A Heartful / I'd Rather Stay Home And Rock 'n' Roll / Rockin' Blues
04/1999
CD SIRE 31063-2 (US)
LINDA GAIL LEWIS - Here Ever After / I'm Still Shakin' / Relentness / Never Wear Mascara / Something Bautiful / 1-2-3 I'm In Love Again / Love Makes The Difference / This Long And Lonely Night / Moore Or Les / Baby I Want You / Turn Off The TV / Dancin' Round And Round / I'd Rather Stay Home And Rock'n'roll / The Dark End Of The Street
10/2000
CD VIRGIN 7243-8-50258-2-2 (US)
YOU WIN AGAIN - Van MORRISON & Linda Gail LEWIS - Let's Talk About Us / You Win Again / Jambalaya / Crazy Arms / Old Black Joe / Think Twice Before You Go / No Way Pedro / A Shot Of Rhythm & Blues / Real Gone Lover / Why Don't You Love Me / Cadillac / Baby (You Got What It Takes) / Boogie Chillen
2001
2 CD Swinging Pig CD 258-2 (?) (bootleg)

Linda Gail Lewis In Basel - Here Ever After / Never Wear Mascara / At The Dark End Of The Street / Good Morning Blues / Old Black Joe / Think Twice Before You Go / Fire In The Belly / Naked In The Jungle / In The Afternoon / Real Gone Lover / Domino / Outskirts Of Town / Long Distance Call / Muleskinner Blues / Back On Top / Moondance / Brown Eyed Girl / Bright Side Of The Road / Help Me / Rock Medley / Have I Told You Lately

10/2001
CD ROCKVILLE RV 002 (UK) (bootleg)
ROCK 'N' ROLL SPECIAL - LINDA GAIL LEWIS & THE FIREBIRDS - Whole Lotta Shakin' / Ready To Fall In Love / Mais Oui / I'm On Fire / Saturday Night At The Duck Pond (Swan Lake) / The End Of The Road / I Gotta Feeling / Will You Still Love Me Tomorrow / Late Last Night / Whirlwind / I Ain't Got No Home / Let's Have A Party / Honky Tonk Man / Rip It Up / Gee Wiz / Great Balls Of Fire / What I Say
07/2002
CD RITZ 1035AM 351011 (UK)
OUT OF THE SHADOWS -

B

aby Iím In Love / Everything I Need / Love So Real / The Sweetest Love / What A Beautiful Day / Out Of The Shadows / Treat Me Like A Lady / Life Without You / Paradise To Me / Iíd Rather Stay Home & Rockíníroll

07/2003
CD LGL 0711 (US)

Rock 'n' Roll - In The Boogie Woogie Country Mood / Strange Things Happening Every Day / Hillbilly Rock / Where Could I Go But To The Lord? / Am I To Be The One? / Fools Like Me / Old Time Rock 'n' Roll / You Can Have My Husband / Boppin' The Blues / Goody Goody / I'm On The Loose / Old Black Joe

05/2004
CD CASTLE 912 (UK)
BOOGIE WOOGIE COUNTRY GAL - In The Boogie Woogie Country Mood / Strange Things Happening Every Day / Hillbilly Rock / Where Could I Go But To The Lord? / Am I To Be The One? / Fools Like Me / Old Time Rock 'n' Roll / You Can Have My Husband / Boppin' The Blues / Goody Goody / I'm On The Loose / Old Black Joe / Absence Makes The Heart Go Wander (The LEWIS THREE) / What Did You Want From Me (The LEWIS THREE) / Just Say It (The LEWIS THREE) / Bring It On (The LEWIS THREE) / You Got the Car (The LEWIS THREE) / Last Hard Bible (The LEWIS THREE)
10/2004
CD Lantasi LD71177 (SWE)

Lie And Deny - Linda Gail Lewis & The Rockarounds - Lie & Deny / Let's Talk About Us / We're Just Friends / The Blues Is Allright / I Wish This Car Was A Train / Don't Stop Now / You Win Again / Wait And See / What A High, What A Low / Whole Lotta Shakin' Going On / You Can Have My Husband / Real Wild Child / Smokey Joe's / Crazy Arms / Rip It Up

2004
CD Grapevine GRACD1003 (IRL)
OUT OF THE SHADOWS - The Sweetest Love / Love So Real / Relentless / Here Ever After / Dark End Of The Street / Baby, I'm In Love / Out Of The Shadows / Treat Me Like A Lady / This Long And Lonely Night / What A Beautiful Day / Everything I Need / Dancin 'round & 'round / Moore Or Les / I'd Rather Stay Home & Rock 'n' Roll / Have I Told You Lately (with Emil

Sigfridsson

) / Never Wear Mascara (When You Love A Married Man)
03/2005
CD Ame Dane ? (DK)

Perfect World - Donít Leave Her Lonely Too Long / Little Bit Lonesome / Iíve Got A Quartet In My Pocket / Johnny B. Goode / I Didnít Know / Moviní Out / Fading Fast / But I Do / Got A Feeling For Ya / A Perfect World / Mansion Over The Hilltop / Jealousy / Studio Banter / Forever Has Come To An End

10/2005
CD Lantasi LD71188 (SWE)

Me And The Boys In The Band - Linda Gail Lewis & The Rockarounds - From Sweden To Memphis / Who's That Guy / So Good / Honky Tonk Boogie Gal / I'm Burned Out / Me And The Boys In The Band (with Med Jerry Williams) / A Ray Of Hope / Call Me Soon / The Forgiver / Looks Like Love / That Much / She's In My Dreams / They Were Rocking / I Never Knew What Misery Was / At Last

2005
CD Jukebox CDR 8265101 (UK)

Early Rocking And Country Days - LINDA GAIL LEWIS FEAT.

J

erry Lee

LEWIS

-

Introduction (Jerry Lee LEWIS) / Nothing Shakin' / Seasons Of My Heart (& Jerry Lee LEWIS) / Sittin' And Thinkin' / C.C. Rider / Small Red Diary / Break Up The Party / Crying Time (& Jerry Lee LEWIS) / Jackson (& Jerry Lee LEWIS) / The End / Turn Back The Hands Of Time / Gotta Travel On (& Jerry Lee LEWIS) / Secret Places (& Jerry Lee LEWIS) / Ivory Tower / Roll Over Beethoven (& Jerry Lee LEWIS) / Sweet Thang (& Jerry Lee LEWIS) / Smile And Somebody Loves You / Hey Good Looking / South Side Soul Society Chapter / I Can't Help It / Baby You've Got What It Takes (& Jerry Lee LEWIS) / Earth Up Above (& Jerry Lee LEWIS) / We Live In Two Different Worlds (& Jerry Lee LEWIS) / Milwaukee Here I Come (& Jerry Lee LEWIS) / Don't Let Me Cross Over (& Jerry Lee LEWIS) / Don't Take It Out On Me (& Jerry Lee LEWIS) / When You Wore A Tulip (& Jerry Lee LEWIS) / Bad Motorcycle / This Land (& Jackie WILSON) / Daddy Sang Bass (& Carl PERKINS) / Take These Chains From My Heart
2005
CD SMASH SRS-67119 (?) (bootleg)

The Early Sides Of Linda Gail Lewis - 1963-1973 - Nothin' Shakin' / Sittin' And Thinkin' / Break Up The Party / Jim Dandy / Who Will Be The Next One / Turn Back The Hands Of Time / Then We Said Goodbye / The End / Don't Let Me Cross Over (with Jerry Lee LEWIS) / South Side Soul Society Chapter 1 / He's Loved Me Much Too Much / Paper Roses / Send Me The Pillow You Dream On / Hey, Good Lookin' / I Can't Help It / My Heart Was The One To Know / Louisiana (with Jerry Lee LEWIS) / Gather 'round Children / What Is Love / Before The Snow Flies (with Jerry Lee LEWIS) / Cheater Pretend (with Jerry Lee LEWIS) / Handwriting On The Wall (with Jerry Lee LEWIS) / I Know That Jesus Will Be There (with Jerry Lee LEWIS) / Working Girl (with Jerry Lee LEWIS) / Smile, Somebody Loves You / Ivory Tower / I Wanna Be A Sensious Woman / I Should Not Have Fallen In Love With You / Secret Places

09/2006
CD Benlin Music 0711 (US)

Hungry Hill - I Donít Want To Be Lonely Tonight / Love So Real / Slow Down Brother / Weary Blues Goodbye / I Wonder In Whose Arms (You Are Tonight) / Hungry Hill / Love Me The Way I Want To Be Loved / Hey, Hey Memories / Lonely Heart / Just A Little Talk With Jesus / 88 Friends / Big Black Cadillac / I Forgot More Than Youíll Never Know / That Much

11/2006
CD Benlin Music 0712 (US)

Merry Christmas From Nashville - Linda Gail Lewis & The Lewis 3 - Away In A Manger / Rudolph The Red-Nosed Reindeer / Silver Bells / Rockiní Around The Christmas Tree / White Christmas / Silent Night / Jingle Bell Rock / Blue Christmas / Let It Snow / Winter Wonderland / Have Yourself A Merry Little Christmas / Who Ever Thinks About Santa (Linda Gail solo) / Make Somebody Happy This Christmas (Linda Gail solo)

2006
CD Castle Music CMQCD1269 (UK)

Perfect World - The Lewis 3 - Don't Leave Her Lonely Too Long / I Got A Feelin' For Ya / But I Do / I've Got A Quarter In My Pocket / Perfect World / Fading Fast / I'm Moving Out / Little Bit Lonesome / Jealousy / Mansion Over The Hilltop / I Didn't Know / Forever Has Come To An End / Bonus Tracks : I'm Moving Out (alt take) / Break Up / Johnny B. Goode

2006
CD CBARTIST 0106 (US)

Rock Roll & Remember FEATURING LINDA GAIL LEWIS - Walking Back To Happiness (Big Al's Rock'n'Roll Combo) / At The Hop (Big Al's Rock'n'Roll Combo) / Guitar Man (Big Al's Rock'n'Roll Combo) / Peter Gunn (Big Al's Rock'n'Roll Combo) / C'Est La Vie (Big Al's Rock'n'Roll Combo) / Sweet Nothing (Big Al's Rock'n'Roll Combo) / High Scholl Confidential (Linda Gail Lewis with Big Al's Rock'n'Roll Combo) / Johnny B. Goode (Linda Gail Lewis with Big Al's Rock'n'Roll Combo) / Old Time Rock'n'Roll (Linda Gail Lewis with Big Al's Rock'n'Roll Combo) / One Night With You (Linda Gail Lewis with Big Al's Rock'n'Roll Combo) / Shake, Rattle And Roll (Linda Gail Lewis with Big Al's Rock'n'Roll Combo) / Great Ball Of Fire (Linda Gail Lewis with Big Al's Rock'n'Roll Combo)

2007
CD Ball and Chain BCR 001 (SWE)

You Were There - Linda Gail Lewis & The Rockarounds - You Were Always There / Old Fashion Christmas / Pour Me / Who Loves You / Rockin' With Santa / Boogie Woogie Country Girl / Whole Lotta Shakin' Going On / We're Just Friends / Jambalaya / Real Wild Child / Together Again / Let's Have A Party / Old Time Rock 'n' Roll / The Blues Is Alright / Roll Over Beethoven

11/2007
CD Big Beat BBR-093 (F)

Queen Of Rock 'n' Roll Live in France - T. Shuffle (Band warm-up and intro) / Boogie Woogie Country Girl / Roll Over Beethoven / Weary Blues Goodbye / Love So Real / One Night / Letís Have A Party / Blue Suede Shoes / Jambalaya / Old Black Joe / Shake Rattle And Roll / Blue Moon Of Kentucky / All Shook Up / Rockiní My Life Away / High School Confidential / Whole Lotta Shakiní Goiní On / Great Balls Of Fire / Johnny B. Goode / Good Golly Miss Molly / Night Train To Memphis / One-Sided Love Affair / Long Tall Sally / Shuffle (Band closing)

2010
2 CD Ball and Chain BCR 10002 (SWE)

You & Me & Sweet Rock'n'Roll - Best From Sweden - Linda Gail Lewis & The Rockarounds :

CD 1 : You & Me & Sweet Rock 'n' Roll / The Blues Is Alright / I Feel Your Love / Lie & Deny / The Blues Took Us Both By Surprise / Who's That Guy / That Much / Wait And See / A Ray Of Hope / Talk About Us / When The Lights Go On / Smokey Joe's / Rip It Up / Who Loves You / We're Just Friends / The Forgiver
CD 2 : Looks Like Love / Me & The Boys In The Band / Pretty Little Pictures / Pour Me / So Good / You Can Have My Husband / Real Wild Child / Crazy Arms / From Sweden To Memphis / You Win Again / I Wish This Car Was A Train / You Were Always There / She's In My Dreams / I Never Knew What Misery Was / Whole Lotta Shakin' Going On

2013
CD Confido 100213 (US)

Gas Station Flowers - Cadillac Rock / Love Keeps Callin / Gas Station Flowers / Till Honky Gets Tonky Again / Big Bayou / Dreams Of You / Dark And Lonely Road / Pretty Little Pictures / Ubangi Stomp / Lovin Up A Storm / Iíll Be There (If You Ever Want Me) / Donít You Lies To Me / By Your Side / Fill My Way Every Day With Love / Roll On (Clickety Clack)

09/2015
CD Lanark / Membran LNKCD 096 (US)

Hard Rockin' Woman! - Hard Rockin' Man / Spell Bound / Love Sick / Little Baby Rock / Sure Does Help / Rocking My Life Away / And Now I Win / Linda Gail Blues / What Can I Do / This Train / Battle Win The Bottle / Heartbreak Highway

2017
CD Ball and Chain BACCD20170003 (SWE)

Two Kings & a Queen - Rip it up / Jailhouse Rock / Crazy Arms / All Shook Up / Hound Dog / From A Jack To A King / You Win Again / Two Kings And A Queen / I'm On Fire / I'll Sail My Shop Away / Always On My Mind / I'm Feeling Sorry / Whole Lotta Shakin'

2017
CD Headcat HC005 (US)

A Family Affair Live In Concert With Annie Marie Lewis & Danny B. Harvey - Boogie Woogie Country Girl / Roll Over Beethoven / Crazy Arms / Should I Ever Love Again / My Babe / Long Tall Sally / Heartbreak Highway / Back To Louisiana / Shake, Rattle & Roll / I'm All Shook Up / Always On My Mind / Good Golly Miss Molly / Whole Lotta Shakin' Goin'On / Great Balls Of Fire / What'd I Say

08/2018
CD Bloodshot BS 263 (US)

Wild! Wild! Wild! - Robbie Fulks / Linda Gail Lewis - Round Too Long / I Just Lived A Country Song / That's Why They Call It Temptation / Wild Wild Wild / Who Cares / Till Death / Memphis Never Falls From Style / Boogie Woogie Country Gal / Foolmaker / Your Red Wagon / On The Jericho Road / It Came From The South / Hardluck, Louisiana

07/2022
CD Goldenlane CL02922 (US)

Early Sides 1963-1973 - C.C.Rider / Nothin' Shakin' (But The Leaves) / Sittin' And Thinkin' / Break Up The Party / Small Red Diary / Baby (You've Got What It Takes (with Jerry Lee LEWIS) / Jim Dandy / Who Will Be The Next One / My Heart Was The Last One To Know / Louisiana / Gather 'round Children / What Is Love / Before The Snow Flies (with Jerry Lee LEWIS) / Working Girl / Smile, Somebody Loves You / Ivory Tower / I Wanna Be A Sensuous Woman / I Should Have Not Fallen In Love With You

07/2022
CD CLEOPATRA 3280 (US)
FAMILY JEWELS - Linda Gail LEWIS - Anne Marie LEWIS with Danny B. HARVEY - Boogie Woogie Country Girl / Roll Over Beethoven / Crazy Arms / Should I Ever Love Again / My Babe / Long Tall Sally / Heartbreak Highway / Back To Louisiana / Shake, Rattle & Roll / I'm All Shook Up / Always On My Mind / Good Golly Miss Molly / Whole Lotta Shakin' Going On / Great Balls Of Fire /What'd I Say
© Rocky Productions 8/10/2022