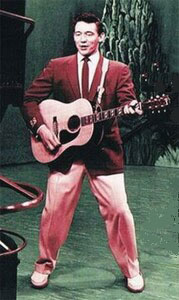 Chanteur US né Robert Lord, le 6 Janvier 1934 à Sanford (Floride). Bobby Lord commence sa carrière durant son adolescence en devenant animateur TV d'un show musical "The Bobby Lord Homefolks Show". Grâce à sa rencontre avec le célèbre compositeur Bouldeaux Bryant il signe en 1953 un contrât pour Columbia records. C'est durant cette période qu'il enregistrent quelques fantastiques Rockabilly, Hillbilly Boogie et Country hits. Il fait également de régulières apparitions au show TV "The Ozark Jubilee", puis en 1960, il participe au programme du Grand Ole Opry. En 1961 il quitte Columbia pour Hickory, laissant le Rockabilly au profit de la Country music. Bobby Lord est décédé le 16 Février 2008 dans un hôpital de Stuart (Floride), près de son domicile de Jensen Beach, après une longue maladie.

Lord was born January 6, 1934 in Sanford, Florida, but grew up in Tampa. As a teenager, he entered talent contests, wowing crowds with his edgy rockabilly style. He was popular with Tampa's young crowd, playing concerts at dance halls. At Plant High School, he met his wife, Mozelle, whom he married when he was 20.
After graduating from Plant, he was offered the chance to host his own television show while a freshman at the University of Tampa. The Bobby Lord Homefolks Show was an hour-long program on Saturday nights on WSUN-TV in St. Petersburg and featured Lord singing with a backing band. In 1952, he won a nationwide talent competition sponsored by TV Guide which led to an appearance on Paul Whiteman's TV Teen Club on ABC-TV from Philadelphia.
Soon after, songwriter Boudleaux Bryant heard one of Lord's demo tapes and passed it on to Columbia Records, which signed him in 1953. At age 19, he was the label's youngest recording star. He began releasing country and rockabilly hits for Columbia, and in 1955 joined Ozark Jubilee, an ABC-TV program based in Springfield, Missouri.
In 1960, the Jubilee was canceled and Lord moved to Nashville, where he was immediately offered a spot on the Grand Ole Opry. He continued appearing on the Opry well into the 1970s. He recorded for Hickory Records starting in 1961 and Decca Records from 1967. During this time he also hosted Opry Almanac on WSM-TV in Nashville, which was the morning counterpart to Ralph Emery's afternoon show on that station. Under the auspices of WSM-TV, he also hosted a weekly syndicated half-hour program featuring popular country artists. Lord's backing band on the syndicated show included Jerry Byrd on steel guitar, Jerry Whitehurst on piano and Spider Wilson on guitar.
In 1969, Lord left Nashville and went into semi-retirement from the music industry to devote time to his family and his interests in real estate and insurance. In the 1980s, he hosted TNN's program Country Sportsman, later called Celebrity Outdoors, until 1989. He was also the author of the 1969 book, Hit the Glory Road.
Bobby Lord died on February 16, 2008 in Stuart, Florida at the age of 74. He was a resident of Jensen Beach, Florida and was survived by his widow, Mozelle, and three children.
https://en.wikipedia.org/wiki/Bobby_Lord
Talents : Vocals, Guitar
Style musical : Rockabilly, Rock 'n' Roll, Traditional Country

https://youtu.be/QOc6KUAzUBY
| | |
| --- | --- |
| NO MORE, NO MORE, NO MORE ! (1955) | |
Years in activity :
| | | | | | | | | | | | |
| --- | --- | --- | --- | --- | --- | --- | --- | --- | --- | --- | --- |
| 1910 | 20 | 30 | 40 | 50 | 60 | 70 | 80 | 90 | 2000 | 10 | 20 |
DISCOGRAPHY
Singles
01/1955
SP COLUMBIA 4-21339 (US)
.
No More, No More, No More ! / Why Were You Only Fooling
02/1955
SP COLUMBIA 4-21367 (US)
.
Ain't You Ever Gonna / I'm The Devil Who Made Her
06/1955
SP COLUMBIA 4-21397 (US)
.
Sittin' Home Prayin' / Something's Missing
08/1955
SP COLUMBIA 4-21437 (US)
.
Hawkeye / I Can't Make My Dreams
11/1955
SP COLUMBIA 4-21459 (US)
.
I Can't Do Without You Anymore / Don't Make Me Laugh
02/1956
SP COLUMBIA 4-21498 (US)
.
So Doggone Lonesome / Pie, Peachie Pie Pie
03/1956
SP COLUMBIA 4-40666 (US)
.
Beautiful Baby / The Fire Of Love
08/1956
SP COLUMBIA 4-21539 (US)
.
Everybody's Rockin' But Me / Without Your Love
01/1957
SP COLUMBIA 4-40819 (US)
.
Your Sweet Love / My Baby's Not My Baby
06/1957
SP COLUMBIA 4-40927 (US)
.
High Voltage / Just Wonderful
10/1957
SP COLUMBIA 4-41030 (US)
.
Am I A Fool / I Know It Was You
04/1958
SP COLUMBIA 4-41155 (US)
.
The Fire Of Love / Sack
11/1958
SP COLUMBIA 4-41288 (US)
.
Walking Alone / When I've Learned
03/1959
SP COLUMBIA 4-41352 (US)
.
Party Pooper / What A Thrill
10/1959
SP COLUMBIA 4-41505 (US)
.
Too Many Miles / Swamp Fox
03/1960
SP COLUMBIA 4-41596 (US)
.
Give Me A Woman / Where Did My Woman Go
11/1960
SP COLUMBIA 4-41824 (US)
.
Before I Lose My Mind / When The Snow Falls
05/1961
SP COLUMBIA 4-42012 (US)
.
Fascination / A Rose And A Thorn
11/1961
SP HICKORY 45-1158 (US)
.
I'll Go Alone / My Heart Tells Me So
06/1962
SP HICKORY 45-1169 (US)
.
Precious Jewel / Trail Of Tears
12/1962
SP HICKORY 45-1190 (US)
.
Out Behind The Barn / Don't Shed Any Tears For Me
1962
SP TRIOLA TD 174 (DK)
Out Behind The Barn / Don't Shed Any Tears For Me
04/1963
SP HICKORY 45-1210 (US)
.
Shopping Center / Cry, Cry Darling
12/1963
SP HICKORY 45-1232 (US)
.
Life Can Have A Meaning / Pickin' White Gold
05/1964
SP HICKORY 45-1259 (US)
.
Take The Bucket To The Well / A Man Needs A Woman
1964
EP HICKORY LPE 1501 (UK)

Hickory Showcase Volume Two -

Interstate Forty (Bob LUMAN) / Can't Take The Country From The Boy (Bob LUMAN) / Out Behind The Barn (Bobby LORD) / Cry, Cry, Darling (Bobby LORD)
04/1965
SP HICKORY 45-1310 (US)
.
I'm Going Home Next Summer / That Room In The Corner Of The House
02/1966
SP HICKORY 45-1361 (US)
.
Cash On The Barrelhead / That's Love
04/1966
SP HICKORY 45-1389 (US)
.
It Only Hurts When I'm Laughing / Losers Like Me
03/1967
SP DECCA 32115 (US)
.
Look What You're Doing / On And On Goes The Hurt
07/1967
SP DECCA 32174 (US)
.
One Day Down / Shadows On The Wall
03/1968
SP DECCA 32277 (US)
.
Live Your Life Out Loud / Charlotte, North Carolina
08/1968
SP DECCA 32373 (US)
.
It's My Life / True And Lasting Kind
01/1969
SP DECCA 32431 (US)
.
Don't Forget To Smell The Flowers / Yesterday's Letters
10/1969
SP DECCA 32578 (US)
.
Do You Ever Think Of Me / Rainbow Girl
03/1970
SP DECCA 32657 (US)
.
Something Real / You And Me Against The World
07/1970
SP DECCA 32718 (US)
.
Violets Are Red / Wake Me Up Early In The Morning
02/1971
SP DECCA 32797 (US)
.
So In Love With You / Goodbye Juke Box
06/1971
SP DECCA 32841 (US)
.
Peace Of Mind / They've Got Something In The Country
02/1972
SP DECCA 32932 (US)
.
Everybody's Here / Sweet Inspiration
1973
SP RICE 5056 (US)
.
Got Yourself Something / I've Had You
10/1973
SP RICE 5062 (US)
.
Hello Wine / Looking For A Cold, Lonely Winter
04/1974
SP RICE RR-5068 (US)
.
Look Of Love / Your Song
Albums
1964
LP 12" HARMONY 7322 (US)
BOBBY LORD'S BEST -

Hawk-Eye

/

The Fire Of Love

/

Sittin' Home Prayin' For Rain

/

What A Thrill

/

A Rose And A Thorn

/

Swamp Fox

/

Where Did My Woman Go

/

Fascination (Is Just For The Moment)

/

Give Me A Woman

/

When I've Learned

1964
LP 12" HICKORY LPM-121 (US)
Can't Take The Country From The Boys - BOB LUMAN & BOBBY LORD - Can't Take The Country From The Boys (Bob LUMAN) / (Empty Walls) A Lonely Room (Bob LUMAN) / I'm Gonna Write A Song About You (Bob LUMAN) / The File (Bob LUMAN) / Old George Dickel (Bob LUMAN) / Interstate Forty (Bobby LORD) / Life Can Have Meaning (Bobby LORD) / Take The Bucket To The Well (Bobby LORD) / Cry, Cry Darling (Bobby LORD) / Shopping Center (Bobby LORD) / My Heart Tells Me So (Bobby LORD) / Out Behind The Barn (Bobby LORD)
1965
LP 12" HICKORY LPM-126 (US)
THE BOBBY LORD SHOW - Life Can Have Meaning / Pickin' White Gold / Out Behind The Barn / Don't Shed Any Tears For Me / Cry, Cry Darling / I'm Going Home Next Summer / That Room In The Corner Of The House / Trail Of Tears / I'll Go On Alone / The Precious Jewel / A Man Needs A Woman / Take The Bucket To The Well
1965
LP 12" THE United States Air Force 413/414 (US)
COUNTRY MUSIC TIME - Billy WALKER : Theme: Charlie's Shoes / Down To My Last Cigarette / Still Reaching For You / I'm A Fool / Things / Theme: Wildwood Flower / Bobby LORD : Theme: Hawkeye / Life Can Have Meaning / When The Snow Falls / Watch Me Fall / You All Come / Theme: Wildwood Flower
1970
LP 12" DECCA DL 75246 (US)

You And Me Against The World - Wake Me Up Early In The Morning / Look What You're Doing / Mississippi / Do It To Someone You Love / The True And Lasting Kind / You And Me Against The World / Don't Keep Me Hangin' On / Yesterday's Letters / Live Your Life Out Loud / When A Man Loves A Woman (The Way That I Love You) / Rainbow Girl

1989
LP 12" REVIVAL 3006 (US)
EVERYBODY'S ROCKIN' BUT ME - 14 GREAT ROCKABILLY AND HILLBILLY BOOGIE RARITIES - Everybody's Rockin' But Me / Beautiful Baby / High Voltage / Sack / The Fire Of Love / Hawk-Eye / Am I A Fool / No More, No More, No More! / Party Pooper / What A Thrill / Ain't You Ever Gonna / So Doggone Lonesome / Pie, Peachie Pie Pie / Just Wonderful
1996
LP 12" Demand ‎DMSLPS-095 (EUR)

Everybody's Rockin' -

Everybody's Rockin' / Beautiful Baby / Hawkeye / So Doggone Lonesome / Am I A Fool / Pie Peachie Pie Pie / Sittin' Home Prayin' / I'll Go Alone / Just Wonderful / No More No More No More / High Voltage (Burgess) / Party Pooper / I Can't Do Without You / Sack / Ain't You Ever Gonna / Too Mamy Miles / The Fire Of Love / Shopping Centre
2005
CD PEGASUS 66999 (UK)
EVERYBODY'S ROCKIN' - Everybody's Rockin' But Me / Beautiful Baby / High Voltage / Sack / The Fire Of Love / Hawkeye / Am I A Fool / No More No More No More / Party Pooper / What A Thrill / Ain't You Ever Gonna / So Doggone Lonesome / Pie Peachie Pie Pie / Just Wonderful
2011
CD BEAR FAMILY BCD 16524 (GER)
EVERYBODY'S ROCKIN' BUT ME - GONNA SHAKE THIS SHACK TONIGHT - So Doggone Lonesome / No More, No More, No More / Hawk-Eye / I Can't Do Without You Anymore / Beautiful Baby / Run, Honey Run, You Robber You / Everybody's Rockin' But Me / Pie Peachie pie Pie / The Fire Of Love (1) / Ain't Cha Ever Gonna ? / Sittin' Home Prayin' For Rain / What A Thrill / Swamp Fox / Too Many Miles (Down The Road) / I'd Rather Be Blue / Why Should I Cry / High Voltage / Just Wonderful / Am I A Fool / I Know It Was You / Party Pooper / Sack / The Fire Of Love
© Rocky Productions 7/08/2015