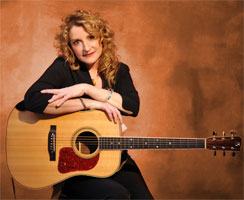 Chanteuse Bluegrass US née le 20 Février 1954.

With a high-pitched voice that's been compared to Nanci Griffith and Alison Krauss, Claire Lynch has successfully fused a background in popular music and a love of bluegrass. Born in Kingston, New York, Lynch moved with her family to Hazel Green, Alabama at the age of 12. Inspired by the pop songs of Joni Mitchell and the Beatles, Lynch sang as a youngster in an informal trio with her sisters, but it was as the singer for the bluegrass outfit the Front Porch String Band that finally brought Lynch a wider audience. The Front Porch String Band became one of the hardest-working groups in Alabama. Their self-produced debut album, Smilin' at You, released in 1977, was followed by Country Rain later the same year. In 1981, the Front Porch String Band released a self-titled, nationally distributed album on Rebel, while Claire released her solo debut, Breakin' It, on the smaller Ambush label.
Claire and her then-husband Larry Lynch disbanded the Front Porch String Band in 1982. Claire's songs continued to make the rounds, however, and were soon covered by Stephanie Davis ("Moonlighter"), Patty Loveless ("Some Morning Soon"), and Kathy Mattea ("Hills of Alabam'"), and Lynch was signed by Polygram to a staff writing contract. The Front Porch String Band came back together in a revamped version in 1990, and the following year the band released its comeback album, Lines & Traces. Claire Lynch's second solo album, Friends for a Lifetime, released in 1993 and reissued in 1995, was a celebration of gospel music. Her 1995 album, Moonlighter, was nominated for a Grammy Award as Best Bluegrass Album. Silver and Gold was released in 1997, Lovelight followed in the spring of 2000, and Out in the Country was issued a year later.
She formed her own Claire Lynch Band in 2005, and in March of 2006, after a six-year hiatus, she released New Day on Rounder Records, following it up three years later in 2009 with a second Rounder release, Whatcha Gonna Do. In January 2013, after a long stint with Rounder, Lynch signed a recording deal with Nashville label Compass Records, releasing the ninth solo recording of her career, Dear Sister, on the imprint later that same year.
https://en.wikipedia.org/wiki/Claire_Lynch
Talents : Vocals, Guitar
Style musical : Bluegrass, Americana

http://www.youtube.com/watch?v=_sttAcxOPJM
Years in activity :
| | | | | | | | | | | | |
| --- | --- | --- | --- | --- | --- | --- | --- | --- | --- | --- | --- |
| 1910 | 20 | 30 | 40 | 50 | 60 | 70 | 80 | 90 | 2000 | 10 | 20 |
DISCOGRAPHY
Albums
1982
LP 12" Ambush AMB-004 (US)

Breakin' It -

Listen To A Country Song / Breakin' It / Old By And By / I'll Never Grow Tired Of You / Can't Get You Off My Mind / Somebody Loves You / Once In A Lifetime / He Rode All The Way To Texas / Living In The Name Of Love / Heart Made Of Stone / Feelings Of Love
03/1993
CD BRENTWOOD CD-5362J (US)
FRIENDS FOR A LIFETIME - Lead Me On / Who Do You Know? / Your Presence Is My Favorite Gift / Go And Do The Same / Paul And Peter Walked / There Is A Fountain / God Spoke His Name / Friends For A Lifetime (Song For Kegan) / My Name Is Judas / He Leadeth Me / Somewhere Above / Between The Two Of Them / After The Storm
05/1995
CD ROUNDER CD 0355 (US)
MOONLIGHTER - Second Wind / Life Without You / We Should Only Have Time For Love / Moonlighter / Children Of Abraham / Pee Wee And Fern / Bring Back The Good Times / Thibodaux / My Heart Is A Diamond / Alabama State Of Mind / Further In The Hole
08/1997
CD ROUNDER CD 0415 (US)
SILVER AND GOLD - If Wishes Were Horses / Hey Lonesome / Silver And Gold / Who knows What Tomorrow May Bring / Sweetheart, Darlin' Of Mine / I'm Goin' Up / Death Angel / Safe Haven / Hitchcock Railway / Out Among The Stars / Wednesday's Child / Fair Shake
04/2000
CD ROUNDER 11661-0464-2 (US)
LOVELIGHT - I'm Movin' / I Don't Have To Dream / Love Light / Jealousy / Missionary Ridge / Blue Water Holler / Stranger Things Have Happened / Savannah / He Don't Like To Talk About It / Sweethearts Again / These Flowers / Keep My Love There (While I'm Gone)
01/2004
CD COPPER CREEK 184 (US)
OUT IN THE COUNTRY - I Can't Get You Off Of My Mind / I'll Never Grow Tired Of You / Somebody Loves You Honey / He Rode All The Way To Texas / Livin' In The Name Of Love / Breakin' It / Heart Made Of Stone / Old By And By / Listen To A Country Song / Once In A Lifetime / Feelings Of Love
03/2006
CD ROUNDER 11661-0563-2 (US)
NEW DAY - Be Ready To Sail / Train Long Gone / Love Will Find You Again / Up This Hill And Down / Down In The Valley / Fallin' In Love / Long After I'm Gone / Leavin' On That Evening Train / Only Passing Through / White Train / River Of Dreams / I Believe In Forever
10/2007
CD ROUNDER 11661-0600-2 (US)
CROWD FAVORITES - Train Long Gone / The Day That Lester Died / Fallin' In Love / Hills Of Alabam' / If Wishes Were Horses / Your Presence Is My Favorite Gift / Jealousy / Silver And Gold / Sweetheart, Darlin' Of Mine / Kennesaw Line / Thibodaux / Wabash Cannonball / He Don't Like To Talk About It / Friends For A Lifetime (Song For Kegan)
08/2009
CD ROUNDER 11661-0606-2 (US)
WHATCHA GONNA DO - Great Day In The Mornin' / Highway / The Mockingbird's Voice / Face To Face / That's What Makes You Strong / Whatcha Gonna Do / Crazy Train / A Canary's Song / My Florida Sunshine / Widow's Weeds / Barbed Wire Boys / Woods Of Sipsey
05/2013
CD Compass 7 4610-2 (US)

Dear Sister - How Many Moons / Doin' Time / Once The Teardrops Start To Fall / Need Someone / Dear Sister / I'll Be Alright Tomorrow / Patch Of Blue / That Kind Of Love / Everybody Knows I've Been Crying / Buttermilk Road - The Arbours

07/2013
CD REBEL RRD-CD-7530 (US)
HILLS OF ALABAM - Front Porch String Band FeATURING Claire Lynch - Hard Times / I Found You / Some Morning Soon / Where Dear Friends Will Never Part / The Day That Lester Died / Hills Of Alabam / Wabash Cannonball / Go My Way / Natchez Trace / The Singer / Living In Our Country World / Kennesaw Line / Come Unto Me
10/2014
CD Thrill Hill THR 4121 (US)

Holiday - Home For The Holidays / It Came Upon A Midnight Clear / Snow Day / Heaven's Light / Jingle Bells / White Christmas / Scarlet Ribbons / We Three Kings / In The Window / All Through The Night

09/2016
CD Compass COM 46712 (US)

North by South -

Cold Hearted Wind / Molly May / Kingdom Come / Andrew's Waltz / Empty Train / Gone Again / Black Flowers / Milo / It's Worth Believin' / All The Diamonds In The World
© Rocky Productions 22/12/2016