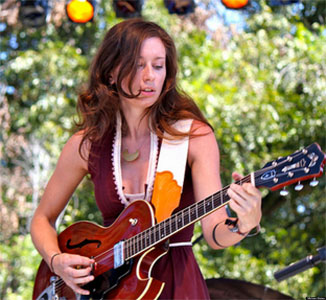 Chanteuse Country US née le 5 Décembre 1984 à Houston (Texas).

Lera Lynn's big break arrived in 2014, when she was cast as a moody lone troubadour in the second season of HBO's dark crime drama True Detective. Her desolate Lynchian scenes suggested a spare, skeletal singer/songwriter, but Lynn's music is richer than that: she draws equally from classic country and literary Americana, creating an ethereal spell from roots music.
A native of Houston, Texas, Lynn played music as a teenager but decided to major in anthropology when she attended the University of Georgia. Eventually, she was drawn to music, releasing an independent debut called Have You Met Lera Lynn? in 2011. The record received some acclaim -- its song "Bobby, Baby" won the Chris Austin Songwriting Competition at 2011's Merlefest and the record helped her win Best Country Artist at her local Flagpole Music Awards in Athens. Three years later, she released the EP Lying in the Sun, followed by the dreamy full-length The Avenues, which received excellent reviews. This caught the attention of T-Bone Burnett, who was producing the soundtrack for True Detective's second season. Burnett hired Lynn to collaborate with him and Rosanne Cash on songs for the series, a break that helped raise her profile. She capitalized on that attention in 2016 with Resistor, an album that bore a more overt rock influence than its predecessors.
Talents : Vocals, Guitar, Songwriter, Actress
Style musical : Americana, Contemporary Country, Traditional Country

https://youtu.be/vwVX4cG6F9s
Years in activity :
| | | | | | | | | | | | |
| --- | --- | --- | --- | --- | --- | --- | --- | --- | --- | --- | --- |
| 1910 | 20 | 30 | 40 | 50 | 60 | 70 | 80 | 90 | 2000 | 10 | 20 |
DISCOGRAPHY
Single & EP
| | | | |
| --- | --- | --- | --- |
| 03/2012 | SP SLOW ? (US) | | Ring Of Fire / Don't Make Me Wait |
| 09/2013 | CD NOT ON LABEL ? (US) | | Lying In The Sun - Lying In The Sun / I Become You / Fire / Free Is Never Free / I'm Your Fool |
| 2019 | SP NOT ON LABEL ? (US) | | Dark Horse / What's Love Got To Do With It |
Albums
09/2011
CD SLOW SR0001 (US)

Have You Met Lera Lynn? - Whiskey / Happy Ever After / Gasoline / Fire & Undertow / Bobby, Baby / Good Hearted Man / Paper Anchor / I Tried To Leave You / For The Ride / You & Me Alone

2012
CD Freeworld ‎FREEM5038 (EUR)

Have You Met Lera Lynn? -

Whiskey / Happy Ever After / You & Me Alone / Paper Anchor / Bobby, Baby / Good Hearted Man / I Tried To Leave You / Fire & Undertow / Gasoline / For The Ride
2013
CD NOT ON LABEL ? (US)

The Avenues - Out To Sea / Standing On The Moon / La Di Da / Letters / Refrain / Comin' Down / Empty Pages / I'm Your Fool / Leave It Up To Me / Hooked On You / Sailor Song

04/2016
CD Resistor Music ‎RES101 (US)

Resistor - Shape Shifter / What You Done / Drive / Cut + Burn / Run The Night / For The Last Time / Fade Into The Black / Slow Motion Countdown / Scratch + Hiss / Little Ruby

06/2018
CD Single Lock SL 026CD (US)

Lera Lynn Plays Well with Others - Same Old Song / Lose Myself / What Is Love / Breakdown / Crimson Underground / Wolf Like Me / Nothin To Do With Your Love / In Another Life / Almost Persuaded

10/2020
LP 12" NOT ON LABEL ? (US)

On My Own - Are You Listening? / What I'm Looking For / So Far / It Doesn't Matter / Dark Horse / Let Me Tell You Something / A Light Comes Through / Make You OK / Isolation / Things Change
© Rocky Productions 24/10/2020