| | |
| --- | --- |
| | |
| | |

Chanteur Country US né Robert Ernest Money le 20 Mars 1925 à Halesburg (Alabama). Curley Money s'installe en 1950 à Colombus (Georgie) et forme le groupe des Rolling Ramblers avec qui il enregistra sur ses labels Rambler et Money Records de Columbus (Ohio). Il est décédé le 23 Décembre 2003 à Columbus (Georgie).

Poverty and the life of a sharecropper combined with some serious talent to drive Curley Money into music — but the same need to make a secure living probably kept him busy with too many ventures ever to achieve the stardom he could have had, either as a country musician or a rock & roller. Born earlier than most people in the latter field, he was out there playing country fiddle in the early '40s, and he came to the new sound naturally enough in the middle of the following decade. Born Robert Earnest Money in Haleburg, AL in 1925, he was the youngest of eight children in a sharecropper's family. Money was naturally inclined toward music, and learned to play the fiddle early in life, followed by the guitar — he soon found music not only a pleasure but a way of making some much-needed income on the side, and in his teens he was playing locally at barn dances. Share-cropping was a hard life at the best of times, and in 1942, at age 17, Money headed to Columbus, GA, hoping to get work in the city's cotton mills. He also decided to try for a full-time career in music, and put together a group called the Rhythm Ramblers, who eventually got a contract with WGBA, a local radio station, and later made the jump to television.
Curley Money's ambition ran beyond simply recording, however — he founded his own record label, Rambler Records, in 1956, releasing his own work on it commencing with "Playing the Game" b/w "Why Must I Cry." He followed this up with "Stop Your Knockin'" b/w "Tenderly I Love You" and scored a number three hit in 1957 with the single "Gonna Rock," but was forced to change the name of the label to Money Records, owing to a conflict over ownership of the original trademark. One of the artists he had signed in 1957 was Lee Mitchell, whom Money was apparently pushing with Sam Phillips at Sun, when he brought him to Memphis, sometime in the year after. He left behind a recording of his own, "Chain Gang Charlie," that didn't get heard by anyone until over three decades later, when it was found in the Sun vaults, but showed Curley Money doing perfectly respectable, even pretty hot rockabilly for a guy who was past 30 at a time when this music was still new. Money's forays into rock & roll didn't last, though his label did, into 1965, with 42 releases to its credit before he closed it down that year. He subsequently recorded for Gold Standard and other labels in Nashville through the '70s, though by that time he was also managing clubs and also long-established as a radio announcer in Columbus, GA. With all of those on-going activities, he never had a chance to make the kind of concerted push, in either country music or rock & roll, to lasting stardom, but in 1979 the Bison Bop label collected a dozen of his sides for an LP that showed what considerable talent he had. He kept playing occasional gigs, and in later years, also organized a band at a senior center, where he entertained friends. In 2003, Money was inducted into the Rockabilly Hall of Fame. He passed away later that year, at the age of 78.
https://en.wikipedia.org/wiki/Curley_Money
Talents : Vocals, Guitar
Style musical : Traditional Country, Rockabilly
Years in activity :
| | | | | | | | | | | | |
| --- | --- | --- | --- | --- | --- | --- | --- | --- | --- | --- | --- |
| 1910 | 20 | 30 | 40 | 50 | 60 | 70 | 80 | 90 | 2000 | 10 | 20 |
DISCOGRAPHY
Singles
04/1956
SP RAMBLER 549 (US)
Playing The Game / Why Must I Cry
1957
SP RAMBLER 550 (US)
Curley MONEY & Howard VINCENT - Don't Take My Memories / Moonlight Baby
1957
SP RAMBLER 551 (US)
Curley MONEY & His ROLLING RAMBLERS - Tenderly I Love You / Stop Your Knockin'
1957
SP RAMBLER 551/2 (US)
Many Tears Ago / Tenderly I Love You
1957
SP RAMBLER 552 (US)
The Very First Time / Gonna Rock
1958
SP RAMBLER 553 (US)
Curley MONEY & The ROLLING RAMBLERS - Do You Think We'll Make It / I Throught I Was The Only One
10/1958
SP PHILLIPS INT. 3530 (US)
Lee

Mitchell

/ The Curley

Money Combo

- The Frog / A Little Bird Told Me
06/1959
SP RAMBLER 554 (US)
Lazy Man / That's My Darlin'
01/1960
SP RAMBLER RR-3012 (US)
Two Hearts / Many Tears Ago
1960
SP RAMBLER RR-2054X (US)
Curley MONEY & The ROLLING RAMBLERS - This Old Heart / Careless Hands
01/1961
SP RAMBLER RR-3400 (US)
Pins And Needles / Don't Judge My Love
06/1961
SP RAMBLER RR-3407 (US)
Curley MONEY & The RAMBLERS TRIO - Bo Jangles Rock / I'm That Little Guy Called Joe
03/1962
SP RAMBLER RR-2471 (US)
Hurricane Baby / Blue Heart
12/1962
SP RAMBLER 641R-2509 (US)
Lovers Blues / Oh How I Love You
1962
SP RAMBLER 641R-2509 (US)

Lovers Blues / I'll Hang My Heart On A Christmas Tree

09/1963
SP RAMBLER 641R-5466 (US)
Shortin' Bread / Time
1964
SP RAMBLER 641R-2070 (US)
Wire Guitar (instr.) / Hobo
1964
SP RAMBLER 641R-8296 (US)
Joy Juice (Gentleman JIM) / Now That It's All Over (Curley MONEY)
196?
SP MONEY 7824/5 (US)
Lazy Man / That's My Darlin'
1965
SP MONEY 101 (US)
Honky Tonk Man / Wondering Love
1965
SP MONEY 102 (US)
White Lighting / Little Things You Do
1966
SP MONEY 105 (US)
Little Queenie / Years We're Together
1968
SP MONEY 1001 (US)

The Hurt / I Know How You Are

1968
SP MONEY 1002 (US)

This Time Of Year / Last Truck Stop

1968
SP MONEY 6956 (US)

Since My Baby Been Gone / Gonna Find Me A Bluebird

1969
SP MONEY 8812/8813 (US)

Gonna Rock / Bo Jangle Rock

196?
SP GOLD STANDARD 221 (US)

Havent't Forgotten You Yet / Tears, We're To-Gather Again

1970
SP JUDD J1007 (US)
Wondering / Gonna Rock
1971
SP MONEY 12576/12577 (US)

Love Me Once Again / I Made You What You Are

1972
SP MONEY 1004 (US)

Wondering Love / Honky Tonk Man

1974
SP MONEY 13938/13939 (US)

Little Queenie / Hurricane Baby
| | |
| --- | --- |
| | |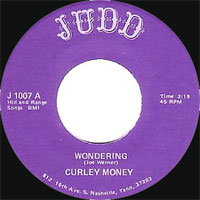 Unissued Track
| | | |
| --- | --- | --- |
| 19?? | Unissued - (Bear Family CD 16210 (#12) / Boot 10 706/2 (#5) / Charly CD 8137 (#4) / Lucky CD 811 (#4)) | Chain Gang Charlie |
Need Info
Album
| | | | |
| --- | --- | --- | --- |
| 1979 | LP 12" BISON BOP Bb-LP 2003 (GER) | | CURLEY MONEY - Stop Your Knockin' / Gonna Rock / Lazy Man / Bo Jangles Rock / Rambler (Comer MONEY) / Wire Guitar (instr.) / Hurricane Baby / Ho Bo / Many Tears Ago / Shortnin' Bread / White Lighting / Honky Tonk Man |
© Rocky Productions 2/03/2016