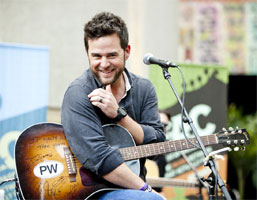 Chanteur Country US né le 18 Mai 1979 Kennett (Missouri).

Born and raised in Kennett, MO, country singer and songwriter David Nail was drawn at first to sports, particularly baseball, but found himself dreaming of a music career too, and as time went by, he put more and more of his time and energy in the direction of music. He received a few college offers to play baseball, but chose to go with music instead, and moved to Nashville. Music City was just too overwhelming the first time around, and he was back home in Missouri within a year. He tried Nashville again, this time landing a recording contract with Mercury Nashville Records in 2002, and recorded a self-titled album with producers Keith Stegall and John Kelton. The first single from the project, "Memphis," brushed near the Top 50 on the Billboard country charts, and the future seemed bright. Unfortunately, Stegall departed the label in a shakeup, and the album was never released. Frustrated, Nail turned his attention to coaching baseball, but he wasn't quite through with his music dream. Introduced by a mutual friend to producer Frank Liddell, he ended up signing a recording deal with MCA Nashville in 2007 and tracking a second album. A pair of singles from the project, a cover of Train's "I'm About to Come Alive" and "Red Light," both hovered around the bottom of Billboard's Top 50 country chart. The album, I'm About to Come Alive, was released August of 2009.
Nail followed this success with widespread touring before entering the studio in early 2011. He then pre-released "Let It Rain," which hit number 11 just before the issuing of his second album, The Sound of a Million Dreams, in November of 2011 it and eventually went on to become Nail's first country chart number one in early 2012. Next, a summer 2012 E.P. provided a minor hit in the shape of "Someone Like You", a cover of the Adele song, before he began to make plans for a third solo studio full-length. Ahead of the arrival of I'm a Fire, came the single "Whatever She's Got," which climbed to number two on the Billboard country charts (and number one on the Billboard country airplay number charts) in the fall of 2013. I'm a Fire appeared in March 2014, preceded by its second single "Kiss You Tonight."
https://en.wikipedia.org/wiki/David_Nail
Talents : Singer, Guitar
Style musical : Contemporary Country

https://www.youtube.com/watch?v=tQwt_KokVCw
Years in activity :
| | | | | | | | | | | | |
| --- | --- | --- | --- | --- | --- | --- | --- | --- | --- | --- | --- |
| 1910 | 20 | 30 | 40 | 50 | 60 | 70 | 80 | 90 | 2000 | 10 | 20 |
DISCOGRAPHY
Single
2008
CD MCA 02791 (US)
I'm About To Come Alive

[radio edit]

/ I'm About To Come Alive

[radio edit]

/ I'm About To Come Alive

[radio edit]
Albums
08/2009
CD MCA 001100302 (US)
I'M ABOUT TO COME ALIVE - Mississippi / I'm About To Come Alive / Red Light / Again / Clouds / Summer Job Days / Strangers On A Train / Looking For A Good Time / This Time Around / Turning Home / Missouri
11/2011
CD MCA 16220 (US)
THE SOUND OF A MILLION DREAMS - Grandpa's Farm / Songs For Sale / Desiree / She Rides Away / Let It Rain / I Thought You Knew / Catch You While I Can / Half Mile Hill / That's How I'll Remember You / The Sound Of A Million Dreams / Catherine
03/2014
CD MCA B 001940302 (US)

I'm a Fire -

Whatever She's Got / Broke My Heart / Burnin' Bed / When They're Gone (Lyle County) (David N

ail

feat: Little Big Town) / Brand New Day / Kiss You Tonight / The Secret / Countin' Cars / Easy Love / I'm A Fire / Galveston (David N

ail

feat: Lee Ann W

omack

)
07/2016
CD MCA 002498902 (US)

Fighter -

Good at Tonight (David

Nail

feat: Osborne Brothers) / Night's On Fire / Ease Your Pain / Home (David

Nail

feat: Lori McK

enna

) / Lie With Me / I Won't Let You Go (David

Nail

feat: Vince

Gill

) / Fighter / Babies / Got Me Gone / Champagne Promise / Old Man's Symphony (David N

ail

feat: Bear

Rinehart

/ Bo

Rinehart

)
© Rocky Productions 17/07/2016