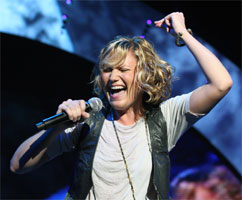 Chanteuse Country US née Jennifer Odessa Nettles, le 12 Septembre 1974 à Douglas (Georgie). Jennifer Nettles a fait parti du trio Sugarland.

Singer and songwriter Jennifer Nettles is best known as half of the successful country pop duo Sugarland withKristian Bush. She was born in Georgia in 1974 and began singing in earnest at age four. As a teen she played in local bands. Her influences ranged from gospel and pop to classic rock and even grunge.
Nettles began her recording career as part of another duo, Soul Miner's Daughter, with songwriter Cory Jones. The pair recorded two albums, 1996's The Sacred and Profane and 1998's Hallelujah. They received widespread critical notice and their albums sold respectably. They played some major festival dates including 1999's Lilith Fair.
After the band broke up, Nettles created her own band and recorded three solo albums, 2000's Story of Your Bones, and 2002's Gravity: Drag Me Down and Rewind. The Jennifer Nettles Band's recordings received major market airplay, and at the debut Independent Music Awards, she received the award for Independent Artist of the Year.
In 2003, she co-founded Sugarland with Bush and songwriter Kristen Hall; the latter left after the group's 2004 debut, Twice the Speed of Life. After five studio albums and one live recording with Sugarland, Nettles took a break from the band, had a child, and recorded a solo album entitled That Girl with producer Rick Rubin and an all-star cast. It was released in January of 2014, debuting at number one on Billboard's Country Albums chart and five on the Top 200. That Girl didn't produce any major hits -- the title track topped out at 37 -- and Nettles switched to Big Machine Records for 2016's Playing with Fire.
http://www.jennifernettles.com/
Talents : Vocals, Piano, Songwriter
Style musical : Contemporary Country, Contemporary Pop-Rock, Country Pop, Pop

http://youtu.be/4vqiJOa2thI
Years in activity :
| | | | | | | | | | | |
| --- | --- | --- | --- | --- | --- | --- | --- | --- | --- | --- |
| 1910 | 20 | 30 | 40 | 50 | 60 | 70 | 80 | 90 | 2000 | 10 |
DISCOGRAPHY
EP
05/2016
CD Big Machin BMRJN0100E (special edition)

Playing With Fire -

Unlove You (live) / Chaser (live) / Sugar (live) / Drunk In Heels (live) / Salvation Works (live)
Albums
2004
CD Autoproduction

.

An Acoustic Evening with Jennifer Nettles -

With Me / Tried Hard Enough / Beautiful Song / Good For You / Drag Me Down / Change / In The Air / Gravity / Come Home Blues / Story Of Your Bones / Cold, Sweat, Scream / Stay / Smoke And Mirrors
2005
CD Autoproduction

.

An Acoustic Evening with Jennifer Nettles II -

Gravity / Change / Beautiful Song / Remain / Tried Hard Enough / Listen / On The Shoulders Of Giants / Stay / With Me / Story Of Your Bones / Smoke And Mirrors / Round And Round
01/2014
CD Mercury B 0019163-02 (US)

That Girl - Falling / Me Without You / Moneyball / That Girl / This Angel / Jealousy / This One's For You / Know You Wanna Know / Thank You / Good Time To Cry / Like A Rock

01/2014
CD Mercury B00199973-02 (US)

That Girl -

Falling / Me Without You / Moneyball / That Girl / This Angel / Jealousy / This One's For You / Know You Wanna Know / Thank You / Good Time To Cry / Like A Rock /

Bonus Tracks :

His Hands / Every Little Thing

05/2016
CD Big Machine 0100 (US)

Playing with Fire

-

Playing With Fire / Unlove You / Hey Heartbreak / Drunk In Heels / Stupid Girl / Three Days In Bed / Sugar / Chaser / Starting Over / Salvation Works / Way Back Home / My House (feat. Jennifer L

opez

)
10/2016
CD Big Machine 0150 (US)

To Celebrate Christmas -

Go Tell It On The Mountain / God Rest Ye Merry Gentlemen (Jennifer

Nettles

feat: Andra

Day

) / Little Drummer Boy (Jennifer

Nettles

feat: Idina

Menzel

) / Celebrate Me Home / Circle Of Love / Do You Hear What I Hear? / Count Your Blessings Instead Of Sheep / O Holy Night / Merry Christmas With Love / The First Noel
© Rocky Productions 29/010/2016