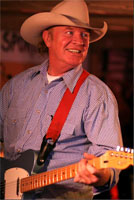 Chanteur Country US originaire de l'Oklahoma. Gary P. Nunn est mariť avec Karen Brooks.

Gary P. Nunn is a Texas singer/songwriter whose career began in the 1960s with the Fabulous Sparkles before he settled in with the Lost Gonzo Band the following decade. Today he is a Texas institution, thanks to his frequent appearances, and songs that hail the state's culture and people. He got a taste of his future career in the seventh grade, when he joined a garage band. Later, he continued his education at South Plains College and Texas Tech University, gigging on weekends in West Texas. By 1968, he was a pharmacy major at the University of Texas, located in Austin. The city spawned country outlaws like Willie Nelson, who settled there in 1972, as did Jerry Jeff Walker and Michael Martin Murphy. He ended up playing bass for all three musicians at one point. By the 1970s, Nunn was backing Walker with the Lost Gonzo Band. His songwriting skills flourished during this time. Artists who recorded his tunes include David Allan Coe and Rosanne Cash, as well as Murphy, Nelson, and Walker. His skills paid off with platinum and gold records. Walker, Nunn, and the Lost Gonzo Band put out six albums through MCA Records over the course of four years.
Nunn's time with Walker ended in 1977, and Nunn and the band put together three more albums, which were issued by Capital and MCA. In 1980, the Lost Gonzo Band dissolved. Nunn struck out on his own, minus help from any manager or agent. Since then, he publishes music, issues a newsletter to fans, and runs all aspects of his business, including his performance bookings. Nunn put out four albums through several independent labels before hooking up, in 1993, with Campfire Records, another independent based in San Antonio. The label released It's a Texas Thing in 2000. Mark White, governor of Texas in 1985, named Nunn the state's Official Ambassador to the World. The Texas Music Association's San Antonio division honored Nunn with its Award of Appreciation in 1990. Honors continued the following year, when Oklahoma's House of Representatives cited his contribution to southwestern music. In 1995, Nunn's name was included in Lubbock's West Texas Walk of Fame. Austin City Limits has made the songwriter's "London Homesick Blues" its theme for more than two decades. He continues to tour with the Sons of the Bunkhouse, his backing band. Nunn and his wife own and operate a cattle ranch in Oklahoma.
Talents : Singer, Guitar, Keyboards, Songwriter
Style musical : Alternative Country, Traditional Country

https://youtu.be/1bhPu_Bclrc
Years in activity :
| | | | | | | | | | | |
| --- | --- | --- | --- | --- | --- | --- | --- | --- | --- | --- |
| 1910 | 20 | 30 | 40 | 50 | 60 | 70 | 80 | 90 | 2000 | 10 |
DISCOGRAPHY
Singles
| | | |
| --- | --- | --- |
| 1983 | SP GUACAMOLE G45-001-A/B (US) | Home With The Armadillo / Kara Lee |
| 1989 | SP AO AO/EP-01 (US) | If You Don't Believe I Love You (Ask My Wife) / Cut And Putt |
| 2007 | CD GUACAMOLE GR 00010 (US) | Adios, Amigo |
Albums
09/1980
LP 12" Turnrow TR-1 (US)

Nobody But Me - Austin Pickers / Nobody But Me / Pour Beer In My Face / You Wouldn't Know Me / There's Just Tonight / Georgia Rose / Kara Lee / Colorado River / Texas Lonesome / Tennessee Road / You Can't Get There From Here / Darling I'll Love You Always

1983
LP 12" Texas RCS-528

Live At Dingwall's London 19-2-1983 - What I Like About Texas / Austin Pickers / Gimme Some Money / Dead Armadillo / Nights Never Get Lonely / Tennessee Roads / The Other Side Of The Hill / Couldn't Do Nothing Right / Come And Get It / Last Thing I Need / London Homesick Blues

12/1983
LP 12" GUACAMOLE GLP-001 (US)
HOME WITH THE ARMADILLO - LIVE AT AUSTIN CITY LIMITS - The Nights Never Get Lonely / The Last Thing I Needed, The First Thing This Morning / Tennessee Road / Born Yesterday / Give Me Some Money / Austin Pickers / Kara Lee / Public Domain / What I Like About Texas / Come And Get It (While It's Hot) / When The Night Comes / Since You've Been Gone / London Homesick Blues (Home With The Armadillo)
1987
CD BIG / LINE GPNCD-1 / 9.00576 (US)

BORDERSTATES -

What I Like About Texas / I Taught Her Everything She Knows / Too Many Nights In A Roadhouse / The Money's No Good / Lessen To Be Learned From Love / Think I'll Go To Mexico / Town And Country Taverns / Old Fashion Love / Alamogordo / The Old Home Place
1989
CD AO 001 (US)
FOR OLD TIMES SHAKE - Cuttin' A Rug (Til The Cows Come Home) / If You Don't Believe I Love You (Ask My Wife) / Cut And Putt / Nine Cents Change / The Chili Song / Pickup Truck, Texas / For Old Times Sake / The Domino Song / I Feel A Party Coming On / Gracias Por Esse / Uncle Bud / The Raggae Armadillo
1992
CD POOR DAVID'S PORD-1020 (US)
LIVE AT POOR'S DAVID PUB - Gary P. NUNN with SONS OF THE BUNKHOUSE BAND - Introduction / Cutting A Rug / If You Don't Believe I Love You / Cut And Put / The Last Thing I Needed The First Thing This Morning / Rita Ballou / The Money's No Good / Reggae Armadillo / Town And Country Taverns / Angel Eyes / Born Yesterday / The Chili Song / Jaded Lover / Can't Get The Hell Out Of Texas / For Old Times Sake / Couldn't Do Nothing Right
1993
CD CAMPFIRE CF-0001 (US)
TOTALLY GUACAMOLE - San Antonio / Why Don't You Meet Me Down In Corpus / My Kind Of Day On Padre / Macho Man From Taco Land / Standing On A Piece Of The Ryman / Picking And Grinning / Bunkhouse Boogie / Purty Boys / Can't Get The Hell Out Of Texas / I Don't Live Here Anymore / Nobody But Me / The Old Rocking Chair
12/1994
CD CAMPFIRE CF-20015-2 (US)
ROADTRIP - Guadalupe Days / Roadtrip / Back Into The Swing Of Things / If You Had A Mind To / Terlingua Sky / Brooksmith, Texas / Siesta Sunday / If Not Us Who, If Not Now When? / Corona Con Lima / San Antone Homesick
10/1996
CD CAMPFIRE CF-20010-2 (US)
UNDER MY HAT - Under Your Hat / Way Out In The Country / Relationship Wrecking Machine / Friends For Life / Texas Moon / Jack Of All Trades / Brother Tumbleweed / Find Another Fool / Something Monumental / A-O Train / A Long Way To Go / Folk Life
01/1998
CD CAMPFIRE 20020 (US)
WHAT I LIKE ABOUT TEXAS - GREATEST HITS - What I Like About Texas / Austin Pickers / Nobody But Me / The Old Rocking Chair / Think I'll Go To Mexico / Roadtrip / Guadalupe Days / Friends For Life / The Chill Song / Public Domain / Terlingua Sky / Corona Con Lima / Why Don't You Meet Me Down In Corpus / My Kind Of Day On Padre / Macho Man From Taco Land / London Homesick Blues - Home With The Armadillo / (I've Got) A Long, Long Way To Go / Take The A-O Train (instr.)
03/1999
CD CAMPFIRE 20021 (US)
NOBODY BUT ME - Austin Pickers / Nobody But Me / Pour Beer In My Face / You Wouldn't Know Me / There's Just Tonight / Georgia Rose / Kara Lee / Colorado River / Texas Lonesome / Tennessee Road / You Can't Get There From Here / Darling I'll Love You Always / The Money's No Good
10/2000
CD CAMPFIRE 20023 (US)
IT'S A TEXAS THING - Taking Bob Back To Tulsa / Red Neck Riviera / It's A Texas Thing / Tonight I Just Wanna Have Fun / First Things First / It's About To Get Western / He Never Came Back From Mexico / Dear John Letter Lounge / First Forget / Honking Out Some Hank / Cow Pasture Pool / Hands On The Wheel / Here's To Horses
12/2001
CD CAMPFIRE 20024 (US)
GREATEST HITS VOL. 2 - Brother Tumbleweed / Money's No Good / Red Neck Riviera / Raggae Armadillo / He Never Came Back From Mexico / It's A Texas Thing / Purty Boys / Dear John Letter Lounge / Hands On The Wheel / It's About To Get Western / San Antone Homesick / Cow Pasture Pool / Pickup Truck, Texas / Down In San Antonio / Uncle Bud / I Forgot I Don't Live Here Anymore / Folklife
05/2004
CD SMITH MUSIC 7021 (US)
SOMETHING FOR THE TRAIL - Perfectly Normal / Waltz With The Devil / Hard Partyin' Country Darlin' / Second Thoughts / Hillbilly, Hog-Ridin', Road-Runnin' Man / Don't Get Me Started / West Texas Swang Thang / Two-Steppin' Time Of Night / Going Nowhere Fast / King Of The World / One Night Stand / Little Piece Of Mind / Cowboy At Heart / Something For The Trail
2008
CD Mack's Yasgur Productions ? (US)

Texas Music Legends - Live From Majestic - Austin Pickers / Roadtrip / Redneck Riviera / Think I'll Go To Mexico / Cowboy At Heart / Adios Amigo / Last Thing I Needed / We're Perfectly Normal / Gimme Some Money / London Homesick Blues Friends For Life / What I Like About Texas

06/2010
CD CAMPFIRE GR20028 (US)

Taking Texas To The Country - Deja Vu / The Girl Just Loves To Dance / A Two-Step Away / Denver / Down To Louisiana / Mexican Boulevard / It's Not Love / I'm Not That Kind Of Guy / Lonesome Lone Star Blues / The Likes Of Me / One State Of Mind / Taking Texas To The Country / The Rest Of My Life

09/2010
CD CAMPFIRE 20029 (US)

Christmas Time In Texas - Christmas Time In Texas / Swing On Down To Texas For Christmas / Snowed In With You / I Want A Daddy For Christmas / Pretty Paper / The First Chistmas Gift / White Christmas / O Come All Ye Faithful (version #1) / O Come All Ye Faithful (version #2) / O Come All Ye Faithful (version #3)

09/2012
CD CAMPFIRE ? (US)

One Way For The Other - Feels Like Texas / Joe Knows / All Over Me / I Feel At Home In A Honky Tonk / Cowboy Boots And Telecasters / Didn't We Have Us A Ball / If I Can't Get Over You / My Way Is The Highway / Dreamer / Where's The Country In Our Country Music / Couldn't Do Nothin' Right / One Way Or Another / Which Side Are You
© Rocky Productions 23/07/2016