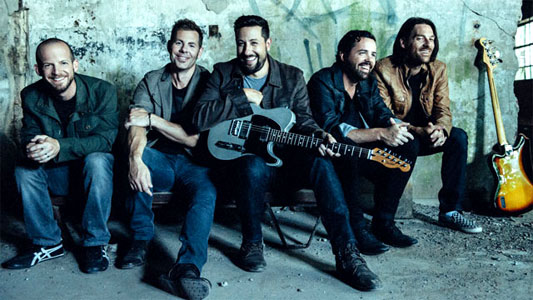 Groupe Country US formé à Nashville et composé de Matthew Ramsey, Geoff Sprung, Whit Sellers, Brad Tursi et Trevor Rosen.

Forging country with rock instrumentation and dynamics, and tossing in definite pop overtones and even some hip-hop nuances, Old Dominion is blessed with strong in-house songwriting and playing, sharpened by steady gigging on the Nashville circuit, where the band formed. The group debuted in 2015 with Meat and Candy, a modest hit that was certified gold. Its follow-up, Happy Endings, fared even better, topping the U.S. country charts in 2017.
Comprising four Virginians, Matt Ramsey (lead singer, guitar), Geoff Sprung (bass, vocals), Whit Sellers (drums), Brad Tursi (guitar, vocals), and Detroit, Michigan's Trevor Rosen (guitar, keyboards, vocals), the band formed in Nashville. Boasting top-flight modern country songwriters in Ramsey, Rosen, and Tursi (the Band Perry, Keith Urban, Luke Bryan, Dierks Bentley, Chris Young, and Craig Morgan have all tracked Old Dominion songs), the band soon attracted a lot of attention. Working in the studio with Shane McAnally and Ilya Toshinsky, Old Dominion released a self-titled debut EP in the fall of 2014. The single "Break Up with Him" earned notice early the following year, due in part to the band's Back to the Future-referencing video. In the summer of 2015, "Break Up with Him" went to number one on Billboard's Country Airplay charts, setting the stage for the November release of their debut album Meat & Candy, also produced by McAnally. In March 2017, the group dropped a single, "No Such Thing as a Broken Heart," the first song from their sophomore album. Produced by McAnally, Happy Endings appeared in August 2017 and included the hit "Written in the Sand," their fifth consecutive platinum-certified single. The set topped the country charts and rose into the Top 10 of the Billboard 200. The following year, they issued the single "Make It Sweet" and embarked on a tour in anticipation of their third full-length album.
https://www.weareolddominion.com/
https://www.facebook.com/olddominionband/
Talents : Matt Ramsey : Lead Singer, Guitar - Geoff Sprung : Bass, Vocalss - Whit Sellers : Drums - Brad Tursi : Guitar, Vocalss) - Trevor Rosen : Guitar, Keyboards, Vocalss.
Style musical : Contemporary Country, Country-Rock

https://youtu.be/FLQATzCyxfE
Years in activity :
| | | | | | | | | | | |
| --- | --- | --- | --- | --- | --- | --- | --- | --- | --- | --- |
| 1910 | 20 | 30 | 40 | 50 | 60 | 70 | 80 | 90 | 2000 | 10 |
DISCOGRAPHY
Single & EP
201?
CD ? (US) (promo)

Wake Up Loving You / Chainsaw

10/2014
CD ReeSmack 25533 (US)

Old Dominion -

Shut Me Up / Break Up With Him / Nowhere Fast / Beer Can In A Truck Bed / Wrong Turns
2014
CD ReeSmack ? (US) (promo)

Shut Me Up

10/2014
CD RCA 88875-09345-2 (US)

Old Dominion -

Shut Me Up / Break Up With Him / Nowhere Fast / Beer Can In A Truck Bed / Wrong Turns
Albums
11/2015
CD RCA / Sony 88875134962 (US)

Meat and Candy -

Snapback / Half Empty / Wrong Turns / Said Nobody / Crazy Beautiful Sexy / Nowhere Fast / Beer Can In A Truck Bed / Break Up With Him / Song For Another Time / Til It's Over / We Got It Right
08/2017
CD RCA 88985-42939-2 (US)

Happy Endings - No Such Thing As A Broken Heart / Shoe Shopping / Not Everything's About You / Hotel Key / Be With Me / Written In The Sand / So You Go / Stars In The City (featuring Little Big Town) / New York At Night / A Girl Is A Gun / Still Writing Songs About You / Can't Get You (live)

10/2019
CD RCA 589183 (US)

Old Dominion - Make It Sweet / Smooth Sailing / One Man Band / Never Be Sorry / My Heart Is A Bar / Midnight Mess Around / Do It With Me / Hear You Now / I'll Roll / American Style / Paint The Grass Green / Some People Do
© Rocky Productions 26/10/2019