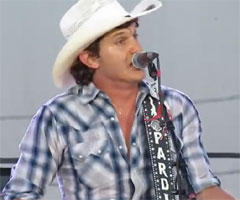 Chanteur Country US né le 20 Mai 1985 à Dixon (Californie).

Country singer and sonoriser Jon Pardi, born May 20, 1985, and raised in Dixon, California, discovered his love of country music early, thanks in no small part to his grandfather's country karaoke machine. Falling under the spell of traditional country artists like George Jones and George Strait, and with a special affinity for Hank Williams Jr., Pardi was playing guitar as a child, and was only seven years old when he belted out "Friends in Low Places" at his father's 30th birthday party at a local hall. He was 12 when he started writing his own songs, and joined his first band at the age of 14.
Country music was the only thing Pardi really wanted to do. He formed a duo with friend Chase McGrew after he graduated from high school, and the pair began playing the regional clubs and bars. Pardi and McGrew moved to Chico together to attend Butte Junior College, and for the next three years played in a local band called Northern Comfort. Pardi always knew he had to end up in Nashville, the home of country music, in order to fulfill his dream, and he moved there in 2008 when he was 23. He supported himself initially as a lifeguard, but he had developed into a natural narrative songwriter, and landed a publishing deal just 18 months after arriving in Music City. The publishing deal led to a lot of well-connected co-writing for Pardi, and he honed his writing skills even more, usually singing his own demos of the songs to shop around. His name got frequently noticed and recalled, and following a showcase gig with his band, Pardi signed a recording deal with Capitol Records Nashville.
Using friend and collaborator Bart Butler as producer (Butler had handled most of Pardi's demo sessions), he began recording his debut album. A first single from the project, "Missin' You Crazy," was released in the spring of 2012, with the album itself, Write You a Song, finally arriving early in 2014. It peaked at number three on the country albums chart, and rose to number 14 on the Top 200 listings.
In 2015, Pardi began work on his second album, and a track from the project, "Head Over Boots," became another hit, going to number 19 on the country singles chart. Pardi's sophomore album, California Sunrise, appeared in June 2016.
In September 2015, Pardi released "Head Over Boots," his first single from his second album, California Sunrise. "Head Over Boots" climbed to number one on Billboard's Country Airplay chart, helping California Sunrise reach number one on Billboard's Country Album chart; it reached 11 on their Top 200 album chart. Thanks to "Head Over Boots" and "Dirt on My Boots" -- a second single that bested its predecessor, reaching number one on Country Airplay and crossing over into the pop Top 40 -- California Sunrise turned Jon Pardi into a star. The album stayed on the charts through 2018, spinning off additional hits: "Heartache on the Dance Floor" went to three in 2017, "She Ain't In It" peaked at 21 that same year, while "Night Shift" reached 14 in 2018.
Pardi released his third album, Heartache Medication, in September 2019, which spawned the hits "Ain't Always the Cowboy" and the chart-topping title cut. The following year saw him issue Rancho Fiesta Sessions, an eight-song collection of cover songs. Pardi's next outing was the 2022 single "Last Night Lonely."
https://en.wikipedia.org/wiki/Jon_Pardi
Talents : Vocals, Guitar, Songwriter
Style musical : Bakersfield Sound, Contemporary Country, Country-Rock, Country-Pop, Honky Tonk, Traditional Country

http://youtu.be/Zr48_Ikn5Tk
Years in activity :
| | | | | | | | | | | | |
| --- | --- | --- | --- | --- | --- | --- | --- | --- | --- | --- | --- |
| 1910 | 20 | 30 | 40 | 50 | 60 | 70 | 80 | 90 | 2000 | 10 | 20 |
DISCOGRAPHY
Albums
01/2014
CD Capitol B 001865702 (US)

Write You a Song -

What I Can't Put Down

/

Up All Night

/

Write You A Song

/

That Man

/

Missin' You Crazy

/

Happens All The Time

/

Trash A Hotel Room

/

Chasin' Them Better Days

/

Love You From Here

/

Empty Beer Cans

/

When I've Been Drinkin'

06/2016
CD Capitol / Universal 002474402 (US)

California Sunrise -

Out Of Style / Cowboy Hat / Head Over Boots / Night Shift / Can't Turn You Down / Dirt On My Boots / She Ain't in It / All Time High / Heartache On The Dance Floor / Paycheck / Lucky Tonight / California Sunrise
09/2019
CD Capitol / Snakefarm 7790414 (US)

Heartache Medication - Old Hat / Heartache Medication / Nobody Leaves A Girl Like That / Ain't Always The Cowboy / Me And Jack / Don't Blame It On Whiskey / Tied One On / Oughta Know That / Tequila Little Time / Buy That Man A Beer / Call Me Country / Just Like Old Times / Love Her Like She's Leaving / Starlight

08/2020
LP 12" Capitol B0033114-01 (US)

Rancho Fiesta Sessions - The Bottle Let Me Down / Honky Tonk Man / Right Or Wrong / Marina Del Rey / Prop Me Up Beside The Jukebox (If I Die) / Somebody's Doin' Me Right / The Waiting / Nothing Compares 2 U

09/2022
CD Capitol 003611002 (US)

Mr. Saturday Night -

Mr. Saturday Night / Fill 'er Up / Last Night Lonely / Neon Light Speed / New Place To Drink / Your Heart Or Mine / Santa Cruz / Longneck Way To Go (feat: Midland) / Raincheck / Workin' On A New One / Hung The Moon / The Day I Stop Dancin' / Smokin' A Doobie / Reverse Cowgirl
© Rocky Productions 27/08/2022