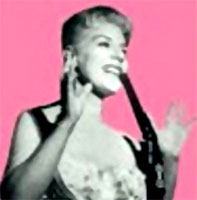 Chanteuse Rockabilly US née le 21 Mai 1924 à Detroit (Michigan).

Bunny Paul was born in Detroit, Michigan on May 21, 1924. Between 1948 and 1963 she recorded in excess of 50 titles in a wide-ranging selection of styles. Rockabilly fans know her from songs like 'History' or 'Sweet Talk' and R & B enthusiasts will know her from early recordings with the Harptones. She also recorded pop songs and ended her recording career at Motown.
She started singing at the age of 4 and by the time she was 12 she was performing on stage, singing hit songs of the day with local bands. During World War II Bunny was working at Cadillac Motors when she was offered a singing job at the Hillcrest Hotel in Toledo, Ohio with the Leo Sunny Trio. In 1946 she signed with Don Pablo's band in Detroit and recorded her first record with him in 1948.
By 1950 she had her own show on WWJ-TV called Fifer Time (sponsored by the local Pfeiffer's Brewery), with guests such as the Gaylords, Dick Noel and Don Cornell. In 1952 she signed to the Dot record label and 1953 saw the release of the self-penned 'Never Let Me Go' and 'Magic Guitar'. A year later, she signed for Essex and released 'New Love' as her debut single. Her next release, 'Such A Night', was banned by radio stations along with versions by the Drifters and Johnnnie Ray but became her greatest hit. She appeared on Dick Clark's American Bandstand and on her next disc covered the Clovers' 'Lovey Dovey', following up with the Drifters' 'Honey Love'.
In 1955 she signed for Capitol Records, issuing five singles, then moved a year later to the Dash label for one release. A trip to Point Records followed (a subsidiary of RKO-Unique), where she laid down her most sought after record, 'History' / 'Sweet Talk'.
Whilst record sales were disappointing, Bunny was in demand as a live act, being equally adept at nightclub performances and rock 'n' roll shows. After another release on the small Dynamic label, she signed for Brunswick for two singles then moved on to Roulette for two more.
In 1960 she developed a brain tumour that left her partly paralysed, but by 1963 she summoned up the strength to resume her career and signed for Motown. Her only release for the label, 'I'm Hooked' was swallowed up in the British Beat invasion led by the Beatles. After this release her career came to a halt.
When last heard of in 2002, there had been no reoccurrence of the brain tumour and at 78 years old she was enjoying reasonable health.
http://www.rockabilly.nl/references/messages/bunny_paul.htm
Talents : Vocals
Style musical : Rockabilly, Rock 'n' Roll, Rhythm 'n' Blues
Years in activity :
| | | | | | | | | | | |
| --- | --- | --- | --- | --- | --- | --- | --- | --- | --- | --- |
| 1910 | 20 | 30 | 40 | 50 | 60 | 70 | 80 | 90 | 2000 | 10 |
DISCOGRAPHY
78 t. & Singles
| | | |
| --- | --- | --- |
| 1948 | 78 t. VARGO 29031 (US) | Don PABLO & ORCHESTRA - Vocals : Bunny PAUL - Sentimental Rhapsody / Mickey |
| 10/1953 | 78 t. DOT 15107 (US) | Magic Guitar / Never Let Me Go |
| 10/1953 | SP DOT 45-15107 (US) | Magic Guitar / Never Let Me Go |
| 01/1954 | 78 t. & SP ESSEX 344 (US) | You'll Never Leave My Side / New Love |
| 02/1954 | 78 t. & SP ESSEX 352 (US) | Such A Night / I'm Gonna Have Some Fun |
| 05/1954 | 78 t. & SP ESSEX 359 (US) | Lovey Dovey / Answer The Call |
| 08/1954 | 78 t. & SP ESSEX 364 (US) | Bunny PAUL with The HARPTONES - I'll Never Tell / Honey Love |
| 1954 | 78 t. & SP ESSEX 371 (US) | You Came A Long Way From St. Louis / You Are Always In My Heart |
| 01/1955 | 78 t. & SP ESSEX 385 (US) | Pam-Poo-Dey / Brown Jug |
| 03/1955 | SP CAPITOL F3074 (US) | Please Have Mercy / These Are The Things We'll Share |
| 04/1955 | SP CAPITOL F3109 (US) | Leave My Heart Alone / Two Castanets |
| 07/1955 | SP CAPITOL F3178 (US) | Song Of The Dreamer / For The Very First Time |
| 09/1955 | SP CAPITOL F3224 (US) | Take A Chance / Tell The Man |
| 11/1955 | SP CAPITOL F3288 (US) | Who Am I Foolin' / Open The Door |
| 03/1956 | SP DASH 777 (US) | Baby Sitter's Blues / Teen Age Heart |
| 1956 | SP DYNAMIC D 201 (US) | That's Love / The Gypsy |
| 12/1956 | SP POINT P-5 (US) | Sweet Talk / History |
| 03/1957 | SP BRUNSWICK 9-55003 (US) | Poor Joe / Buzz Me |
| 08/1957 | SP BRUNSWICK 9-55022 (US) | Beedle-Lump-Bump / The One You Love |
| 1958 | SP ROULETTE R-4101 (US) | Love Birds / We Wanted To Mary |
| 1959 | SP ROULETTE R-4186 (US) | Such A Night / A Million Miles From Nowhere |
| 05/1963 | SP GORDY G-7017 (US) | I'm Hooked / We're Only Young Once |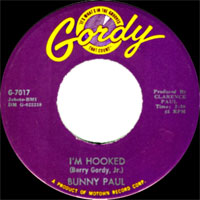 Album
2002
CD HYDRA BCK27117 (GER)

Such A Rock And Roll Night -

Such A Night / New Love / Honey Love / I'll Never Tell / Lovey Dovey / I'm Gonna Have Some Fun / You Came A Long Way From St. Louis / Answer The Call / Watcha Gonna Do / Two Castagnettes / Leave My Heart Alone / Baby Sitters Blues / Teen Age Heart / History / Sweet Talk / Tell The Man / Take A Chance / Please Have Mercy / That's Love / The Gypsy / Beedle-Lump-Bump / Poor Joe / Buzz Me / Never Let Me Go / Love Birds / We Wanted To Marry / Such A Night / A Million Miles From Nowhere / We're Only Young Once / I'm Hooked / Sentimental Rhapsody
© Rocky Productions 16/07/2016