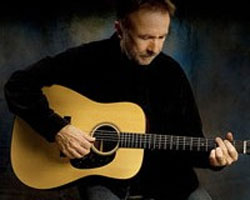 Multi instrumentiste US né le 27 Avril 1944 à Berkeley (Californie).

A longtime staple of the bluegrass scene, singer and multi-instrumentalist Herb Pedersen was born April 27, 1944, in Berkeley, CA. The child of a policeman, he was introduced to country music at numerous Bay Area folk festivals, finding kindred spirits in fellow aspiring musicians like Jerry Garcia (who went on to form the Grateful Dead) and David Nelson (later of the New Riders of the Purple Sage). In his mid-teens, Pedersen formed his first bluegrass band, the Pine Valley Boys.
In 1961, Pedersen began working in Nashville, performing on Carl Tipton's Bluegrass TV Show. After a 1963 stint with David Grisman's Smokey Grass Boys, he joined the veteran bluegrass performers Vern and Ray as a singer and five-string banjo player. His work with the duo brought him to the attention of Earl Scruggs, who in 1967 tapped Pedersen to fill in for him during his recovery from a hip operation. A year later, he replaced Doug Dillard in the Dillards for 1968's Wheatstraw Suite and 1970's Copperfields.
After leaving the Dillards, Pedersen remained in Los Angeles, where he became a highly regarded session player, working with the likes of Gram Parsons, Emmylou Harris, Linda Ronstadt, Kris Kristofferson, and John Prine. After spending the first half of the decade in the studio, in 1975 Pedersen joined Jackson Browne's tour, and the following year released his first solo LP, Southwest. After 1976's Sandman, he joined John Denver's band from 1977 to 1980 and continued his extensive session and production work well into the next decade before cutting a third solo effort, Lonesome Feeling, in 1984. He also ventured into scoring television programs, composing the music for series including The Rockford Files, Kojak, The Dukes of Hazzard, and The A-Team.
Throughout the years, Pedersen had occasionally reunited with his old friend Chris Hillman, who had made his mark as a member of the Byrds and the Flying Burrito Brothers. In 1986, the two musicians again joined forces to form the Desert Rose Band, a highly successful country-rock act which scored a series of major hits. After the group disbanded in 1993, a year later Pedersen founded the bluegrass outfit the Laurel Canyon Ramblers, which released the LP Rambler's Blues in 1995. The group's second effort, Blue Rambler 2, followed in 1996, as did Bakersfield Bound, another reunion between Pederson and Hillman.
https://en.wikipedia.org/wiki/Herb_Pedersen
Talents : Banjo, Guitar, Vocals
Style musical : Progressive Bluegrass, Traditional Bluegrass, Country-Rock, Folk

https://youtu.be/nFl1P2JTu2M
Years in activity :
| | | | | | | | | | | | |
| --- | --- | --- | --- | --- | --- | --- | --- | --- | --- | --- | --- |
| 1910 | 20 | 30 | 40 | 50 | 60 | 70 | 80 | 90 | 2000 | 10 | 20 |
DISCOGRAPHY
Singles
| | | |
| --- | --- | --- |
| 12/1976 | SP EPIC 8-50309 (US) | Jesus Once Again / Our Baby's Gone |
| 04/1977 | SP EPIC 8-50368 (US) | Paperback Writer / Younger Days |
| 08/1977 | SP EPIC 8-50457 (US) | Bring Back The Smile / My Little Man |
Albums
1976
LP 12" EPIC 34225 (US)
SOUTHWEST - Paperback Writer / Rock & Roll Cajun / If I Can Sing A Song / Our Baby's Gone / Harvest Home / The Hey Boys / Jesus Once Again / Younger Days / Can't You Hear Me Callin' / Wait A Minute
10/1977
LP 12" EPIC 34933 (US)
SANDMAN - Sandman / Cora Is Gone / Is That Any Way To Love You / Fair And Tender Ladies / Tennessee Sal / About Love Again / Bring Back The Smile / My Little Man / If I Lose
1982
LP 12' ROUNDER SH-0169 (US)

Here Today -

David

Grisman

/ Herb

Pedersen

/ Vince

Gill

/ Jim

Buchanan

/ Emory

Gordy, Jr.

‎- I'll Love Nobody But You / Once More / Foggy Mountain Chimes / The Children Are Crying / Hot Corn, Cold Corn / Lonesome River / My Walking Shoes / Love And Wealth / Billy In The Lowground / Makin' Plans / Sweet Little Miss Blues Eyes / Goin' Up Home
01/1984
LP 12" SUGAR HILL SH-3738 (US)
LONESOME FEELING - The Last Thing On My Mind / Childish Love / The Fields Have Turned Brown / The Homecoming / Easy Ride / Lonesome Feeling / Willow Garden / It's Worth Believin' / Even The Worst Of Us / Your Love Is Like A Flower
05/1996
CD SUGAR HILL SHCD-3850 (US)
BAKERSFIELD BOUND - CHRIS & HERB - Chris HILLMAN & Herb PEDERSEN - Playboy / Which One Is To Blame / Close Up The Honky Tonks / Brand New Heartache / Congratulations, Anyway! / It's Not Love (But It's Not Bad) / He Don't Deserve You Anymore / There Goes My Love / My Baby's Gone / The Lost Highway / Time Goes So Slow / Just Tell Me Darlin' / Bakersfield Bound
01/1997
CD ROUNDER CD-0390 (US)
OUT OF THE WOODWORK - Tony RICE, Larry RICE, Chris HILLMAN, & Herb PEDERSEN - Hard Times / Lord, Won't You Help Me / Somewhere On The Road Tonight / No One Else / Streetcorner Stranger / So Begins The Task / Dimming Of The Day / Just Me And You / Do Right Woman / Change Coming Down / Story Of Love / Only Passing Through
10/1999
CD ROUNDER 11661-0450-2 (US)
RICE, RICE, HILLMAN & PEDERSEN - Tony RICE, Larry RICE, Chris HILLMAN, & Herb PEDERSEN - Doesn't Mean That Much Anymore / Side Effects Of Love / One Of These Days / Never Ending Song Of Love / Friend Of The Devil / Out Among The Stars / Moonshine / Moment Of Glory / The Year Of El Niño / Hearts Overflowing / I Will / The Walkin' Blues / I'll Be On That Good Road Someday
10/2001
CD ROUNDER 11661-0483-2 (US)
RUNNIN' WILD - Tony RICE, Larry RICE, Chris HILLMAN, & Herb PEDERSEN - San Antone / You're Running wild / Things We Said Today / 4 + 20 / Two Of A Kind / Just Passin' Through / The Mystery That Won't Go Away / Take Me Back Again / Maybe She'll Get Lucky / Hard-Hearted / It's A Long Way To The Top Of The World / About Love
2002
CD BACK PORCH 72438-11978-2-0 (US)
WAY OUT WEST - Chris HILLMAN & Herb PEDERSEN - Backporch Boy / There You Go / Invitation To The Blues / No Longer A Sweetheart Of Mine / Problems / Better Man Than That / The Old Cross Road / Sugar Cane / After All Is Said And Done / You Done Me Wrong / Save The Last Dance For Me / Are You Missing Me? / That's The Way It Was / You're Learning / Our Love It Don't Come Easy / Good Year / Backporch Boy (Outro)
2006
CD Arhoolie CD 524 (US)

vern & Ray With

Herb Pedersen

‎–

San Francisco 1968 -

Band Intro / 20 Second Rag / How Many Times / Muleskinner Blues (Blue Yodel No.8) / Sweet Fern / Intro / The Leather Britches / I Wonder Where You Are Tonight / Little Georgia Rose / The Buckin' Mule / The Bottle Let Me Down / Ode To The Little Brown Shack / Poor Ellen Smith / Hard Times / The Touch Of God's Hand / On My Mind / Orange Blossom Special
09/2010
CD ROUNDER 11661-0652-2 (US)
CHRIS HILLMAN / HERB PEDERSEN AT EDWARDS BARN - Going Up Home / Love Reunited / Turn, Turn, Turn (To Everything There Is A Season) / If I Could Only Win Your Love / Tu Cancion / Our Saviour's Hands / Wheels / Have You Seen Her Face / Eight Miles High / Together Again / Desert Rose / Sin City / The Cowboy Way / Wait A Minute / Heaven's Lullaby
2014
CD NxNW NWSM 6040 (US)

Southwest / Sandman -

Southwest :

Paperback Writer / Rock & Roll Cajun / If I Can Sing A Song / Our Baby's Gone / Harvest Home / The Hey Boys / Jesus Once Again / Younger Days / Can't You Hear Me Callin' / Wait A Minute /

Sandman :

Sandman / When She Makes Love To Me / Cara Is Gone / Is That Any Way To Love / Fair And Tender Ladies / Tennessee Sal / About Love Again / Bring Back The Smile / My Little Man / If I Lose
© Rocky Productions 1/01/2017