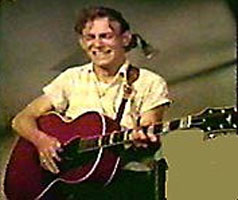 Guitariste et chanteur Rockabilly US né Paul Edward Peek, Jr, le 23 Juin 1937 à High Point (Caroline du Nord). Paul Peek fut membre des Blue Caps de Gene Vincent. Il est décédé le 3 Avril 2001.

Back in the 1950s, Paul Peek was considered one of the sparkplugs of Blue Caps, Gene Vincent's backing band -- that says a lot, considering that they were considered one of the most exciting outfits to come out of early rock & roll, and it speaks volumes about the ironies of Peek's career. If everything had gone as the guitarist/singer had intended when he was 19, he'd have made his mark in Nashville playing steel guitar. Instead, he ended up a kind of a rockabilly legend with an international fandom (that included no less a luminary than guitar virtuoso Jeff Beck) and audience. Born Paul Edward Peek in High Point, NC, he aspired to a music career as a boy and had turned professional in his teens, playing steel guitar in a small band working around Washington, D.C. He was scheduled to join Lefty Frizzell's band in 1956 when fate intervened -- Gene Vincent, who was already scaling the charts that summer with the single "Be-Bop-A-Lula," chanced to see Peek play while on a visit to Washington, and Peek returned the courtesy at a Vincent performance, which led to his meeting Vincent's band, Blue Caps. At the time, they were in the market for a rhythm guitarist to replace departing Wee Willie Williams, and asked him to audition. The next day Peek played a try-out with the band and slotted right in -- two days later, they all flew to Hollywood to begin work on their contribution to the movie The Girl Can't Help It. Although everyone was only miming to the existing record, Peek followed Vincent's instructions and jumped around in a manner similar to what Elvis Presley had become known for doing on stage at just about that time -- Vincent himself couldn't move that way on stage because of the leg-brace that he had to wear (the result of an injury received while he was in the military), and Peek's moves helped make the clip of the lip-synced performance more exciting than it might otherwise have looked. Peek became a full-fledged member of the band, playing on such records as "Unchained Melody," "Cat Man," and "B-I-Bickey Bi Bo Bo Go." He also achieved a singular honor as a member of the band when, during the fall of 1956, Vincent ended up recording one of Peek's own songs, "Pink Thunderbird." Peek was one of the busier members of Blue Caps, playing with them and appearing with Vincent in another movie, Hot Rod Gang, even as he maintained a separate, concurrent career as a solo recording artist, releasing 16 sides during the late '50s and early '60s. Ironically, for all of that outside activity, he ended up being one of the longest serving members of Blue Caps, his stint lasting until 1959, when Vincent split with the band over money issues.
Peek's post-Vincent career veered between rock & roll and country, and included a chart entry with "Brother-In-Law," an "answer record" to Ernie K-Doe's "Mother-In-Law," but mostly he played small clubs. He was never to ascend to the big time in music on his own, partly owning to an alcohol problem that grew worse as he grew older. He did rejoin Blue Caps in the 1980s for a tour of Europe, where they appeared before legions of fans eager to hear authentic rockabilly; he and Jeff Beck became mutual admirers, based on his work at those shows and his playing on the original Vincent records, which were considered the rockabilly equivalent of Holy Writ to European fans of the music; Beck also recorded Peek's "Pink Thunderbird" on his own Crazy Legs album. By that time, Peek's own career in eclipse -- his drinking had worsened, and he'd lost an eye in a car accident. His health began to decline in the later 1990s and he succumbed to cirrhosis of the liver in 2001, following a series of performances with old friends (including country/rockabilly star Narvel Felts) in March of 2001.
https://en.wikipedia.org/wiki/Paul_Peek
Talents : Vocals, Guitar, Steel Guitar
Style musical : Rockabilly, Rock 'n' Roll, Traditional Country, Pop-Rock
Years in activity :
| | | | | | | | | | | | |
| --- | --- | --- | --- | --- | --- | --- | --- | --- | --- | --- | --- |
| 1910 | 20 | 30 | 40 | 50 | 60 | 70 | 80 | 90 | 2000 | 10 | 20 |
DISCOGRAPHY
Singles & EP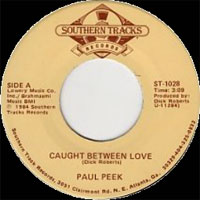 Live Performances
| | | |
| --- | --- | --- |
| 1958 | Television performance - (Eagle CD 90123 (#28)) | Be Bop A Lula |
| 1958 | Television performance - (Eagle CD 90123 (#29)) | Lotta Lovin' |
| 1958 | Television performance - (Eagle CD 90123 (#27)) | Olds-Mo-William [television vers.] |
Unissued Track
| | | |
| --- | --- | --- |
| 19?? | Unissued - (Demand LP 2040 (#18)) | Maybelline |
Albums
| | | | |
| --- | --- | --- | --- |
| 1996 | LP 12" Demand DM LP 2040 (US) | | Vintage Tracks - Rock-a-Round With Paul Peek - Borderline / Rockin' Pneumonia And Boogie Woogie Flu / Pin The Tail On The Donkey / Brother-In-Law (He's A Moocher) / Through The Teenage Years / Waikiki Beach / I'm Not Your Fool Anymore / Gee But I Miss That Girl / Watermelon / Sweet Skinny Jenny / Short Shortnin' / Olds-Mo-William / Walkin' The Floor Over You / Hurtin' Inside / Comin' Home In The Morning / Young Hearts / If / Maybelline |
| 03/1997 | CD EAGLE EA-R 90123 (GER) | | Rockin' Through The Teenage Years - Rock-A-Round / Rockin' Pneumonia And Boogie Woogie Flu / Pin The Tail On The Donkey / Brother-In-Law / Through The Teenage Years / Waikiki Beach / I'm Not Your Fool Anymore / Gee But I Miss That Girl / Watermelon / Sweet Skinny Jenny / Short Shortin' / Olds-Mo-William / Walking The Floor Over You / Hurtin' Inside / Coming Home In The Morning / Young Hearts / If / I'm Movin' Uptown / Shadow Knows / Miss Is As Good As A Mile / You're Just In Love / When You Hurt Me I Cry / Where There's A Will / I'm A Happy Man / Riddle Of The Papahoos / Good Of Love / Olds-Mo-William / Be Bop A Lula / Lotta Lovin' / Roll Over Beethoven |
© Rocky Productions 3/01/2017