Chanteur Country US né Ramon Daniel "Ray" Pennington, le 22 Décembre 1933 à Clay County (Kentucky). Il est décédé le 7 Octobre 2020 à Clay County (Kentucky).

US Country singer born Ramon Daniel "Ray" Pennington, December 22, 1933 in Clay County, Kentucky. Pennington first performed in a western swing band called the Western Rhythm Boys, which performed in Ohio. In 1958, he signed with King Records and released "Three Hearts in a Tangle" under the name Ray Starr. However, Pennington was dissatisfied with the recording, so he asked that it be withdrawn as a single. Pennington then took up record producer and artists and repertoire jobs at the label, including a production credit on Hawkshaw Hawkins' final album, Lonesome 7-7203, one of the first country albums to feature both black and white session musicians. He also produced for The Stanley Brothers and Reno and Smiley, also playing drums for the latter.
Roy Drusky covered "Three Hearts in a Tangle", taking his rendition to number 2 on the country charts in 1961. Pennington continued to perform in both the Western Rhythm Boys and another band called the Starliners. He also worked at a record store and released a rhythm and blues single called "I Have to Laugh to Keep from Crying", also under the name Ray Starr.
Pennington moved to Nashville, Tennessee in 1964, where he worked at Pamper Music, producing for Tex Williams and Kenny Price, who recorded two of Pennington's songs: "Walking on New Grass" and "Happy Tracks". Pennington signed to Capitol Records in 1966 as a recording artist, charting three songs (including the number 29 "I'm a Ramblin' Man" before leaving. He moved to Monument Records in 1969, where he charted five more times, but soon left that label to work at RCA Records. While at RCA, Waylon Jennings covered "I'm a Ramblin' Man" and took it to number 1, as Pennington continued to work as a producer for RCA artists such as Billy Walker and Norma Jean. Pennington charted his last solo single, "She Wanted a Little Bit More", on MRC Records in 1978. He later founded the duo Bluestone with Jerry McBee, and charted "Haven't I Loved You Somewhere Before".
In 1984, Pennington co-founded Step One Records with Mel Holt. Ray Price was the first act signed to the label, and fiddler Clinton Gregory charted three Top 30 hits while on Step One. Western Flyer, Celinda Pink and The Geezinslaws were also among the label's roster.
While on Step One, Pennington recorded multiple albums with the Swing Shift Band, co-founded with steel guitarist Buddy Emmons. This band charted with "Turn Me Loose and Let Me Swing" in 1988. Step One closed in 1998.
Ray Pennington died on October 7, 2020 in Clay County, Kentucky.
https://en.wikipedia.org/wiki/Ray_Pennington
Talents : Vocals, Guitar, Drums, Songwriter, Producer
Style musical : Traditional Country, Western Swing, Rockabilly
Years in activity :
| | | | | | | | | | | | |
| --- | --- | --- | --- | --- | --- | --- | --- | --- | --- | --- | --- |
| 1910 | 20 | 30 | 40 | 50 | 60 | 70 | 80 | 90 | 2000 | 10 | 20 |
DISCOGRAPHY
Singles
06/1956
SP LEE 502 (US)
.
Ray PENNINGTON & His WESTERN RHYTHM BOYS - I'm In Love Again / Boogie Woogie Country Girl
02/1957
SP RUBY RU 290 (US)
.
Ray PENNINGTON - RAY'S WESTERN RHYTHM BOYS - Fancy Free / You'll Want Me Back But I Won't Care
1957
SP GATEWAY 1228 (US)
.
Johnny STELL & The WESTERN RYTHMN BOYS - My Shoes Keep Walking Back To You / Fraulein
09/1958
SP LEE 504 (US)
.
Ray PENNINGTON & His WESTERN RHYTHM BOYS - My Steady Baby / They Took The Stars Out Of Heaven
03/1960
SP LEE 505 (US)
.
Ray STAR - I'm Falling Out Of Love / Billy Jo
11/1960
SP FEDERAL 45-12393 (US)
.
Ray STAR - Three Hearts In A Tangle / Donna Lou
05/1962
SP KING 45-5652 (US)
.
Ray STAR - (Caught) In The Middle Of Two Hearts / I Have To Laugh To Keep From Cryin'
05/1964
SP FRATERNITY F-927 (US)
.
Johnny STELL & The WESTERN RYTHMN BOYS - How Do You Like The Pain / Please,Save Your Love For Me
1966
SP CAPITOL 5751 (US)
.
Who's Been Mowing The Lawn (While I Was Gone) / I Don't Feel At Home In This House Anymore
03/1967
SP CAPITOL 5855 (US)
.
Ramblin' Man / Let Go
05/1967
SP CAPITOL 5909 (US)
.
My Heart's Gonna Rise Again / The Woman In Town
09/1967
SP CAPITOL 2006 (US)
.
Who's Gonna Walk The Dog (And Put Out The Cat) / You Put The Lights On
02/1968
SP CAPITOL 2118 (US)
.
Hush, Hush, Sweet Charlotte / Someday You'll Fall Back To Me
10/1968
SP MONUMENT MN 45-1109 (US)
.
Raining In My Heart / My Mind Is No Match For Your Heart
1969
SP MONUMENT MN 45-1134 (US)
.
After I'm Number One / Cold, Gray Light Of Dawn
05/1969
SP MONUMENT MN45-1145 (US)
.
What Eva Doesn't Have / Denver
11/1969
SP MONUMENT MN45-1170 (US)
.
This Song Don't Care Who Sings It / I Wouldn't Treat A Doggone Dog (The Way You're Treatin' Me)
03/1970
SP MONUMENT MN45-1194 (US)
.
You Don't Know Me / Country Blues
06/1970
SP MONUMENT MN45-1208 (US)
.

I Know Love / The Other Woman

11/1970
SP MONUMENT MN45-1231 (US)
.
Bubbles In My Beer / Don't Build No Fences For Me
1972
SP MONUMENT ZS7 8553 (US)
.
Let Them Talk / Happy Times
1972
SP MONUMENT ZS7 8540 (US)
.

Woman, Go On Home / Dark-Haired Women

1976
SP ZODIAC ZS-1003 (US)
.

I Can't Get Up By Myself / Steppin' Aside Just Ain't My Style

1976
SP ZODIAC ZS-1010 (US)
.
The Good Ole Days Are Right Now / Steppin' Aside Just Ain't My Style
1978
SP MRC MR-1015 (US)
.
Lucy Needs A Friend / If This Is Living
1978
SP MRC MR-1019 (US) (promo)
.
Brenda Kaye

Perry

, Ray

Pennington

-

Lying Together (stereo) / Lying Together (mono)

1978
SP MRC MR-1022 (US)
.
She Wanted A Little Bit More / Selena
1980
SP EMH EMH-0033 (US)
.

The Devil's Den / Nothing's Changed, Nothing's New

1985
SP STEP ONE SOR-339 (US)
.

Big Beaver / B. Bowman Hop

04/1985
SP STEP ONE SOR-340 (US)
.

Deep Water / Faded Love

08/1985
SP STEP ONE SOR-343 (US)
.

Cincinnati Blues / Before You Turn Me Down

08/1986
SP STEP ONE SOR-362 (US)
.

In The Mood / Good Ole Country Mood

09/1988
SP STEP ONE SOR-392 (US)
.

Turn Me Loose And Let Me Sing / ?

06/1989
SP STEP ONE SOR-403 (US)
.

Blue Of A Kind (Ray Pennington with The Swing Shift Band) / Fat Boy Rag (Buddy EMMONS with The Swing Shift Band)

09/1989
SP STEP ONE SOR-409 (US)
.

Caravan (The Swing Shift Band featuring Buddy EMMONS) / The Memory (The Swing Shift Band featuring Ray Pennington)

1992
CD STEP ONE SOR 446 (US)
The

Swing Shift Band

featuring Ray

Pennington

&Buddy EMMONS

-

You Pushed Me To The Limit -

You Pushed Me To The Limit / Intro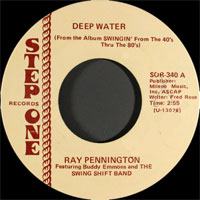 Unissued Tracks
Albums
1970
LP 12" MONUMENT SLP 18145 (US)
RAY PENNINGTON SINGS FOR THE OTHER WOMAN - Grazin' In Greener Pastures / Don't Build No Fences For Me / Country Blues / I Wouldn't Treat A Doggone Dog (The Way You're Treatin' Me) / This Song Don't Care Who Sings It / Happy Times / It Makes No Difference Now / Faded Love / We Could / You Don't Know Me / I Know Love / The Other Woman
1976
LP 12" FLYING FISH

FF-039 (US)

SWING AND OTHER THINGS - WE'RE STEEL SWINGIN' - Buddy EMMONS & Ray PENNINGTON with The SWING SHIFT BAND :

DISC 1 : Turn Me Loose And Let Me Swing / Caravan / Bonaparte'S Retreat / Perdido / Midnight Comes And Goes / Fat Boy Rag / Blue Of A Kind / Same Ole Me / Columbus Stockade Blues
DISC 2 : Blue Eyes / Loose Tights / Sugar Moon / You And Me / Texas With The X Removed / Take The A Train / My Weakness Is Too Strong / Midnight In Old Amarillo / I'm Getting Nowhere At Getting Over You / The Memory / Moonlight Serenade / The Good Ole Days Are Right Now

1983
LP 12" STEP ONE

EMH-0001 (US)

MEMORIES - Memories That Last / Till The Fear Slips Away / I'll Go To A Stranger / I Can Forget About You / Then I Can Face Your Memory / You Saved Me From Me / Nothing's Changed, Nothing's New / Devil's Den / I'll Never Let You Go / Nothing To Go On / Sweet, Sweet Woman / While I Was Slippin' In (She Was Steppin' Out)
1984
2 LP 12" STEP ONE

SOR-0003

(US)
SWINGING FROM THE 40'S THROUGHT THE 80'S - Buddy EMMONS & Ray PENNINGTON :

DISC 1 : Steel Guitar Rag / Hang Your Head In Shame / San Antonio Rose / Right Or Wrong / It Makes No Difference Now / Pan Handle Rag / Heart To Heart Talk / Steppin' Up / Walking On New Grass / There's A New Moon Over My Shoulder / Oklahoma Stomp
DISC 2 : Time Changes Everything / Faded Love / B. Bowman Hop / Nothing's Changed, Nothing's New / Bubbles In My Beer / Maiden's Prayer / Big Beaver / Deep Water / Before You Turn Me Down / Five Fingers / Cincinnati Blues

1986
LP 12" STEP ONE

SOR-0015 (US)

IN THE MOOD FOR SWINGING WITH BUDDY EMMONS & RAY PENNINGTON -

Buddy EMMONS & Ray PENNINGTON with The SWING SHIFT BAND - In The Mood / Careless Hands / Country Club / The Kind Of Love I Can't Forget / Don't Worry I'm Not Staying Very Long / Tuxedo Junction / Good Ole Country Mood / A String Of Pearls / My Kind Of Girl / Curtain Call / When You've Seen One Broken Heart (You've Seen Them All) / Undecided / Home In San Antone
08/1988
LP 12" STEP ONE

022 (US)

DEAR LORD, I'VE CHANGED (SINCE I'VE BEEN UNCHAINED) - I've Changed (Since I've Been Unchained) / Love He Has For Me / Redeemed Of The Ages Will Sing / Turn On Your Light And Let It Shine / What Did The Carpenter Build / Nothing Can Stand In My Way / Dear Lord / I Can't Get Up By Muself / You Saved Me From Me / God Will Bless You By And By / Something Good Was Going On In Galilee / One Splendid Day / My Home That Lies Beyond Jordan / Over There
1988
LP 12" STEP ONE 039 (US)
SWING AND OTHER THINGS - Buddy EMMONS & Ray PENNINGTON with The SWING SHIFT BAND - (Turn Me Loose And) Let Me Swing / Caravan / Bonaparte's Retreat / Perdido / Midnight Comes And Goes / Fat Boy Rag / Blue Of A Kind / Same Ole Me / Columbus Stockade Blues / Blue Eyes / Loose Tights / Sugar Moon / You And Me / Texas With The X Removed / Take The A Train / My Weakness Is Too Strong / Midnight In Old Amarillo / I'm Getting Nowhere (At Getting Over You) / The Memory / Moonlight Serenade / The Good Ole Days Are Right Now
1990
LP 12" STEP ONE

SOR-0060 (US)

SWINGIN' OUR WAY -

Buddy EMMONS & Ray PENNINGTON with The SWING SHIFT BAND - Just Swingin' / Opus One / I Love You So Much It Hurts / After You've Gone / Airmail Special / I'll Never Always Love You / Anytime / Born To Lose / Just A Way Of Life / It Only Happens (Every Now And Then) / (My Life's Like A) Dusty Road / One Minute With You / Sentimental Journey / Someone Out In Dallas (Has Your Number) / Careless Love / Triple Play / Moonglow / Peter Gunn / My Weakness Is To Strong / Woodchopper's Ball
1992
LP 12" STEP ONE

SOR-0073 (US)

SWINGIN' BY REQUEST - Buddy EMMONS & Ray PENNINGTON with The SWING SHIFT BAND - Broadway / Sunrise Serenade / Little Brown Jug / Ac-Cent-Tchu-Ate The Positive / Fly Me To The Moon / Canadian Sunset / Don't Get Around Much Anymore / Li'l Liza Jane / Keeper Of My Heart / Roly Poly / Mama Was the Rose Of San Antone / Where I'm Concerned / You Pushed Me To The Limite / Our Yesterdays / Lily Dale / Rubber Dolly / I Built A Wall / You Don't Have To Be A Baby To Cry / Stompin' At The Savoy / April's Fool / On The Sunny Side Of The Street
1994
LP 12" STEP ONE

SOR-0086 (US)

IT'S ALL IN THE SWING -

Buddy EMMONS & Ray PENNINGTON with The SWING SHIFT BAND - Danny G / On The Street Where You Live / Satin Doll / Marie / Don't Be That Way / Out Of Nowhere / Blues 4 MTG / You Want What! ? / I Let A Song Go Out Of My Heart / Deep Purple / I'm Truly Yours / Singer In The Band / Jersey Bounce / Dardanella / Dah Dot / Right Side Of Wrong / Moseying / Any Other Way / No Goodbyes
07/1997
LP 12" STEP ONE

SOR-0109 (US)

GOIN' OUT SWINGIN' -

Buddy EMMONS & Ray PENNINGTON with The SWING SHIFT BAND - Bogg's Boogie / Walking My Baby Back Home / S'wonderful / Up A Lazy River / Wills Point / Darktown Strutter's Ball / Shiny Stockings / The Next Best Thing / Drownin' My Troubles / The Day You Left Me / The Heart Of A Clown / Won't You Ride In My Little Red Wagon / Woman Go On Home / So Many Ways To Say Goodbye
© Rocky Productions 10/01/2017