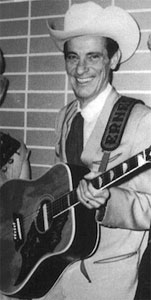 Chanteur Rockabilly US né Joseph Lephmon Pennington, le 15 Janvier 1928 à Plant City (Floride). Joe Penny a fait parti des Drifting Cowboys de Hank Williams et a enregistré un single à la fin des années cinquante pour Federal Records. Il fut un chanteur régulier au Hoosier Hoedown en 1956, puis au Hoosier Jamboree en 1957 (WEHT-TV, Enderson, Kentucky).

Rockabilly cat Joe Penny was born Joseph Pennington in Plant City, FL, on January 15, 1928. Taught to play guitar by his mother, he joined his first group, the Sons of the South, at the age of 16, and after high school he relocated to San Angelo, TX, to play with the Western swing combo Dub Adams & the K-Bar Ranch Hands. Through a mutual friend he met country icon Hank Williams, joining his backing unit the Drifting Cowboys in 1947 for seven dollars a show. Nicknamed "Little Joe Pennington" by Williams in response to his diminutive size, the guitarist soon renamed himself Joe Penny.
He left Williams in 1949 to serve in the U.S. Navy, regularly performing at military dances. After returning to civilian life, Penny played behind Lefty Frizzell and Little Jimmy Dickens in addition to pursuing a career as a songwriter, and in 1954 Jean Shepard recorded his "Don't Fall in Love With a Married Man." By 1955 Penny evolved from straight-ahead country into rockabilly, even traveling to Memphis to pitch his songs to Sun Records owner Sam Phillips. Earmarked for Sun sensation Elvis Presley, the songs were rejected and Penny relocated to Evansville, IN, where he regularly appeared on WEHT-TV's Hoosier Hoedown and worked part-time as a disc jockey. In 1957 he was tapped to host WEHT's new Hoosier Jamboree.
The following year, he and his band journeyed to Cincinnati's King Studios, recording the rockabilly cult classic "Bip a Little, Bop a Lot" for the Federal label. The record fared poorly on its original release, however, and in 1960 Penny returned to Florida, returning to radio as well as country music with the minor hit "Frosty Window Pane." In the wake of a near-fatal auto accident he found religion, and in the years to follow focused on gospel music, most notably recording the LP Growing Old With God. Inducted into the Rockabilly Hall of Fame in 2001, two years later Penny was the subject of the NBM label release Large Economy Size, which paired unreleased demos from the 1950s alongside newly recorded material. In his twilight years, he also wrote Lookin' Back on Hank, a memoir of his life on the road with Williams.
Talents : Singer, Guitar
Style musical : Rockabilly, Rock 'n' Roll
Years in activity :
| | | | | | | | | | |
| --- | --- | --- | --- | --- | --- | --- | --- | --- | --- |
| 1910 | 20 | 30 | 40 | 50 | 60 | 70 | 80 | 90 | 2000 |
DISCOGRAPHY
Singles
© Rocky Productions 13/01/2017