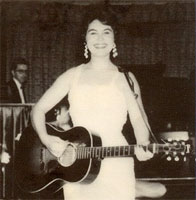 Chanteuse Rockabilly US née Alice Faye Perkins le 20 Juillet 1939 à Killarney (Virginie de l'Ouest). Laura Lee Perkins est décédée le 6 Avril 2018.

Touted in the trade press as "the female Jerry Lee Lewis," rockabilly bombshell Laura Lee Perkins was born Alice Faye Perkins in Killarney, WV, in 1939. After spending her childhood singing in school and in church, at 17 she packed her belongings into a cardboard box and bought a one-way bus ticket to Cleveland, instead settling in nearby Elyria, OH, and taking a job as a waitress. There she befriended WERE radio personality Bill Randle, who in late 1957 ushered Perkins into the local Audio Recording Studio to cut a demo tape comprising three of her original songs. Randle sent copies to Imperial Records and Sun Records, and when both labels extended contract offers, Perkins signed with Imperial. Label owner Lew Chudd renamed her Laura Lee Perkins (a nod to her pounding piano style) prior to the 1958 release of her debut single, "Kiss Me Baby." A vibrant, exuberant effort featuring sterling contributions from guitar ace Joe Maphis, the record earned positive reviews but did not sell. Imperial issued the follow-up "Don't Wait Up" just five weeks later. Perkins toured extensively in support of the single, but it too failed to catch on at radio, and her recording career ground to a halt. She later married and settled in the Detroit area, writing and recording advertising jingles for radio and television.
She died on April 6, 2018.
https://en.wikipedia.org/wiki/Laura_Lee_Perkins
Talents : Vocals, Piano, Guitar
Style musical : Rockabilly, Rock 'n' Roll
Years in activity :
| | | | | | | | | | | | |
| --- | --- | --- | --- | --- | --- | --- | --- | --- | --- | --- | --- |
| 1910 | 20 | 30 | 40 | 50 | 60 | 70 | 80 | 90 | 2000 | 10 | 20 |
DISCOGRAPHY
Singles
Unissued Tracks
| | | |
| --- | --- | --- |
| 1958 | Unissued - (Buffalo Bop CD 55089 (#17) / Disky CD 885962 (#31) / Jasmine CD 518 (#9) / Supersonic LP 1172 (#9)) | Come On Baby |
| 1958 | Unissued - (Buffalo Bop CD 55089 (#12) / Chief CD 1156505 (#11) / Club PR LP 008 (#11) / Disky CD 250542 (#29) / Disky CD 885932 (#31) / Jasmine CD 518 (#18) / Supersonic LP 1172 (#1)) | Gonna Rock My Baby Tonight |
Albums
| | | | |
| --- | --- | --- | --- |
| 2006 | CD no label 1285 (US) | | I'm Back And Here We Go - Here We Go! / A Better Life / A Little Tear / Jambalaya / The Wrong Kind / Everybody Rock And Roll / Johnny B. Goode / Don't Wait Up / Kiss Me Baby / Gonna Rock My Baby Tonight / I Don't Like This Kind Of Livin' / Come On Baby / Oh La Baby |
| 07/2012 | CD BEAR FAMILY BCD 17294 (GER) | | Don't Wait Up! - Don't Wait Up / Oh La Baby / I Just Don't Like This Kind Of Livin' / Kiss Me Baby / Gonna Rock My Baby Tonight; Come On Baby / Hound Dog / No One Will Ever Know / My Babe / Remember Me (I'm The One Who Loves You) / Oh La Baby [undubbed] / Mountain Dew / You Don't Know / I Enjoy Being A Girl |
© Rocky Productions 23/01/2017