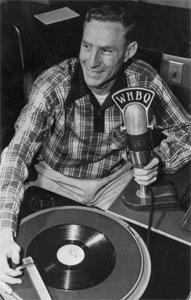 Disc Jockey et chanteur Rock 'n' Roll US né le 13 Mai 1926. Dewey Phillips a enregistré chez Fernwood Records de Memphis (Tennessee). Il est décédé le 28 Septembre 1968.

US Disc Jockey and Rock 'n' Roll singer born May 13, 1926, Dewey Phillips recorded at Fernwood Records of Memphis (Tennessee). He passed away on September 28, 1968.
Phillips started his radio career in 1949 on WHBQ/560 in Memphis, and was the city's leading radio personality for nine years and was the first to simulcast his "Red, Hot & Blue" show on radio and television.
Phillips' on-air persona was a speed-crazed hillbilly, with a frantic delivery and entertaining sense of humor. However, he also had a keen ear for music the listening public would enjoy, and he aired both black and white music, which was abundant in post-World War II Memphis, a booming river city which attracted large numbers of rural blacks and whites (along with their musical traditions). He played a great deal of rhythm and blues, country music, boogie-woogie, and jazz as well as Sun Records artists. In July 1954, he was the first DJ to broadcast the young Elvis Presley's debut record, "That's All Right/Blue Moon Of Kentucky" (Sun 209), and got Presley to reveal his race in an interview by asking which high school the 19-year-old singer attended (knowing that, because of segregation, his audience would readily know what race attended which schools).
Phillips briefly hosted an afternoon program on WHBQ-TV/13 in the mid-1950s. It mostly consisted of Phillips playing records while he and others clowned around in front of the camera.
Though Phillips was not involved in the payola scandals of the time (as was Freed), he was fired in late 1958 when the station adopted a Top 40 format, phasing out his freeform style. He spent the last decade of his life working at smaller radio stations, seldom lasting long. The popular musical Memphis is said to be based loosely on Dewey Phillips' life and career,although elements crucial in the career of Phillips' contemporary Alan Freed appear to be intermixed as well.
https://en.wikipedia.org/wiki/Dewey_Phillips
Talents : Vocals
Style musical : Rock 'n' Roll
Years in activity :
| | | | | | | | | | | | |
| --- | --- | --- | --- | --- | --- | --- | --- | --- | --- | --- | --- |
| 1910 | 20 | 30 | 40 | 50 | 60 | 70 | 80 | 90 | 2000 | 10 | 20 |
DISCOGRAPHY
Single
Albums
1989
LP 12" Zu-Zazz Z 2012 (UK)

Red Hot & Blue - CLASSIC RADIO TRANSCRIPTIONS -

Dewey In His Prime / Dewey Nearing The End

1995
CD Memphis Archives ‎MA7016

Red Hot & Blue (

Selections of wildman disc jockey "Daddy-O" Dewey Phillips 1950s radio broadcasts (including music) out of Memphis, Tennessee.)
© Rocky Productions 5/02/2017