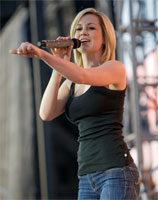 Chanteuse Country US née le 28 Juin 1986 à Albemarle (Caroline du Nord). Kellie Pickler est connue pour avoir participé à la cinquième saison d'American Idol, terminant à la sixième place.
En 2006, elle a signé chez BNA Records en tant qu'artiste, réalisant son premier album, Small Town Girl. À ce jour, elle en a vendu plus de 906 000 exemplaires. L'album, qui sera certifié disque d'or, contient trois singles qui se sont classés dans le Billboard Hot Country Songs ; Red High Heels # 15, I Wonder # 14, et Things That Never Cross A Man's Mind # 16.
Le premier single extrait de son deuxième album sera Don't You Know You're Beautiful. Il est sorti en 2008 et s'est classé dans le top 25. Le second single, Best Days of Your Life, qu'elle a coécrit avec Taylor Swift, a été son plus grand succès en se classant dans le top 10.
En 2013, elle remporte Dancing With The Stars 16.

In 2005, singer Kellie Pickler landed a spot in the fifth season of American Idol. Though she finished sixth, the former waitress and Miss North Carolina contestant charmed American audiences with her Southern twang and blonde ambition, resulting in a contract with BNA Records that yielded her debut album, Small Town Girl, in the fall of 2006 and an eponymous sophomore release in 2008, which yielded Pickler's first Top Ten hit, "Best Days of Your Life," a song she co-wrote with Taylor Swift. Her third album, the Frank Liddell-produced 100 Proof, appeared late in 2011. Despite being greeted by strong reviews and encouraging initial sales, 100 Proof didn't generate a hit single (the closest was "Tough," which peaked at 30). Pickler and Sony Nashville announced that they were parting ways in the summer of 2012.
In 2013, she appeared as a contestant on the TV show Dancing with the Stars and subsequently won the contest with dance partner Derek Hough. She also announced details of her fourth studio album, The Woman I Am. Released on Black River Entertainment and preceded by the singles "Someone Somewhere Tonight" and "Little Bit Gypsy," the album saw release in November 2013.
https://en.wikipedia.org/wiki/Kellie_Pickler
Talents : Vocals, Songwriter, Actress
Style musical : Contemporary Country, Country-Pop
Years in activity :
| | | | | | | | | | | | |
| --- | --- | --- | --- | --- | --- | --- | --- | --- | --- | --- | --- |
| 1910 | 20 | 30 | 40 | 50 | 60 | 70 | 80 | 90 | 2000 | 10 | 20 |
DISCOGRAPHY
Albums
10/2006
CD 19

Recordings

/ BNA 88697-01797-2 (US)
SMALL TOWN GIRL - Red High Heels / Gotta Keep Moving / Things That Never Cross A Man's Mind / Didn't You Know How Much I Loved You / I Wonder / Small Town Girl / Wild Ponies / Girls Like Me / I'm On My Way / One Of The Guys / My Angel
09/2008
CD 19

Recordings

/ BNA 88697-22811-2 (US)
KELLIE PICKLER - Don't You Know You're Beautiful / I'm Your Woman / Rocks Instead Of Rice / Didn't You Know How Much I Loved You / Lucky Girl / One Last Time / Best Days Of Your Life / Somebody To Love Me / Makin' Me Fall In Love Again / Going Out In Style
09/008
CD + DVD 19

Recordings

/ BNA 88697--2 (US) (deluxe edition)
KELLIE PICKLER :

CD : Don't You Know You're Beautiful / I'm Your Woman / Rocks Instead Of Rice / Didn't You Know How Much I Loved You / Lucky Girl / One Last Time / Best Days Of Your Life / Somebody To Love Me / Makin' Me Fall In Love Again / Going Out In Style
DVD :

A Day On The Road with Kellie Pickler / Don't You Know You're Beautiful

12/2011
CD 19

Recordings

/ BNA 88697-91587-2 (US)
100 PROOF - Where's Tammy Wynette / Unlock That Honky Tonk / Stop Cheatin' On Me / Long As I Never See You Again / Tough / Turn On The Radio And Dance / Mother's Day / Rockaway (The Rockin' Chair Song) / Little House On The Highway / 100 Proof / The Letter (To Daddy)
08/2012
2 CD Legacy / Sony 541027 (US)

Kellie Pickler / Small Town Girl :

CD 1 : Don't You Know You're Beautiful / I'm Your Woman / Rocks Instead Of Rice / Didn't You Know How Much I Loved You / Lucky Girl / One Last Time / Best Days Of Your Life / Somebody To Love Me / Makin' Me Fall In Love Again / Going Out In Style
CD 2 : Red High Heels / Gotta Keep Moving / Things That Never Cross A Man's Mind / Didn't You Know How Much I Loved You / I Wonder / Small Town Girl / Wild Ponies / Girls Like Me / I'm On My Way / One Of The Guys / My Angel

11/2013
CD Black River Entertainment BRE 20132 (US)

The Woman I Am -

Little Bit Gypsy / Ring For Sale / Buzzin' / The Woman I Am / Closer To Nowhere / Selma Drye / I Forgive You / Bonnie And Clyde / Where Did Your Love Go / No Cure For Crazy / Tough All Over /

Someone Somewhere Tonight
11/2013
LP 12" Black River Entertainment BRE2013-1 (US)

The Woman I Am -

Little Bit Gypsy / Ring For Sale / Buzzin' / The Woman I Am / Closer To Nowhere / Selma Drye / I Forgive You / Bonnie And Clyde / Where Did Your Love Go / No Cure For Crazy / Tough All Over /

Someone Somewhere Tonight
05/2014
CD 19 Recordings / Legacy 305461 (US)

Playlist - The Very Best of Kellie Pickler -

Walkin' After Midnight / Small Town Girl / Red High Heels / I Wonder / Things That Never Cross A Man's Mind / Don't You Know You're Beautiful / Best Days Of Your Life / Didn't You Know How Much I Loved You / Makin' Me Fall In Love Again / Rocks Instead Of Rice / Somebody To Love Me / Tough / 100 Proof / Stop Cheatin' On Me
© Rocky Productions 12/02/2017