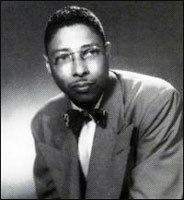 Saxophoniste Jump Blues US né James Alfred Smith Preston, le 18 Août 1913 à Chester (Pennsylvanie). Jimmy Preston grava ses premières faces en 1948, dans le style de Louis Jourdan, avec son groupe The Prestonians. En 1949, il enregistra à Philadelphie, le torride "Rock The Joint" qui sera repris en 1951 par Jimmy Cavallo puis l'année suivante par Bill Haley. La version de Jimmy Preston est considérée comme le premier disque d'authentique Rock 'n' Roll. En 1953, il quittera la musique pour se consacrer à la religion. Jimmy Preston est décédé le 17 Décembre 1984 à Philadelphie (Pennsylvanie).

Alto sax blower Jimmy Preston is another one of the legion of postwar R&B figures that can accurately be cited as a genuine forefather of rock & roll. His chief claim to fame: the blistering 1949 smash "Rock the Joint," which inspired a groundbreaking cover by Bill Haley & the Comets in 1952.
"Rock the Joint" wasn't Preston's first trip to the R&B Top Ten. Earlier in 1949, he'd hit with "Hucklebuck Daddy." Both were cut for Ivin Ballen's Philadelphia-based Gotham logo. The scorching sax breaks on "Rock the Joint" weren't Preston's doing, but tenor saxist Danny Turner's. Preston cut rather prolifically for Gotham through much of 1950 (including a session with jazzman Benny Golson on tenor sax) before switching to Derby Records and scoring his last hit, "Oh Babe" (with a vocal by Burnetta Evans). The 1950 date for the New York label was apparently his last.
https://en.wikipedia.org/wiki/Jimmy_Preston
Talents : Saxophone, Drums, Vocals
Style musical : Jump Blues, Rhythm 'n' Blues
Years in activity :
| | | | | | | | | | | | |
| --- | --- | --- | --- | --- | --- | --- | --- | --- | --- | --- | --- |
| 1910 | 20 | 30 | 40 | 50 | 60 | 70 | 80 | 90 | 2000 | 10 | 20 |
DISCOGRAPHY
78 t. & EP
1948
78 t. GOTHAM G-166 (US)
.

Jimmie Preston & His Prestonians - Let Me Call You Sweetheart / Messin' With Preston

1949
78 t. GOTHAM G-190 (US)
.
Jimmie

Preston

& His

Prestonians

- Numbers Blues / Chop Suey Louie
04/1949
78 t. GOTHAM G-175 (US)
.
Jimmie

Preston

& His

Prestonians

- Hucklebuck Daddy / Sugar Baby
05/1949
78 t. GOTHAM G-180 (US)
.
Jimmie

Preston

& His

Prestonians

- Hold Me, Baby / Home Cookin'
08/1949
78 t. GOTHAM G-188 (US)
.
Jimmie

Preston

& His

Prestonians

- Rock The Joint / Drinking Woman
1949
78 t. GOTHAM G-204 (US)
.
Jimmie

Preston

& His

Prestonians

- Bells Of St. Mary / Foolish Me
1949
78 t. GOTHAM G-206 (US)
.
Jimmie

Preston

& His

Prestonians

- Credit Blues / Going Away
1950
78 t. GOTHAM G-216 (US)
.
Jimmie

Preston

& His

Prestonians

- They Call Me The Champ / Swingin' In The Groove
1950
78 t. GOTHAM G-228 (US)
.
Hay Ride / Early Morning Blues
1950
78 t. GOTHAM G-240 (US)
.
Estellina Bim Bam / Do The Bump
1950
78 t. GOTHAM G-246 (US)
.
Let's Hang Out Tonight / Potato Salad
1950
78 t. DERBY 748 (US)
.
Oh Babe / Stop That Baby
1950
78 t. DERBY 751 (US)
.
Rock With It Baby / My Baby Done Left Me
1950
78 t. DERBY 755 (US)
.
Roll Roll Roll / Front Door Blues
1988
EP Krazy Kat EP 01 (UK)
Jimmy

Preston

& His

Prestonians

-

Rock The Joint -

Rock The Joint / Do The Bump / Hucklebuck Daddy / Let's Hang Out Tonight
| | |
| --- | --- |
| | |
Albums
1954
LP 10" Allegro Elite ‎4109 (US)
ROCK 'N' ROLL -

Cootie Williams -

Jimmy Preston

-

C

ootie WILLIAMS :

Shot Gun Boogie / Divorce Me C.O.D. / Beauty Parade Gossip / Steam Roller Blues / Jimmy PRESTON : Roll Roll Roll / Front Door Blues / Rock With It Baby / My Baby Left Me
19??
LP 10" ARA ‎4109 (AUS)
ROCK TO THE SWINGING SIXTIES -

Cootie Williams -

Jimmy Preston

-

C

ootie WILLIAMS :

Shot Gun Boogie / Divorce Me C.O.D. / Beauty Parade Gossip / Steam Roller Blues / Jimmy PRESTON : Roll Roll Roll / Front Door Blues / Rock With It Baby / My Baby Left Me
10/1991
CD COLLECTABLES 5306 (US)
JIMMY PRESTON - Swingin' In The Groove / They Call Me The Champ / I'm Lonesome / Hang Out Tonight / Potato Salad / Oh Mr. Possum / Hey Everybody / Hey Everybody / Early Morning Blues / Hay Ride / Estellina Bim Bam / Credit Blues / Swinging' In / Going Away
10/1991
CD COLLECTABLES 5327 (US)
JIMMY PRESTON - ROCK THE JOINT - VOLUME 2 - Rock The Joint / Drinking Woman / Hucklebuck Daddy / Sugar Baby / They Call Me The Champ / Let Me Call You Sweetheart / Messin' With Preston / Numbers Blues / Chop Suey Louie / Home Cookin' / Hold Me Baby / Do The Bump / They Call Me The Champ / Let's Hang Out Tonight
11/1995
CD FLYRIGHT 33 (US)
1948-1950 - Let's Hang Out Tonight / Early Morning Blues / Hay Ride / Credit Blues / Going Away / Swingin' In The Groove / Estellina Bim Bam / They Call Me The Champ / Potato Salad / Oh Mr Possum / Bells Of St Mary's / Rock The Joint / Drinking Woman / Messin' With Preston / Sugar Baby / Numbers Blues / Chop Suey Louie / Hold Me Baby / Do The Bump / Hucklebuck Daddy
© Rocky Productions 7/05/2017