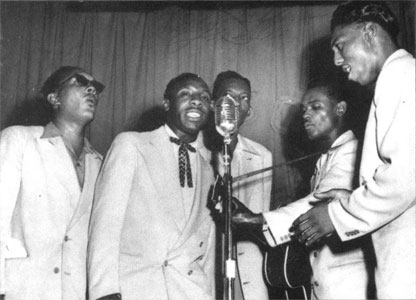 Groupe Doo Wop, tous détenus au pénitencier de l'état du Tennessee. Les Prisonaires comprenaient: Johnny Bragg, Ed Thurman, John Drue, Marcell Sanders et William Stewart. Ils ont enregistré au milieu des années cinquante et ne sortaient que pour aller au studio.

The Prisonaires were just that, five African-American male singers who also happened to be inmates of the Tennessee State Penitentiary in Nashville. Despite what normally would be considered circumstances too onerous to start a pop music career, the Prisonaires were celebrities, albeit briefly, after the recording of the one and only hit record, "Just Walkin' in the Rain," which Sam Phillips released on Sun in 1953 -- a song that three years later became a million seller for Johnnie Ray. The band was formed by lead singer Johnny Bragg, who had been a penitentiary inmate since the age of 17 after being convicted of six charges of rape. A singer since childhood, Bragg had joined a prison gospel quintet soon after his incarceration, but after a falling out, Bragg took two of its singers, Ed Thurman and William Stewart, each of whom were doing 99 years for murder, and hooked up with recent penitentiary arrivals John Drue (three years for larceny) and Marcell Sanders (one-to-five for involuntary manslaughter), and the Prisonaires were born.
They were discovered by radio producer Joe Calloway, who heard them singing while preparing a news broadcast from the prison. Calloway suggested to warden James Edwards that the group be allowed out to perform on the radio. Edwards, a liberal reform-minded warden who saw this as part of his strategy of rehabilitation, agreed. In the meantime, Bragg was busy selling songs to music publisher Red Wortham, who sent a tape of the Prisonaires' radio performance to Jim Bulliet, a minority shareholder in Sun Records. Bulliet sent the tape to Phillips, and despite his initial reservations (Phillips was not a huge fan of the group's Ink Spots-style close harmony crooning), arranged to have the groups transported under armed guard to Memphis to record. A few weeks later, "Just Walkin' in the Rain" was released and quickly sold 50,000 copies, a small success that was not without long-term ramifications. Peter Guralnick notes that "Just Walkin' in the Rain" was likely the record that captured the attention of a young Elvis Presley as he read about the studio, the label, and more importantly, Phillips. The attendant publicity was more than had been predicted, and soon warden Edwards was allowing the group out on day passes to tour throughout the state of Tennessee. The band became favorites of the state's governor, Frank Clement, and frequently performed for assembled guests at the governor's mansion.
The group never had another hit, and within a year they were finished, the result of the rise of rock & roll and Phillips' preoccupation with a young singer from Tupelo, MS, named Presley. Most of the Prisonaires had no careers outside of the prison with the notable exception of Bragg, who, despite remaining in jail off and on until 1969, recorded some marginal R&B and country for small labels in Nashville.
Talents : Johnny Bragg : Lead - Ed Thurman : Tenor - John Drue : Tenor - Marcell Sanders : Bass - William Stewart : Baritone, Guitar
Style musical : Doo Wop, Early Rhythm 'n' Blues
Years in activity :
| | | | | | | | | | | |
| --- | --- | --- | --- | --- | --- | --- | --- | --- | --- | --- |
| 1910 | 20 | 30 | 40 | 50 | 60 | 70 | 80 | 90 | 2000 | 10 |
DISCOGRAPHY
78 t. & Singles
Unissued track
| | | |
| --- | --- | --- |
| 1953 | SUN unissued | Friends Call Me A Fool |
Albums
1979
LP 12" CHARLY CR 30176 (UK)
FIVE BEATS BEHIND BARS -

Baby Please / Just Walking In The Rain / My God Is Real / Softly And Tenderly / I Know / No More Tears / Don't Say Tomorrow / What Do You Do Next? / That Chick's Too Young To Fry / Lucille I Want You / If I Were A King / Surleen / All Alone And Lonely / Rockin' Horse / Two Strangers / Frank Clement (What About)

1990
CD BEAR FAMILY BCD 15523 (GER)
JUST WALKIN' IN THE RAIN - Just Walkin' In The Rain / Baby Please / Dreaming Of You / That Chick's Too Young To Fry / Just Walkin' In The Rain / Baby Please / Softly And Tenderly / My God Is Real / A Prisoner's Prayer / No More Tears / I Know / No More Tears / If I Were King / I Wish / Don't Say Tomorrow / No More Tears / What'll You Do Next / There Is Love In You / What'll You Do Next / Two Strangers / What About Frank Cement (A Mighty Man) / Friends Call Me A Fool / Lucille, I Want You / Surleen / All Alone And Lonely / Rockin Horse
08/2011
CD BEAR FAMILY BCD 16893 (GER)
ONLY BELIEVE... - Bony Moronie / Suppertime / Caldonia / Gentle Hands / Just Walkin' In The Rain / The Boastin' Texan / Message From Prison Warden Lynn Bomar / A Prisoner's Prayer / Only Believe / Señor Siskin / Rollin' Stone / Why Don't You / Don't Say Tomorrow / Rollin' Stone / Front Page Blues / Pork And Beans / Two Strangers / Love You, Love You, Love You / Juke Box Rock And Roll / It's You Darling, It's You / Baby Please / What'll You Do Next / There Is Love In You / Rockin' Horse / Two Strangers / Lucy You Know I Want You
1996
CD CHARLY CPCD 8120 (UK)

Just Walking In The Rain - Baby Please / Just Walking In The Rain / My God Is Real / Softly And Tenderly / A Prisoner's Prayer / I Know / No More Tears / I Wish / Don't Say Tomorrow / There's Love In You / What'll You Do Next? / Surleen / What About Frank Clement? / Two Strangers / If I Were A King / All Alone And Lonely / Rocking Horse / That Chick's Too Young To Fry / Lucille I Want You / I Know / Friends Call Me A Fool / Dreaming Of You / Just Walking In The Rain (alternative take) / No More Tears / What'll You Do Next? / Baby Please

1999
CD CHARLY R&B / Altaya ‎B.P. 060 (POL)

Just Walking In The Rain -

Baby Please / Just Walking In The Rain / My God Is Real / Softly And Tenderly / A Prisoner's Prayer / I Know / No More Tears / I Wish / Don't Say Tomorrow / There's Love In You / What'll You Do Next? / Surleen / What About Frank Clement? / Two Strangers / If I Were A King / All Alone And Lonely / Rocking Horse / That Chick's Too Young To Fry / Lucille I Want You / I Know / Friends Call Me A Fool / Dreaming Of You / Just Walking In The Rain (alternative take) / No More Tears / What'll You Do Next? / Baby Please
© Rocky Productions 4/06/2017