| | |
| --- | --- |
| | |
| | |

Groupe Doo Wop US du Queens (New York), composť de Dominick "Randy" Safuto, Frank Safuto, Sal Zero et Ken Arcipowski.

Even if you don't know the group by name, if you're the tiniest bit familiar with doo wop you'll still probably recognize Randy & the Rainbows' single "Denise." A Top Ten hit, it's one of those feel-good songs that continue to turn up on compilations of the best music from the 1960s.
Randy & the Rainbows formed in the Queens section of New York City in 1962. The group included two pairs of siblings, brothers Sal Zero and Mike Zero and brothers Frank Safuto and Dominick "Randy" Safuto. Ken Arcipowski rounded out the quintet. The group evolved from the Dialtones, which in 1959 included the Safutos, Rosalie Calindo, and Eddie Scalla, the Safutos' cousin. After recording during the early '60s for Goldisc, the Safutos hooked up with Arcipowski and the Zeros in 1962 to become Randy & the Rainbows. Backed by the production team that also handled the Tokens, the group put out "Denise" in 1963.
As Randy & the Rainbows, the group never again repeated the success they found with "Denise." They changed names several times and continued to perform at different times as Madison Street, Triangle, and Them and Us. Over the years, the group has shared the stage with such artists as the Spinners, Little Anthony & the Imperials, Tony Orlando, Blood, Sweat & Tears, Freddie Roman, Jay Black, and Pat Cooper. They have also toured with the Beach Boys, Dionne Warwick, and the Four Seasons.
The group put out a new album in 2001. As of that year, the Randy & the Rainbows' lineup included original member Mike Zero, Vinny Carella, and Jimmy Bense. Dominic "Randy" Safuto died in October 2018.
http://doo-wop.blogg.org/rainbows-3-randy-the-c26502650
https://en.wikipedia.org/wiki/Randy_%26_the_Rainbows
Talents : Dominick "Randy" Safuto : Lead - Frank Safuto : First Tenor - Sal Zero : Second Tenor - Mike Zero : Baritone - Ken Arcipowski : Bass
Style musical : Doo Wop, Pop-Rock

https://youtu.be/6V_kWX_T1R4
Years in activity :
| | | | | | | | | | | | |
| --- | --- | --- | --- | --- | --- | --- | --- | --- | --- | --- | --- |
| 1910 | 20 | 30 | 40 | 50 | 60 | 70 | 80 | 90 | 2000 | 10 | 20 |
DISCOGRAPHY
Singles & EP
05/1960
SP GOLDISC 3005 (US)
.

DIALTONES - 'Till I Heard It From You / Johnny

03/1961
SP GOLDISC 3020 (US)
.
DIALTONES - 'Till I Heard It From You / Johnny
03/1963
SP RUST 5059 (US)
.
RANDY & The RAINBOWS - Denise / Come Back
10/1963
SP ARIOLA 10 372 AT (GER)
RANDY & The RAINBOWS - Denise / Come Back
11/1963
SP RUST 5073 (US)
.
RANDY & The RAINBOWS - Why Do Kids Grow Up / She's My Angel
1963
EP VOGUE EPL. 8143 (F)

Randy & The Rainbows : Denise / Come Back / Lucius Lawton : People Sure Act Funny / I Don't Know What I'm Gonna Do

1963
EP VOGUE EPL. 8164 (F)

Randy & The Rainbows : Why Do Kids Grow Up / She's My Angel / Uptowns : Here She Comes Again / Asiatic Flu

05/1964
SP RUST 5080 (US)
.
RANDY & The RAINBOWS - Happy Teenager / Dry Your Eyes
11/1964
SP RUST 5091 (US)
.
RANDY & The RAINBOWS - Little Star / Sharin'
06/1965
SP RUST 5101 (US)
.
RANDY & The RAINBOWS - Joyride / Little Hot Rod Suzie
02/1966
SP MIKE MK 4001 (US)
.
RANDY & The RAINBOWS - Lovely Lies / I'll Forget Her Tomorrow
04/1966
SP MIKE MK 4004 (US)
.
RANDY & The RAINBOWS - He's A Fugitive / Quarter To Three
07/1966
SP MIKE MK 4008 (US)
.
RANDY & The RAINBOWS - Bonnie's Part Of Town / Can It Be
10/1967
SP B.T. Puppy 45-535 (US)
.
RANDY & The RAINBOWS - I'll Be Seeing You / Oh To Get Away
1970
SP PARAMOUNT

PAA-

0055 (US)
.
TRIANGLE - Jacqueline /

Your love comes shinin' through

1971
SP PARAMOUNT

PAA-

0123 (US)
.
TRIANGLE - Judge And Jury / Midnight Magic Man
1977
SP CRYSTAL BALL 45-106 (US)
.
RANDY & The RAINBOWS - Angel Face / I Wonder Why
01/1978
SP MILLENIUM NM 605X (US)
.
MADISON STREET - Minstrel Man / King Of Love
1978
SP MILLENIUM NM 612X (US)
.
MADISON STREET - A Simple Love Song / We're Falling In Love
1978
SP Laurie Double Gold LDG 110 (US)
.

Denise (RANDY & The RAINBOWS) / My Block (FOUR PENNIES)

1981
SP FOX-MOOR FM 1000 (US)
.
RANDY & The RAINBOWS - Fourever Seasons / Ain't No Mountain High Enough
04/1982
SP Ambient Sound / CBS ZS5 02872 (US)
.
RANDY & The RAINBOWS - Try The Impossible / Debbie
1985
SP Ambient Sound 451 (US)
.
RANDY & The RAINBOWS - Remember (Walking In The Sand) / Happy Teenager
1985
SP BR MUSIC 45160 (NL)
1993
SP CRYSTAL BALL 45-161 (US)
.
RANDY & The RAINBOWS - A Brighter Day / It's Christmas Once Again
19??
SP COLLECTABLES COL 3307 (US)
.
RANDY & The RAINBOWS - Happy Teenager / Why Do Kids Grow Up
19??
SP COLLECTABLES COL 3973 (US)
.

DIALTONES - Johnny / 'Till I Heard It From You

19??
SP COLLECTABLES LDG 2110 (US)
.
Denise (RANDY & The RAINBOWS) / My Block (FOUR PENNIES)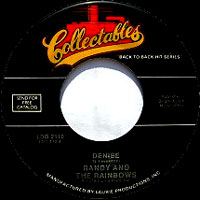 Unissued Track
| | | |
| --- | --- | --- |
| 196? | Unissued | DIALTONES - Bohemian Daddy |
| 196. | Unissued | DIALTONES - 24 Hours |
Albums
| | | | |
| --- | --- | --- | --- |
| 1982 | LP 12" Ambient Sound FZ 37715 (US) | | C'mon Let's Go! - RANDY & The RAINBOWS - Come On Let's Go / Angel Face / Weekend With You / Try The Impossible / In Your Letter / You're My Girl / Till I Heard It From You / No Love / Debbie / Strike It Rich / I Want To Be Lonely / When The Morning Comes |
| 1984 | LP 12" Ambient Sound ASR-601 (US) | | REMEMBER - RANDY & The RAINBOWS - Remember (Walking In The Sand) / Monotones Medley : You Never Loved Me - Reading The Book Of Love / Ala-Men-Sa-Aye / One More Try / All Over The World |
| 05/2002 | CD WizWorks 1111 (US) | | PLAY BALL - RANDY & The RAINBOWS - Angela, My Angela / Still In Love With You / Deep Down / Ain't She Pretty / Good Life / Denise / Don't Throw Your Love Away / Laura / Julie / Silver And Gold / Joseph / My Love Concerto |
© Rocky Productions 25/02/2021