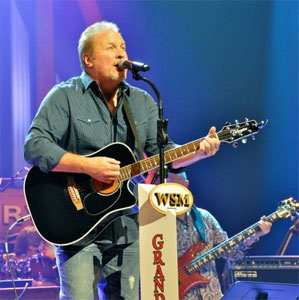 Chanteur Country US né Floyd Elliot Wray, le 22 Août 1960 à DeQueen (Arkansas).

Contemporary country star Collin Raye burned up the sales charts in the '90s, thanks to a blend of country-rock and smooth balladry, and a willingness to record socially conscious material in between the dance and romance tunes. Raye was actually born Floyd Collin Wray in DeQueen, AR, in 1959, and his mother, Lois, was a locally popular singer who opened concerts for various Sun Records stars in the '50s. She sometimes brought Collin and his older brother Scott on-stage to harmonize with her, and so Collin first performed publicly at the age of seven. As teenagers, he and Scott formed a country-rock outfit called the Wray Brothers Band, and Collin adopted the stage name Bubba Wray. They first played in Texas roadhouses and honky tonks and later found regular gigs in Portland, OR, and Reno, NV; the group also recorded several independent-label singles starting in 1983. Shortening their name to the Wrays, they signed with Mercury in 1986 and released two singles over the next two years, but nothing came of them, and the group broke up. Raye contemplated leaving music in favor of a factory job that would support his new family but elected to stick it out, changing the spelling of his name and ultimately landing a deal with Epic in 1990.
Raye released his debut album, All I Can Be, in 1991, and it really took off with the release of the second single, "Love, Me." A tearjerker about the death of a loved one, "Love, Me" zoomed to the top of the country charts in early 1992, becoming a popular funeral song among fans. The follow-up single, "Every Second," went to number two, and All I Can Bewent platinum -- as did its follow-up, 1992's In This Life, whose title track became Raye's second number one hit and a popular wedding ballad. In This Life also spun off three additional Top Ten hits in "I Want You Bad (And That Ain't Good)," "That Was a River," and "Somebody Else's Moon." Raye notched his third straight million-selling album with 1994's harder-rocking Extremes, whose number two hit "Little Rock" was Raye's first big message song, taking on the subject of alcohol abuse. He also hit the Top Ten with "That's My Story," "Man of My Word," and "If I Were You" and landed another number one with "My Kind of Girl." 1995's I Think About You returned to his trademark ballad-heavy style and became his fourth platinum album in a row, helped by the Top Five hits "One Boy, One Girl," the anti-domestic-violence title track, the anti-racism "Not That Different," and "On the Verge."
Having cranked out hits for the last four years, Raye relaxed a little bit, issuing only the holiday album Christmas: The Gift in 1996 and the compilation The Best of Collin Raye: Direct Hits the following year; the latter's newly recorded "What the Heart Wants" and "Little Red Rodeo" both went Top Five. Finally, Raye issued another full album of new material, The Walls Came Down, in 1998. "Someone You Used to Know" and "Anyone Else" both made the Top Five, and "I Can Still Feel You" became Raye's fourth number one hit; the album also contained an anti-child-abuse statement in "The Eleventh Commandment." Perhaps Raye's recent divorce had turned his attention to children even more than usual, for he followed that with an album of lullabies for kids, Counting Sheep, in 2000. Later that year, he issued the proper album Tracks, which featured the Top Five hit "Couldn't Last a Moment" but didn't produce the usual number of massive singles. The follow-up, 2001's Can't Back Down, confirmed that Raye was hitting a sales slump, as it became his first album to miss the country Top Ten. The newly independent Raye took nearly five years to release his studio follow-up--Live at Billy Bob's Texas arrived in 2004. The resulting Twenty Years and Change marked a return--for better or for worse-- to the ballad-heavy style that won him acclaim in the late-nineties.
https://en.wikipedia.org/wiki/Collin_Raye
Talents : Vocals, Guitar
Style musical : Contemporary Country, Traditional Country

https://www.youtube.com/watch?v=FrZQd2xlYzQ
Years in activity :
| | | | | | | | | | | | |
| --- | --- | --- | --- | --- | --- | --- | --- | --- | --- | --- | --- |
| 1910 | 20 | 30 | 40 | 50 | 60 | 70 | 80 | 90 | 2000 | 10 | 20 |
DISCOGRAPHY
Singles & EP
05/1991
SP EPIC 34-73831 (US)
.
All I Can Be (Is A Sweet Memory) / Good For You
10/1991
SP EPIC 34-74051 (US)
.
Love Me / Blue Magic
01/1992
SP EPIC 657912 7 (UK)
Love Me / Blue Magic
01/1992
SP EPIC 34-74242 (US)
.
Every Second / Any Old Scetch Of Blacklop
07/1992
SP EPIC 34-74421 (US)
.
In This Life / Blue Magic
11/1992
SP EPIC 34-74786 (US)
.
I Want You Bad (And That Ain't Good) / Let It Be Me
04/1993
SP EPIC 34-74912 (US)
.
Somebody Else's Moon / You Can't Take It With You
07/1993
SP EPIC 34-77118 (US)
.
That Was A River / Big River
12/1993
SP EPIC 34-77308 (US)
.
That's My Story / To The Border And Beyond
04/1994
SP EPIC 34-77436 (US)
.
Little Rock / Dreaming My Dreams With You
08/1994
SP EPIC 34-77632 (US)
.
Man Of My World / Nothin' A Little Love Won't Care
12/1994
SP EPIC 34-77773 (US)
.
My Kind Of Girl / Angel Of No Mercy
1994
CD EPIC EPC 660402 2 (GER)

That's My Story / Little Rock / To The Border And Beyond

03/1995
SP EPIC 34-77859 (US)
.
If I Were You / Bible And A Bus Ticket Home
07/1995
SP EPIC 34-77973 (US)
.
One Boy One Girl / I Love Being Wrong
11/1995
SP EPIC 34-78189 (US)
.
Not That Different / Sweet Miss Behavin'
02/1996
SP EPIC 34-78238 (US)
.
I Think About You / I Volunteer
06/1996
SP EPIC 34-78348 (US)
.
Love Remains / I Love Being Wrong
10/1996
SP EPIC 34-78452 (US)
.
What If Jesus Comes Back Like That / Time Machine
1996
SP Collectables COL 4680 (US)
.
Blame It On Your Heart (Patti LOVELESS) / That's My Story (Collin R

aye

)
1997
CD EPIC ‎ESK 78514 (US)

Intro / What The Heart Wants

1997
CD EPIC ‎ESK 78732 (US)

Collin Raye, Jim Brickman - Intro / The Gift

08/1998
SP EPIC 34-79011 (US)
.
Someone You Used To Know / Make Sure You've Got It All
02/2000
SP EPIC 34-79353 (US)
.
Couldn't Last A Moment / You Still Take Me There
2000
CD EPIC ESK 12838 (US) (promo)

Collin Raye & Bobbie Eakes - Tired Of Loving This Way

2000
CD Sony TTS 12493 (EUR)

Tired Of Loving This Way (Collin Raye & Bobbie Eakes) / And I Love You So (Collin RAYE)

06/2007
EP StarPointe SPR 1001 (US)

Selected Hits - Two Inspiring New Songs : Soldier's Prayer / Quitters / Four Selected Greatest Hits Recorded Live With The Salt Lake Symphony : That's My Story (And I'm Sticking To It) [live] / Little Rock [live] / I Think About You [live] / Love Me [live] / Plus: A Recorded Personal Message From Collin : Interview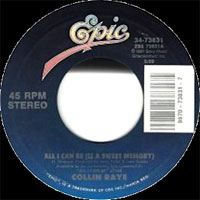 Albums
08/1991
CD EPIC EK-47468 (US)
ALL I CAN BE - All I Can Be (Is A Sweet Memory) / Every Second / Faithful Old Flame / Scuse Moi My Heart / Any Old Stretch Of Blacklop / Love Me / Blue Magic / It Could've Been So Good / Sadly Ever After / If I Were You
08/1992
CD EPIC EK-48943 (US)
IN THIS LIFE - What They Don't Know / In This Life / Big River / Somebody Else's Moon / You Can't Take It With You / That Was A River / I Want You Bad (And That Ain't Good) / Latter Day Cowboy / Many A Mile / Let It Be Me
01/1994
CD EPIC EK-53952 (US)
EXTREMES - That's My Story / Man Of My World / My Kind Of Girl / Little Rock / Bible And A Bus Ticket Home / Nothin' A Little Love Won't Cure / If I Were You / To The Border And Beyond / Angel Of No Mercy / Dreaming My Dreams With You
08/1995
CD EPIC EK-67033 (US)
I THINK ABOUT YOU - I Think About You / Not That Different / On The Verge / One Boy One Girl / Sweet Miss Behaving / Heart Full Of Rain / What If Jesus Comes Back Like That / Time Machine / I Love Being Wrong / I Volunteer / Love Remains
10/1996
CD EPIC EK-67751 (US)
CHRISTMAS - THE GIFT - Christmas Song (Merry Christmas To You) / I'll Be Home For Christmas / It Could Happen Again / First Noel / Away In A Manger / White Christmas / Winter Wonderland / Angels We Have Heard On High / Little Drummer Boy / Silent Night / First Noel / O Holy Night
08/1997
CD EPIC EK-67893 (US)
THE BEST OF COLLIN RAYE - DIRECT HITS - Little Rock / I Think About You / Not That Different / That's My Story / If I Were You / One Boy One Girl / In This Life / My Kind Of Girl / That Was A River / What The Heart Wants / Gift / Open Arms / Little Red Rodeo / Love Me
07/1998
CD EPIC EK-68876 (US)
THE WALLS CAME DOWN - Anyone Else / I Wish I Could / Start Over Georgia / I Can Still Feel You / Someone You Used To Know / Corner Of The Heart / All My Roads / Walls Came Down / April Fool / Make Sure You've Got It All / Survivors / Dark Secrets / The Eleventh Commandment
2000
CD LEGACY EK-62182 (US)
LOVE SONGS - Love Me / In This Life / Let It Be Me / Gift / I Volunteer / That Was A River / All My Roads / Survivors / Dreaming My Dreams With You / And I Love You So
01/2000
CD EPIC LK-63518 (US)
COUNTING SHEEP - Counting Sheep / I'm Gonna Love You / Blackbird / Mother And Father's Prayer / When You Wish Upon A Star / Cool Cat / Too-Ra-Loo-Ra-Loo-Ral (An Irish Lullaby) / Hearts Are For When You Want To Love Someone / Dream Song / When You Say Your Prayers / Stay Awake
05/2001
CD EPIC EK-69995 (US)
TRACKS - She's All That / I Want To Be There / Completely / Couldn't Last A Moment / You Will Always Be Mine / Long Way To Go / Harder Cards / Landing In Love / Loving This Way (with Bobbie

Eakes

) / You Still Take Me There / Water And Bridges / She's Gonna Fly
10/2001
CD EPIC EK-85794 (US)
CAN'T BACK DOWN - Gypsy Honeymoon / It Could Be That Easy / Ain't Nobody Gonna Take That From Me / What I Need / Dancing With No Music Playing / You Always Get To Me / End Of The World / One Desire / Young As We're Ever Gonna Be / Dear Life / What I Did For Love / I Can Let Go Now
2002
CD EPIC EK-86418 (US)
SUPER HITS - Little Rock / In This Life / My Kind Of Girl / That Was A River / Not That Different / I Can Still Feel You / One Boy One Girl / Couldn't Last A Moment / If I Were You / Love Me
2002
CD EPIC EK-86682 (US)
16 BIGGEST HITS - Love Me / In This Life / Somebody Else's Moon / That Was A River / That's My Story / Little Rock / My Kind Of Girl / If I Were You / One Boy One Girl / Not That Different / I Think About You / On The Verge / What The Heart Wants / I Can Still Feel You / Someone You Used To Know / Couldn't Last A Moment
08/2003
CD Sony 70806 (US)

Love, Me - Love, Me (single version) / Any Old Stretch Of Blacktop (single version) / Latter Day Cowboy / Dreaming My Dreams With You (single version) / Heart Full Of Rain / That's My Story / April Fool / Blue Magic (single version) / Make Sure You've Got It All / Sweet Miss Behavin'

08/2004
CD Smith Music BBT-5030 (US)

Live At Billy Bob's, Texas - My Kind Of Girl / I Want You Bad (And That Ain't Good) / I Can Still Feel You / Someone You Used To Know / Not That Different / On The Verge / Somebody Else's Moon / Every Second / That Was A River / That's My Story / One Boy, One Girl / I Think About You / If I Were You / The Gift / Little Rock / In This Life / Love, Me

10/2005
CD INFINITY 0018 (US)

Twenty Years And Change - I Know That's Right / Hurricane Jane / Search Is Over / Forgotten / You're Not Drinkin' Enough / Josephine / Heart / All I Can Do Is Love You / Let Your Love Flow / Twenty Years And Change / We'll Be Alright / It's Only Make Believe

10/2006
CD

Country

ROAD CR 30001-2 (US)

Fearless - Just Because / You've Heard That One Before / Fearless / As Young As We're Ever Going To Be / Lady / Makin' Up Time / Too Hot To Sleep / Falling In Love Again / Something To Say / Forever Starts Right Now / My Way / House Of the Rising Sun

2006
CD

Country

ROAD

CR 200352 (GER)

Fearless -

Just Because / You've Heard That One Before / Fearless / As Young As We're Ever Going To Be / Lady / Makin' Up Time / Too Hot To Sleep / Falling In Love Again / Something To Say / Forever Starts Right Now / My Way / House Of the Rising Sun
04/2009
CD Time / Life 24347-D (US)

Never Going Back -

Never Going Back / Take Care Of You / Don't Tell Me You're Not In Love / Without You (with Susan

Ashton

) / Mid-Life Chrysler / You Get Me / Where It Leads / The Cross / Stuck In The Middle With You / The Only Jesus / I Love You This Much / She's With Me
10/2011
CD Cradle Concepts 57897-00300 (US)

His Love Remains - Come Thou Fount Of Every Blessing (feat. Andrea Thomas) / Give Me Jesus / How Great Thou Art / Ave Maria / How Beautiful (feat. Andrea Thomas) / Undefeated / Here I Am, Lord / I Get What I Need / O Lord, I Am Not Worthy (feat. Marie Bellet) / Were You There? / Am The Bread Of Life / Let All Mortal Flesh Keep Silence / Love Remains / Joyful, Joyful We Adore Thee / Amazing Grace

2011
CD T-Bird Americana ‎TBIRDAM 011 (UK)

All I Can Be & In This Life -

All I Can Be :

All I Can Be (Is A Sweet Memory) / Every Second / Faithful Old Flame / Scuse Moi, My Heart / Any Old Stretch Of Black Top / Love, Me / Blue Magic / It Could've Been So Good / Sadly Ever After / If I Were You /

In This Life :

What They Don't Know / In This Life / Big River / Somebody Else's Moon / You Can't Take It With You / That Was A River / I Want You Bad (And That Ain't Good) / Latter Day Cowboy / Many A Mile / Let It Be Me
10/2012
CD Legacy 8872-544653-2 (US)

Playlist : THE VERY BEST OF COLLIN RAYE - Love, Me / Bible And A Bus Ticket Home / Any Old Stretch Of Blacktop / My Kind Of Girl / What The Heart Wants / I Want You Bad (And That Ain't Good) / That's My Story / Couldn't Last A Moment / Someone You Used To know / Open Arms / Cold, Cold Heart / Every Second / In This Life / And I Love You So

11/2012
DVD + CD Cradle Concepts ? (US)

A Holy Night And A Merry Christmas - COLLIN RAYE & Andrea Thomas - Away In A Manager / The First Noel (Collin Raye) / It Came Upon A Midnight Clear (Andrea Thomas) / Let All Mortal Flesh Keep Silence (Collin Raye) / Softly And Tenderly Jesus is Calling (Collin Raye) / Angels We Have Heard On High (Collin Raye) / What Child Is This? (Andrea Thomas) / Silent Night / Give Me Jesus (Collin Raye) / Oh Holy Night (Collin Raye) / O Come, O Come Emmanuel

12/2012
CD SPV ‎SPV 260792 CD (GER)

Extremes & I Think About You - Extremes : That's My Story / Man Of My Word / My Kind Of Girl / Little Rock / A Bible And A Bus Ticket Home / Nothin' A Little Love Won't Cure / If I Were You / To The Border And Beyond / Angel Of No Mercy / Dreaming My Dreams With You / I Think About You : I Think About You / Not That Different / On The Verge / One Boy, One Girl / Sweet Miss Behavin' / Heart Full Of Rain / What If Jesus Came Back Like That / The Time Machine / I Love Being Wrong / I Volunteer / Love Remains

12/2013
CD Cradle Concepts 57897-00307 (US)

Still On The Line - The Songs Of Glen Campbell - Galveston / Gentle On My Mind (with Ricky Skaggs) / Wichita Lineman / Southern Nights / True Grit / Country Boy / Try A Little Kindness / Dreams Of The Everyday Housewife / By The Time I Get To Phoenix / The Hand That Rocks The Cradle / Rhinestone Cowboy (with Billy Dean) / Where's The Playground Susie

12/2014
CD CLEOPATRA / Goldenlane CLP-CD-2153 (US)

Everlasting - Divine Everlasting Love / Say Hello To Heaven / How Deep Is Your Love / Against All Odds / Love Song For A Vampire / (Everything I Do) I Do It For You / Marie / If / We're All Alone / She's Got A Way / Sorry Seems To Be The Hardest Word / How Am I Supposed To Live Without You / Same Old Lang Syne

04/2015
CD CLEOPATRA / Goldenlane CLP CD-2154 (US)

Greatest Hits Live - Opening / Little Red Rodeo / Little Rock / I Can Still Feel You / In This Life / I Think About You / Undefeated / I Get What I Need / That's My Story / On The Verge / She's With Me Intro / She's With Me / Do It Again / My Kind Of Girl / The Gift; Love Remains / Love, Me / Rock And Roll Never Forgets
© Rocky Productions 27/07/2017