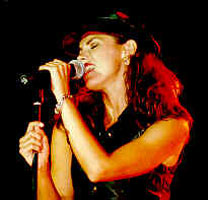 Chanteuse Country US née le 21 Septembre 1968 à Big Spring (Texas).

Singer/songwriter Ronna Reeves spent most of her life in the music industry and was one of the more promising female singers to emerge in the 1990s. She was raised in Big Spring, TX, and began singing along with the radio and phonograph at age six. She won the Little Miss Big Spring competition at age eight; the judges' enthusiastic reaction to her singing in the show's talent segment inspired her parents to take her to a local guitar/fiddle teacher to evaluate her abilities, and he ended up adding Reeves to his band. By age 11, she had her own group, which played in Fort Worth nightclubs. There she met Ron and Joy Cotton, two promoters working out of Waco. A few years later, when she was 17, the Cottons invited her to open for his client George Strait, a gig she performed for the next 18 months. She went on to open for Ronnie Milsap, Randy Travis, Garth Brooks, the Judds, and Reba McEntire, among others. Her 1991 debut album, Only the Heart, was released with little notice. Her second album, The More I Learn, produced three minor hits, including "The More I Learn (The Less I Understand About Love)." What Comes Naturally (1993), although receiving critical praise, failed to produce any chart hits.
Reeves returned in 1995 with a new label (River North Records) and a new album, After the Dance. Her exposure had also been raised, thanks to a chance touring and recording turn with adult contemporary crooner Peter Cetera. That same year, she and Cetera scored a minor hit with a soft-focus cover of the ABBA hit "S.O.S.". (The song appeared on Cetera's 1995 album One Clear Voice.) The collaboration proved to be fruitful, as Cetera helmed the production of Reeves' next album, 1998's Day 14. Instead of country, the album was a collection of straight-ahead rock and pop.
https://en.wikipedia.org/wiki/Ronna_Reeves
Talents : Vocals, Songwriter
Style musical : Contemporary Country

https://youtu.be/RPvTS7XJ7KI
Years in activity :
| | | | | | | | | | | | |
| --- | --- | --- | --- | --- | --- | --- | --- | --- | --- | --- | --- |
| 1910 | 20 | 30 | 40 | 50 | 60 | 70 | 80 | 90 | 2000 | 10 | 20 |
DISCOGRAPHY
Singles
| | | | |
| --- | --- | --- | --- |
| 09/1990 | SP MERCURY 878 058-7 (US) | . | Letter / Sadly Mistaken |
| 02/1991 | SP MERCURY 878 854-7 (US) | . | That's More About Love Than / ? |
| 05/1991 | SP MERCURY 868 230-7 (US) | | Ain't No Future In The Past / Talk Back Trembling Lips |
| 02/1992 | SP MERCURY 866 380-7 (US) | . | The More I Learn (The Less I Understand About love) / If I Were You |
| 1992 | CD MERCURY CDP 600 (US) (promo) | | The More I Learn (The Less I Understand About love) |
| 06/1992 | SP MERCURY 866 914-7 (US) | . | What If You're Wrong / Frontier Justice |
| 10/1992 | SP MERCURY 864 614-7 (US) | . | We Can Hold Oor Own / Honky Tonk Hearts |
| 06/1993 | SP MERCURY 862 260-7 (US) | . | He's My Weakness / Never Let Him See Me Cry |
| 04/1996 | CD RIVER NORTH 51416-4553 2 (US) (promo) | . | My Heart Wasn't In It |
| 1996 | CD RIVER NORTH 51416 4576 2 (US) (promo) | . | Rodeo Man |
Albums
| | | | |
| --- | --- | --- | --- |
| 07/1991 | CD MERCURY 341-848 260-2 (US) | | ONLY THE HEART - That's More About Love (Than I Wanted To Know) / Sadly Mistaken / Ain't No Future In The Past / Only The Heart / I Could Be Loving You / Take Back Trembling Lips / Same Old Story / Sayin' You're Wrong Don't Make It Right / If I Were You / Letter |
| 03/1992 | CD MERCURY 314-510 847-2 (US) | | THE MORE I LEARN - The More I Learn (The Less I Understand About Love) / I'll Be Faithfull To You / What If You're Wrong / Heartbreak Shoes / Honky Tonk Hearts / There's Love On The Line / We Can Hold Our Own / Nobody Here To Love / Frontier Justice / Bless Your Cheatin' Heart |
| 07/1993 | CD MERCURY 314-514 710-2 (US) | | WHAT COMES NATURALLY - She Wins / Now That's All Right With Me / Waitin' For The Phone To Ring / Staying Gone / Hundred And One / This Can't Be Anything But Love / Never Let Him See Me Cry / How Could You / It Only Hurts When I Laugh / You Can't Say (You Don't Love Me Anymore) / He's My Weakness |
| 11/1995 | CD POLYGRAM 51416-1142-2 (US) | | AFTER THE DANCE - Rodeo Man / Not Yet But I'm Gettin' There / I Don't Know Nothin' At All / Collect From Wichita / Big Night Out / My Heart Wasn't In It / Next Train Out / Mind Over Matters Of The Heart / One Way Ticket / After The Dance |
| 05/1998 | CD RIVER NORTH 51416-1383-2 (US) | | DAY 14 - Heart Shaped World / Everything Comes To You / Sweet Pretender / So Romantic / 13 Days Of Daisy / Nowhereville / Strange Days / New York Rain / Waiting For You / One Fine Day / Convince Me |
© Rocky Productions 17/12/2004