| | |
| --- | --- |
| | |
| | |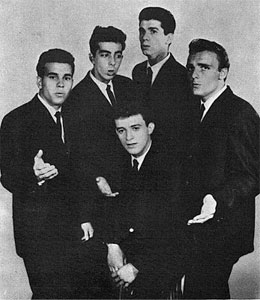 Groupe US de Doo Wop formé en 1959, les Regents doivent leur nom à la marque de cigarettes favorites de leur leader Guy Villari. Après l'enregistrement de quelques titres mineurs, le groupe change de nom en 1962 pour devenir les "Runarounds", sans succès. Ils ont aussi utilisé le nom de Desires. Les Regents étaient composés de Guy Villari, Sal Cuomo, Charles Fassert, Danny Jacobuccia et Tony Gravagna.

Guy Villari, Sal Cuomo, Ernie Maresca, and Chuck Fassert formed in the Bronx, NY, in 1958 as the Montereys. Signing with Seville Records, they cut two Maresca songs that went unreleased, and soon Donnie Jacobucci replaced a disappointed Maresca. They recorded their demonstration records at the Regents Sound Studios, prompting a name change to the Regents, but their first release didn't happen until 1961, three years after they started.
"Barbara Ann" was recorded in 1958, but more than 50 recording companies said "no," causing them to disband before 1959 rolled around. Jacobucci's younger brother Eddie revived the Regents by accident. His group, the Consorts, lacked original songs for an audition so they cut a version of "Barbara Ann" from an old demo Eddie found around the house. When the owner of Cousins Records heard the song, he decided to put it out, not by the Consorts, but by the Regents. With Eddie replacing Guy, the original group reunited, and Cousins released "Barbara Ann" in March of 1961. The stuttering doo wop became a number one record in New York; the demand was overwhelming and Cousins leased it to Roulette/Gee for worldwide distribution and saw it soared to number 13 pop and number seven R&B.
A second single, "Runaround," charted at number 28 pop and number 30 R&B; a third single, "Liar," didn't chart, and neither did a fourth, "Oh Baby." They disbanded but emerged in 1964 as the Runarounds, waxing and releasing five singles on as many labels. the Runarounds were Villari, Fassert, Ronnie Lapinsky, and Sal Corrente; their first single, "Unbelievable," on Nat King Cole's short-lived KC label in 1963 didn't sell nor did their last, "You Lied," on MGM in 1967. Again they separated but reunited as the Regents in 1973 to play the oldie circuit. A copy of "Barbara Ann" on the Cousin label fetches around 1,200 dollars; the same recording on Gee sells for 25 dollars or less.
Talents : Guy Villari : Lead - Sal Cuomo : First Tenor - Charles Fassert : Second Tenor - Danny Jacobuccia : Baritone - Tony Gravagna : Bass
Style musical : Doo Wop
| | |
| --- | --- |
| BARBARA-ANN (1961) (Regents) | |
Years in activity :
| | | | | | | | | | | |
| --- | --- | --- | --- | --- | --- | --- | --- | --- | --- | --- |
| 1910 | 20 | 30 | 40 | 50 | 60 | 70 | 80 | 90 | 2000 | 10 |
DISCOGRAPHY
Singles & EP
09/1960
SP KAYO 101 C-O (US)
.
REGENTS - That's What I Call A Good Time / No Hard Feelings
03/1961
SP COUSINS 1002 (US)
.
REGENTS - Barbara-Ann / I'm So Lonely
1961
SP COUSINS 1004 (US)
.
RUNAROUNDS - Mashed Potato Mary / I'm All Alone
04/1961
SP GEE G-1065 (US)
.
REGENTS - Barbara-Ann / I'm So Lonely
06/1961
SP GEE G-1071 (US)
.
REGENTS - Runaround / Laura My Darling
10/1961
SP GEE G-1073 (US)
.
REGENTS - Liar / Don't Be A Fool
12/1961
SP GEE G-1075 (US)
.
REGENTS - Lonesome Boy / Oh Baby
1961
SP ROULETTE REP-1033 (SW)
REGENTS - Barbara-Ann / Lonesome Boy / Runaround / Autumn Leaves
1962
SP SEVILLE 45-118 (US)
.
DESIRES - Story Of Love / I Ask You
1962
SP KC KC-113 (US)
.
RUNAROUNDS - Unbelievable / Hooray For Love
08/1963
SP KC KC-116 (US)
.
RUN-A-ROUNDS - Unbelievable / Hooray For Love
1963
SP TARHEEL 45-065 (US)
.
RUN-A-ROUNDS - Let Them Talk / You're Looking For A Sweetheart
08/1964
SP FELSTED 45-8704 (US)
.
RUNAROUNDS - Carrie (You're An Angel) / Send Her Back
05/1966
SP CAPITOL 5644 (US)
.
RUNAROUNDS - Perfect Woman / You're A Drag
07/1967
SP MGM K 13763 (US)
.
T. COSGROVE & The ELEGANT FOUR - You Lied / My Little Girl
1973
SP ROULETTE

Golden Goodies Hits Series

GG 5 (US)

.
Barbara-Ann (REGENTS) / Woo-Hoo (inst.) (Rock-A-Teens)
1973
SP GOLDIES 45 D-2520 (US)
.
REGENTS - Barbara-Ann / I'm So Lonely
1973
SP BELLAPHON BO 106 (GER)
Woo-Hoo (inst.) (Rock-A-Teens) / Barbara-Ann (REGENTS)
????
SP GOLDIES 45 OL 162 (US)
.
REGENTS - Barbara-Ann / I'm So Lonely
????
SP COLLECTABLES COL 0117 (US)
.
REGENTS - Barbara-Ann / Runaround
Unissued Tracks
| | | |
| --- | --- | --- |
| 196? | Unissued | Over The Raimbow (REGENTS) |
| 196? | Unissued | A Lovely Way To Spend An Evening (RUN-A-ROUNDS) |
| 196? | Unissued | Crazy Love (RUN-A-ROUNDS) |
| 196? | Unissued | Tonight Could Be The Night (RUN-A-ROUNDS) |
| 196? | Unissued | Barbara Ann / Teenage Love (DESIRES) |
Albums
1961
LP 12" GEE SGLP 706 (US)
BARBARA-ANN - Barbara Ann / Autum Leaves / A Sunday Kind Of Love / Laura My Darling / Summertime / Jeanette, Jeanette / Run Around / Just Cry / Lonesome Boy / I'm So Lonely / Your Love Captured Me / A Fool In Love
1964
LP 12" CAPITOL SKAO-2153 (US)
LIVE AT THE AM-PM DISCOTHEQUE - Delano Soul Beat - Searchin' / Hully Gully / Lindo Lu / Comin' Home, Baby / Mojo Workout / Peanut Butter / Sugaree / Blue Suede Shoes / Gonzo / Poison Ivy / Theme And Close
1987 ?
LP 12" Crystal Ball ‎LP-123 (US)

The Runarounds A.K.A The Regents - Hooray For Love / Are You Looking For A Sweetheart / Carrie, (You're An Angel) / Don't Be A Fool / You Lied / Crazy Love / A Lovely Way To Spend An Evening / Unbelievable / Unbelievable / Let Them Talk / Liar / Perfect Woman / My Little Girl / Tonight Could Be The Night / Let Them Talk / Carrie

10/1991
CD COLLECTABLES 5403 (US)
BARBARA-ANN -

Barbara Ann / Autumn Leaves / Your Love Captured Me / Summertime / Sunday Kind Of Love / Jeanette, Jeanette / Lonesome Boy / A Fool In Love / Run Around / Just Cry / I'm So Lonely /

Laura
02/1999
CD BUFFALO BOP DJCD 55043 (GER)
REGENTS AKA RUNAROUNDS - Are You Looking For A Sweetheart / Let Them Talk / Hooray For Love / Unbelievable / Barbara Ann / Liar / Don't Be A Fool / Oh Baby / I Ask You / Story Of Love / Carrie (You're An Angel) / Summer Is Thru / Call On Me / He's Gone (Lonely Summer) / Send Her Back / Perfect Woman / Goodness Of Love / Love Me / Run Run Run / You Lied / My Little Girl / Crazy Love [demo version] / Tonight (Could Be The Night) / Carrie (You're An Angel) [alternate version] / Let Them Talk [alternate version] / Unbelievable [alternate take][demo version] / I'm So Lonely / Dream Girl / La-Te-Da [acappella] / I Ask You [acappella] / Don't Be A Fool [acappella] / Thank You Lord Above [acappella]
07/2005
CD COLLECTABLES 9922 (US)
BARBARA ANN -

Barbara Ann / A Sunday Kind Of Love / Laura / Runaround / Over The Rainbow / Autumn Leaves / Jeanette, Jeanette / Summertime / I'm So Lonely /

A Fool In Love
7/2009
CD COLLECTABLES COLCD 1381 (US)
THE REGENTS MEET JOEY DEE & THE STARLITERS -

Barbara Ann (REGENTS) / A Sunday Kind Of Love (REGENTS) / Laura (REGENTS) / Run Around (REGENTS) / Over The Rainbow (REGENTS) / Peppermint Twist - Part 1 (

Joey DEE & THE STARLITERS) /

Peppermint Twist - Part 2

(

Joey DEE & THE STARLITERS) /

What Kind Of Love Is This (

Joey DEE & THE STARLITERS) /

Hey Let's Twist (

Joey DEE & THE STARLITERS) /

(Hot Pastrami With) Mashed Potatoes

(

Joey DEE & THE STARLITERS)
© Rocky Productions 31/08/2017