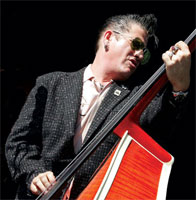 Chanteur et contrebassiste Rockabilly US né Lee Drucker à Long Island (New York) le 3 août 1961. Lee Rocker a fait parti des Stray Cats.

A longtime bassist with the rockabilly revival trio the Stray Cats, Lee Rocker was born Lee Drucker in 1961. With fellow Long Island schoolmates Brian Setzer and Slim Jim Phantom, he formed the Stray Cats in 1979. The group relocated to London the following year, scoring a series of U.K. Top Ten hits including "Runaway Boys," "Stray Cat Strut," and "Rock This Town" before returning stateside to enjoy similar success. The group's meteoric rise took its toll on the bandmembers, however, and in 1983 they split up; Rocker and Phantom then recruited ex-David Bowie guitarist Earl Slick to form Phantom, Rocker & Slick, scoring a minor hit in 1985 with "Men Without Shame.
The Stray Cats re-formed in 1986, failing to recapture their past glories; concurrently, Rocker also collaborated with the likes of Carl Perkins and Dave Edmunds. In the wake of 1992's Choo Choo Hot Fish, the Stray Cats again dissolved, with Setzer soon becoming a leading figure in the swing revival movement; Rocker, meanwhile, mounted a solo career that commenced in 1994 with the album Big Blue and continued with efforts including 1995's Atomic Boogie Hour, 1998's No Cats, and 1999's Lee Rocker Live. Four years passed before he returned with the blistering Bulletproof on the 33rd Street label. Racin' the Devil appeared in 2006 on Alligator, followed by Black Cat Bone in 2007 and Rock This World in 2009.
https://en.wikipedia.org/wiki/Lee_Rocker
Talents : Vocals, Bass
Style musical : Rockabilly, Rock 'n' Roll, Blues

https://youtu.be/KAICnHqU8i8
Years in activity :
| | | | | | | | | | | | |
| --- | --- | --- | --- | --- | --- | --- | --- | --- | --- | --- | --- |
| 1910 | 20 | 30 | 40 | 50 | 60 | 70 | 80 | 90 | 2000 | 10 | 20 |
DISCOGRAPHY
EP
| | | | |
| --- | --- | --- | --- |
| 2011 | CD NOT ON LABEL (US) | | THE COVER SESSIONS - Come Together / Drivin' My Life Away / Honkey Cat / City Of New Orleans / Ramblin' Man / Come Dancing |
Albums
07/1994
CD BLACK TOP 1105 (US)
LEE ROCKER'S BIG BLUE - Ain't No Way / Till It Hurts / How Long / Lie To Me / Hear You Moan / Shame Shame Shame / Little Buster / Darlin Darlene / Find Another Man / Got My Mind On You / Big Blue Train / The Hucklebuck / Rag Mama Rag
10/1995
CD BLACK TOP 1121 (US)
ATOMIC BOOGIE HOUR - Lee

Rocker

& BIG BLUE - Call Me The Rocker (Rockin' Daddy) / Goin' Down Hard / Congratulations / A Taste Of You / Your Man's Gone / Jimmy, Jimmy / Take It Slow / Memphis Freeze / Can't Say No / 6th Street Blues / When You're Not Here / Beautiful Delilah
09/1998
CD SOLID DISCS 7018 (US)
NO CATS - Rumblin' Bass / Miracle In Memphis / One Way Or Another / Shaky Town / Screaming Hunger / Love Me Good / Little Piece Of Your Love / Memphis Freeze / Mr. Newman / Into The Void / Movin' On / Hard Rain / The Naked Bass
06/1999
CD J-BIRD 80289 (US)
LEE ROCKER LIVE - Restless / Love Me Good / That's All Right - Blue Moon Of Kentucky - Eastbound And Down / Mind Your Own Business / The Redneck Mama / Miracle In Memphis / Everybody's Tryin' To Be My Baby / Please Don't Touch / Little Piece Of Your Love / Little Buster
2000
CD Stress FJ-0001049 (RUS) (unofficial release)
LEE ROCKER'S BIG BLUE - Ain't No Way / Till It Hurts / How Long / Lie To Me / Hear You Moan / Shame Shame Shame / Little Buster / Darlin Darlene / Find Another Man / Got My Mind On You / Big Blue Train / The Hucklebuck / Rag Mama Rag
06/2001
CD HYPERTENSION 1206 HYP (GER)
BLUE SUEDE NIGHTS - LIVE ROCKABILLY - Restless / Love Me Good / That's Allright - Bluemoon Of Kentucky - Eastbound And Down / Mind Your Own Business / Red Neck Mama / Miracle In Memphis / Everybody's Tryin' To Be My Baby / Please Don't Touch / Little Piece Of Your Love / Little Buster / Rumblin' Bass / Frankie And Johnny / Put Your Cat Clothes On
02/2003
CD 33RD STREET 3316 (US)
BULLETPROOF - Evil / Blue Suede Nights / Nervous Little Angel / Bulletproof / Upright And Underground / Midnight Shift / Dog Gone Right / One More Shot / She's Gone / Little Lies / I'll Cry Instead / Johnny, Frankie's Man / Nothing Lasts Forever / Bottom's Up
05/2003
LP 10" RAUCOUS 118 (UK)
UPRIGHT AND KICKIN' - Restless / Love Me Good / That's Alright Mama / Miracle In Memphis / Everybody's Trying To Be My Baby / Please Don't Touch / Little Piece Of Your Love / Little Buster / Rumblin' Bass / Put Your Cat Cothes On
09/2004
CD HYPERTENSION HYP 4230 (GER)
THE BEST OF LEE ROCKER - BURNIN' LOVE - Burnin' Love (unreleased studio track) / Little Piece Of Your Love / Miracle In Memphis / Jimmy, Jimmy / Whiskey River (unreleased studio track) / Shame, Shame, Shame / Shakey Town / Darlin Darlene / Screaming Hunger / Take It Slow / Memphis Freeze / Goin' Down Hard / Movin' On / Viva Las Vegas (unreleased studio track) / Those Days Are Done (unreleased studio track) / Hard Headed Woman (unreleased studio track) / Rumblin Bass / That's Alright - Blue Moon Of Kentucky - Eastbound And Down / Bulletproof / Please Don't Touch / Blue Suede Nights / Rag Mama Rag
07/2005
CD HYPERTENSION HYP 5241 (GER)
THE CURSE OF ROCKABILLY - Rock This Town / Runnin' From The Hounds / Race Track Blues / Texarkana To Panama City / Funny Car Grave Yard / Say When / The Girl From Hell / Lost On The Highway / The River Runs / Ramblin' / Swing This / Rockin Harder
06/2006
CD ALLIGATOR ALCD 4907 (GER)
RACIN' THE DEVIL - The Girl From Hell / Rock This Town / The River Runs / Say When / Race Track Blues / Ramblin' / Runnin' From The Hounds / Rockin' Harder / Texarkana To Panama City / Lost On The Highway / Funny Car Graveyard / Swing This
08/2007
CD ALLIGATOR 4917 (US)
BLACK CAT BONE - Gone / Crazy When She Drinks / One More Night / Black Cat Bone / Lost Highway / Rebel / Sold Us Down The River / What I Don't Know / String Bass, Guitar And A Drum / The Wall Of Death / Sometimes You Win / The Highway Is My Home / Free Bass
2008
CD Raucous RAUCD 228 (UK)
NO CATS - Rumblin' Bass / Miracle In Memphis / One Way Or Another / Shaky Town / Screaming Hunger / Love Me Good / Little Piece Of Your Love / Memphis Freeze / Mr. Newman / Into The Void / Movin' On / Hard Rain / The Naked Bass
03/2012
CD UPRIGHT 1002-2 (US)
NIGHT TRAIN TO MEMPHIS - Night Train To Memphis / That's All Right - Blue Moon Of Kentucky / Slap The Bass / Built For Speed / Rockabilly Boogie / Honey Don't / So Sad / Tear In My Beer / Lonesome Tears / Twenty Flight Rock / Wild Child
© Rocky Productions 23/05/2012