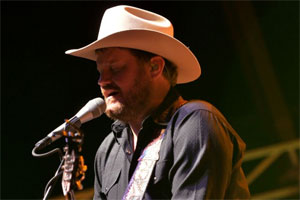 Chanteur Country US né le 23 Août 1981 à Cleburne (Texas).

From an early age, music was an important part of Randy Rogers' life. Rogers was raised in Cleburne, Texas, and his great-grandmother taught him how to play the piano at age six; by 11 he was writing his own songs and learning chords on the guitar. After some time spent in a backing band, Rogers decided that he wanted to front his own group, and soon he and some friends from college formed the Randy Rogers Band, releasing their debut album, Live at Cheatham St. Warehouse, recorded at the bar of the same name in San Marcos, Texas, shortly after their first practice.
In 2002, their first studio album, Like It Used to Be, came out, followed by 2004's Rollercoaster, which featured the by-then solidified lineup of Geoffrey Hill on guitar, Jon Richardson on bass, Brady Black on fiddle, and Les Lawless on drums. The next year, RRB released Live at Billy Bob's Texas and also signed to major-label Mercury Nashville, which issued Just a Matter of Time in 2006. Rolling Stone magazine ranked them alongside such artists as U2 and the Stones in its list of Top Ten Must-See Artists in the summer of 2007.
They grossed $2.5 million in touring for the year, a staggering figure for a still-developing act. They also shared stages with Willie Nelson, the Eagles, Gary Allan, and Dierks Bentley. They followed that banner year by releasing a self-titled album produced by Radney Foste in 2008, followed by more extensive touring. They moved over to MCA Nashville for 2010's Burning the Day, which was produced by Paul Worley and preceded by the single "Too Late for Goodbye." Both the single and album performed well, with the latter peaking at eight on the Billboard charts.
The Randy Rogers Band worked on their sixth studio album during 2012, releasing the single "One More Sad Song" toward the end of the year. This became their highest-charting song to date, peaking at 38 on the country charts, helping Trouble reach number three on Billboard's country album charts and nine on the Top 200 when it appeared in April of 2013. A year of touring followed Trouble, including two concerts at Helotes, Texas' Floore's Country Store that were recorded for the 2014 double-live album Homemade Tamales. Rogers continued to embrace his newfound independence by recording a duet album with Wade Bowen called Hold My Beer, Vol. 1. Released on Lil' Buddy Toons, the record appeared in April 2015 and Rogers and Bowen supported it with a summer tour. Rogers reconvened the Randy Rogers Band for Nothing Shines Like Neon, a studio album released in January of 2016. That autumn, Rogers and Bowen released the live album Watch This.
http://www.randyrogersband.com/
http://www.myspace.com/randyrogersband
https://en.wikipedia.org/wiki/Randy_Rogers_Band
Talents : Vocals, Guitar
Style musical : Country Rock, Contemporary Country, Alternative Country, Traditional Country

https://youtu.be/heQNyYhuHZ4
Years in activity :
| | | | | | | | | | | | |
| --- | --- | --- | --- | --- | --- | --- | --- | --- | --- | --- | --- |
| 1910 | 20 | 30 | 40 | 50 | 60 | 70 | 80 | 90 | 2000 | 10 | 20 |
DISCOGRAPHY
Albums
12/2000
CD ? (US)
LIVE AT CHEATHAM

ST. WAREHOUSE

- RANDY ROGERS BAND - Where You And I Belong / Superman / Live On / Memory / Just This Side Of Heaven / The Ballad Of Stanley / 65 Degrees / Lost And Found / Still Here / I Miss You With Me
06/2002
CD DOWNTIME 9822 (US)
LIKE IT USED TO BE - RANDY ROGERS BAND - Disappear / Still Be Losing You / One Thing I Know / Lost And Found / Tommy Jackson / Friends With Benefits / Company You Keep / Like It Used To Be / Reason To Stay / Copano Bay / Memory
08/2004
CD SMITH MUSIC GROUP 7028 (US)
ROLLERCOASTER - RANDY ROGERS BAND - Down & Out / Somebody Take Me Home / This Time Around / Love Must Follow You Around / Lay It All On You / Tonight's Not The Night (For Goodbye) / Again / Can't Slow Down / They Call It The Hill Country / Ten Miles Deep / I Miss You With Me
08/2005
CD SMITH MUSIC GROUP 5037 (US)

LIVE AT BILLY BOB'S TEXAS -

RANDY ROGERS BAND - Somebody Take Me Home / Down And Out / Like It Used To Be / Company You Keep / Still Be Losing You / Can't Slow Down / Love Must Follow You Around / One Thing I Know / Again / I Never Meant To Break Your Heart / Ten Miles Deep / Tonight's Not The Night (For Goodbye) / They Call It The Hill Country / Lost And Found / This Time Around / An Empty Glass (That's The Way The Day Ends)
09/2006
CD MERCURY 7003 (US)
JUST A MATTER OF TIME - RANDY ROGERS BAND - Better Off Wrong / Kiss Me In The Dark / One More Goodbye / Just A Matter Of Time / You Could've Left Me / You Could Change My Mind / Before I Believe It's True / You Start Over Your Way / If Anyone Asks / You Don't Know Me / If I Told You The Truth / Whiskey's Got A Hold On Me
09/2008
CD MERCURY 001141902 (US)
RANDY ROGERS BAND - Wicked Ways / Better Than I Ought To Be / Lonely Too Long / One Woman / Never Be That High / Didn't Know You Could / In My Arms Instead / When The Circus Leaves Town / Buy Myself A Chance / Break Even / Let It Go / This Is Goodbye
08/2010
CD MCA B001421701 (US)
BURNING THE DAY - RANDY ROGERS BAND - Interstate / Damn The Rain / Too Late For Goodbye / Missing You Is More Than I Can Do / Holding On To Letting Go / Just Don't Tell Me The Truth / I've Been Looking For You So Long / Steal You Away / Starting Over For The Last Time / I Met Lonely Tonight / Last Last Chance
04/2013
CD MCA B 001716002 (US)
TROUBLE - RANDY ROGERS BAND -

Goodbye Lonely / Fuzzy / Speak Of The Devil / Flash Flood / Trouble Knows My Name / One More Sad Song / If I Had Another Heart / Don't Deserve You / Had To Give That Up Too / Shotgun / Never Got Around To That

04/2014
2 CD + 1 DVD Relativity / Thirty Tigers 529063042 (EUR)

Homemade Tamales - Live at Floore's

- RANDY ROGERS BAND

:

CD 1 : Intro / Trouble Knows My Name / Interstate / Buy Myself A Chance / Tonight's Not The Night (For Goodbye) / Better Off Wrong / Speak Of The Devil / Flash Flood / This Time Around / If I Had Another Heart / Last Last Chance / One More Goodbye / Goodbye Lonely / Somebody Take Me Home
CD 2 : Ten Miles Deep / Kiss Me In The Dark / Too Late For Goodbye / In My Arms Instead / Fuzzy / Can't Slow Down / Like It Used To Be / I've Been Looking For You So Long / They Call It The Hill Country / Down And Out / Satellite / She's Gonna Run
DVD :

Homemade Tamales - Live at Floore's

04/2015
CD Lil' Buddy Toons 38010 (US)
Hold My Beer - Vol. 1 - RANDY ROGERS & WADE BOWEN - In The Next Life / I Had My Hopes Up High / 'Til It Does / Good Luck With That / It's Been A Great Afternoon / Standards / El Dorado / Hangin' Out In Bars / Lady Bug / Reasons To Quit
01/2016
CD Tommy Jackson 4512 (US)
NEON - RANDY ROGERS BAND - San Antone / Rain And The Radio / Neon Blues / Things I Need To Quit / Look Out Yonder (

Randy Rogers Band

feat: Alison

Krauss

/ Dan

Tyminski

) / Tequila Eyes / Takin' It As It Comes (

Randy Rogers Band

feat: Jerry Jeff

Walker

) / Old Moon New / Meet Me Tonight / Actin' Crazy (

Randy Rogers Band

feat: Jamey

Johnson

) / Pour One For The Poor One
06/2016
CD GOOD TIME 73837 (US)

Watch This - Randy Rogers & Wade Bowen - Tonight's Not The Night / Mood Ring / Buy Myself A Chance / Trouble / Interstate / Songs About Trucks / In My Arms Instead / You Had Me At My Best / Too Late For Goodbye / Whataburger / West Texas Rain / Fuzzy / Things I Could Do / Satellite / One Step Closer / Kiss Me In The Dark / Who I Am / She's Gonna Run / Saturday Night
© Rocky Productions 14/02/2018