| | |
| --- | --- |
| | |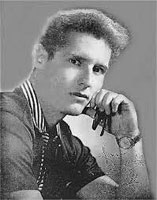 Producteur et chanteur Rock 'n' Roll né Marvin Ray Ruffin, le 24 Mars 1938 ŕ Amarillo (Texas). Ray Ruff est mort ŕ Saugus (Californie), le 15 Septembre 2005.



Producer and promoter Ray Ruff was instrumental in grooming the careers of countless Nashville stars—not bad for a failed Buddy Holly knock-off. Born Marvin Ray Ruffin in Amarillo, Texas in 1938, he was 18 when joined the staff of producer Norman Petty's Clovis, New Mexico recording studio, the site where Holly recorded his earliest hits. After Holly's tragic death, Petty groomed Ruff as the singer's replacement and assembled a backing band dubbed the Checkmates. Between 1959 and 1963 Ruff cut some two dozen Petty-produced sides and even often wore Holly's trademark horn-rimmed glasses in the studio. The end result was a pale imitation at best and singles including "I Need Someone," "Love Made a Fool of You," and "My Gift to You" went nowhere. Ruff, however, learned a thing or two about the music industry from Petty, and after a brief tenure with the Lin label, where he cut the 1964 novelty tune "Beatle Maniacs," Ruff founded his own short-lived Storme label on which he issued his final headlining effort "Ummm Oh Yeah." He then relocated to Los Angeles and signed with Dot Records' A&R staff. Widely credited as the father of modern music promotion thanks to his ingenious, headline-grabbing stunts, Ruff eventually took over the label's A&R department. He also moved into production and worked with such artists as Glen Campbell, Lesley Gore, Brian Hyland, and the Blue Things.
In 1970, MGM Records president Mike Curb wooed Ruff away from Dot to head his own MGM affiliate, Oak Records. At Oak, he also resumed his recording career and teamed with singer/songwriter Val Stoecklein to create a Biblical rock opera titled Truth of Truths. Ruff took a leave of absence in 1972 to mount an unsuccessful run at the U.S. House of Representatives, but returned to music in 1974 and began work on Happy Birthday U.S.A., a Bicentennial-inspired album commissioned by Congress and the National Endowment for the Arts. During production on the project, Ruff met singer Susie Allanson, of whom he later became manager and husband. In 1977 Ruff and Curb began Curb Records, the country label where Ruff enjoyed his greatest success. To promote Debby Boone's "You Light Up My Life," he arranged for security trucks to deliver copies of the single to radio stations across the country and galvanized a record that not only spent ten weeks atop the Billboard pop charts, but became one of the signature songs of the decade. Through Curb's affiliation with the Warner and Capitol families, he worked with many of the biggest names in Nashville, including Kenny Rogers, Hank Williams, Jr., Merle Haggard, and George Strait. In addition, Ruff launched the careers of artists such as Dwight Yoakam, Juice Newton, Reba McEntire, and Kathy Mattea. While overseeing a resurrected Oak label, Ruff suffered congestive heart failure and pulmonary edema and died at his home in Saugus, California on September 15, 2005.
Talents : Producer, Promoter, Vocals
Style musical : Rock 'n' Roll
Years in activity :
| | | | | | | | | | | | |
| --- | --- | --- | --- | --- | --- | --- | --- | --- | --- | --- | --- |
| 1910 | 20 | 30 | 40 | 50 | 60 | 70 | 80 | 90 | 2000 | 10 | 20 |
DISCOGRAPHY
Singles
Unissued Track
Albums
| | | | |
| --- | --- | --- | --- |
| 2002 | CD HOT HOLLY ? (US) | | MY GIFT TO YOU - HIS VERY BEST - Half Pint Baby / I Took A Liking To You / Beatle Maniacs / Long Long Ponytail / My Wish Is You / Humm Oh Yeah / Well All Right / Love / My Gift To You / Pledge Of Love / Pretty Blue Eyes / I'm Gonna Love You Too / Lonely Hours / In Dreamland / A Fool Again / Angel Blue / Love's Made A Fool Of You / Let Me Tell You About Linda / I Need Someone / The Girlfriend's Car / All The Time Now / Hey Girl |
| 02/2003 | CD HYDRA 27116 (GER) | | THE BUDDY HOLLY SOUND OF RAY RUFF - Ray RUFF & The CHECKMATES - I Took A Liking To You / Beatle Maniacs / Long Long Ponytail / My Wish Is You / (Ummm, Oh Yeah) Dearest / Well...All Right / Love / My Gift To You / Pledge Of Love / Pretty Blue Eyes / I'm Gonna Love You Too / Lonely Hours / In Dreamland / A Fool Again / Angel Blue / Love Made A Fool Of Me / Let Me Teel You About Linda / I Need Someone / The Girlfriend's Car / Half-Pint Baby / I'm Qualified / A Dream / The KIXZ Twist / You Call Everybody Darling |
© Rocky Productions 8/11/2009