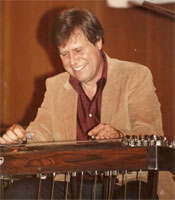 Steel-guitariste Country US né le 21 Juillet 1936 en Arizona. Hal Rugg a accompagné les plus grands de la Country Music : Billy Walker, Jean Shepard, Ray Pillow, Ernie Ashworth, Nat Stuckey, Porter Wagoner, Norma Jean, Sammi Smith, Ray Stevens, Ronnie Milsap, Ray Price, Barbara Mandrell, K. D. Lang, Eddie Rabbit, Johnny Russell, Joan Baez, Loretta Lynn, Rick Van Shelton, Sammy Kershaw et Steve Wariner. Il est décédé le 9 Août 2005 à Tuckson (Arizona).

Not to pull the carpet out from anyone else with a slide bar, but Hal Rugg is one of the kings of the pedal steel guitar, acknowledged as a genius and inspiration just about every time a fellow player on this delicious-sounding and essential country & western instrument is interviewed about important influences. One of the great collaborations in country music is that between Rugg and the great singer/songwriter Loretta Lynn. Rugg appears on many Lynn recordings, creating a legacy of hot intros, solos, and general licks that will keep pedal steel players up each and every night.
Rugg began playing professionally in clubs and shows in the '50s around Tucson, AZ. He moved to Illinois to work the same sorts of jobs later in that decade, continuing on to Minneapolis in 1959 where he worked a regular gig at the ultra-hot Flame Club with Dave Dudley, the deep-voiced country baritone whose song "Six Days on the Road" is definitely one of the most famous truck driving country songs ever written. Various Grand Ole Opry acts such as Bobby Lord and Billy Grammer came through town, some of them encouraging Rugg to leave the frozen Minnesota tundra for the country-picking heaven of Nashville, which he finally did in 1961. It was a natural home base for a steel player to pick up work in bands, and Rugg began a long series of touring assignments with Lord, Jean Shepard, Stonewall Jackson, Bill Carlisle, and Leroy Van Dyke. In 1963, Rugg became a regular member of the George Jones band and got the chance to record his first real Nashville session. The album was entitled The Best of George Jones, a title fraught with peril as it is not only a difficult choice to make, but would even wind up being used as the title for a half-dozen different Jones collections. Nonetheless, this particular best-of actually included two instrumentals that showcased the talents of the young pedal steel player, quite a compliment for Jones to be paying Rugg. Either way, the label behind this project became so enamored with Rugg that he was contracted to a regular series of recording dates, becoming Rugg's first major account. He also recorded with Benny Barnes, Floyd Tillman, Johnny Mathis, Billy Walker, Jean Shepard, Ray Pillow, Ernie Ashworth, Nat Stuckey, Porter Wagoner, Norma Jean, Sammi Smith, Ray Stevens, Ronnie Milsap, Ray Price, Barbara Mandrell, k.d. Lang, Leon Russell, Eddie Rabbit, Johnny Russell, and, of course, the previously mentioned Lynn. Part of his success as a studio musician was his ongoing relationships with several key producers. One was Owen Bradley, who produced many of Lynn's albums, as well as the defining series of Patsy Cline albums that began to change the sound of country & western music to something a bit more sophisticated, a transition Rugg was certainly ready for with his happening musical chops. Another of Rugg's producing pals was Bill Walker, with whom he began working sometime in the early '70s. Walker was a producer for Capitol, creating record projects for the label's country artists such as Donna Fargo and Roy Clark. But he also wore the hat of bandleader on many Nashville awards shows and became the musical director on The Statler Brothers' Show in the '90s. Rugg appeared on this program for seven years. Rugg also appeared on many other television shows devoted to country music, including Country Junction, The Stu Phillips Show, The Wilburn Brothers' Show, Good Ole Nashville Music, The Jimmy Dean Show, and Music Hall America. He also sometimes steps outside of the country world, such as his recording sessions with folksinger Joan Baez or a rock album with Gene Pitney.
In 1963, Rugg joined the Grand Ole Opry and was a staff picker there until 1979. He was inducted into the Steel Guitar Hall of Fame in 1989. He has released two solo albums, Finally and Slidin' for Scale, on the Sweet T Music label. Firmly established as one of the honchos of the pedal steel, he is regularly in demand for special events focusing around the instrument, including gala jam sessions, instrument manufacturers' conventions, and educational workshops.
http://mattysvision.com/about-hal-rugg/
Talents : Steel-guitar
Style musical : Traditional Country

https://youtu.be/8h3538VdY1o
Years in activity :
| | | | | | | | | | | | |
| --- | --- | --- | --- | --- | --- | --- | --- | --- | --- | --- | --- |
| 1910 | 20 | 30 | 40 | 50 | 60 | 70 | 80 | 90 | 2000 | 10 | 20 |
DISCOGRAPHY
Singles
1972
SP Agape 45-9010 (US)

The Family Jewels featuring Hal Rugg - Buddy Spicher - Sweet Sauce / Chicken Gumbo

1975
SP Mega MR-1227 (US) (promo)

Sonny, Hal & Weldon -

Steel Guitar Rag [mono] / Steel Guitar Rag [stereo]
1975
SP Mega MR-1234 (US) (promo)

Sonny, Hal & Weldon - The Great Speckled Nird / Killing Me Softly With His Song

12/1975
SP Mega MR-1243 (US) (promo)

Sonny, Hal & Weldon -

Sundown / Medley : Maiden's Prayer - Faded Love
Albums
| | | | |
| --- | --- | --- | --- |
| 1971 | LP 12" HAPPY TIGER HT-1011 (US) | | HAL RUGG STEELS THE HITS OF LORETTA LYNN - Wine, Women And Song / You Ain't Woman Enough / Happy Birthday / To Make A Man / Fist City / Wings Upon Your Horns / Your Squaw Is On The Warpath / Don't Come Home A Drinkin' (With Lovin' On Your Mind) / Blue Kentucky Girl / I Know How / Success / Woman Of The World |
| 1975 | LP 12" Mega MLPS-610 (US) | | Steel Guitars Of The Grand Ole Opry - SONNY, HAL & WELDON - Sonny Burnette, Hal Rugg & Weldon Myrick - Steel Guitar Rag / This Time I Almost Made It / Life's Railway To Heaven / Jamaican Steel / City Lights / Annie's Song / Sundown / The Great Speckled Bird / Killing Me Softly / The Waltz You Saved For Me / If You Love Me Let Me Know / Medley: Maiden's Prayer - Faded Love |
| 1976 | LP 12" Steel Guitar Record Club ‎ Club Record No. 9 | | Hal Rug Steels The Hits Of Loretta Lynn - Your Squaw Is On The Warpath / Don't Come Home A-Drinkín' / Blue Kentucky Girl / I Know How / Woman Of The World / Succes / Wine Woman And Song / You Ain't Woman Enough / Happy Birthday / To Make A Man / Fist City / Wings Upon Your Horns |
| 1979 | LP 12" Mid-Land MD-29 (US) | | Altered Ego - Altered Ego / I Love You Recause / All The Things You Are / Loretta Lynn Medley / Here's That Rainy Day / Truck Drivin' Man / Send In The Clowns |
| 2000 | CD Sweet T Music ? (US) | | Slidin' For Scale - Please Don`t Leave Me Anymore / Crazy / Bubbles In My Beer / Take Me As I Am / Canadian Sunset / Makin` Believe / Down To My Last Cigarette / Colombus Stockade Blues / The Old Rugged Cross / Back Home Again In Indiana |
| 2000 | CD Sweet T Music ? (US) | | Finally! - Relaxin' / I Love You Because / Swanee River / Blue Eyes Crying In The Rain / Watch What Happens / Release Me / We Could / Deep Water / In The Garden / C Jam Blues |
| 200? | CD Sweet T Music ? (US) | | Rise Again - Rise Again / Why Me Lord / What A Friend We Have In Jesus / His Name Is Wonderful / The Old Rugged Cross / How Great Thou Art / Amazing Grace / He's Got The Whole World In His Hands / In The Garden / Peace In The Valley |
| 04/2002 | CD Mike Auldridge Productions RESO-1001 (US) | | Resocasters - Mike Auldridge, Jim Heffernan, & Hal Rugg - Rock Bottom; Second Avenue / Roly Poly / Irish Spring / Evangelina / Charmaine / Sugar Foot Rag / I'll Rise Again / Blue Yodel / Last Call At Syzlak's / Doin' The Charlton / Girl From The Heights |
© Rocky Productions 13/03/2018