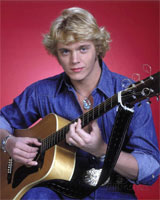 Acteur et chanteur Country né John Richard Schneider, le 8 Avril 1960 à Mount Kisco (New York). John Schneider est surtout connu en France par la série TV "The Dukes Of Hazzard" (Sheriff Fait Moi Peur).

Best known for playing Bo Duke on the hit TV series The Dukes of Hazzard, John Schneider also maintained a parallel secondary career as a country singer for much of the '80s. Born in Mt. Kisco, New York, in 1960, Schneider grew up in Atlanta and started acting at the age of eight; he also learned guitar, and as a teenager he entertained at parties and other social events. He loved auto racing and briefly attempted to become a professional, and that experience helped him land his co-starring role on The Dukes of Hazzard in 1979. He remained with the series until its cancellation in 1985, with a brief interruption due to a contract walkout in 1982, and also appeared in several films and TV movies.
Meanwhile, Schneider recorded a country album called Now or Never for Scotti Brothers in 1981. It was a Top Ten hit on the country charts, and the single "It's Now or Never" made the Top Five on both the country and adult contemporary charts, just missing the pop Top Ten. The holiday album White Christmas followed, and Schneider went on to sign with MCA, issuing five albums from 1984-1987. He scored four number one singles during that time: "I've Been Around Enough to Know" (1984), "Country Girls" (1985), and "What's a Memory Like You (Doing in a Love Like This)" and "You're the Last Thing I Needed Tonight" (both 1986). He also managed five other Top Ten hits, and one of his LPs, 1986's A Memory Like You, topped the country charts.
Schneider kept his acting career going with a variety of guest starring roles on television, plus a few films, and appeared in a couple of Dukes of Hazzard reunion projects. He returned to the spotlight in 2001, when he landed the role of Clark Kent's father on the popular WB series Smallville. From that point forward, Schneider worked regularly on film and television, including providing voices for animated series. He resumed his recording career in a low-key fashion in 2009 with the self-released John's Acoustic Christmas, which was followed by another holiday album in 2014: a collaboration with his Dukes of Hazzard costar Tom Wopat called Home for Christmas. Schneider signed with Maven Music in 2016, releasing Ruffled Skirts, which featured Cajun Navy as support, that year. In 2018, Schneider released Odyssey, an ambitious 52-song exploration of American roots music.
https://en.wikipedia.org/wiki/John_Schneider_(screen_actor)
Talents : Vocals, Songwriter, Guitar, Piano, Actor
Style musical : Traditional Country, Country-Pop

https://youtu.be/pR6qcXn17CY
Years in activity :
| | | | | | | | | | | | |
| --- | --- | --- | --- | --- | --- | --- | --- | --- | --- | --- | --- |
| 1910 | 20 | 30 | 40 | 50 | 60 | 70 | 80 | 90 | 2000 | 10 | 20 |
DISCOGRAPHY
Singles
05/1981
SP SCOTTI BROS.

ZS6-02105 (US)

It's Now Or Never / Stay

1981
SP SCOTTI BROS.

45-2102

(S)

It's Now Or Never / Stay

1981
SP SCOTTI BROS.

ZS6-02105 (JAP)

It's Now Or Never / Stay

06/1981
SP SCOTTI BROS. / BELLAPHON 100-07-116

(GER)

It's Now Or Never / Stay With Me

09/1981
SP SCOTTI BROS.

ZS6-02489 (US)

Them Good Ol' Boys Are Bad / Still

11/1981
SP SCOTTI BROS.

ZS5-02606 (US)

Kathy's Christmas Card / Silent Night

04/1982
SP SCOTTI BROS.

ZS5-02889 (US)

.

Dreamin /

Let Me Love You
04/1982
SP SCOTTI BROS. SCT A2231

(UK)

In The Driver's Seat / Let Me Love You

07/1982
SP SCOTTI BROS.

ZS5-03062 (US)

.

In The Driver's Seat /

They Got Nothin' On Him
11/1982
SP SCOTTI BROS.

ZS4-03369 (US)

.

Katey's Christmas Card / Silent Night

11/1982
SP SCOTTI BROS.

ZS4-03407 (US)

.

Livin' For Saturday Night / The Quiet Man

1982
SP SCOTTI BROS. / BELLAPHON 100-07-180

(GER)

In The Driver's Seat / Let Me Love You

1982
SP SCOTTI BROS. 45-2251 (S)

Dreaming / They Got Nothin' On Him

05/1983
SP SCOTTI BROS.

ZS-403945 (US)

.
Are You Lonesome Tonight (with Jill MICHAELS) / Hurts Like The Devil
09/1983
SP SCOTTI BROS.

ZS4-04064 (US)

.

If You Believe /

Every Night With You
06/1984
SP MCA

MCA-52407 (US)

.

I've Been Around Enough To Know / Trouble

11/1984
SP MCA

MCA-52510 (US)

Country Girls / The Time Of My Life

03/1985
SP MCA

MCA-52567 (US)

.

It's A Short Walk From Heaven To Hell / Honeymoon Wine

07/1985
SP MCA

MCA-52648 (US)

I'm Gonna Leave You Tomorrow / I Don't Feel Much Like A Cowboy Tonight

11/1985
SP MCA

MCA-52723 (US)

What's A Memory Like You (Doing In A Love Like This) / The One Who Got Away

04/1986
SP MCA

MCA-52827 (US)

.

You're The Last Thing I Needed Tonight /

One More Night
08/1986
SP MCA

MCA-52901 (US)

.

At The Sound Of The Tone /

This Time
12/1986
SP MCA

MCA-52989 (US)

.

Take The Long Way Home /

Better Class Of Losers
03/1987
SP MCA

MCA-53069 (US)

.

Love, You Ain't Seen The Last Of Me /

Credit

06/1987
SP MCA

MCA-53144 (US)

.

When The Right One Comes Along /

The Gunfighter
10/1987
SP MCA

MCA-53199 (US)

.

If It Was Anyone But You /

So Good

1989
SP MCA

MCA-53550 (US)

.

Country Girls / I've Been Around Enough To Know

1989
SP MCA

MCA-53551 (US)

.

What's A Memory Like You (Doing In A Love Like This) / You're The Last Thing I Needed Tonight

1989
SP MCA

MCA-53609 (US)

.

It's A Short Walk From Heaven To Hell / I'm Going To Leave You Tomorrow

11/2009
CD John EnEnly ? (US)
.
The Promise
| | |
| --- | --- |
| | |
Albums
05/1981
LP 12" SCOTTI BROS.

JZ-37400

(US)

NOW OR NEVER - It's Now Or Never / Still / Them Good Old Days Are Bad / No 34 In Atlanta / Stay With Me / Let Me Love You / Still Fallin' In Love With Love / Next Time Around / Stay / You Could Be The One Woman
10/1981
LP 12" SCOTTI BROS.

FZ-37617

(US)

WHITE CHRISTMAS - White Christmas / O Little Town Of Bethlehem / Winter Wonderland / Silver Bells / Silent Night / Christmas Song / Rudolph The Red Nosed Reindeer / Kathy's Christmas Card / Have Yourself A Merry Little Christmas / It's Christmas
04/1982
LP 12" SCOTTI BROS.

FZ-37956

(US)

QUIET MAN - Dreamin' / I Need Someone To Miss / In The Driver's Seat / Hurts Like The Devil / Quiet Man / Livin' For Saturday Night / Every Night With You / They Got Nothin' On Him / Love Like Ours / Love Letters In The Sand
1982
LP 12" SCOTTI BROS. C25Y0023

(JAP)

DREAMIN' - Dreamin' / I Need Someone To Miss / In The Driver's Seat / Hurts Like The Devil / Quiet Man / Livin' For Saturday Night / Every Night With You / They Got Nothin' On Him / Love Like Ours / Love Letters In The Sand
06/1983
LP 12" SCOTTI BROS.

FZ-38712

(US)

IF YOU BELIEVE - Are You Lonesome Tonight / If You Believe / Look At Me Now / Lincoln County Queen / Love Stays On / Good Old Country Music / Hard Memories / Legend In My Own Mind / How Long / Long Neck Bottle Of Beer
07/1984
LP 12" MCA

MCA-5495 (US)

TOO GOOD TO STOP NOW - I've Been Around Enough To Know / What'll You Do About Me / Country Girls / Low Class Reunion / Too Good To Stop Now / Time After My Life / Trouble / Party Of The First Part / I'm Your Man / Hollywood Heroes
04/1985
LP 12" MCA

MCA-5583 (US)

TRYIN' TO OUTURN THE WIND - It's A Short Walk From Heaven To Hell / I'm Gonna Leave You Tomorrow / He's Back In Texas / Say Hello To Goodbye / Why Did You Say I Do To Me / Tryin' To Outrun The Wind / Leavin's Been Comin' (For A Long Long Time) / I Don't Feel Much Like A Cowboy Tonight / Bad Case Of Love / Honeymoon Wine
1985
CD MCA MCAD-5892 (JAP)

Too Good To Stop The Now / Tryin' To Outrun The Wind - I've Been Around Enough To Know / What'll You Do About Me / Country Girls / Low Class Reunion / Too Good To Stop Now / The Time Of My Life / Trouble / The Party Of The First Part / I'm Your Man / Hollywood Heroes / It's A Short Walk From Heaven To Hell / I'm Gonna Leave You Tomorrow / He's Back In Texas / Say Hello To Goodbye / Why Did You Say I Do To Me / Tryin' To Outrun The Wind / Leavin's Bee Comin' (For A Long, Long Time) / I Don't Feel Much Like A Cowboy Tonight / Bad Case Of Love / Honeymoon Wine

01/1986
CD MCA

MCAD-5668 (US)

A MEMORY LIKE YOU - What's A Memory Like You / You're The Last Thing I Needed Tonight / Who Cares / Somebody's Gonna Love Her / Old Rainbow Jukebox And You / If We Can't Have Forever / One More Night / He Finally Made Up Her Mind / One Who Got Away / Welcome Home
08/1986
CD MCA

MCAD-5789 (US)

TAKE THE LONG WAY HOME - At The Sound Of The Tone / Broken Promise Land / She's Ready For Someone To Love Her / Sounds Like Something I Would Say / Better Class Of Losers / Gettin' Even / Auction / This Time / Just When / Take The Long Way Home
04/1987
CD MCA

MCAD-5973 (US)

YOU AIN'T SEEN THE LAST OF ME - I Lost My Head Last Night / So Good / When The Right One Comes Along / Angelena / If It Was Anyone But You / Hillbilly Boy With The Rock'n Roll Blues / Credit / Gunfighter / Redneck Is The Backbone Of America / Love You Ain't Seen The Last Of Me
09/1987
CD MCA

MCAS-42033 (US)
GREATEST HITS - I've Been Around Enough To Know / Country Girls / It's A Short Walk From Heaven To Hell / I'm Gonna Leave You Tomorrow / What's A Memory Like You (Doing In A Love Like This) / You're The Last Thing I Needed Tonight / At The Sound Of The Tone / Take The Long Way Home / Love You Ain't Seen The Last Of Me / If It Was Anyone But You
198?
CD SCOTTI BROS. ZK 37617

(US)

WHITE CHRISTMAS - COLLECTOR CHOICE - White Christmas / O Little Town Of Bethlehem / Winter Wonderland / Silver Bells / Silent Night / Christmas Song / Rudolph The Red Nosed Reindeer / Kathy's Christmas Card / Have Yourself A Merry Little Christmas / It's Christmas
1996
CD FaithWorks FWCD 1001 (US)

Worth The Wait - What Took You So Long? / I'd Fall In Love Tonight / Hold Down The Moon / The Real Deal / I Can Talk To You / You're Right I'm Wrong / Worth The Wait / If I Had Only Known / Any Excuse At All / A Woman's Touch - Instrumental

2003
CD NO LABEL ? (US)

Hell This Ain't Heaven - What Took You So Long? / Hell This Ain't Heaven / Wouldn't Want It Any Other Way / Life After You; Hold Down The Moon / The Real Deal / I Can Talk To You / You're Right I'm Wrong / Worth The Wait / If I Had Only Known / I'd Fall In Love Tonight / Any Excuse At All / Dark Side Of Town / A Woman's Touch / A Few Special Words...

2004
CD NO LABEL ? (US)

John's Acoustic Christmas - Away In A Manger / Oh Little Town Of Bethlehem / Rudolph The Red Nose Reindeer / O Holy Night / We Three Kings / Jingle Bells / The First Noel / What Child Is This? / Oh Come All Ye Faithful / Silent Night

07/2010
CD CD Baby / Mind of Music 43104 (US)

Happy Life - It Ain't All Up To You / Feel You In My Arms / Remember / I Do Love You (Go Away) / Together Forever / Dig That Bone / Everything Will Be Okay / You Are My Woman / This Is The Time / Peace Of Mind / Can't Get No Job / I'm Not Too Old / Dance With Me / Happy Life

10/2014
CD DISTRIBUTION 13 / Tom Wopat TWP 0001 (US)

Home For Christmas - John SCHNEIDER & TOM WOPAT - Merry Christmas / Christmas Time Is Here / Santa Claus Is Coming To Town / Cool Yule / I'll Be Home For Christmas / Even The Snow / Love / Sleigh Ride / Christmas Waltz / Johnny, It's Cold Outside / The Secret Of Christmas / Coal / Blue Xmas / Holiday Season / Ponch And John / On A Quiet Christmas Morn / Silver Bells / Egg Nog

01/2017
CD Maven Music ? (US)

Ruffled Skirts - JOHN SCHNEIDER & The Cajun Navy - In The Shelter (feat.The Powell Girls, Tammy Watts Hardy, Jo El Sonnier, Doug Kersaw) / Too Much Rain (feat.Margaret Fowler, Jo El Sonnier, Doug Kersaw) / Goin' With The Flow (feat.Jo El Sonnier, Doug Kersaw) / How Do You Stop The Water (feat.Jo El Sonnier Doug Kersaw) / Five Feet High And Risin' / The Fema Song (live) / An Act Of God (feat.Jo El Sonnier) / Every Friday Night / Sweet Rose Of Sharon (feat.The Powell Girls, Tammy Watts Hardy) / The Cajun Navy (radio mix) (feat.Jo El Sonnier, Doug Kersaw)
© Rocky Productions 21/04/2018