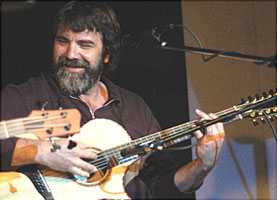 Instrumentaliste Country US né James Darrell Scott, le 6 Août 1959 à London (Kentucky).

Darrell Scott became one of the more successful country songwriters of the late '90s and early 2000s, placing songs with the biggest names in country music, including several major chart hits. Garth Brooks, the Dixie Chicks, Tim McGraw, Faith Hill, and many others recorded his work. At the same time, he worked consistently as a studio musician and released a series of his own solo albums.
The son of musician Wayne Scott, James Darrell Scott was born August 6, 1959, on a tobacco farm in London, KY, and moved as a child to East Gary, IN. He was playing professionally by his teens in Southern California, later living in Toronto and Boston. He attended Tufts University, where he studied poetry and literature. Finally, he relocated to Nashville to get into the country music business. In the first half of the 1990s, he appeared on albums by John Lincoln Wright, Catie Curtis, Hypnotic Clambake, Peter Keane, Duke Levine, Suzy Bogguss, and Randy Travis, singing and playing banjo, Dobro, guitar, bass, and pedal steel. In 1995 alone, he was on records by Guy Clark, Kate Wallace, John Berry, Marcus Hummon, Doug Stone, and Martina McBride, and he began to get recordings for his songs. Hummon and Scott co-wrote "Honky Tonk Mona Lisa," which appeared on Hummon's All in Good Time and on Doug Stone's Faith in Me, Faith in You (and was later covered by Neal McCoy); Scott and Hal Ketchum's "An Ordinary Day" was sung by Maura O'Connell on Stories; and Scott and Tim O'Brien's "Daddy's on the Roof Again" was on O'Brien's Rock in My Shoe.
Scott's sideman activities in 1996 included albums by John Berry, Suzy Bogguss, and Twila Paris. He and Verlon Thompson co-wrote "Ol' Joe Clark," which appeared on Sam Bush's album Glamour & Grits. Scott's most successful effort of the year was "No Way Out," a song he wrote with Marcus Hummon that Suzy Bogguss recorded for a country singles chart entry. (It was later covered by Julie Roberts.) Scott appeared on albums by David Beaudry, Bruce Carroll, Chris Rice, Monk Wilson, Jason Sellers, Guy Clark, Michael Peterson, and Tim O'Brien in 1997. With Clark, he co-wrote "Out in the Parking Lot," which was on Clark's album Keepers (and later covered by Kyle Jennings and by Brad Paisley), and with O'Brien he co-wrote "When There's No One Around," which O'Brien recorded on his album When No One's Around and which Garth Brooks covered on his chart-topping, multi-platinum album Sevens. Meanwhile, Scott had been signed to Sugar Hill Records as a solo artist, and on April 22, 1997, Sugar Hill released his debut album, Aloha from Nashville.
Scott's star clearly was in the ascendant by 1998, when he appeared on albums by Olivia Newton-John, Deana Carter, Sam Bush, Jenny Simpson, Suzy Bogguss, Jon Pousette-Dart, and Susan Werner, also earning a producer credit on Werner's Time Between Trains. "I'm Trying," a song he wrote with Tia Sillers, appeared on Kevin Sharp's Love Is. (It was later covered by Lee Greenwood and by Diamond Rio.) Pousette-Dart used three Scott songs on his album Ready to Fly, "She Looks Good to Me," "Tonight," and "Walking to a Different Rhythm," the last two co-written with his band. Scott's session work in 1999 included albums by Rhythm, Guy Clark, Sherrié Austin, Jason Sellers, Kate Rusby, Suzy Bogguss, and Paul Brandt; he produced Clark's Cold Dog Soup. The Dixie Chicks placed "Heartbreak Town," a song from Aloha from Nashville, on their chart-topping, multi-platinum album Fly, and it went on to become a country Top 40 hit, later earning a cover by Big Wooden Radio; New Grange used "Music Tree," written by Scott and Tim O'Brien; and Trace Adkins recorded Scott's song "Someday" on his album More... On April 20, Sugar Hill released Scott's second solo album, Family Tree.
Scott remained as busy as usual in 2000, appearing on albums by Jelly Roll Johnson, Judith Edelman, Sam Bush, John Cowan, the Warren Brothers, Jimmie Dale Gilmore, Trisha Yearwood, John Rich, and John McCusker. His and Verlon Thompson's "Beside Myself" appeared on Johnson's Jelly Roll Johnson and a Few Close Friends; his and Cowan's "Sligo" was on Cowan's John Cowan; "Born to Fly," written by Scott, Sara Evans, and Marcus Hummon, was recorded for a single by Evans that hit number one in the country chart on January 20, 2001, and appeared on her album Born to Fly; Bill Miller recorded "Different Drum," a song he and Scott co-wrote, for his Reservation Road album; and Travis Tritt recorded Scott's "It's a Great Day to Be Alive," a song from Aloha from Nashville, for his Down the Road I Go album, after which it went on to hit number two in the country singles chart. (It was later covered by Pat Green and Cory Morrow.) Meanwhile, Tim O'Brien and Scott recorded a duo album, Real Time, released by Howdy Skies Records on April 18, 2000. "The Second Mouse," a song from the album, was nominated for a Grammy Award for Best Country Instrumental Performance.
Scott's 2001 session work included albums by Ginny Hawker, Kate Rusby, Sherrié Austin, Patty Loveless, Chely Wright, and Tim O'Brien. "Constant State of Grace," a song written by Scott and Irene Kelley, appeared on Kelley's album Simple Path, and Scott's song "You'll Never Leave Harlan Alive," first heard on Aloha from Nashville, was covered by Brad Paisley on his album Part II and by Loveless on Mountain Soul. Scott was named Songwriter of the Year for 2001 by the Nashville Songwriters Association.In 2002, Scott appeared on albums by John Cowan, Guy Clark, Elizabeth Cook, Little Big Town, Montgomery Gentry, Steve Earle, and Ty Herndon; he also produced Clark's album Dark. "Long Time Gone," the advance single from the Dixie Chicks' chart-topping, multi-platinum album Home, was a Scott composition that had first appeared on Real Time; it crested at number two in the country charts, and it earned Scott a second Grammy nomination, this one for Best Country Song. Another Scott-written hit was Darryl Worley's cover of "Family Tree," the title song from Scott's second solo album, which appeared on Worley's album I Miss My Friend and reached the country Top 40 as a single. And Scott received the dubious honor of being parodied by country comedian Cledus T. Judd, who mangled "It's a Great Day to Be Alive" as "It's a Great Day to Be a Guy" on his album Cledus Envy. Scott was named ASCAP's Songwriter of the Year for 2002.
Scott appeared on albums by Malcolm Holcombe, Dick Siegel, Andrea Zonn, Steve Conn, Tim O'Brien, and Sara Evans in 2003. "Another Day," a song he and O'Brien wrote, appeared on both O'Brien's album Traveler and on Karan Casey's Distant Shore. Evans, Scott, and Marcus Hummon wrote "Feel It Comin' On," featured on Evans' album Restless. Also in 2003, Scott founded his own independent label, Full Light Records, on which he released his third solo album, Theatre of the Unheard, on September 23. The disc consisted of songs Scott had written between 1986 and 1990 that had been recorded previously for an album that was to have been released by a major label in 1992, but was canceled. Now, in re-recorded form, they emerged for the first time. Scott's session appearances in 2004 included albums by Jim Lauderdale, Johnsmith, Buddy Mondlock, and Dirk Powell. "Proving You Wrong," a song he wrote with Keb' Mo', was used on the Keb' Mo' album Keep It Simple. Scott, Marcus Hummon, and Andy Griggs wrote "My Kind of Beautiful," which appeared on Griggs' album This I Gotta See. And "Old Town New," co-written by Scott and Bruce Robison, was a cut on Tim McGraw's chart-topping, multi-platinum album Live Like You Were Dying.
Scott's 2005 session work included albums by the Warren Brothers, Tim O'Brien, Allison Moorer, Ciaran Tourish, Faith Hill, Jessi Alexander, Jon Randall, Shelly Fairchild, Kathy Mattea, and Sara Evans. He and Leslie Satcher wrote "Eight Crazy Hours (In the Story of Love)," which appeared on Fairchild's album Ride. Alone, he wrote "We've Got Nothing but Love to Prove" (aka "Goodle, USA"), which appeared on Hill's chart-topping, multi-platinum album Fireflies. He had two cuts on the various-artists album Hands Across the Water, performing his song "This Beggar's Heart" with Amhlaoibh and Muireann Nic, while John Cowan and the Brock-McGuire Band played the Cowan/Scott composition "Cumberland Plateau." Scott served as a producer and backup musician on the album as well. Neal McCoy recorded "Head South," a song from Scott's debut solo album, Aloha from Nashville, on his album That's Life. Scott's "Love's Not Through with Me Yet" appeared on Mattea's album Right Out of Nowhere. And Scott again collaborated with Sara Evans and Marcus Hummon on "Momma's Night Out," which Evans put on her Real Fine Place album. On Full Light Records, Scott issued a concert recording, Live in NC, backed by Danny Thompson and Kenny Malone on April 5, 2005. He released This Weary Way, an album by his father, Wayne Scott, which he produced and played on, as well as co-writing "I Wouldn't Live in Harlan County" and "What I Really Need Is You" with the elder Scott. And he reissued his 2000 duo album with Tim O'Brien, Real Time.
In 2006, Scott appeared on albums by Casey Dreissen, Rascal Flatts, Doug & Telisha Williams, John Cowan, and Johnsmith. "Simple Man," a song he wrote with Hal Ketchum, appeared on John Corbett's self-titled album. The Cowan album, New Tattoo, featured "6 Birds (In a Joshua Tree)" and "Drown," both co-written by Scott and Cowan, and a cover of "With a Memory Like Mine" by Scott and Wayne Scott, originally heard on Real Time. Sam Bush recorded Scott's "River Take Me," a song from Theatre of the Unheard, on his album Laps in Seven. And Johnsmith's Break Me Open included a cover of "Love's Not Through with Me." On June 27, 2006, Scott released The Invisible Man, his first album of newly written material since Family Tree in 1999. Scott returned in 2008 with Modern Hymns, a collection that featured interpretations of other songwriters' classic tunes. He then returned to his own muse on the two albums that followed, 2010's Crooked Road and 2012's Long Ride Home. A couple of collaborations with Tim O'Brien followed -- 2012's Live: We're Usually a Lot Better Than This and 2013's Memories & Moments -- and in 2015 Scott issued Ten: Songs of Ben Bullington. The next year saw the release of Couchville Sessions.
https://en.wikipedia.org/wiki/Darrell_Scott
Talents : Dobro, Guitar, Mandolin, Vocals, Pedal Steel, Mandocello, Bass, Bouzouki, Accordion, Piano, Banjo
Style musical : Americana, Progressive Country, Alternative Country, Bluegrass

https://youtu.be/IBJfh3rQVsc
Years in activity :
| | | | | | | | | | | | |
| --- | --- | --- | --- | --- | --- | --- | --- | --- | --- | --- | --- |
| 1910 | 20 | 30 | 40 | 50 | 60 | 70 | 80 | 90 | 2000 | 10 | 20 |
DISCOGRAPHY
Albums
04/1997
CD SUGAR HILL 3864 (US)
ALOHA FROM NASHVILLE - Head South / Banjo Clark / You'll Never Leave Harlan Alive / It's A Great Day To Be Alive / I Wish / The Ballad Of Martha White / It's The Whiskey That Eases The Pain / Spelling Bee Romance / Life Is Cheap / Heartbreak Town / Title Of The Song
04/1999
CD SUGAR HILL 3894 (US)
FAMILY TREE - My Father's House / Rhonda's Last Ride / Lazarus Dies Again / Double-Headed Eagle / Mahala / When There's No One Around - Will The Circle Be Unbroken / She Sews The World With Love / I Never Had A Sister / Family Tree / Any World (That I'm Welcome To) / The Hummingbird / My Father's House (reprise)
04/2000
CD HOWDY SKIES 1003 (US)
REAL TIME - Tim O'BRIEN & Darrell SCOTT - Walk Beside Me / With A Memory Like Mine / Weary Blues From Waiting / A House Of Gold / More Love / There Ain't No Easy Way / Little Sadie / Helen Of Troy, Pennsylvania / Five Rooms / Long Time Gone / I'm Not Gonna Forget You / Keep Your Lamp Trimmed And Burnin' / The Second Mouse
2003
CD FULL LIGHT 301 (US)
THEATRE OF THE UNHEARD - Easy Of Gary / Uncle Lloyd / Day After Day / 6 O'Clock In The Morning / Miracle Of Living / Full Light / I Wanna Be Free / River Take Me / Alton Air

[instr.]

/ The Man Who Could Have Played Bass For Shanana / After All / 10, 000 Miles Away
04/2005
CD FULL LIGHT 403 (US)
LIVE IN NC - Darrell SCOTT / Danny THOMPSON / Kenny MALONE - Miracle Of Living / It's The Whiskey That Eases The Pain / With A Memory Like Mine / River Take Me / Helen Of Troy, Pennsylvania / You'll Never Leave Harlan Alive / Folsom Prison Blues - White Freightliner Blues / I Still Miss Someone / Wayfaring Pilgrim
06/2006
CD FULL LIGHT 720011 (US)
THE INVISIBLE MAN - Hank Williams' Ghost / There's A Stone Around My Belly / Shattered Cross / I'm Nobody / And The River Is Me / Let's Call It A Life / The Dreamer / Do It Or Die Trying / The Invisible Man / Goodle, U.S.A. / Looking Glass / In My Final Hour
08/2008
CD APPLESEED 1111 (US)
MODERN HYMNS - All The Lovely Ladies / Urge For Going / Out Among The Stars / Jesus Was A Capricorn / The Devil / / James / Frisco Depot / American Tune / Nobody Eats At Linebaugh's Anymore / Joan Of Arc / I Don't Believe You (She Acts Like We Never Met) / That Old Time Feeling
05/2010
2 CD FULL LIGHT 70608417 (US)
A CROOKED ROAD :

CD 1 : A Crookes Road / The Day Before Thanksgiving / Long Wide Open Road / Alton Air / A Father's Song / Take Me Back To Yesterday / Pester Lester / Candles In The Rain (Childless Mothers) / For Suzanne / The Open Door
CD 2 : Love's Not Through With Me Yet / Colorado / Where The Spirit Meets The Bone / Some Other Time / Snow Queen And Drama Llama / Tonight I'm Missing You / Oh Sweet Longing / Willow Creek / This Time 'Round / This Beggar's Heart

01/2012
CD FULL LIGHT 432840 (US)
LONG RIDE HOME - It Must Be Sunday / Hopkinsville / Out In The Parking Lot / Someday / No Use Living For Today / You're Everything I Wanted Love To Be / Dance In The Darkness / No Lone In Arkansas (The Ring) / The Country Boy / Trying Not To Love You / Pay Lake / Candle For A Cowboy / Every Road Leads Back To You / Too Close To Comfort / You'll Be With Me All The Way / Still Got A Ways To Go
10/2012
CD Full Light 478923 (US)

We're Usually a Lot Better Than This - LIVE - Tim O'BRIEN & Darrell SCOTT - Climbing Up A Mountain / House Of Gold / White Freightliner Blues / Mick Ryan's Lament / With A Memory Like Mine / Early Morning Rain / Keep Your Lamp Trimmed And Burning / Long Time Gone / You Don't Have To Move That Mountain / Hummingbird / Mom And Dad's Waltz / Hambone / When There's No One Around - Will The Circle Be Unbroken

09/2013
CD

Full

SKIES 479904 (US)

Memories And Moments - Tim O'BRIEN & Darrell SCOTT - Time To Talk To Joseph / It All Comes Down To Love / Keep Your Dirty Lights On / Brother Wind / Memories And Moments / Paradise / Just One More / Fiddler Jones / Well / Alone And Forsaken / You Don't Own Me / Angel's Blue Eyes / Free Again / On Life's Other Side

05/2015
CD

Full

LIGHT 5994617 (US)

Ten Songs Of Ben Bullington - The One I´m Still Thinking About / Born In ´55 / Lone Pine / Thanksgiving 1985 / Country Music, I´m Talking To You / Green Heart / His Chosen Time / Sage After Rain / In The Light Of Day / I´ve Got To Leave You Now

05/2016
CD

Full

LIGHT 0069621 (US)

Couchville Sessions - Down To The River (feat. Guy Clark) / Waiting For The Clothes To Get Clean / It's Time To Go Away / Big River / Love Is The Reason / Ramblin Man / It's About Time / It's Another Day/ Moonlight Midnight (feat Peter Rowan) / Morning Man / Come Into This Room / Loretta / Another Grey Morning / Free (This Is The Love Song)

11/2017
CD

Full

LIGHT 39489 (US)

Live At The Station Inn - I Don't Believe You (She Acts Like We Never Have Met) / With A Memory Like Mine / Spanish Is The Loving Tongue / Family Tree / The Open Door / Helen Of Troy, PA / Jesus Was A Capricorn / Urge For Going / Hark! The Herald Angels Sing / River Take Me
© Rocky Productions 23/04/2018