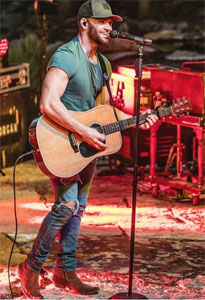 Chanteur Country US nť Dylan Scott Robinson, le 22 Octobre 1990 ŗ Bastrop (Louisiane).

Dylan Scott tempered the bro country-pop of the mid-2010s by relying on an inherently friendly charm, reminiscent of Luke Bryan, and adding a dash of the R&B-inspired rhythms that were fashionable in the wake of Sam Hunt. All this was evident on his 2016 debut Dylan Scott, which turned into a hit in 2017 thanks to a pair of high-charting singles: "My Girl," which hit number one on the Country Airplay chart, and "Hooked," which reached number two shortly after.
Born in Bastrop, Louisiana on October 22, 1990, Dylan Scott was the son of Scotty Robinson, who played guitar for Freddy Fender, among other country singers. Dylan learned how to play music as a child, and once he entered his late teens he decided to pursue it professionally. At the age of 17, he recorded a four-song demo with songwriter/producer Charlie Craig, and that tape brought him to the attention of Curb Records. Scott signed with the label prior to this 19th birthday and the label released his debut single, "Makin' This Boy Go Crazy," in 2013. After making its way to 54 on Billboard's Country Airplay chart, it anchored a self-titled 2014 EP. "Lay It on Me" appeared by the end of the year, but Scott's next hit was "Crazy Over Me," which made the Billboard Country Top 40 in 2015.
Dylan Scott's eponymous full-length debut arrived on August 12, 2016, and after its release, "My Girl" began its slow climb to the top of the Billboard Country Airplay chart in the summer of 2017. Once it reached that peak, "Hooked" was readied as Scott's next single in August 2017; it reached number two on the Country Airplay chart. An EP entitled Merry Christmasarrived during the holiday season of 2017.
Scott released the Stripped EP in October 2018, which featured pared-down, largely acoustic renditions of songs from his debut album. Hot on its heels came "Nothing to Do Town," the first single from sessions for his second album. The song reached number 43 on Billboard's Country Airplay and anchored the EP of the same name, which arrived in April 2019. A few months later, Scott delivered An Old Memory, an EP of covers of songs by Keith Whitley. Later that same year, Scott gave his fans a musical gift with Merry Christmas, his first holiday album. In 2021, he delivered the single "Nobody," which rose to number two on the country songs chart in June and was certified gold. Scott scored another hit five months later with the song "New Truck." As 2021 was winding down, Scott announced he would be setting out on his first headlining tour in February 2022.
Scott scored another Billboard Country Airplay Top Ten hit five months later with "New Truck." It was the first taste of Livin' My Best Life, his second full-length album. Livin' My Best Life appeared in August 2022, preceded by several digital-only singles including "In Our Blood" and "Amen to That."
http://www.dylanscottcountry.com/
https://en.wikipedia.org/wiki/Dylan_Scott
Talents : Vocals, Guitar, Songwriter
Style musical : Contemporary Country, Traditional Country

https://youtu.be/UHPdnoZ3kMw
Years in activity :
| | | | | | | | | | | | |
| --- | --- | --- | --- | --- | --- | --- | --- | --- | --- | --- | --- |
| 1910 | 20 | 30 | 40 | 50 | 60 | 70 | 80 | 90 | 2000 | 10 | 20 |
DISCOGRAPHY
EP
| | | | |
| --- | --- | --- | --- |
| 02/2013 | CD Curb D2-73605 (US) | | Makin' This Boy Go Crazy / Catch Me If You Can / Hurtin' In The Morning / Mmm, Mmm, Mmm / Twanging On My Heartstrings |
| 11/2015 | CD Curb D2 74004 (US) | | Stripped - Crazy Over Me [stripped version] / My Girl [stripped version] / Give Me More [stripped version] / Can't Take Her Anywhere [stripped version] / Beer Buddies [stripped version] |
| 10/2017 | CD Curb D2-79469 (US) | | Merry Christmas - Winter Wonderland / Jingle Bell Rock / The Christmas Song / White Christmas / Santa Claus Is Coming To Town |
| 04/2019 | CD Curb D2-79517 (US) | | Nothing to Do Town - Nothing To Do Town / Look At Us Now / Nobody / You Got Me / Honey I'm Home / Anniversary |
Albums
08/2016
CD Curb D2-79353 (US)

Dylan Scott -

Lay It On Me / My Town / Passenger Seat / My Girl / Back / Crazy Over Me / Ball Cap / Beer Buddies / Freak Show / I Lost You / Living Room / Rules / Do You Think About Me
2017
CD Curb D2-79468 (US) (deluxe edition)

Dylan Scott -

Lay It On Me / My Town / Passenger Seat / My Girl / Back / Crazy Over Me / Ball Cap / Beer Buddies / Freak Show / I Lost You / Living Room / Rules / Do You Think About Me / Living Room / Freak Show / Back / Rules
2019
CD Curb D2-79483 (US)

Merry Christmas - Winter Wonderland / Jingle Bell Rock / Let It Snow / The Christmas Song / I'll Be Home For Christmas / White Christmas / Santa Claus Is Coming To Town / It's Beginning To Look A Lot Like Christmas / Frosty The Snowman / Mary, Did You Know ? / Have Yourself A Merry Little Christmas

08/2019
CD Curb D2-79524 (US)

An Old Memory - Donít Close Your Eyes / I'm Over You / When You Say Nothing At All / Ten Feet Away / Miami, My Amy / Between An Old Memory And Me / Tell Lorrie I Love Her (feat. Lorrie Morgan)

08/2022
CD Curb D2-79521 (US)

Liviní My Best Life - New Truck / Amen To That / Canít Have Mine (Find Yourself A Girl) / In Our Blood (featuring - Jimmie Allen) / Static / Lay Down With You / Boy I Was Back Then / Liviní My Best Life / Killiní Some Time / Ainít Much Left Of Me / Leave Her Alone / Tough / Hell Out Of Me / Nobody / Good Times Go By Too Fast / Nothing To Do Town
© Rocky Productions 6/08/2022