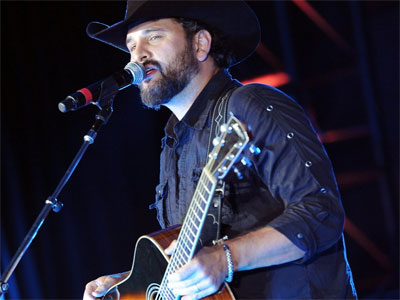 Chanteur Country US né Carlton Ray Scott Jr., le 5 Décembre 1969 à Semora (Caroline du Nord). Ray Scott est le fils du chanteur Rockabilly Ray Scott.

In the 1970s, country music was hijacked by rebel artists who decided it was time to do things their own way. "Damn the establishment" was the battle cry for guys like Waylon Jennings and Hank Williams, Jr.. For these artists, music was more than a commodity, more than just good times (although they certainly enjoyed plenty of the latter); it was heart and soul, it was about coloring outside the lines and playing the game by your own rules. That type of authenticity and passion lives on in the music of Ray Scott. The son of a country singer, Scott grew up in Northern Carolina with what folks there call "real" country music. Listed alongside his influences — legendary singer/songwriters such as Willie Nelson and Kris Kristofferson — is Ray Sr., Scott's father. Ray Sr.'s music had a profound effect on his son: "I realize more all the time that listening to his versions and comparing them to the originals I heard on the radio taught me a lot about how to make a song your own," Scott says.
After slugging it out with his own band in North Carolina, Scott headed to Atlanta and obtained an Associate's degree at the Music Business Institute. It wasn't long before the singer made his way to Nashville — the promised land for a young man with traditional country music burning in his soul. Time in the trenches learning the craft of songwriting led to a deal with publisher Tom Collins. Scott's first taste of music city success came as a songwriter after Randy Travis ("Pray for the Fish,") and Clay Walker ("A Few Questions") recorded his songs. It wasn't long before Warner Brothers Nashville came calling. In December 2005 the label released Scott's old-school debut, My Kind of Music. For hardcore country music fans the album was a breath of fresh air. Scott's rumbling baritone and bona fide outlaw style quickly won him a dedicated following, even though three singles from My Kind of Music stiffed on the charts. With Scott at the wheel, it looked like country music was in good hands and heading back to a more traditionally based sound. Despite little support from radio, My Kind of Music sold a respectable 100,000 copies. Scott set to work on his sophomore album for Warner Brothers in 2007. Unfortunately, country's love affair with pop music was far from over and, after recording a number of songs for album number two, Scott and Warner Brothers parted ways. In 2008 Scott independently released Crazy Like Me, a raw and raucous collection of meat and potatoes country music. In March 2009 the singer/songwriter headed back into the studio to begin work on album number three.
https://en.wikipedia.org/wiki/Ray_Scott_(singer)
Talents : Vocals, Guitar, Songwriter
Style musical : Traditional Country, Contemporary Country, Outlaw Country

http://youtu.be/45Dwa6LRBY8
Years in activity :
| | | | | | | | | | | | |
| --- | --- | --- | --- | --- | --- | --- | --- | --- | --- | --- | --- |
| 1910 | 20 | 30 | 40 | 50 | 60 | 70 | 80 | 90 | 2000 | 10 | 20 |
DISCOGRAPHY
Singles & EP
2005
CD WARNER BROS. PRO-CDR-101578 (US)

My Kind Of Music (album version) / My Kind Of Music (Radio Edit)

2005
CD WARNER BROS. 10186 (US)
.
I Didn't Come Here To Talk

[radio edit]

2005
CD CONNECT ? (US)
.
Gone Either Way / Walls / I Didn't Come Here To Talk / My Kind Of Music / Different Kind Of Cowboy
Album
| | | | |
| --- | --- | --- | --- |
| 11/2005 | CD WARNER BROS. 248827 (US) | | MY KIND OF MUSIC - Gone Either Way / Makin' My Way / Different Kind Of Cowboy / Walls / My Kind Of Music / Plowboy / I Didn't Come Here To Talk / Dirty Shirt / Time / Rats Don't Race / Fly With An Angel / Gypsy / Bear With Me Lord |
| 06/2008 | CD Jethropolitan ? (US) | | CRAZY LIKE ME - Hell Got Raised Again Tonight / Crazy Like Me / You Ain't Takin' This Hard Enough / Poor Folks / Sometimes The Bottle Hits Ya Back / Ashtray On A Motorcycle / Everybody's Girlfriend / Do It With The Lights On / Workin' My Way Back Home / Slow Down |
| 09/2011 | CD Flying Island ‎8 80547 48315 9 (US) | | Rayality - High Road / Grumpy / I Love You Both / Those Jeans / Law Man / Gotta Quit Drinkin' / Tell Me I'm Wrong / Never Wanna Be Without You / Rayality / Still Screamin' My Name / If Hell's Where I'm Headed / Keep On Keepin' On |
| 10/2014 | CD DECIBEL ? (US) | | RAY SCOTT - Cookin' / Ain't Always Thirsty / Drinkin' Beer / Papa n' Mama / Tijuana Buzzkill / Wheels On The House / It Ain't Gonna Be You / Leave This World Lovin' You / Her Ol' Man / The Ugly One / I Miss The Days |
| 06/2017 | CD Jethropolitan 17001 (US) | | GUITAR FOR SALE - Livin This Way / Put Down The Bottle / The Fire / Soberin Up / Pray For The Fish / Put Down That Gun / Growin Old / Worth Killin For / Life Ain't Long Enough / Doin Me Wrong / Guitar For Sale |
© Rocky Productions 2/01/2018