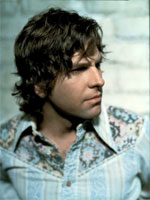 Chanteur Country US né le 29 Mars 1969 à Hamilton (Ohio). Brady Seals est le cousin de Jim Seals (de Seals & Crofts) et de Dan Seals ainsi que le neveu de Troy Seals.

Brady Seals, the cousin of Jim Seals (of Seals & Crofts) and Dan Seals (of England Dan & John Ford Coley) and the nephew of Nashville legend Troy Seals, was obviously raised in a musical home. He began playing piano and writing songs at the age of nine, and was performing in a high-school band at the age of 16. After leaving home not long after, Seals returned to finish his education, but then left again. He ended up in Nashville and joined the group Little Texas after being recruited by Del Gray.
Seals spent six years with Little Texas, playing keyboards and co-writing all of the band's major hits. By 1995, Seals had left the group, however, inspired by his self-avowed mentor Rodney Crowell to begin a solo career. Seals signed to Reprise and released his debut album, The Truth, in 1996. The LP was quite a family affair, with Troy helping out on production and Brady's cousin T.J. a co-writer.
https://en.wikipedia.org/wiki/Brady_Seals
https://www.facebook.com/bradysealsmusic/?ref=page_internal
Talents : Vocals, Guitar, Keyboards
Style musical : Traditional Country, Contemporary Country
Years in activity :
| | | | | | | | | | | | |
| --- | --- | --- | --- | --- | --- | --- | --- | --- | --- | --- | --- |
| 1910 | 20 | 30 | 40 | 50 | 60 | 70 | 80 | 90 | 2000 | 10 | 20 |
DISCOGRAPHY
Singles
08/1996
SP REPRISE 7-17615 (US)
.

Another You, Another Me / You Can Have Your Way With Me

08/1996
CD REPRISE 9-17615-2 (US)
Another You, Another Me / You Can Have Your Way With Me
03/1997
SP WARNER BROS. 7-17384 (US)
.

Still Standing Tall / Another You Another Me

1997
CD REPRISE PRO-CD-8824-R (US) (promo)
.

She (album version)

1997
CD REPRISE Pro CD 8099 (US) (promo)
.

Natural Born Lovers

06/1998
SP WARNER BROS. 7-17198 (US)
.

I Fell /

Love You Too Much
06/1998
CD WARNER BROS. 9 17198-2 (US)

I Fell (album version) /

Love You Too Much

(album version)

10/1998
SP WARNER BROS. 7-17144 (US)
.

Whole Lotta Hurt /

All My Devotion
1998
CD WARNER BROS. PRO-CD-9822-R (US) (promo)
.

The Best Is Yet To Come (album version)

2009
CD Starcity 01 (US)

Ho Down [radio single]
Albums
| | | | |
| --- | --- | --- | --- |
| 02/1997 | CD WARNER BROS. 9 46258-2 (US) | | THE TRUTH - Natural Born Lovers / The Truth / Another You, Another Me / Still Standing Tall / Boy Oh Boy (Aint That Just Like My Girl) / She / Under My Breath / You Can Have Your Way With Me / She Doesn't Love Here Aymore / Junkie For Your Love |
| 08/1998 | CD WARNER BROS. 9 46939-2 (US) | | BRADY SEALS - Whole Lotta Hurt / Country As A Boy Can Be / The Best Is Yet To Come / Summer Night Lovin' You / I Fell / Love You Too Much / You're My Kind Of Woman / All My Devotion / Kickin' And Screamin' / I Get High Lovin' You |
| 02/2003 | CD IMAGE BRA9370 (US) | | THOMPSON STREET - Thompson Street / Things Have Gotta Change / Soon / Breakin' Down / Free Love / Let Me Be Your Man / All I Want / That's How It's Goes / 10987654321 / Our Last Goodbye |
| 08/2009 | CD Starcity SCR 8904 (US) | | Play Time - Eeny Meny Miny Moe / Ho Down / Been There, Drunk That / Trucker Song / Better Every Beer / Farm Boy / Askin' Questions / Everybody Smokes In Hell / You'll Come Running / Bubba's Pimpin' Ride / Farmer Brown |
© Rocky Productions 2/05/2018