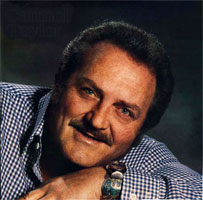 Chanteur Country US né Carmol Lee Taylor, le 5 Septembre 1931 à Brillant (Alabama). Carmol Taylor est décédé le 5 Décembre 1986 à Brillant (Alabama).

Carmol Taylor was best known as a honky-tonk songwriter, but he was also a talented performer. He was born in Brilliant, Alabama and began playing professionally in his early teens. When he was about 15, Taylor teamed up with Billy Sherrill to form Carmol Taylor and the Country Pals. The group stayed together for over 20 years, and between 1954 and 1974 played on a number of Southern radio stations. He launched his recording career in 1955, and in the early '60s he and the Pals began hosting a television show out of Columbus, Mississippi, where they performed for nine years.
Sherrill went on to become one of the most influential record producers in country music, and he helped Taylor break into professional songwriting by getting him a job at Al Gallico Music. In 1965, Charlie Walker had a Top Ten hit with Taylor's "Wild as a Wildcat." Soon after, Taylor began collaborating with Sherrill, Norro Wilson and George Richey. Together, they produced several major hits during the 1970s, including "He Loves Me All the Way," "My Man," "The Grand Tour," and "There's a Song on the Jukebox." Although he had been recording since the mid-'50s, Taylor didn't appear on the charts until the mid-'70s, with such songs as "Play the Saddest Song on the Jukebox" and "I Really Had a Ball Last Night." In 1980, Taylor himself became a producer, and in 1985, he and Gary Lumpkin provided George Jones and Lacy J. Dalton with a Top 20 hit, "Size Seven Round (Made of Gold)." Taylor died of lung cancer the following year.
Talents : Vocals, Songwriter
Style musical : Honky Tonk, Traditional Country, Contemporary Country
Years in activity :
| | | | | | | | | | | | |
| --- | --- | --- | --- | --- | --- | --- | --- | --- | --- | --- | --- |
| 1910 | 20 | 30 | 40 | 50 | 60 | 70 | 80 | 90 | 2000 | 10 | 20 |
DISCOGRAPHY
Singles
| | | |
| --- | --- | --- |
| 1959 | SP SHERBA 1501 (US) | Street Of Broken Hearts / Tell Me What To Do |
| 04/1959 | SP TAGG 504 (US) | Guess I've Been A Fool / Free As A Breeze |
| 1966 | SP CROW 2000 (US) | You Squall Like A Leopard / Your Wild And Wicked World |
| 1966 | SP CROW 2001 (US) | The Girl Across The Street / Every Where I Look There's Love |
| 06/1967 | SP GOLDWAX 324 (US) | Did She Ask About Me / Here Comes The Fool |
| 05/1968 | SP TIMMY 40,008 (US) | Sugar Creek Bottom / Love Me Tonight |
| 10/1968 | SP TIMMY 40,009 (US) | The Train Never Stops At Our Town / Another Man's Shoes |
| 10/1968 | SP BELL COUNTRY SERIES 004 (US) | The Train Never Stops At Our Town / Another Man's Shoes |
| 04/1970 | SP EPIC 5-10615 (US) | Mama, Take Me Home / Someday I'll Leave You |
| 10/1971 | SP EPIC 5-10803 (US) | Kiss The Baby / Standing In The Need Of Love |
| 06/1975 | SP ELEKTRA E-45255 (US) | Back In The U.S.A. / I'd Like To Sleep Til I Get Over You |
| 09/1975 | SP ELEKTRA E-45277 (US) | Who Will I Be Loving Now / So Fine |
| 02/1976 | SP ELEKTRA E-45299 (US) | Play The Saddest Song On The Jukebox / I'd Like To Sleep ('Til I Get Over You) |
| 04/1976 | SP ELEKTRA E-45312 (US) | I Really Had A Ball Last Night / Good Cheatin' Songs |
| 07/1976 | SP ELEKTRA E-45342 (US) | That Little Difference / Love What's Left Of Me |
| 11/1976 | SP ELEKTRA E-45366 (US) | What Would I Do Then? / You're Looking At A Happy Man |
| 11/1976 | SP ELEKTRA E-45367 (US) | Carmol TAYLOR & Stella PARTON - Neon Woman / Crying Steel Guitar |
| 05/1977 | SP ELEKTRA E-45409 (US) | Good Cheatin' Songs / I Don't Want My Country Funk |
| 11/1977 | SP ELEKTRA E-45446 (US) | Roll Over Beethoven / You're Looking At Happy Man |
| 1980 | SP COUNTRY INT. 151 (US) | Don't Tempt Me Woman / Sugar Creek Bottom |
| 1981 | SP COUNTRY INT. 157 (US) | Honky Tonk At Home / ? |
| 1981 | SP COUNTRY INT. 160 (US) | Georgia Soul / Honky Tonk At Home |
| 12/1981 | SP COUNTRY INT. 171 (US) | It's Hard To Love A Woman (With A Memory On Her Mind) / Georgia Soul |
| 1982 | SP COUNTRY INT. 186 (US) | Honky Tonk Nights / ? |
| 02/1983 | SP COUNTRY INT. 191 (US) | Homesick / Honky Tonk Nights |
| 11/1983 | SP SPINIT SP-8305 (US) | The Perfect Christmas Gift / Georgia Christmas |
Need Info
| | | |
| --- | --- | --- |
| 19?? | Need info - (Collector LP 2305 (#3) / Collector CD 4402 (#23) / White Label LP 8816 (#13)) | Too Old To Rock And Roll |
Albums
| | | | |
| --- | --- | --- | --- |
| 08/1976 | LP 12" ELEKTRA 7E-1069 (US) | | SONG WRITER - Shoot Low Sheriff / I'd Like To Sleep ('Til I Get Over You) / You're Looking At A Happy Man / Good Cheatin' Songs / I Really Had A Ball Last Night - That Little Difference / Love What's Left Of Me / Play The Saddest Song On The Jukebox / Who Will I Be Lovin' Now / Back In The U.S.A. |
| 1984 | LP 12" COUNTRY INT. CI-735 (US) | | I THINK THEY CALL IT HOMESICK - Homesick / Honky Tonk Nights / I Just Wanted To Know If You're All Right / It's Hard To Love A Woman (With A Memory On Her Mind) / Don't Tempt Me Woman / I'd Really Like To See You One More Time / (Love Will Pick Us Up) When The Chips Are Down / Georgia Soul / Honky Tonk At Home / Sugarcreek Bottom |
| 12/1985 | LP 12" PASSWORD PASS-A0003 (UK) | | County Line Band featuring Carmol Taylor ‎- Honky Tonk Two Steppin´Beer Drinkin´ Saturday Nite - Dim Lights, Thick Smoke And Louid Loud Music / Red Wine And Blue Memories / Under The X's In Texas [Bobby GREEN] / There's A Song On The Jukebox / You're Not Drinkin' Enough [Gary LUMPKIN] / Where Do You Take A Broken Heart [Bobby GREEN] / Pap's Wagon / Sizen Seven Round [Gary LUMPKIN & Linda FLANAGAN] / That Was Some Hurt He Must Have Laid On You / Honky Tonk Two Steppin' Beer Drinkin' Saturday Night |
© Rocky Productions 26/06/2012